Usually when a team advances to the state tournament, there's not a lot of familiarity with their opponents. That's not the case for the Newman volleyball team.
Instead of playing a team that they would normally never see, the Comets (29-7-1) will face Freeport Aquin (39-1) in the Class 1A semifinals on Friday morning at Redbird Arena in Normal.
While they're in different conferences, the two schools are separated by less than 40 miles, and they squared off in the semifinals of the Linda Ludwig Memorial Tournament on Oct. 15 in Lanark. Aquin won that match 21-9, 21-17, but the Comets see that experience as a plus in terms of preparation for the state semifinals.
"I think it definitely has helped us playing them before, and honestly, losing, because I think that makes us want it even more because we have lost to that team," senior setter Katie Grennan said. "It's that revenge type of match for us."
That match saw Newman get out to a slow start, then make things closer in the second set. And while the Comets are eager for a rematch, head coach Debbi Kelly knows that Aquin also has the advantage of knowing Newman's game.
"We played at the Eastland tournament; we didn't give our best performance, and we know that. But we know Aquin's going to be waiting to see us again," she said. "It should be a really good match. They have a couple of really great hitters, and are a good squad that has been to state already, so they have that experience."
Aquin (39-1) placed third at the 1A state tournament last season, and 11 of the 12 girls on this year's roster are juniors and seniors, so there is quite a bit of big-match experience for the Bulldogs. They've posted their second straight 39-win season, and their only loss is to Genoa-Kingston – a 2A state qualifier – at the Byron tournament on Sept. 10.
Aquin rides in on a 27-match winning streak, and in 40 matches this season, has only gone to a third set three times; the Bulldogs are 3-0 in those matches, beating G-K in the Oregon tournament on Sept. 3, topping Fulton in the Byron tournament on Sept. 10, and defeating Durand on Sept. 15.
But with both teams playing as well right now as they have all season to make a run to the state finals, that match nearly four weeks ago might not mean much when the teams hit the court Friday morning.
"I think it depends, because often teams change throughout the season, and I feel like it was a long time ago that we played them," junior middle Sophia Ely said. "So we could be surprised, or we could know everything that's going on with them. Really, who knows; we just want to keep playing well."
The Comets have certainly done that the last two weeks, losing only one of their 11 postseason sets and winning the last three matches in straight sets. They've won 14 of their last 17 matches dating back to the Sterling Invite on Oct. 1, and two of those losses were to Aquin and Durand in the semifinals and third-place match of the Eastland tournament.
Jess Johns leads Newman with 326 kills and 255 digs, and she also has 34 blocks, 27 aces and 17 assists. Kennedy Rowzee has 252 kills and a team-high 59 blocks, while Grennan has stuffed the stat sheet with 383 assists, 144 digs, 94 kills, 78 aces and 15 blocks. Molly Olson has also been a strong all-around player in the Comets' 6-2 scheme, with 303 assists, 178 digs, 71 kills, 21 aces and 13 blocks.
Ely (73 kills, 71 digs, 25 blocks, 20 aces), Sam Ackman (176 digs, 34 aces) and libero Addison Foster (222 digs, 57 assists, 41 aces) have also been major contributors this season, and sophomore Makenzie Duhon has played well since being called up to varsity just prior to the postseason.
Ellie Rude, who started strong before missing the rest of the season after being hit in the eye during a match at the Rock Falls Invite over Labor Day weekend, has watched this team grow as she's helped out from the bench. She knows that when her teammates get over the size of the stage they'll be playing on this weekend, they'll be just fine.
"I feel like once we get the practice round in and everyone feels out the court, we'll be fine. But I feel like everyone just has all their nerves and excitement right now," she said. "We've just got to play the game and not worry about everything else, just keep clicking and not think about it too much. We just have to play like we know how, do what we've been doing."
Aquin experienced the thrill of Redbird Arena last year, and is eager to improve on its third-place finish. Lucy Arndt leads the Bulldogs with 442 kills and 219 digs to go with 33 aces and 30 blocks, while Ainsley Stovall has 288 kills, 176 digs, 34 blocks and 32 aces, and Bentleah Stovall has 208 kills, a team-high 74 blocks, 68 digs and 34 aces.
Megan Holder runs the 5-1 offense with 919 assists, 174 digs, 46 kills, 43 blocks and a team-high 40 aces, while Meghan Carlisle (69 kills, 51 digs, 41 blocks), Hanna Pizzolato (293 digs, 53 assists, 39 aces, 20 kills) and Hanna Broge (170 digs, 34 kills, 19 blocks, 14 aces) also contribute.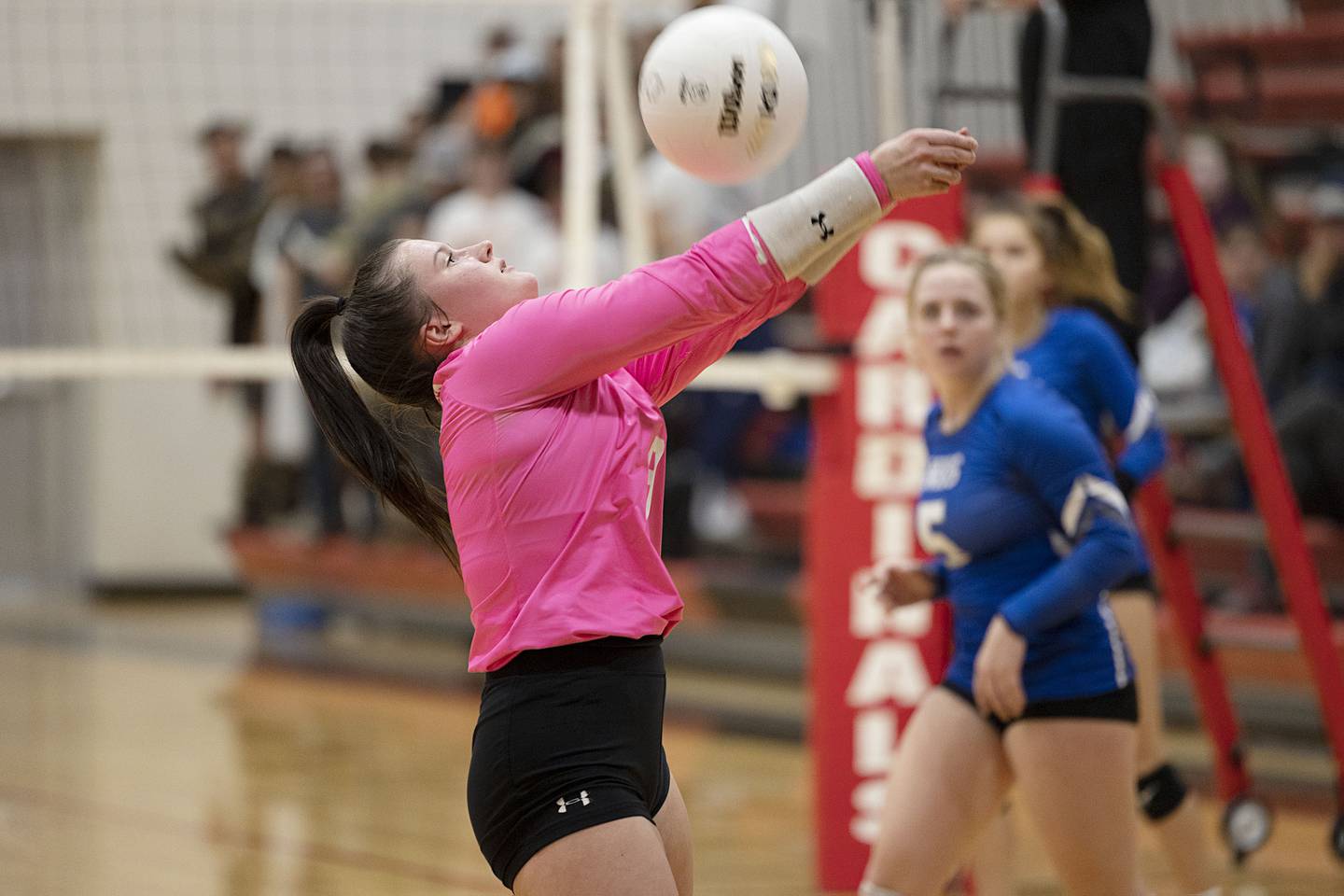 But while Aquin might have the edge in experience, the Comets are approaching this weekend like they're playing with house money, and they hope that will help them keep calm, play loose and stay focused.
"I think we're coming in with the attitude that we really have nothing to lose," Kelly said. "We've been playing really calm going into sectionals and supersectionals; I felt we were a lot more tense in regionals than we were at sectionals and supersectionals. So I think if we can keep being calm and just keep with the mentality that we've been playing with, anything's possible."
At this point, every team's goal is to win the state title. But that's not the only thing that will make it a successful weekend in the eyes of Newman's players.
"Our main goal is obviously to win, but I think for a successful weekend, it's just playing how we have been," Grennan said. "We've been on top, our energy has been high, we've kept our offense going, our defense has been solid, and our serves have been tough. I think how we've been playing throughout the whole postseason is exactly what can help us win these matches."
But it's not just about wins and losses for the Comets in Normal. They will also take some time to appreciate the program's first-ever trip to state. The Newman coaches have tried to instill in the players that this is a once-in-a-lifetime experience, and whatever happens on the court, they will make lifelong memories this weekend.
And the players seem to have taken that to heart.
"I think we'll be able to enjoy it a lot. Talking about our schedule, we're going to be spending a lot of quality time with each other, but also take down time to soak it all in and realize what's going on," Ely said. "I think the fact that we've made history and we've gone through this far with it, as long as we play our hearts out, I think we'll be happy."
The other semifinal will pit Norris City-Omaha-Enfield (38-2) against Springfield Lutheran (37-3).
Springfield Lutheran finished fourth at last season's 1A state tournament, falling to Aquin in the third-place match. The Crusaders have won 16 of their last 17 matches, and are led by several seniors: Makenna Cox (560 kills, 390 digs, 63 aces, 13 blocks), Kaleigh Bergschneider (298 kills, 401 digs, 71 aces, 11 blocks), Ali Davis (151 kills, 33 blocks), Caleina Herman (914 assists, 166 digs, 40 aces), and Anna Schleyhan (284 digs, 33 aces, 24 assists). Sophomores Madelyn Cox (53 digs, 38 kills, 15 aces, 14 blocks) and Meena Taylor (104 digs, 28 assists, 21 aces) also contribute.
Norris City-Omaha-Enfield is making its third state appearance; it finished fourth in 2019. The Fighting Cardinals suffered both of their losses this season in the final three regular-season matches, then notched a pair of three-set wins in their two sectional matches. They're led by seniors Hollan Everett (380 kills, 92 blocks, 92 digs, 28 aces), Miah Scroggins (147 kills, 36 aces, 25 blocks), Bree Vollman (787 assists, 94 digs, 85 kills, 82 aces, 12 aces), and Linda Vinyard (92 kills, 54 digs, 29 aces), as well as sophomore Hinsley Everett (157 kills, 148 digs, 40 assists, 38 aces, 8 blocks) and freshman Hayden Knight (151 kills, 39 blocks). Juniors Hannah Taylor (113 digs, 29 aces) and Avery Black (76 digs) and freshman Aubrey Knight (88 digs) help out in the back row.