ROCK FALLS – After building a big lead and cruising through the first set Wednesday, Rock Falls found itself in a dogfight with Stilman Valley at Tabor Gym.
Trailing late in the second set, the Rockets rallied to win their Big Northern Conference match in straight sets, topping the Cardinals 25-11, 28-26.
Rock Falls (16-2, 2-1 BNC) set the tone from the start in the opening set, as Denali Stonitsch reeled off 13 straight service points – including five aces – to build a 14-1 lead.
"I get zoned in, and I want to win and I'm competitive, so if the serve doesn't go in, it upsets me," Stonitsch said. "I try to get as many aces as I can to help my team, and to score that run so we can build a big lead and win."
Emily Lego was a force in the middle during the surge, stuffing three blocks, and Lego, Taylor Reyna and Nicolette Udell had kills in the run. Lego finished the first set with five blocks and three kills, and Udell had four kills and a stuff as the Rockets led by at least 11 points the rest of the way after that initial onslaught.
"I was just ready for everything, You never know what you're going to get at the net," Lego said. "I just keep my defense up. I'm always going for every ball; even if it's a free ball, I'm going to go up to block, just in case you get the chance to touch the ball. You can really make a difference in the game with your defense."
"Our blocking was amazing, and our hits were so good. We were placing the ball well," Stonitsch added. "When we're on, we're on, and that's what happened that first set."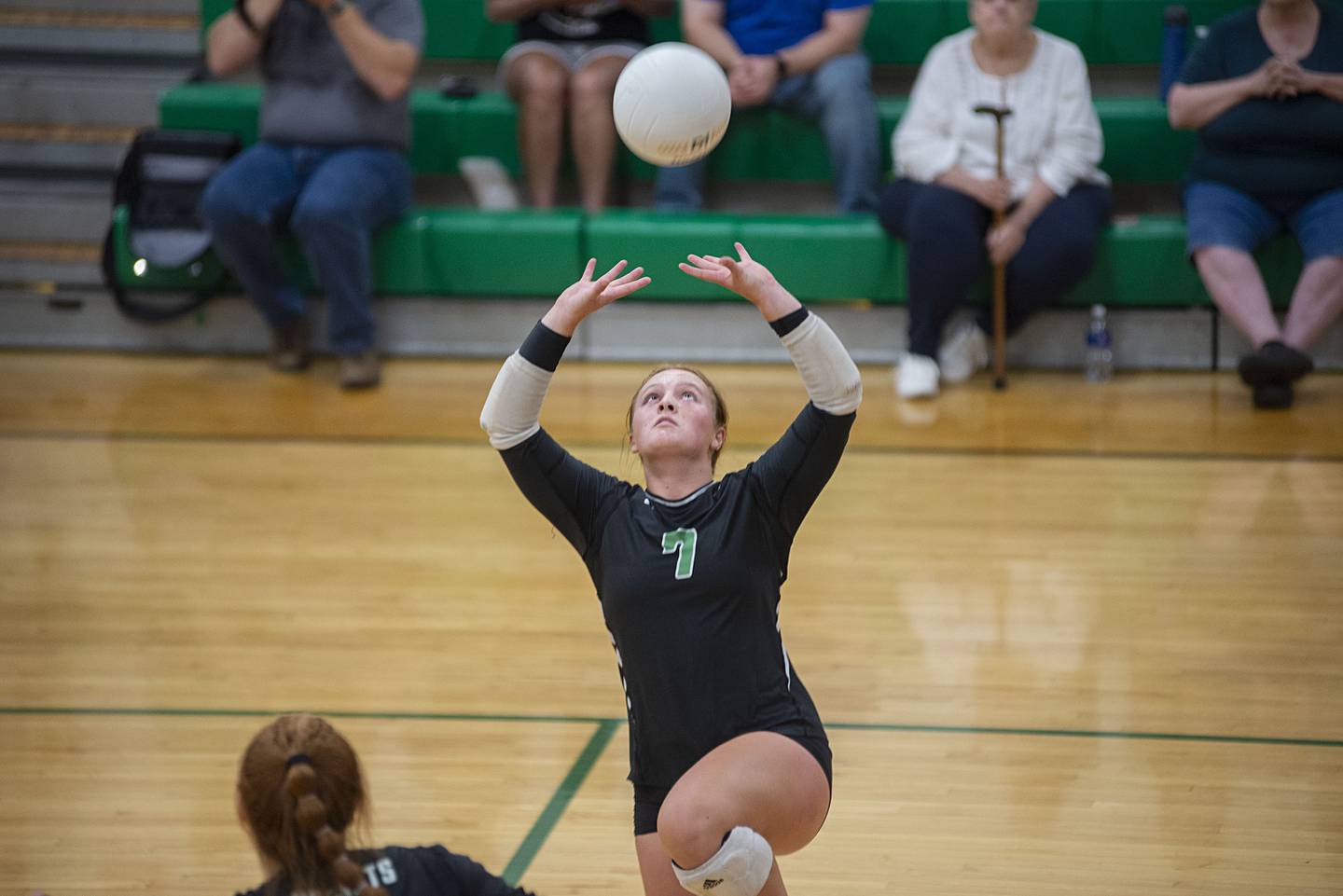 The second set was the polar opposite, a back-and-forth affair that saw both teams lead throughout. Stillman Valley (5-12) led 3-2 on a Jenna Shelburne ace, then Rock Falls took a 4-3 lead on a Claire Bickett kill.
Back-to-back aces by Madeline Smith stretched the Stillman lead to 8-5, then Bickett answered with a kill and Stonitsch dumped one over the net before a Lego kill got the Rockets within 11-8.
Bickett then spiked three kills and stuffed a block on four straight points, and a block by Rylee Johnson gave Rock Falls a 14-12 lead on a five-point service run by Sophia Moeller.
But the Cardinals came back to take a 16-14 lead on a kill by Elaina Sigwards and another ace from Shelburne, and stretched the lead to 22-17 after consecutive aces by Sigwards and a kill by Haley Jones, then 23-18 after a Shelburne kill.
"We just needed more discipline in that second game," Lego said. "We know not to let up, and we still have to come back and fight for every point. We can't just give up, think it's over after you win the first set."
A Lego kill got a sideout, then a Stillman hitting error and a Lego block got the Rockets within 23-21. Stonitsch served an ace to get within 23-22, then Stillman got to set point on a tip-kill from Mya Janssen.
But still Rock Falls fought back. Lego ripped a kill, then Moeller served an ace and Bickett slammed a kill to put the Rockets at match point at 25-24. But then back-to-back net violations on Rock Falls put Stillman back on the brink of a win at 26-25.
A Cardinals service error tied it at 26, and Bickett spiked consecutive kills to finish off the match for the Rockets.
"I think they swung more that second set, so we were more out of system, which gave me more balls to terminate. I think that's what got us through that second set," Bickett said. "Our serving is what got us through that first game. And Emily, every free ball we got, she just put it away. I think keeping them out of system was big, and they just handed us free balls and let us set Emily up – and she finished them. That was big to set the tone for us."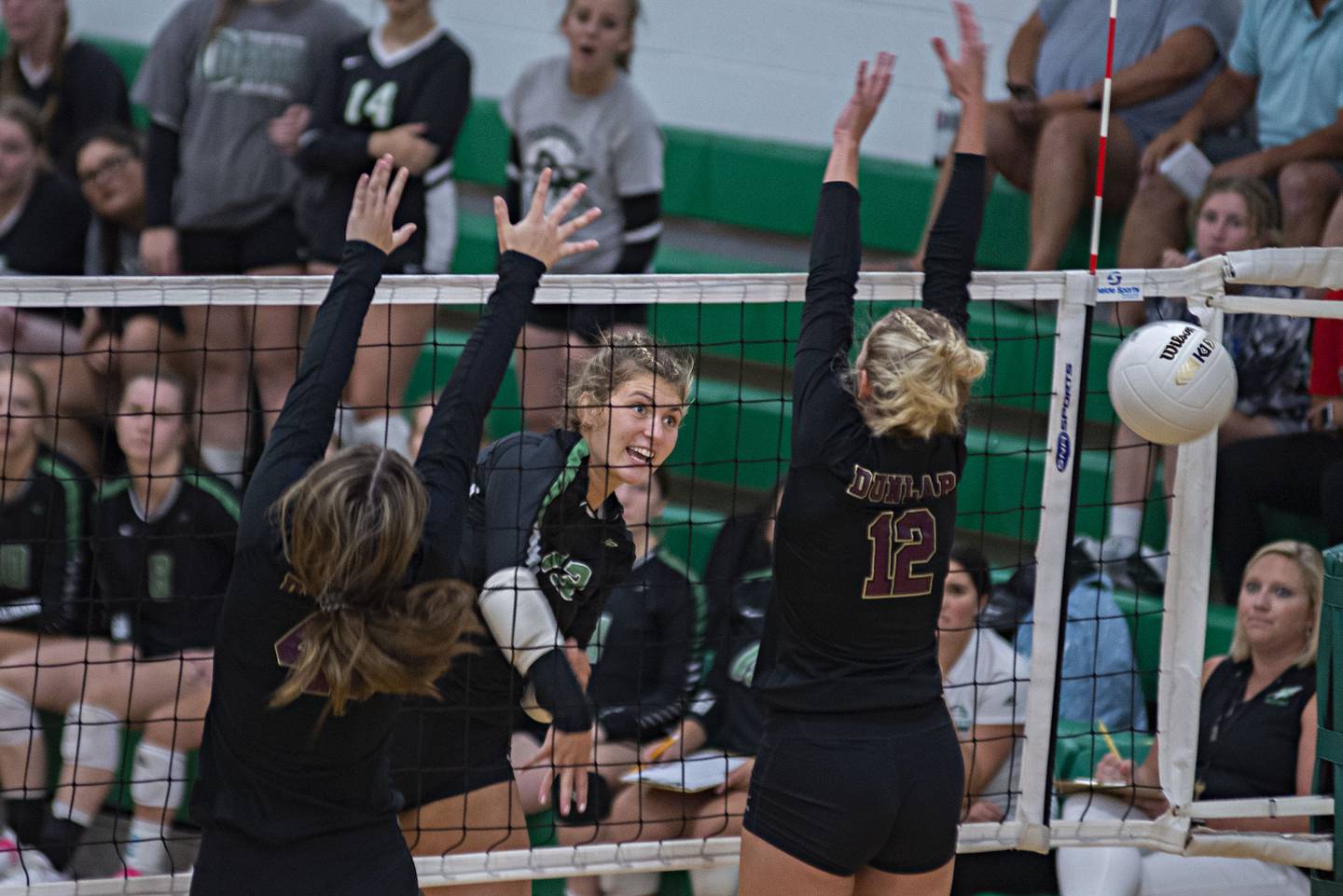 Lego finished with eight kills and six blocks, and Bickett had 12 kills, two blocks and four digs for Rock Falls. Stonitsch finished with 16 points, six aces, 23 assists and four digs, Moeller added nine points and seven digs, and Carli Kobbeman led the back row with 13 digs.
"I feel like when our blocking is on, our opponent can not get it over. And our passing, when it's on, we can just dominate with our hitting," Stonitsch said. "We did a little of both tonight. The second set, we went more to the outside, but both the middle and outside worked well."
Jones, Sigwards and Janssen had three kills each for Stillman, and Brooklyn Hodge spiked two kills. Kennedy Swenson dished 10 assists, Smith served four points and three aces, and Shelburne finished with five points and two aces.
Stillman coach Jamie McCarty was happy to see how the Cardinals battled back and pushed Rock Falls in the second set after the avalanche buried them early in the opener.
"Since I've been coaching, we haven't beat Rock Falls; we normally struggle a little bit like we did in that first game. The second game, we stepped it up, so it was just good to come and compete like that," he said. "Against the tougher teams, we normally do something like that, where we have a good game and one not-so-great, and I thought offensively we made some better plays, smarter plays that worked out for us in the second set, and serving actually helped us in the second game; we just couldn't get the serve going in the first game.
"Overall, I can't complain. That was probably the best we've competed against Rock Falls since I've been here."