STERLING – With a back-and-forth match typical of this volleyball rivalry, Newman was able to put together runs at the end of both sets Thursday night to defeat Princeton 25-19, 25-20 in a Three Rivers East match in Sterling.
The Comets (12-2, 6-0 TRAC East) scored 15 of the final 20 points to rally from a 14-10 deficit in the first set, then pulled away with 5-0 run midway through the second set to break a 13-13 tie.
[ Photos from Newman vs. Princeton volleyball ]
"I think really just working together, pushing for ourselves was the key," Newman junior middle Kennedy Rowzee said. "This is a big game for us, so we really all just came together, calmed down, relaxed, and really put something nice together to finish."
The Tigers (4-8, 3-2) also put some things together in both sets, as Miyah Fox and Natasha Faber-Fox both served two aces in a seven-point stretch to give Princeton a 14-10 lead in the opening set.
But Katie Grennan served an ace for Newman after a sideout, then Rowzee had three consecutive kills before a couple of Princeton errors gave the Comets an 18-16 lead.
"We really did a good job communicating and working in different plays that we've been working on in practice. That really helped us get the lead," junior setter Molly Olson said. "When we make a mistake, we just lift each other up and move on from the play. We don't forget about it, but we just move past our mistakes and get the next point."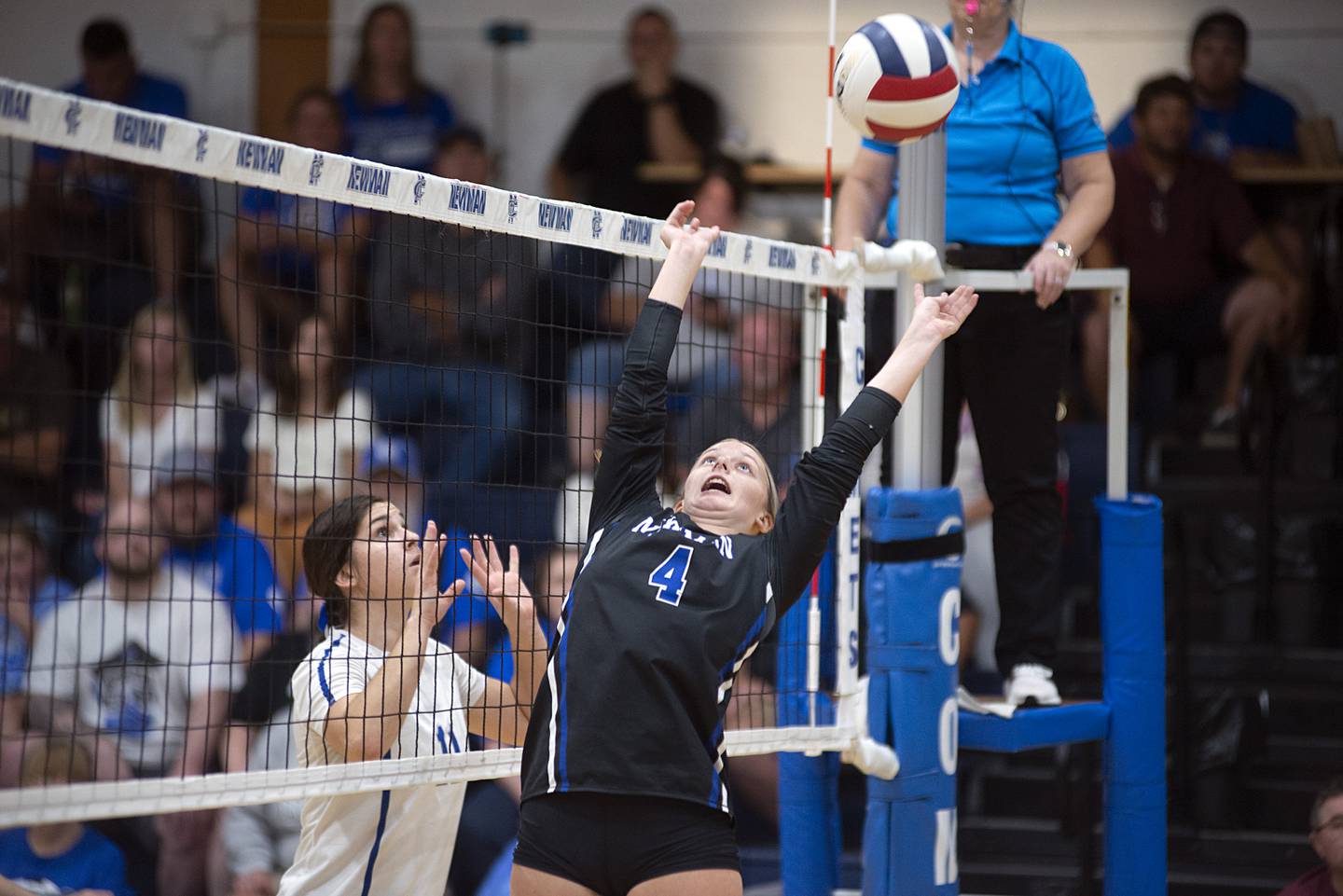 The teams traded errors until Princeton's Ellie Happ ripped a kill to get the Tigers within 21-19, but a back-row kill by Jess Johns gave the serve back to Newman, and Sophia Ely served out the set on two Princeton hitting errors and a tip-kill by Rowzee.
"They were the more aggressive team. We had them scouted pretty well, and we worked on things last night in practice, and we executed halfway tonight," Princeton coach Andy Puck said. "If we make that extra effort defensively, I think it's a completely different match. But give the credit to them. They're constantly coming at you, and they played harder than we did tonight, that's all there is to it."
The Comets kept the momentum into the second set, as a kill and a block by Ely and back-to-back blocks by Johns staked Newman to an 8-3 lead.
But Princeton fought back, scoring the next six points to turn the deficit into a 9-8 lead. Morgan Richards started the run with a tip-kill, then added a block for the final point after three Newman errors and an ace by Isa Ibarra.
Johns ripped another back-row kill to give Newman a 10-9 lead, but Olivia Gartin smacked a kill a couple of points later to make it 11-10 Tigers.
"Our key aspects in those runs are just to keep our energy up, keep our communication, be able to really execute the ball," Princeton libero Fox said. "We have strong hitters, and we practiced a lot on how to block their really tall middle. And then our back row really stepped up.
"It was an eye-opener that we can definitely play to the best of our abilities against good teams like that."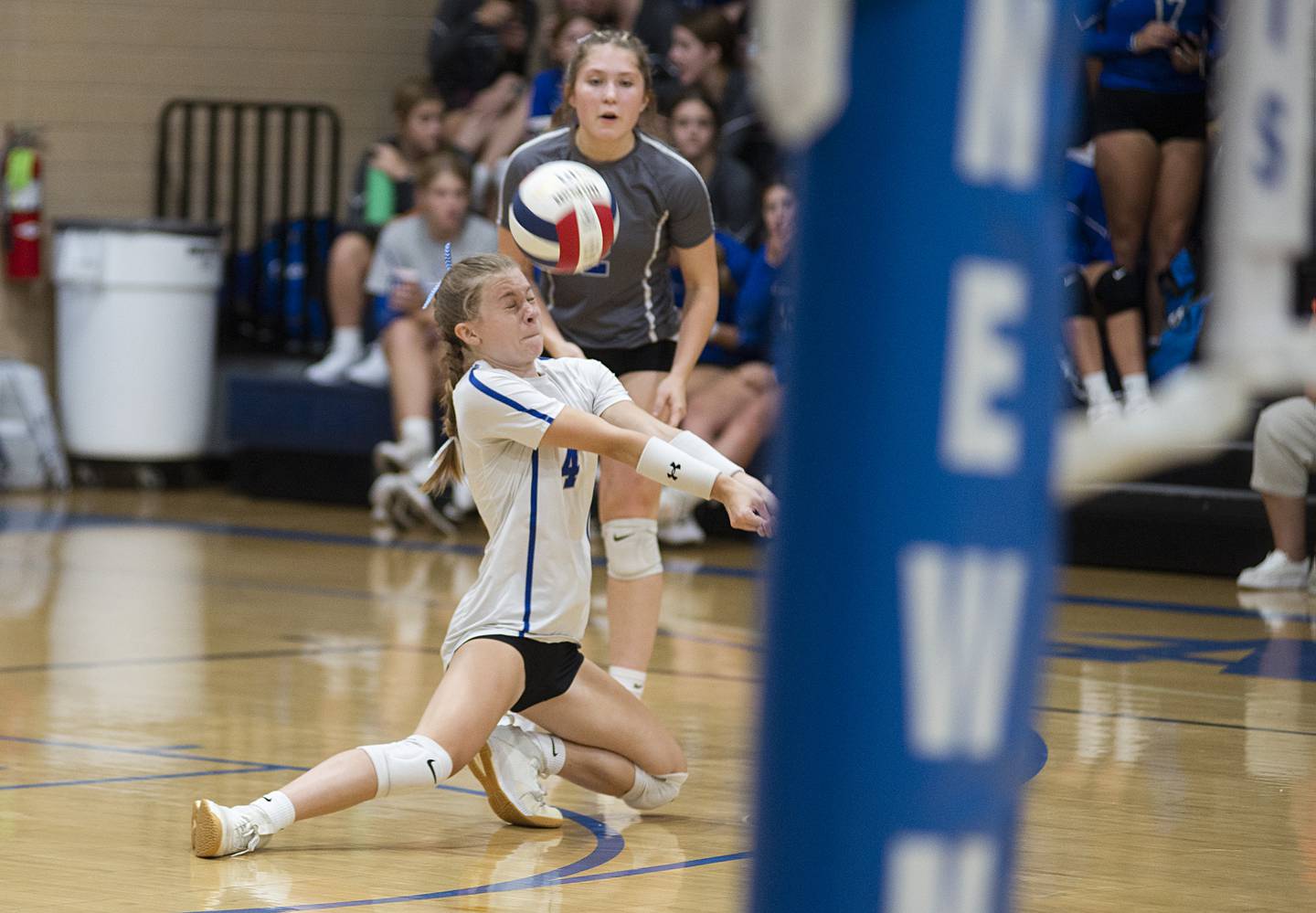 Johns answered with a back-row kill, then Katie Grennan's kill gave Newman a 12-11 lead. Gartin's tip-kill and a crossing shot by Lily Keutzer made it 13-12 Princeton, but that's when the Comets surged.
Grennan ripped a kill, then served an ace before Rowzee slammed an overpass and blocked another Tigers spike to give Newman an 18-13 edge. A Rowzee kill answered a kill by Gartin and an ace from Keutzer, then Johns tooled the Princeton block to answer another Gartin kill and make it 22-18 Newman.
"We've really been working in practice at just mixing things up so they don't always know where we're going to go, outside, middle, right side," Rowzee said. "I think just getting that nice pass up to let the setters mix it around really dominated tonight."
Another Johns kill off the block made it 23-19, then after a Princeton hitting error made it match point, Ely served an ace to finish it.
"I think this is the match where everything finally clicked," Johns said. "In our first game, our serves were pretty much 100%, and then our next game our passing was really good, then the next game our hitting was on. There's always been one thing that's been slightly off, and I think this match everything just kind of went together really well."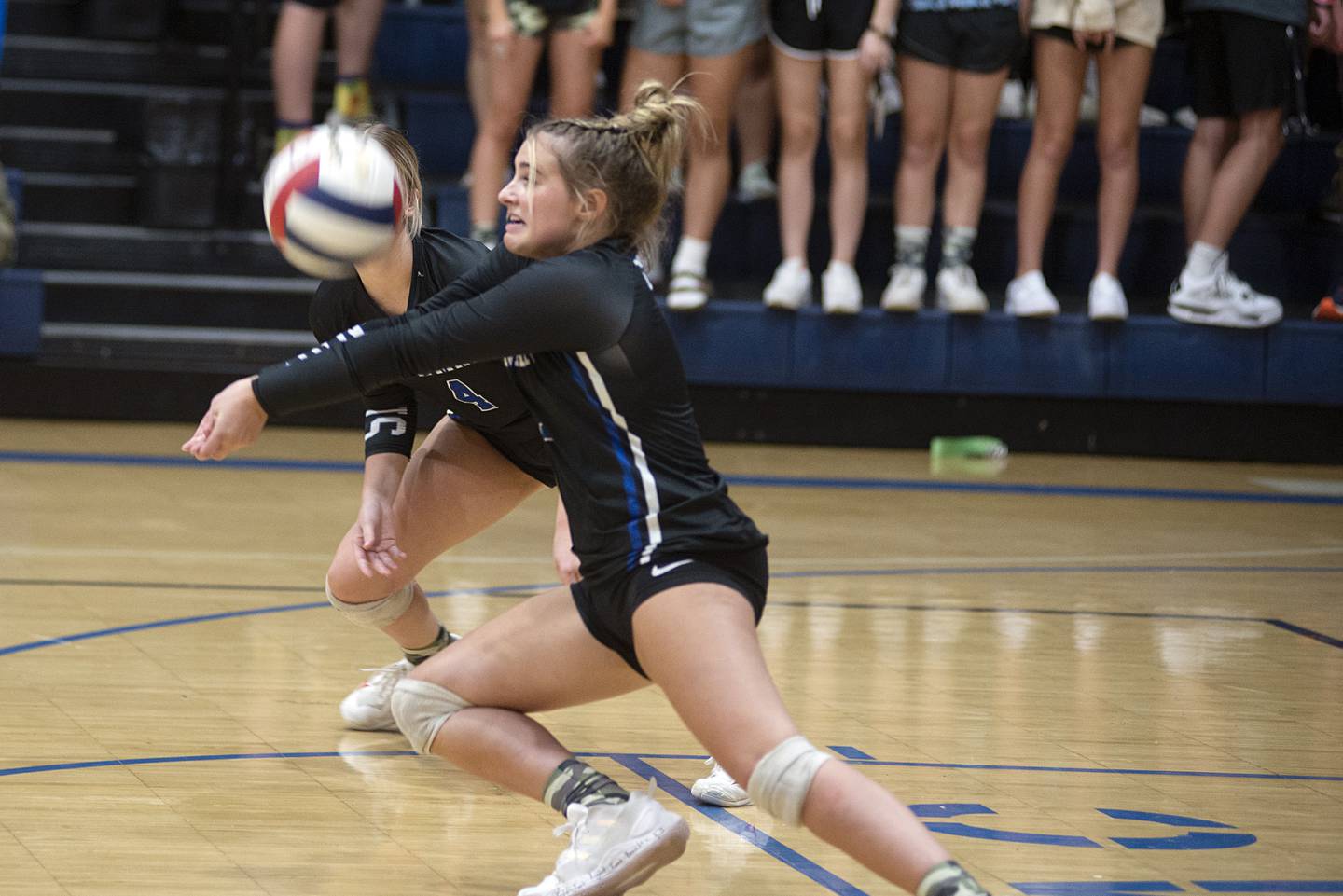 Johns and Rowzee both had eight kills and two blocks to lead Newman, and Johns also had a team-high nine digs. Grennan stuffed the stat sheet with 12 assists, five kills, six points and two aces, Olson added nine assists, seven digs, five points and two kills, and Sam Ackman had six digs, six points and an ace. Ely had six points, an ace, a kill and a block, and Addison Foster chipped in three points, two digs and two assists.
"We moved a lot of people around and started running more routes. We've been practicing that a lot more, knowing we'll probably have to start putting new stuff in because we're going to start seeing teams for the second time," Johns said. "So I think we got more comfortable with those new things tonight."
Gartin led Princeton with five kills and served three points, Keutzer had three kills, four digs, five points and an ace, and Fox led the way with eight digs, eight points and two aces. Faber-Fox served six points and two aces, Caitlin Meyer had six digs and three points, Ibarra finished with three digs, seven points and an ace, and Happ and Morgan Foes each added two kills and a dig. Richards chipped in a kill, a block and a dig for the Tigers.
"We'd planned on Newman moving hitters around, and you get our players where they need to be, and the kids just have to play. We weren't able to execute enough to come out with a win," Puck said. "Really happy with our resilience in battling back, but I've been saying that all season. We're inexperienced, we're fairly young, but we're in the middle of the season now, and we should be able to at least pull one of those out. So we'll get back to the gym, work on things, and try to get the next one."