ROCK FALLS – The Rockets volleyball team made short work of North Boone in its Big Northern Conference opener Wednesday night at Tabor Gym, winning 25-4, 25-8.
Rock Falls (12-0, 1-0 BNC) jumped out to a 15-0 lead with Cadence Stonitsch serving in the first set, then Maya Sands served 16 straight points in the second set for a 19-2 lead.
Knowing the level of competition wasn't going to be too strong, the Rockets created some match-specific goals and set out to accomplish them.
"I think we achieved our goals tonight. We wanted to go out there and work on our own things," said Mallory Pinske, who slammed a match-high nine kills. "We knew it wasn't going to be super-hard competition, so we were just working on the little things, and were able to do it during a match."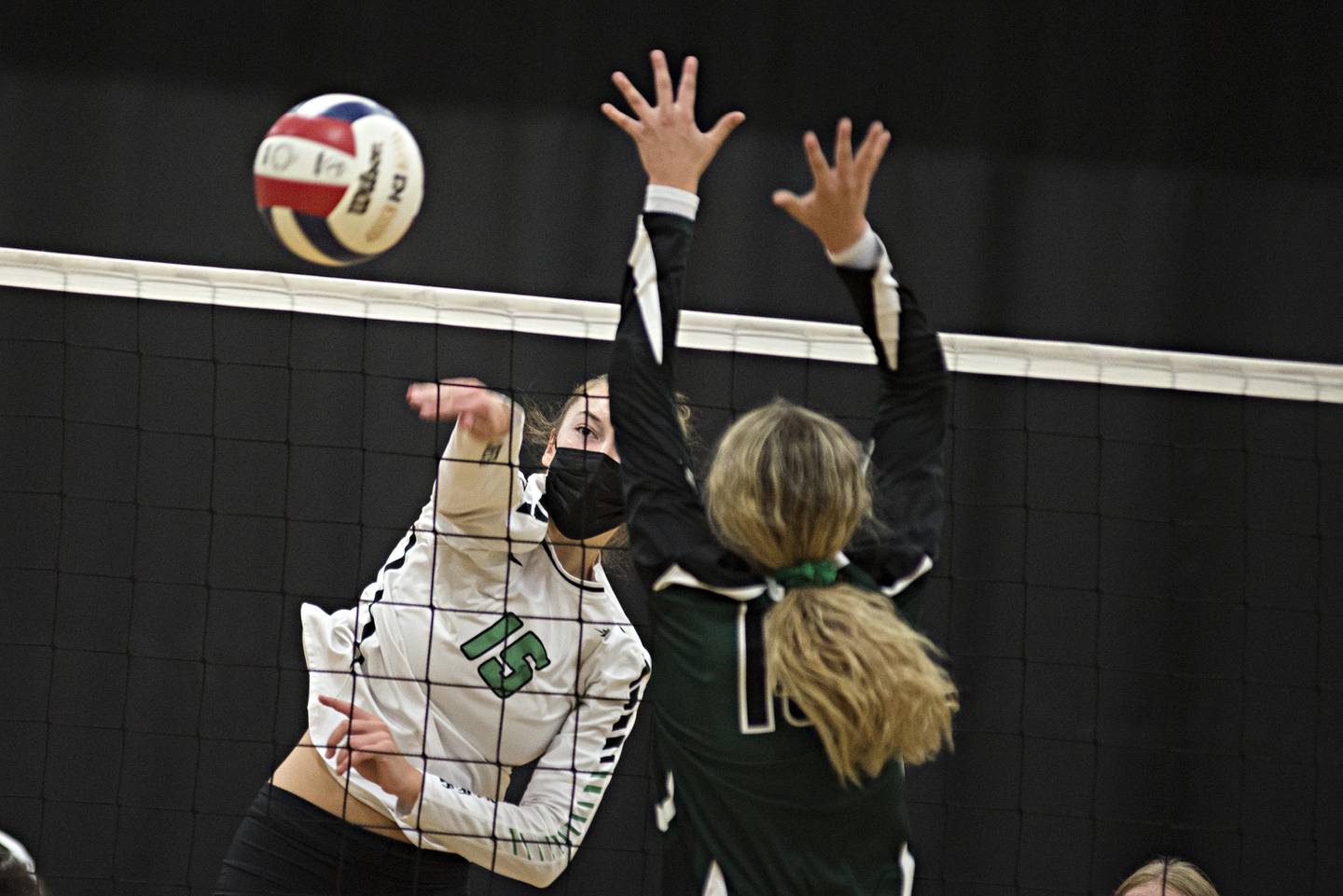 Pinske had five kills in the opening onslaught to start the match, and Maya Sands, Claire Bickett and Emily Lego also added kills. North Boone's first two points were on Rock Falls hitting errors, the second coming after Sands served six straight points – three on aces and another on a Bickett kill – to make it 22-1.
Nicolette Udell's tip-kill closed the match after a kill by North Boone's Kaylee White and another Rocket error.
"It did throw us off early on to have an open net to swing off of, but it was really nice. We got to pound some balls," Pinske said. "We also worked on our communication. It was good for us to keep talking, not let any balls drop, get us all on the same page. We were able to keep them from getting too many kills, which was good."
The Vikings got two blocks and an ace from Skylar Pargman in the second set, as well as a kill from Kourtney Olsen and a block by Johnna Goings. The other three points came on Rock Falls hitting errors.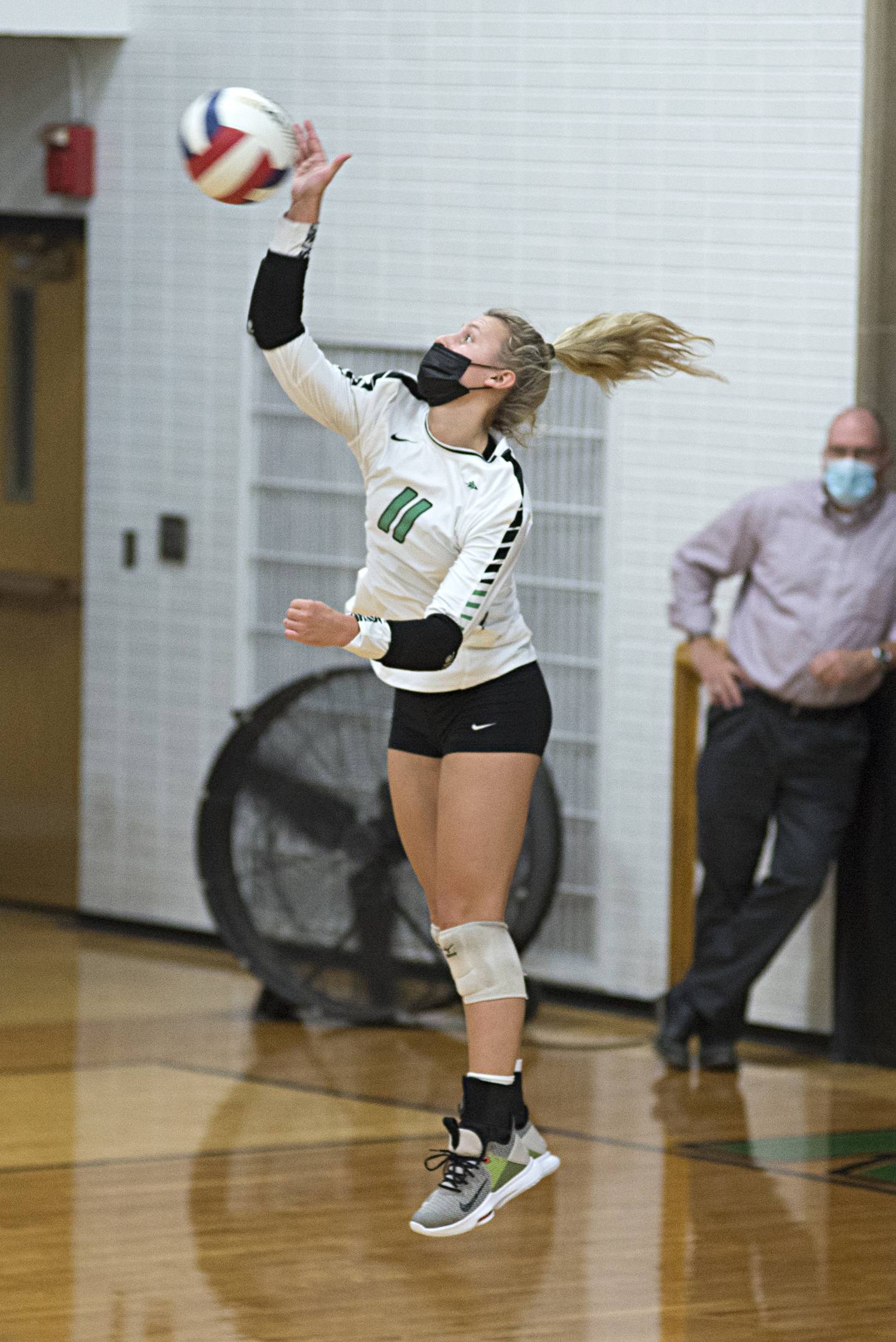 Sands' tip-kill gave Rock Falls a sideout and a 3-2 lead in the second set, and started her long serving run. She had three consecutive aces to make it 7-2, and the Rockets also got kills during that stretch from Pinske, Bickett, Alyse Bryant and Katie Witherow.
Setter Cadence Stonitsch moved into the front row as a hitter toward the end, spiking a pair of kills.
"Everybody's always ready to play, and we got a lot of girls some court time today," said Lego, who had a pair of kills. "It was just an opportunity to run some of our plays, get some things compacted down and ready to go for the next one."
Sands finished with five kills, five digs, 22 points and seven aces, while Bickett had three kills, and Cara Goff added 10 digs. Denali Stonitsch dished six assists, Cadence Stonitsch had five assists and 14 points, and Jacee Sigel added two assists.
While they didn't get pushed too much Wednesday, the Rockets believe they can build on some things for Saturday's match at Bradley-Bourbonnais. Rock Falls then hosts BNC foe Rockford Christian on Tuesday and rival Sterling next Thursday, before playing exclusively Big Northern competition the rest of the regular season.
"It kind of prepares us a little bit, gives us some practice running our offense, running some plays that we can take into this weekend and the rest of the conference season," Lego said.