CHARLESTON – The Dixon Duchesses had a good day in the preliminaries of the Class 2A State Track & Field Meet on Friday morning at O'Brien Field on the campus of Eastern Illinois University.
Sterling junior Alice Sotelo also had a successful Day 1, putting herself in good position in the triple jump.
On a morning that started cloudy and turned sunny, but had 15-20 mph winds blowing steadily from the south, seven local 2A competitors took their shot on the blue track in Charleston.
Sotelo was tied with two other triple jumpers as the top seed (11.24 meters) going into the state meet, and she'll enter the finals as the second seed after a leap of 11.13 on her first attempt.
"It's all excitement," Sotelo said. "I'm surprisingly not nervous at all. I was confident, and I'm still very confident in myself. I got that first jump, which was good. My last two jumps weren't great. They were really good jumps. I just didn't make the board. I'm really ready for tomorrow."
Lincoln's Reese McCuan, one of the other two top seeds coming in, led the way in prelims with an 11.18, and Haneefa Adam from Regina Dominican, the other jumper who had an 11.24 coming in, sits in third at 11.02.
All of those marks carry over to the finals. McCuan will jump last, and Sotelo will go second-to-last.
"It's good that I'm toward the bottom of the jump list again," Sotelo said. "I can just see what everyone else is jumping. That Lincoln girl just jumped a little bit farther than me, but I'm not worried. I know what I can do, and maybe I have something in my back pocket. You never know. I'm ready.
"I know I have competition here, and I know I can't mess around. My mindset is different here, I guess, but it's still the triple jump. I've just got to jump like me, like I know I can."
Dixon advanced to the finals in all three of its events Friday. The 4x800 relay team of Hannah Steinmeyer, Emma Smith, Keeley Mick and Kait Knipple ran a 10:02.27 to kick things off in the opening event on the track and will be seeded fifth Saturday. Lake Villa Lakes had the top prelim time of 9:51.83.
Steinmeyer started strong in the leadoff leg, running to the front in the first curve and staying there until near the end of her second lap.
"Well, I was told that it was going to be pretty shove-y with everybody fighting for a spot, so I took an opening because I didn't want to be trampled," she said. "But then nobody else was fighting, so I just kind of took it and ran with it.
"I think it definitely gave us some hope, and I definitely surprised myself with that. At first, I thought, 'Wow, what's going on?' Then I I just tried to keep it up as much as I could for the team."
Her teammates were duly impressed, and the fast start helped the Duchesses feel a little more comfortable in the following legs.
"We were just thinking, 'Go Hannah!' She's really good at getting out there," Mick said. "I don't think any of us had our best race, but I still think we did pretty good. We beat our [outdoor] PR by a second, so that's pretty good. I think we ran a good race."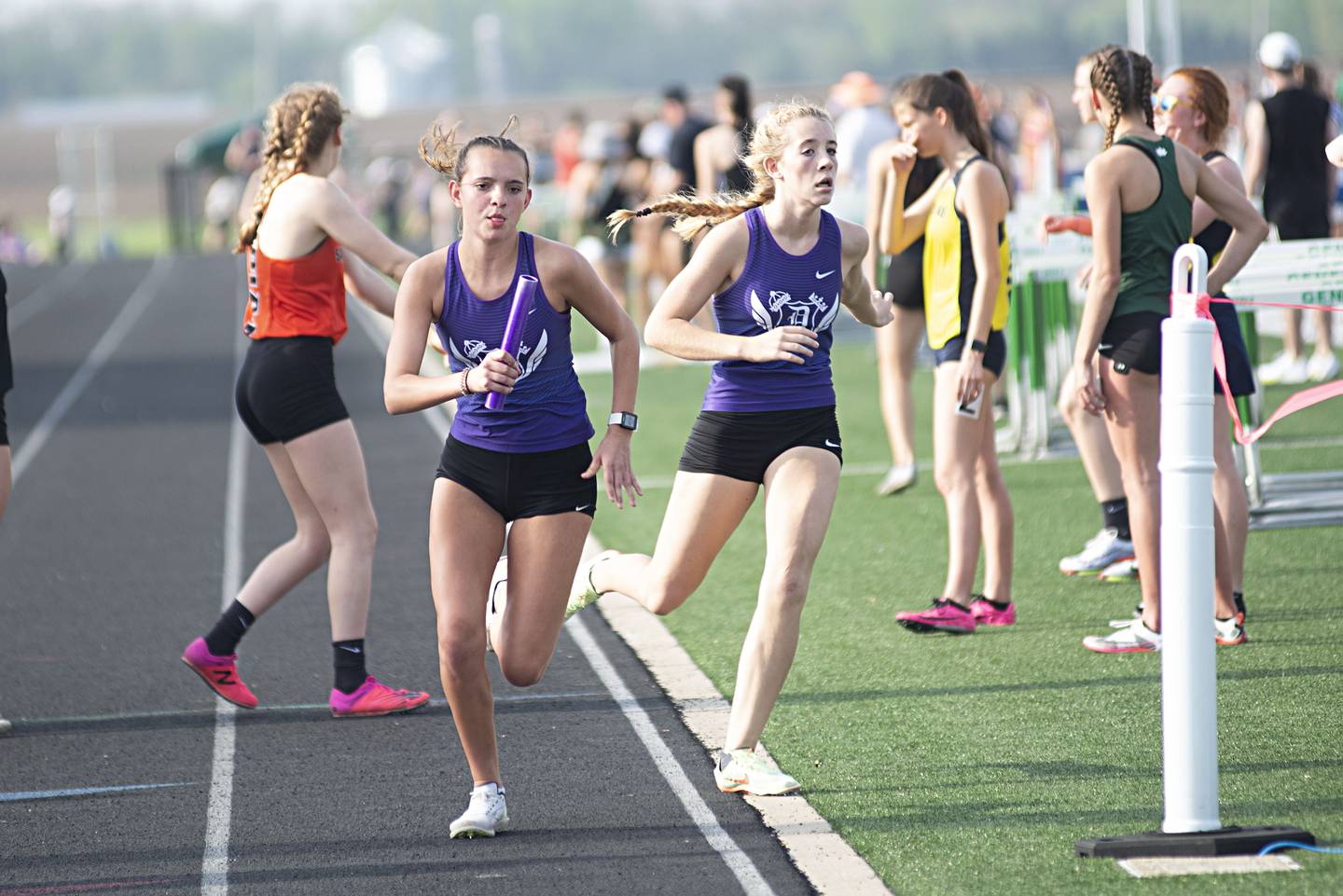 Smith took over on the second leg, and she maintained the second spot until handing off to fellow sophomore Mick, who kept Dixon in the hunt for the third leg.
Knipple, a junior, stayed near the front for her first lap, but couldn't keep up the pace. In the end the Duchesses took third in their heat, but easily qualified for finals.
"It feels really good and optimistic going into the finals," Knipple said. "Today, personally I didn't perform my PR, but to know that my teammates can still push it and we can make it to finals, that's big. Then when we can all give it our all, it's looking good."
With the prelim run turning out exactly as the Duchesses had planned, they're now turning their focus to Saturday's finals, and making up some time and some spots on the podium.
"We were going by time. We wanted to kind of stay up near the front, too," Mick said of the game plan. "Today we weren't looking to go out super PR. We were hoping to run well, make the finals. The place or time didn't really matter, as long as we get to the finals. Then [Saturday], just really give it our all."
"The plan was to just compete, then work hard to do whatever we can to make the second day, because that's where we're really going to push it," Knipple said. "That day, you've got to give it all, because it's do or die. We just wanted to do whatever it takes, and we did that today, luckily."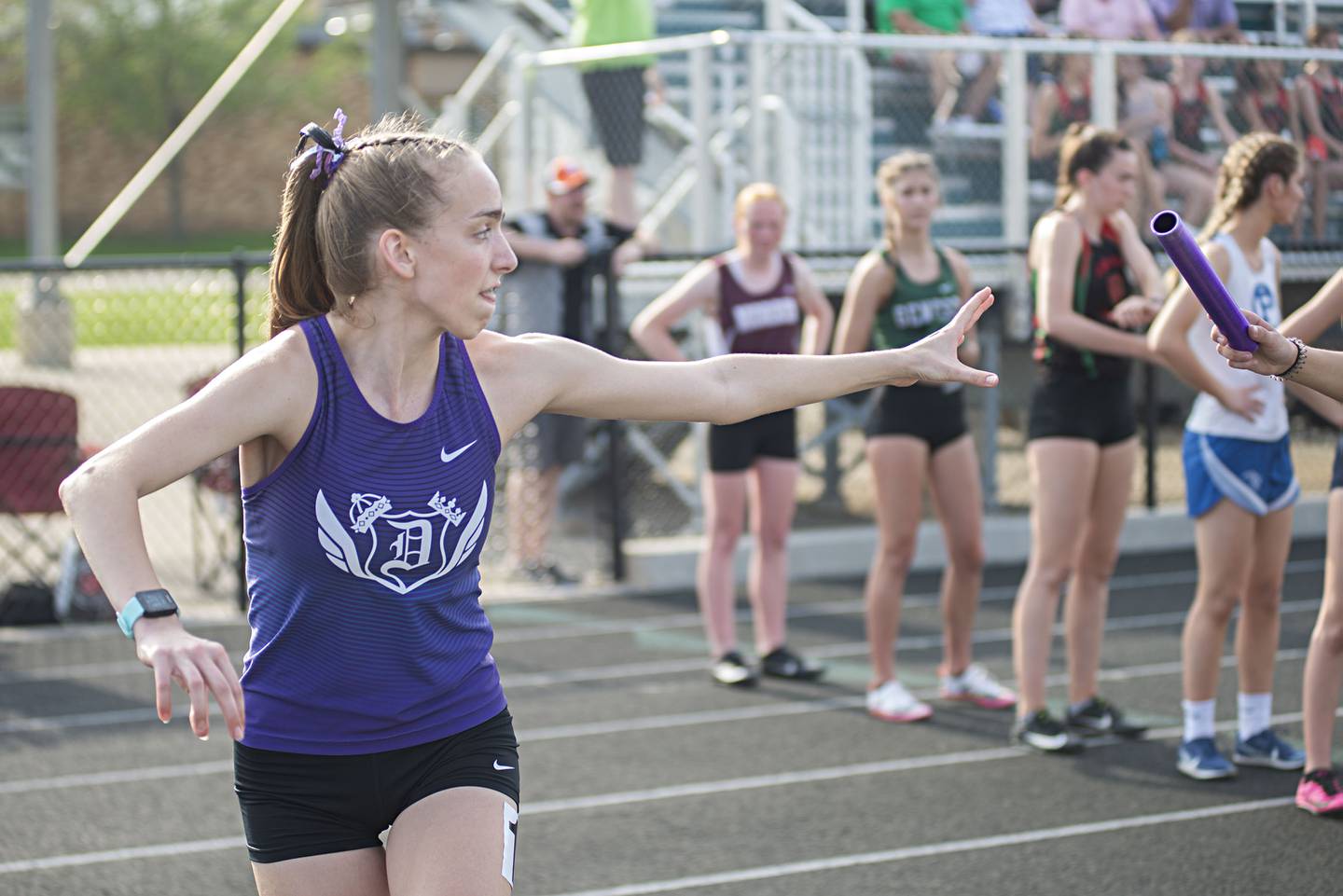 Steinmeyer came back about an hour later and ran in the 800, and she'll pull that race double again for the finals. The junior was clocked in 2:24.18, good enough for the seventh seed of the 12 finalists. Rochester's Colleen Zeibert is the top seed with a 2:16.16.
Battling some fatigue after the strong 4x800 run and turning for home into the stiff breeze took a lot out of her, but Steinmeyer fought through it.
"It was definitely tough, tougher than it's ever been before," she said. "The fast recovery I had to make, and with the warm, windy weather, I just tried my best."
Smith also will run two events Saturday, as she qualified for the finals in the 1,600. After struggling to stay with the front pack in her heat, she pushed herself as hard as she could, and it paid off.
"I was supposed to go out with the front pack, then I just fell off, you know how that works," Smith said. "The first two laps were good, but I just went downhill from there. The wind really got to me. I shouldn't make any excuses, but it was tough down that last 100. I definitely was a little tired from the 4x8, but hopefully I'll make the finals."
Her wish was granted just a few minutes later. As Smith was walking outside the fence to greet her family, distance coach Simon Thorpe was monitoring the results nearby. When he saw the list of finalists posted online, he gave Smith the good news, which resulted in a huge smile and congratulations from her family.
Smith's time of 5:19.42 was the 12th fastest and earned the last finals spot by 0.43 seconds. The top time Friday was a 4:54.83 by Richland County's Tatum David.
Rock Falls also had a pair of runners competing in the prelims, but neither advanced to the finals.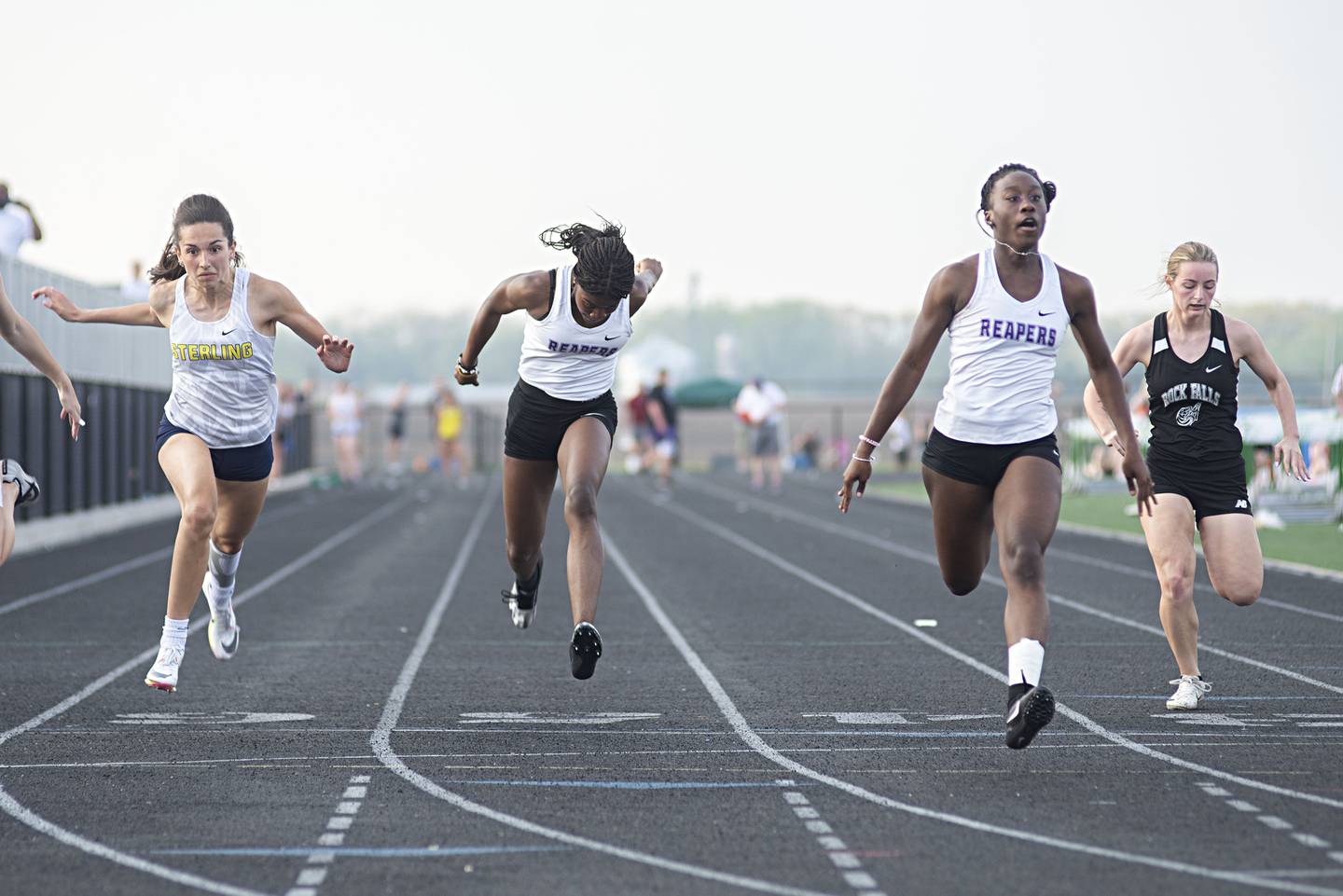 Senior Emily Spooner ran the 400 dash in 1:03.02, finishing in the middle of her heat and 19th overall. She finished strong, passing another runner right before the finish line, fighting through the wind down the final straightaway.
"It was difficult, but I just used my arms," Spooner said. "We work out a lot in practice to help that, so we're strong for wind. On the backstretch, the wind felt really good on my back, so I knew I had the speed for this race and I knew I could hold it a little longer than them, and I had a stronger mindset than them.
"It was a good race. I mean, I always feel like I could've done better after my races, but I'm happy with what I did."
Hana Ford was in the opposite heat as Smith in the 1600, and she finished in 5:35.52, good for 22nd place overall. Despite not qualifying for finals, the sophomore did achieve one goal she set out to accomplish in the final weekend of the season.
"I was thinking 5:30 or so, wanting to get down there to my PR," she said after eclipsing her previous best of 5:42. "I feel like the race was faster than normal. My goal was to try to stay up with the one girl in front of me as much as possible, and I was able to pass her about midway through.
"I felt strong during that point, so I thought 'Yeah, I can do it.' That was my main thing; I adjust my pace based on how I feel. If I feel strong, I'll try to go as fast as possible and catch the closest runner, and I was able to do that today."