DIXON – Celebrating Senior Day in their final home dual of the season, the Dixon Duchesses had a couple of exciting wins and an emotional loss for their four varsity girls playing in their final tennis meet Thursday afternoon at the Emma Hubbs Tennis Courts.
Leah Kuehl and Nour Alsaramah picked up wins at No. 1 and No. 2 doubles, and a sweep of the singles matches by sophomores Addison Arjes and Leah Stees sent the Duchesses to a 4-1 victory over the Newman Comets.
Kuehl and sophomore Grace Ferguson teamed up for a 6-1, 6-4 win at No. 1 doubles over Julia Rhodes and Emily Beattie. The Dixon duo hit several winners down the middle of the court, and dropped just two points in the final two games to secure the victory.
"I think we did well communicating and just keeping our heads in the game and never giving up on a point," Kuehl said. "When see them both coming up to the net, it's easy to hit down the middle, because they're thinking, 'Oh, who's going to get it?' They have to communicate a lot, so it's easy for us to hit it down the middle and get a winner."
The win was bittersweet for Kuehl, playing her final home match in a solid four-year tennis career. She and Ferguson will be playing for their second straight trip to state at next weekend's 1A Rochelle Sectional.
"It's really sad, thinking about how much I've grown over the last four years, and how close I've gotten to my teammates. It's sad to think that it's coming to a close," she said. "But it was nice to win my last home match."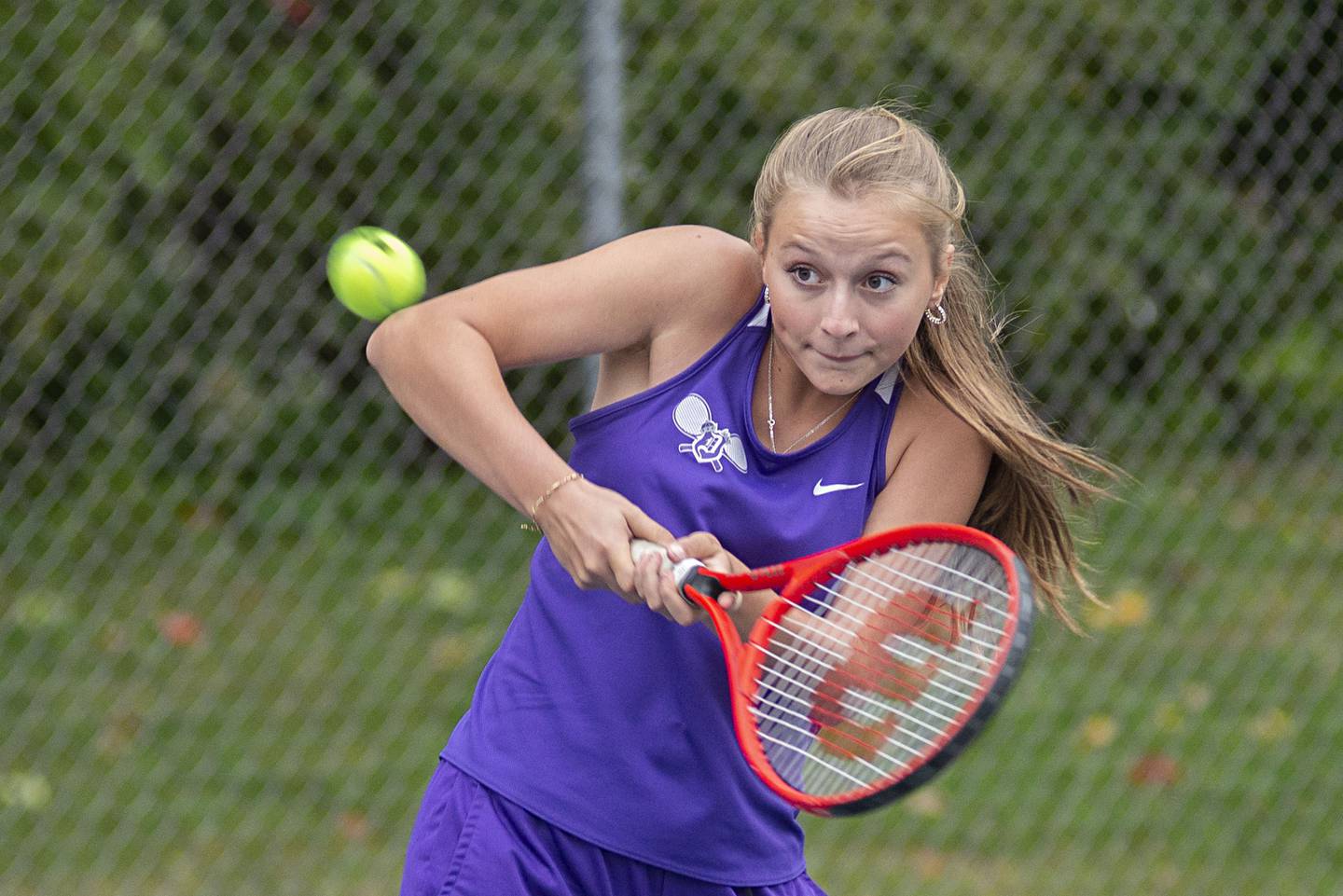 Alsaramah felt the same way after teaming up with sophomore Arielle Tefiku to win 6-0, 6-0 over Newman's Sarah Murray and Emmy Burger at No. 2 doubles.
"I can't believe it's my last match, and the fact that we won makes me really happy," Alsaramah said. "It left the whole season and years I've played on a good note."
That match was the first one done, and Alsaramah credited a good, positive vibe between the teammates as a key to the match. Though they usually play with different partners – Alsaramah normally teams up with Olivia Gingras and Tefiku plays with Siena Kemmeren – they have played "a decent amount of matches together," Alsaramah said.
Thursday they were paired up because Kemmeren was out of town, and their familiarity with each other helped.
"I think it was just our energy that helped us do well. We were really energetic and kept a positive attitude and kept cheering each other on. I think that's what helped us win our match," Alsaramah said. "It's easier to have played together, because when things get hard, you've just got to uplift your partner. Whenever you make a mistake, I'd rather have someone tell me to shake it off or 'you got this.' It really helps with how you play."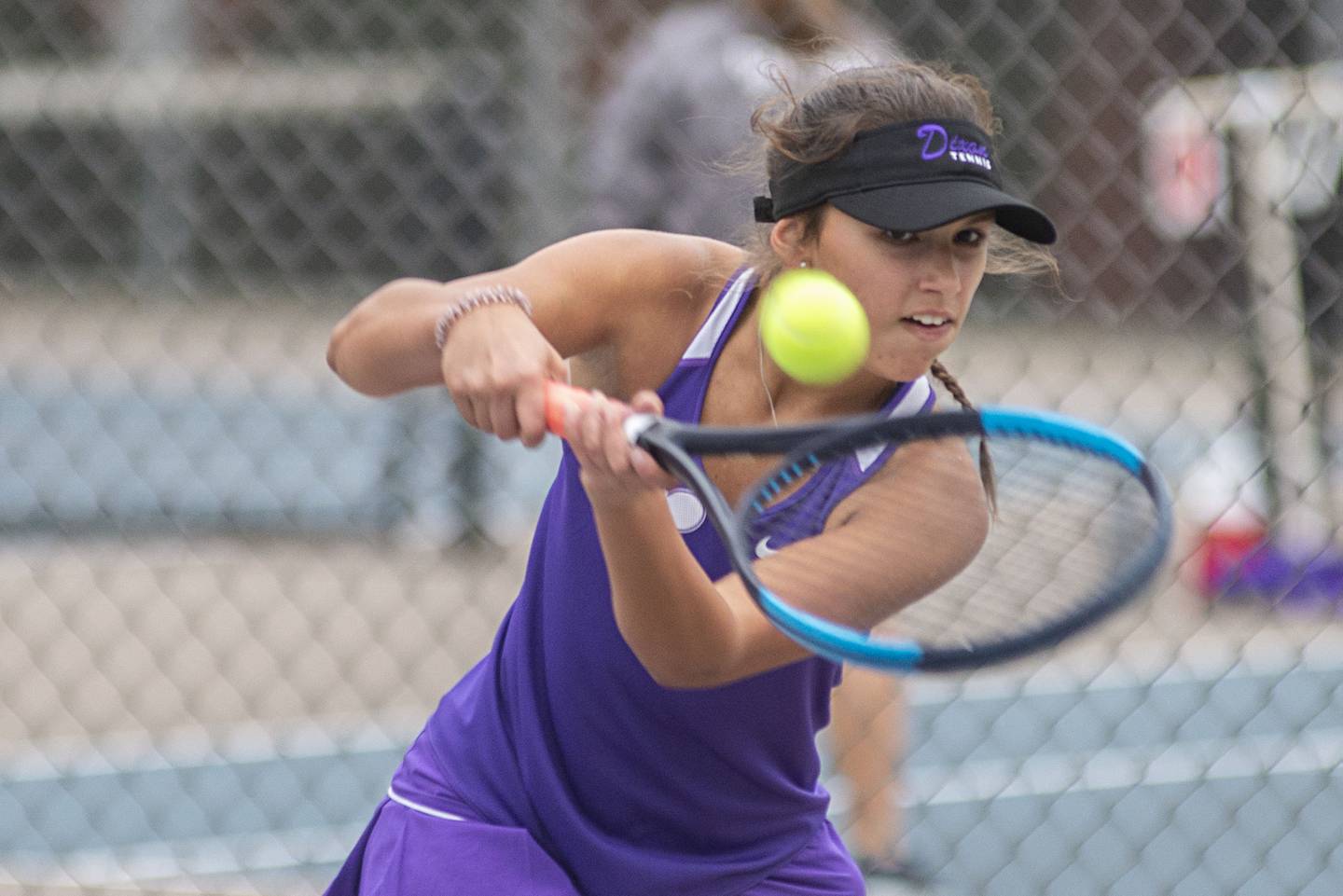 Arjes topped Emma Oswalt 6-1, 6-3 at No. 1 singles, and Stees defeated Maria Ardis 6-1, 6-0 at No. 2 singles.
Oswalt credited Arjes for some strong play, and says more experience on the courts was also a help for the Dixon sophomore.
"Addison is really tough, and she plays really well. Overall, I think we were pretty evenly matched," Oswalt said. "She's definitely been playing tennis for longer than I have – I've only been playing for four years – but I feel like I've developed a lot since last year. The wind definitely did not help anyone in that match, and she had a very powerful cross-court [shot] that I couldn't get to sometimes. She knew where to place the ball, and it was really a fun match."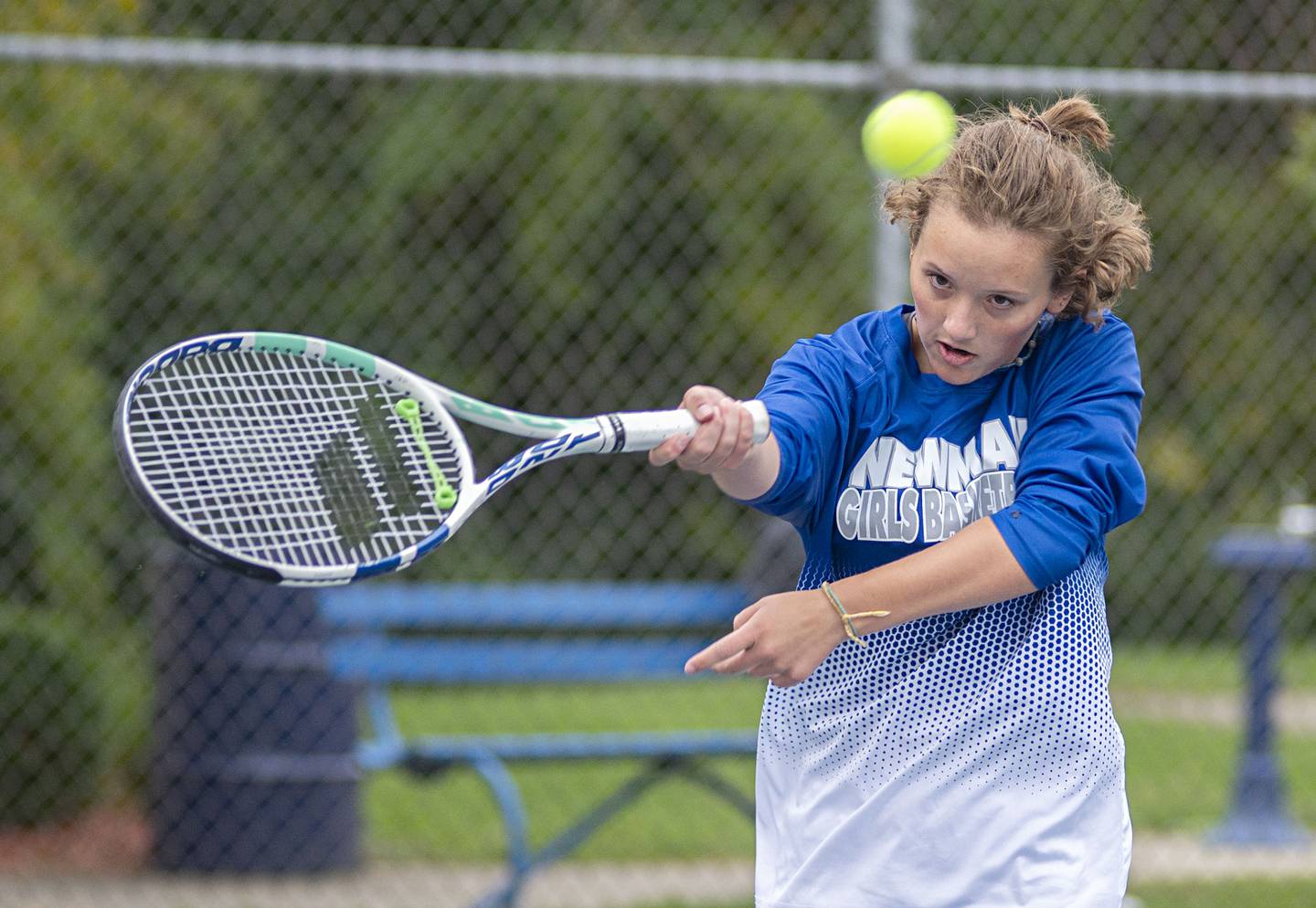 Also a senior, Oswalt reflected a bit on her journey with the Comets the last four years, and said she's always noticing how much she's improved since starting to play tennis as a freshman.
"I definitely see how far I've come, all the time. Sometimes I'll see a hit and I'll think, 'Ooh, that was nice,'" she said with a smile. "I feel it especially with my serves. I'll be going through my routine, and I'll think 'I don't remember doing this freshman year.' I definitely move my feet a lot more during my serve, and I actually serve well now."
Newman's lone win came at No. 3 doubles, where Laurel Chavera and Joy Zigler defeated Dixon's senior duo of Gingras and Ashlyn Schwarz 7-5, 6-2. The long match took a lot out of all four players, and both Duchesses were visibly emotional afterward.
The two Comets said they found a groove about midway through the first set – which took more than an hour – and rode that the rest of the way to win.
"I think we just had to figure out what worked best for us," Zigler said. "Partway through I realized that since we are pretty new, our strengths were me in the back and her in the front. We just kind of went along with a play I've know for a hot minute, and it seemed to work a lot better to help us come out with a victory."
"It's really just about enduring and finding that strength, that power, that thing that you know you're really good at and you're strong with – for example, me at the net and her at the back," Chavera added. "Once we got that rhythm, that's what got us going and sent us to the win. That rhythm is everything, and that gets you into the groove and that gets you the win."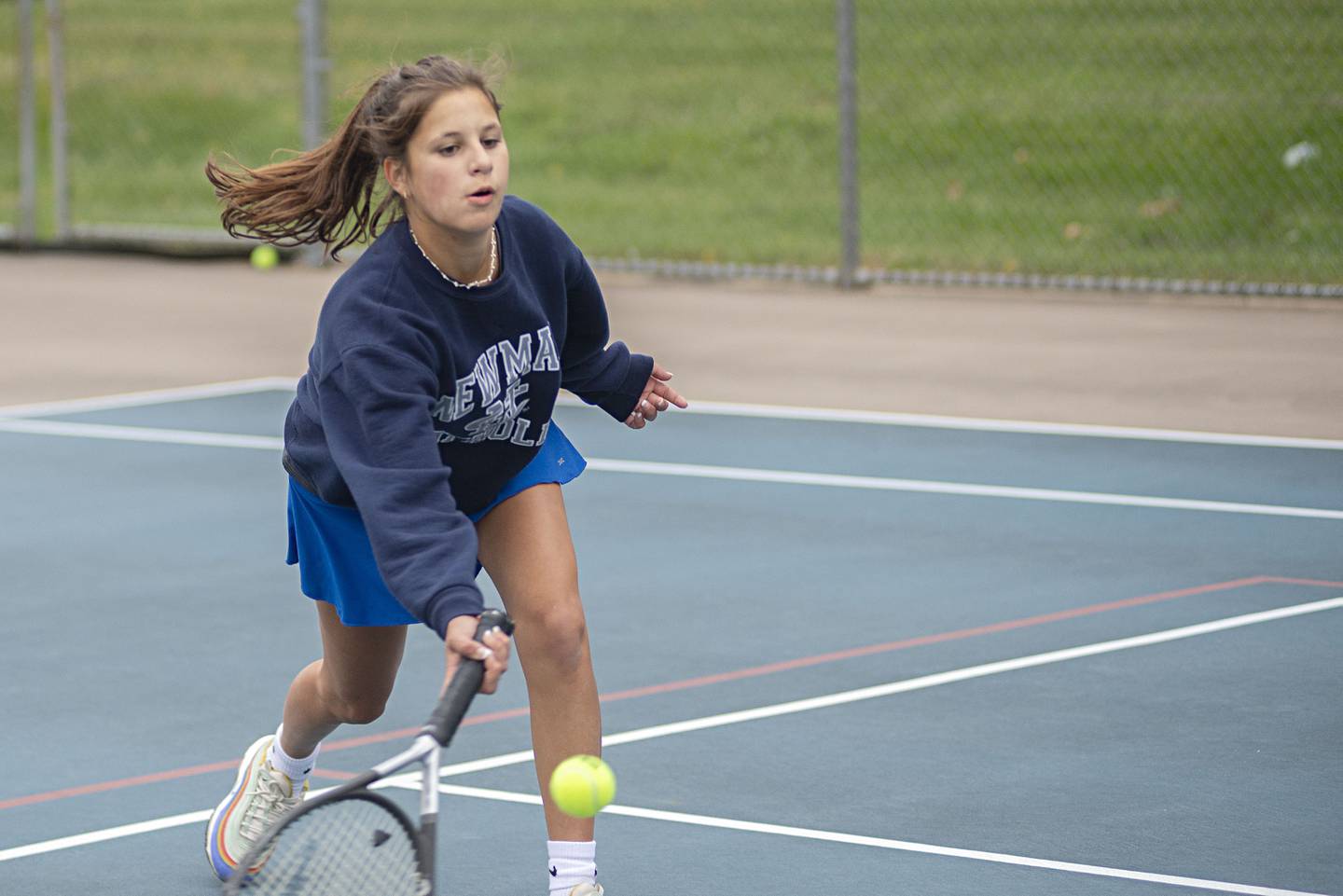 That match was still going long after the other varsity matches had ended, and as the fatigue started to set in, the Newman duo started thinking about speeding things up a little bit, but still securing the win – which made it all worth it.
"One of our assistant coaches said, 'Can we hurry it up a little bit?' I was thinking the same thing," Zigler said. "I was really just trying to rush it along a little bit at the end, but still trying my hardest."
"It feels really good to win a long match like that, because all your hard work just paid off," Chavera said. "That's something that I really love, is when you fight your hardest and you win. That's just the greatest thing."