DIXON – When it comes to tennis around the Sauk Valley area, it's a pretty close-knit community.
So when Dixon and Sterling square off as friendly rivals in a nonconference dual, there's a good chance the players from both teams are familiar with their opponents.
On Thursday evening at the Emma Hubbs Tennis Courts – where many of the girls from both Dixon and Sterling have taken summer lessons growing up – the No. 1 singles matchup was a bit more familiar than most.
[ Photos of Dixon vs. Sterling girls tennis ]
Dixon's Addison Arjes and Sterling's Ellie Aitken are good friends, and actually spent a week as roommates at the Wisconsin-Whitewater camp in early August.
So when the two played each other Thursday at Page Park, it made for some mixed feelings.
"It's tough to not be friendly during the match, and to stay focused," Arjes said. "But it also is easier because I already know how she plays, so I can work my shots to my advantage.
"And it's definitely harder on those close in-out calls, because you don't want to disappoint them or get them mad by making the call."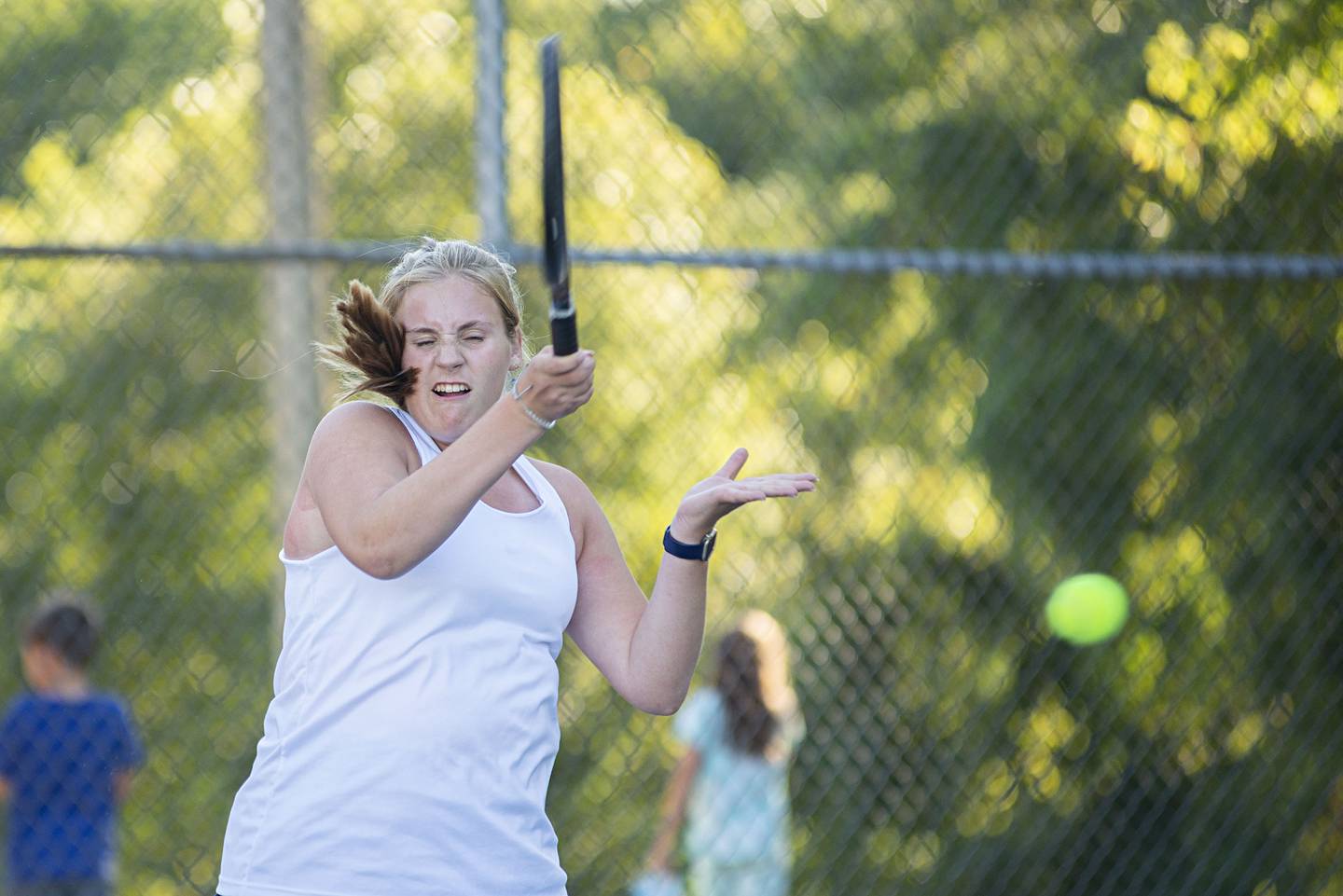 Aitken agreed that knowing your opponent's game can be a good thing, but also noted it's the same for them.
"Sometimes it helps to know what they're going to do, but they also know your game if you play with them a lot, so it works both ways," Aitken said. "You know their game, but they kind of know yours too."
As much fun as it can be to play a friendly match against a familiar opponent, it also has its downside.
"Personally, I don't really like playing against a friend. … I just don't really enjoy those matches. You never want to play your friend because you know one of you is going to be a winner and one's not going to be a winner," Aitken said. "At the end of the day, you know they're not going to be mad, necessarily, if they lose, but they're not going to be really happy. You win and lose together, almost. So it's fun, but it has its pros and cons."
On this day, Arjes got the better of Aitken to the tune of a 6-2, 6-2 victory. The Dixon sophomore had a game plan and stuck to it, and credited that execution with leading to the win.
"My plan was to just make her run around the court," Arjes said. "I know I can get to balls that are farther apart, but sometimes it's harder for her to hit angles on those balls, so that's what I used to my advantage."
As for Aitken, also a sophomore, she noted Arjes' ability to run down several of her best shots and return them as a big key for her friend.
"She got to everything," Aitken said. "She's a really good player, and she got to a lot of good balls today, which is really good for her."
The Duchesses went on to defeat Sterling 5-0, with a bit of a different lineup than usual. Dixon coach Jamie Brigl split up her usual No. 1 doubles duo of Grace Ferguson and Leah Kuehl, and the move paid off, as Kuehl topped Sterling's Layla Tablante 7-5, 6-3 at No. 2 singles, and Ferguson teamed with Leah Stees for a 6-3, 6-3 win over Eva Dillon and Riley Dunn.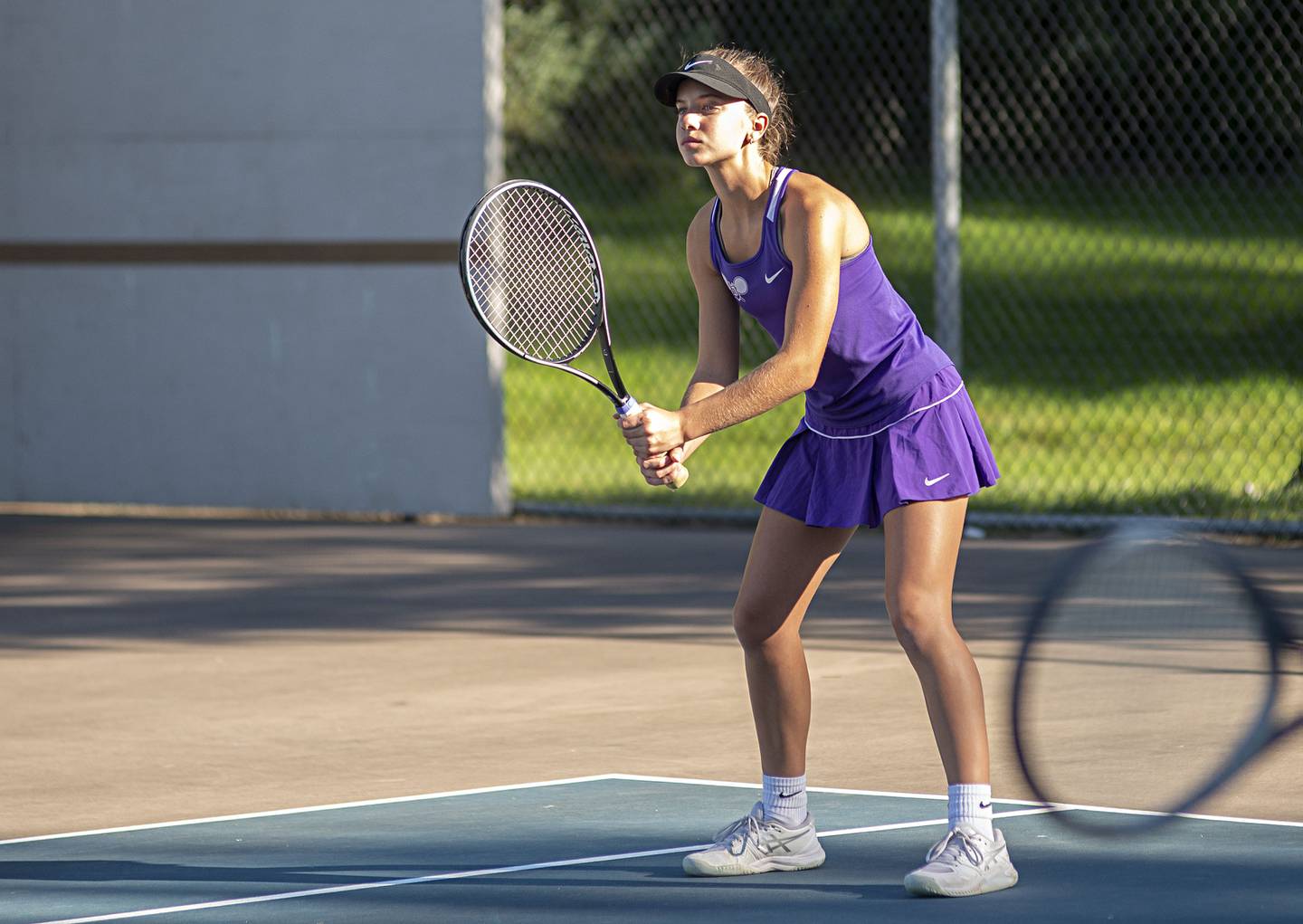 The new doubles duo got stronger as the match progressed, and Stees said it was just a matter of them getting comfortable with each other.
"It was stressful, but a good opportunity," Stees said. "It went well. We've never really played doubles together, so I think we just refocused and learned how to play better together, and adjusted. I think just focusing, and communicating better, I would say, helped us win."
After winning the first set, the two trailed 2-1 in the second set before winning five of the next six games to take the match. Ferguson said being able to rally and take the lead helped them get some momentum going and pull it out.
"When you're up, it definitely helps your energy, and it just makes you feel good. And once you start winning points, you feel even better, and you keep playing well," Ferguson said. "We started communicating better, just talking to each other and fixing little mistakes. It was mostly things like not following through or not bending our knees, so we just tried to see what we were doing wrong and fix it from there."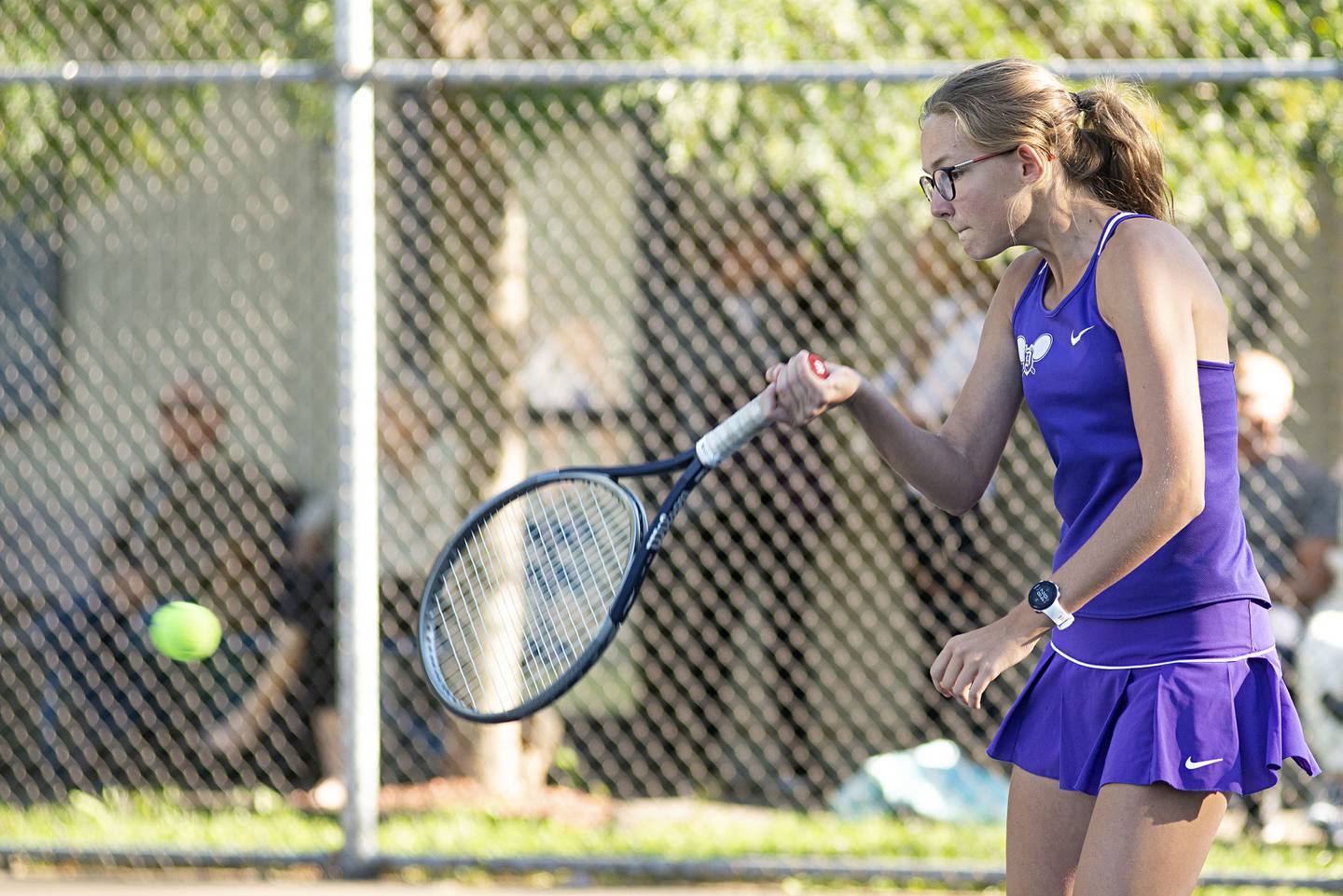 At No. 2 doubles, Arielle Tefiku and Siena Kemmeren pulled out a victory in a third-set tiebreaker – a long match that was made even longer when Kemmeren got hit in the nose with a ball that ended up bouncing back over into the Sterling side of the court.
It wasn't too serious an injury, and she and Tefiku could be heard laughing about it as Kemmeren was tended to by Dixon trainer Alecia Spangler and a small group of coaches and parents. It took several minutes to stop the blood flowing, but when the match resumed, the Duchesses duo rallied to win 6-7 (1), 6-1, 10-6 against Leticia Caudillo and Emma Trader.
Dixon's No. 3 doubles pairing of Olivia Gingras and Nour Alsarama defeated Avery Moran and Teagan Morris 6-1, 6-3.
Next week is the final week of the regular season, as Dixon plays United Township and Rochelle on the road Monday and Tuesday before returning home Thursday against Newman on Senior Night.
Sterling hosts Alleman on Tuesday for Senior Night, then heads to Quincy for the Western Big 6 Meet next weekend before sectionals on Oct. 14 and 15.
Aitken, for one, was happy to get in a challenging match against a friendly rival before heading into the postseason.
"It's nice because we have the Newman rivalry in the beginning [of the season] and then Dixon at the end, so it kind of spaces it out," she said. "I think it's always nice, because you get to see them improve from the beginning of the season to the end, especially when you have a friend whose matches you follow. It's really fun to see them improve throughout the season."