The last thing you expect to do at a sectional tennis tournament is see a teammate across the net. But Sterling's Ellie Aitken and Jenica Francis found themselves in that exact situation in the third-place match at the Class 1A Rochelle Sectional on Saturday afternoon.
The two Golden Warriors, who are almost as close as sisters, found the experience surreal, but also used it as a bit of a celebration for both qualifying for this weekend's state tournament in the Chicago suburbs.
"Honestly, Ellie and I both kind of looked at it as a fun match, because we both were already going to state," said Francis, a senior who was playing in her first sectional meet. "We've played each other multiple times in practice, so we kind of just looked at it as a fun practice match for this upcoming week."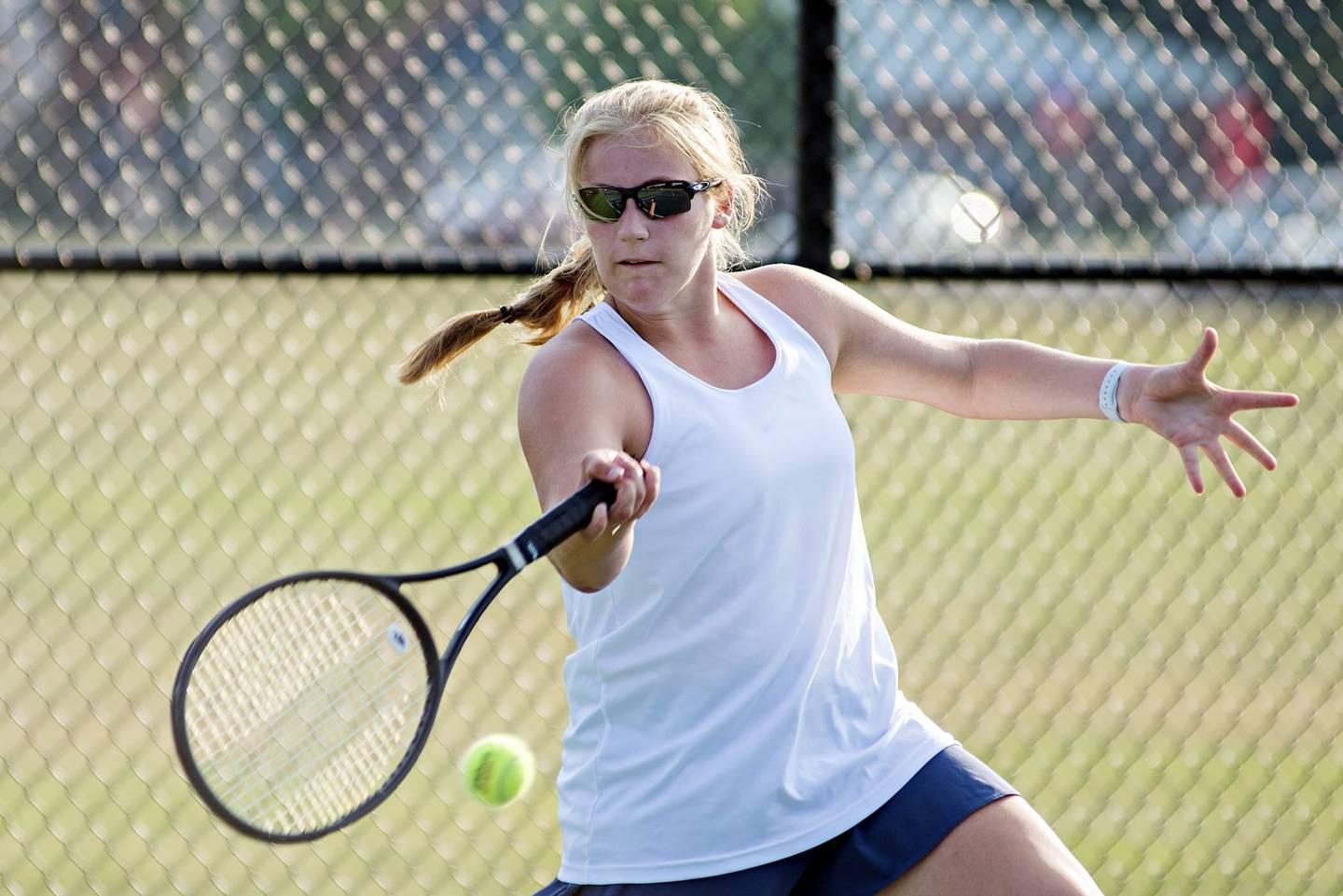 "It was weird," said Aitken, a freshman. "We were both insanely tired, almost not able to move. It was interesting. Playing your teammates is not ideal, but it was fun to play each other when it didn't really matter. Both of us were going to state. There wasn't as much competitiveness at that point; we were going out there to have fun."
The two Sterling singles players are among five local athletes who will finish their season at the state tournament. Newman senior Sarah Tunink also advanced in singles, while Dixon's Leah Kuehl and Grace Ferguson qualified in doubles.
It will be the first trip to state for all five players.
Tunink has been eyeing this longer than any of the others. In her second season playing No. 1 singles, she wanted to make the most of it since she didn't get the chance in 2020 because the state tournament was not held because of COVID restrictions.
Tunink took second at the sectional, defeating Francis in the semifinals before falling to Boylan's Emily Kielty in the title match. But Tunink didn't care where she finished at sectionals, as long as she was one of the final four.
"State was the big goal. I didn't really care what place I got at sectional," Tunink said. "I was hoping for the best, obviously; I was pushing myself to finish as high as I could. But just getting to state is the biggest goal. I've worked hard, I played with the guys all through the spring and the fall, and then every summer, everyday I was out playing tennis and teaching tennis. I'm so happy that hard work paid off."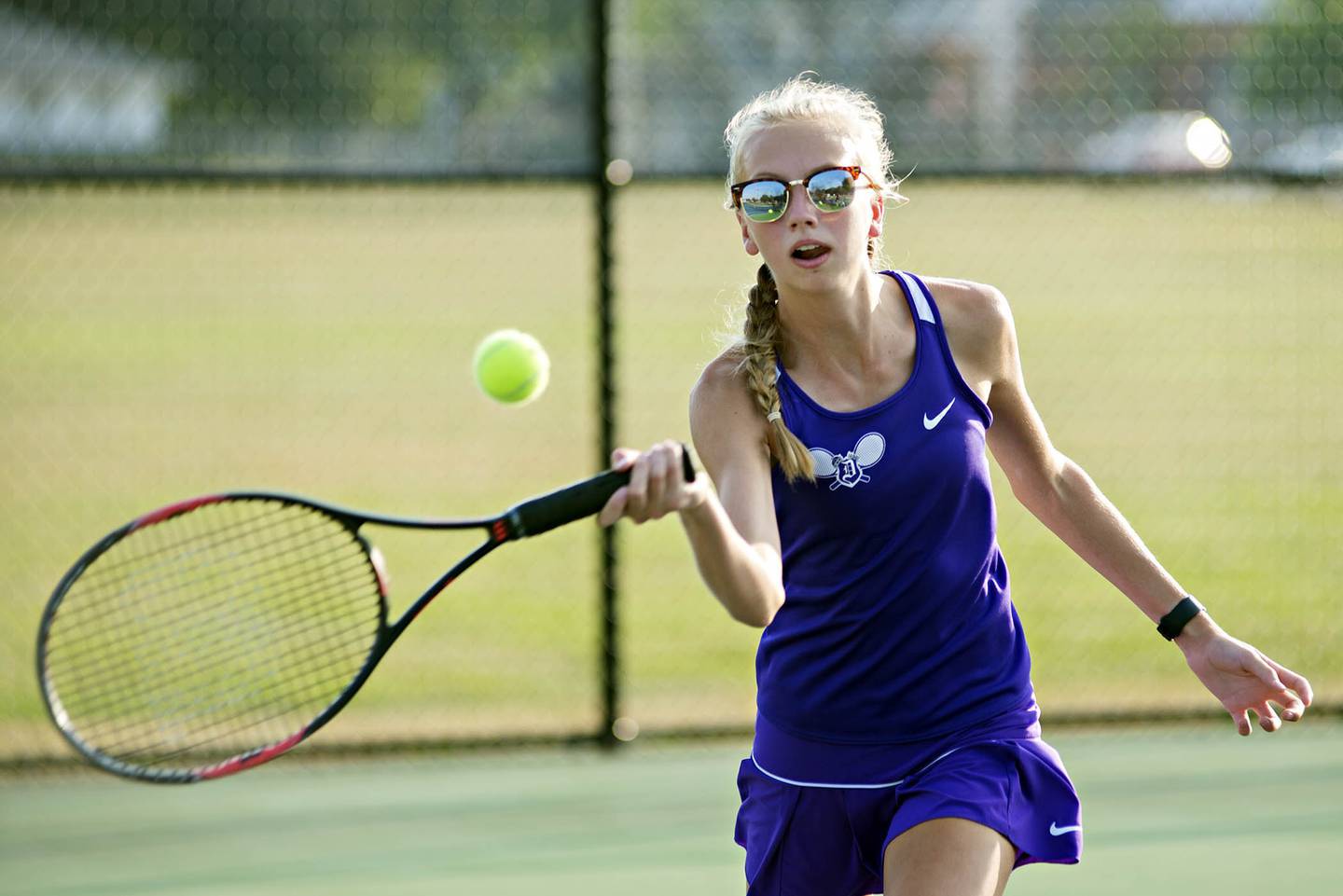 In their first season as doubles partners, Kuehl and Ferguson felt the same way. The two have been friends for years, and the junior Kuehl was happy to join forces with the freshman Ferguson.
Unlike the singles players, the Dixon duo knew it had qualified for state on Friday, as it finished off a third-round win before darkness fell in Rochelle.
"The first day, we just tried to stick together," Ferguson said. "We got through that day, which meant we were going to state, and the second day it was really just about learning what we do best to prepare for state. Overall, we played pretty well.
"I never doubted that we could made it to state, because we worked really hard over the season, but I'm just shocked and excited for it. It's still definitely a surprise."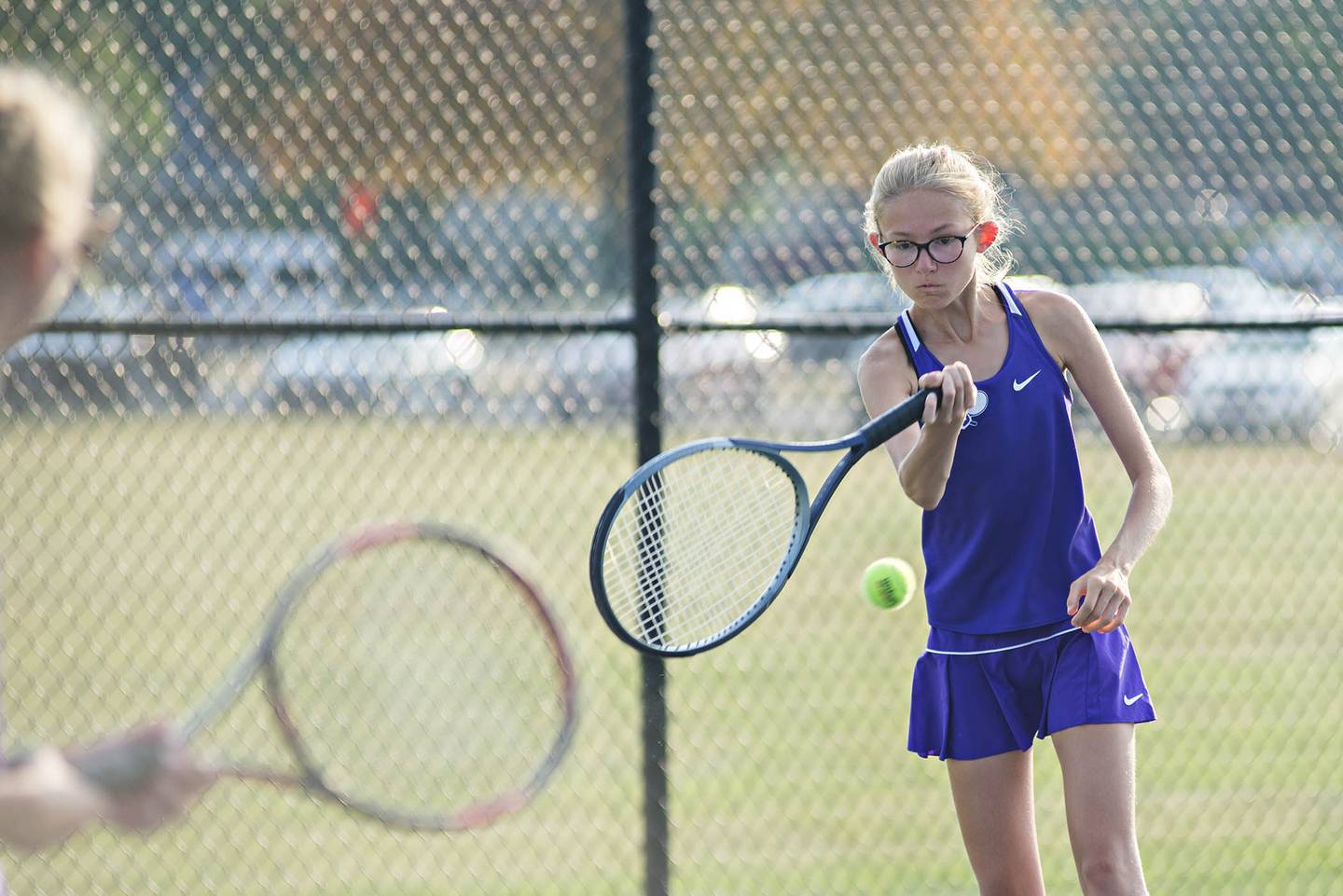 For Kuehl, the state berth was a sign of how far they'd come this season, and said the camaraderie that initially made her think they would be good partners has become stronger every time they've played a match this season.
"It's been really awesome. I always thought we could work really well together as a team, because we have such a good friendship. It's been nice to see us grow as a team," Kuehl said. "Now we just need to go out and do our best at state, and whatever happens, happens. It doesn't really matter what our record is at state, it's just an accomplishment to get there, and I'm really excited to experience it."
That sentiment is shared by the three singles players, as well. For seniors Tunink and Francis, the state tournament is the perfect way to cap off their careers, and they're grateful to get the chance to play at least two more matches.
"It was more like a relief when I made it to the semifinals, and then I was just playing for fun," Tunink said. "I'm going to keep doing that this weekend, just focus on the experience and make the most of it."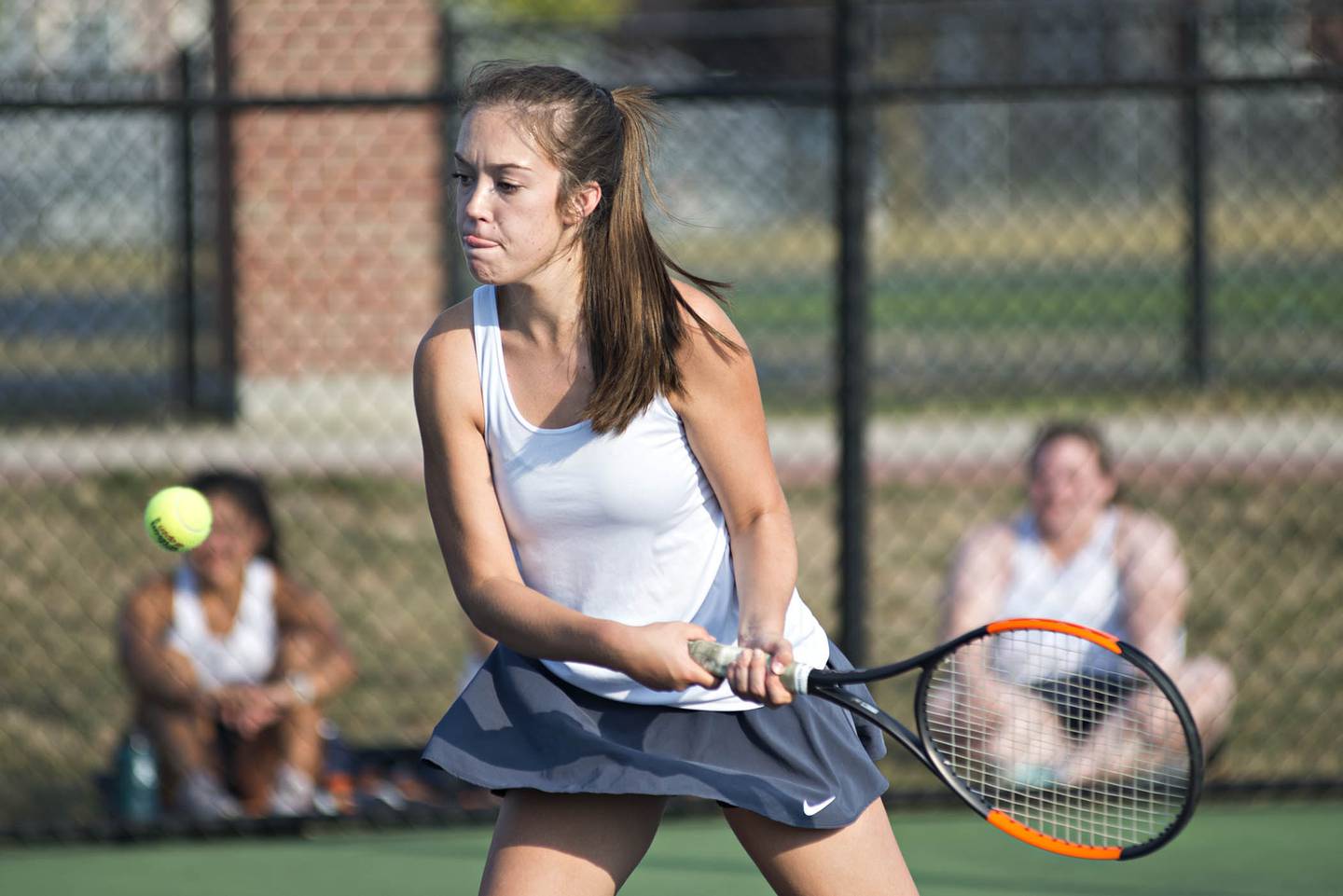 "It's insane," Francis added. "It was my first sectional, so I hadn't even envisioned that. I've never been to any of these types of tournaments, so I think the fact that I'm going to state is still something I can't even fathom. But it's great, and I'm glad I have that opportunity."
As a freshman, Aitken is looking to use her trip to the suburbs as a way to expand her horizons and compete against other tennis players from outside the area.
"I'm just going to try to absorb as much as I can while playing against different types of players," she said. "I'm just looking forward to the experience, meeting new people from different places, and just getting a little taste of state. I'm just going to learn different strategies and find things I can use against different types of players the next few years."
That's really been Aitken's strategy all season long. After watching older sister Abby play No. 1 singles in 2018 and 2019, Ellie stepped into the role as a freshman this season and treated the whole fall as a way to acclimate herself to the role.
"Typically people put their No. 1 person at 1 singles, so you play a lot better people," she said. "It's tough, but you just have to take it as it goes. I think my job was to just go out there and do the best I can and be positive, have high energy, and use every match as a learning experience."
Tunink was the only returning No. 1 singles player for the three area teams, and said the experience she had in the spot last year was a huge help this season.
But she also said the experience was a bit of a double-edged sword, because with the knowledge of her opponents came with more expectations.
"I knew some of the other players on the other teams that we played, because I've played against them before," Tunink said. "Coming back from last year, I'm just more comfortable, I really am.
"But I think, honestly, I feel more pressure this year. Last year, even though I felt like I wanted to go to state, I didn't think I was ready enough. This year, I pushed myself harder, and it's my last year, so I feel like there's more pressure. I think the key for me throughout the season was learning to not put as much pressure on myself, but it's definitely been there all season."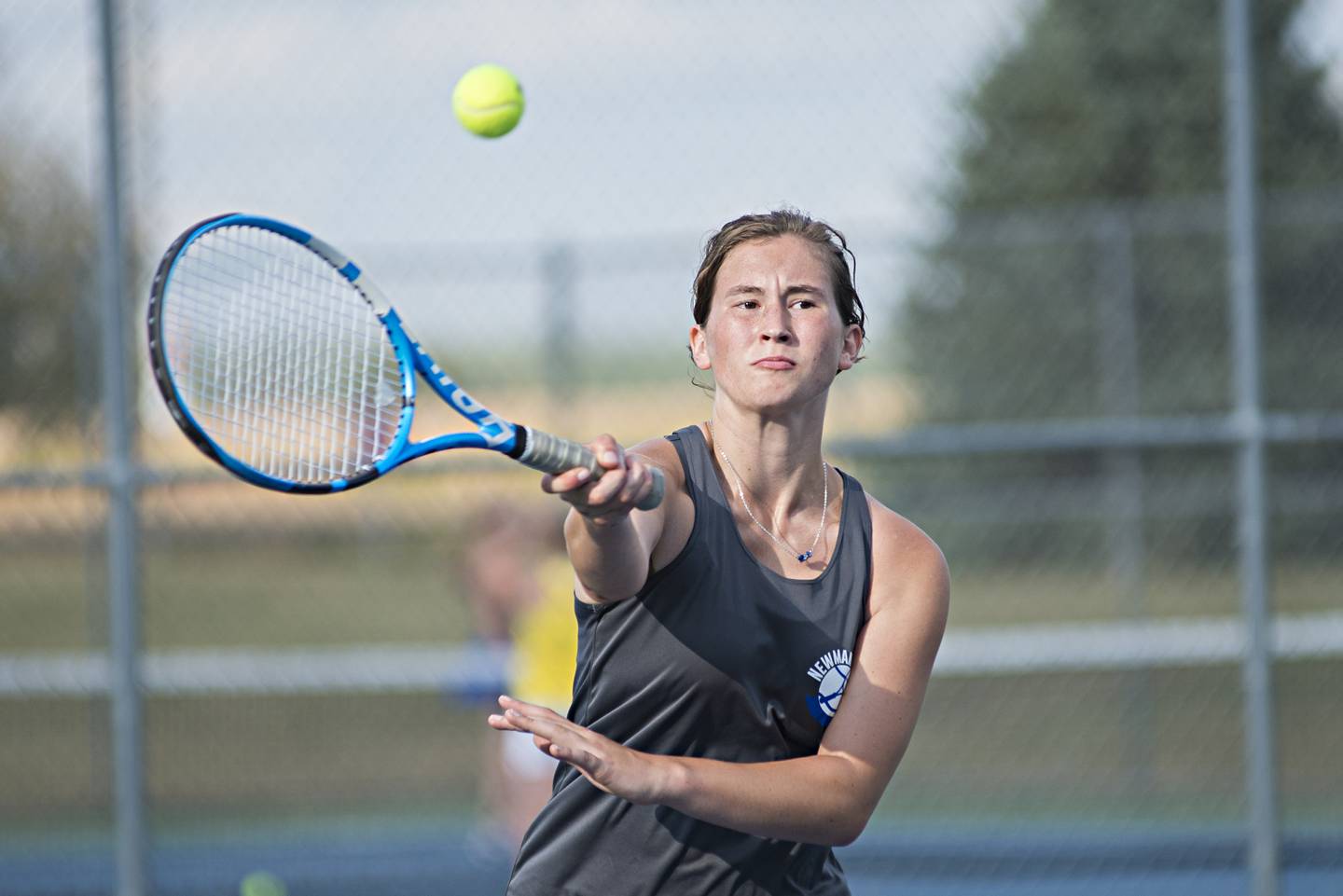 One of her teammates, Marisel Schalck, got a taste of that when Tunink missed the Sterling Invite on Sept. 18 to visit her brother at Notre Dame. Schalck stepped into the No. 1 singles spot and played well, earning runner-up honors after discovering her own metal fortitude.
"That was scary. I got in my head a little bit, but it wasn't as bad as I had made it seem," Schalck said afterward. "My goal was to not get last place, and I ended up getting second. My coach was reminding me to take a lot of deep breaths, and that worked out very well."
While Tunink was putting in a lot of hard work to take the next step to state, Dixon senior Chloe Coil was working equally as hard to earn that No. 1 spot.
After Riley Bally held down that top spot in the Duchesses' lineup the last few years, Coil saw her opportunity after Bally graduated last spring. Even without a ton of tennis experience, Coil put her nose to the grindstone and impressed coach Jamie Brigl with her work ethic, improvement and attitude to earn the No. 1 spot.
"I started playing tennis my freshman year, so I actually didn't have a lot of experience. I just really worked my butt off last year, playing 13 hours a week and really trying to get that spot," she said after a match earlier this season. "And now that I'm here, it is a lot of pressure, so when I lose, I lose hard – but the winning beats it."
And even though she missed out on a trip to state, Coil should be proud of the season she had. She won far more than she lost, earned the No. 2 seed in singles for the sectional, and should cherish all the good memories she made during her senior season.