Just because she's been here before doesn't make this week any less special for Laci Long.
The Dixon senior diver won her third consecutive sectional championship Saturday in Rockford, helping the Byron co-op take their third straight title as well.
But it's the upcoming weekend that has Long and her teammates even more excited. After the state meet was canceled last year because of COVID-19, it's back again Friday and Saturday at the FMC Natatorium in Westmont.
"I'm so excited to go back to state this weekend, and I'm very excited I get to go down there with my team," Long said. "I'm excited to see the amazing divers at state as well, and I'm so happy to finish my senior season there."
At the Jefferson Sectional this past Saturday, Long scored a 412.55 to win the 1-meter diving competition by 31.35 points – over freshman teammate Addison Bausman (381.20), no less. She said the key was to see the dive in her mind before she did it, then match that when she got on the board.
"Basically before I got on the board, I would go through the dive visually, then I would get on the board and breathe and visualize it again," she said, "and then just execute it really nicely."
The dives she executed showed how far she's come in her career. As a sophomore, she would think about the difficulty level of each dive only as a way to increase her possible point total.
But this season, it was more about landing those difficult dives than just simply doing them.
"It's changed a lot," she said about her mindset. "My mentality sophomore year was to just have the difficulty and not have to execute it well. But it actually really helps if you execute the difficult dives well to get those higher points. I think I definitely have the mentality now that yes they're difficult dives, but I have to execute it well. I've been working on that a lot."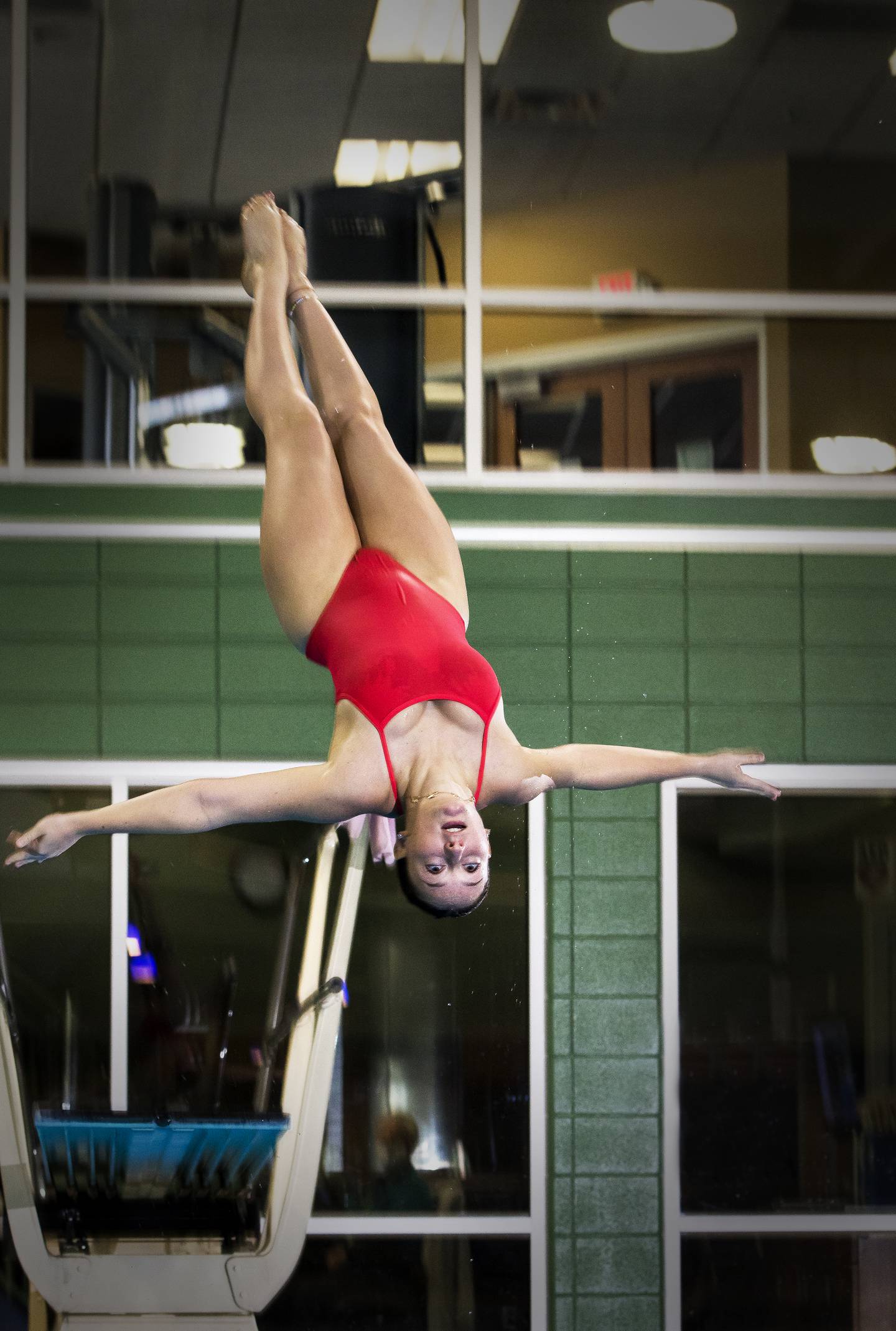 She also has a different mindset going into the state meet than she did two years ago, for a few reasons. Not only is it more appreciation since missing out last year, but she also wants to make the most of her final high school swim meet.
She also feels more confident dealing with all the extra stuff that comes with competing at the state meet.
"I think it's definitely a different approach this time," she said. "My sophomore year I was really, really nervous, but this year I've kind of got the hang of things and I'm just going to enjoy myself at state and just hope for the best."
And she's not putting any extra pressure on herself to perform – mainly because she feels she's already accomplished her main goal coming into the season.
Having so much experience means she knows what she can do and she's confident in her ability to perform – and she's also not worried about getting a specific score or place in the meet.
"My goal this whole season was just winning sectionals again, so the fact that I've already met that goal is a good feeling," Long said. "Other than that, just being there at state is my goal achievement. My goal is just to execute my dives well and see where it places me."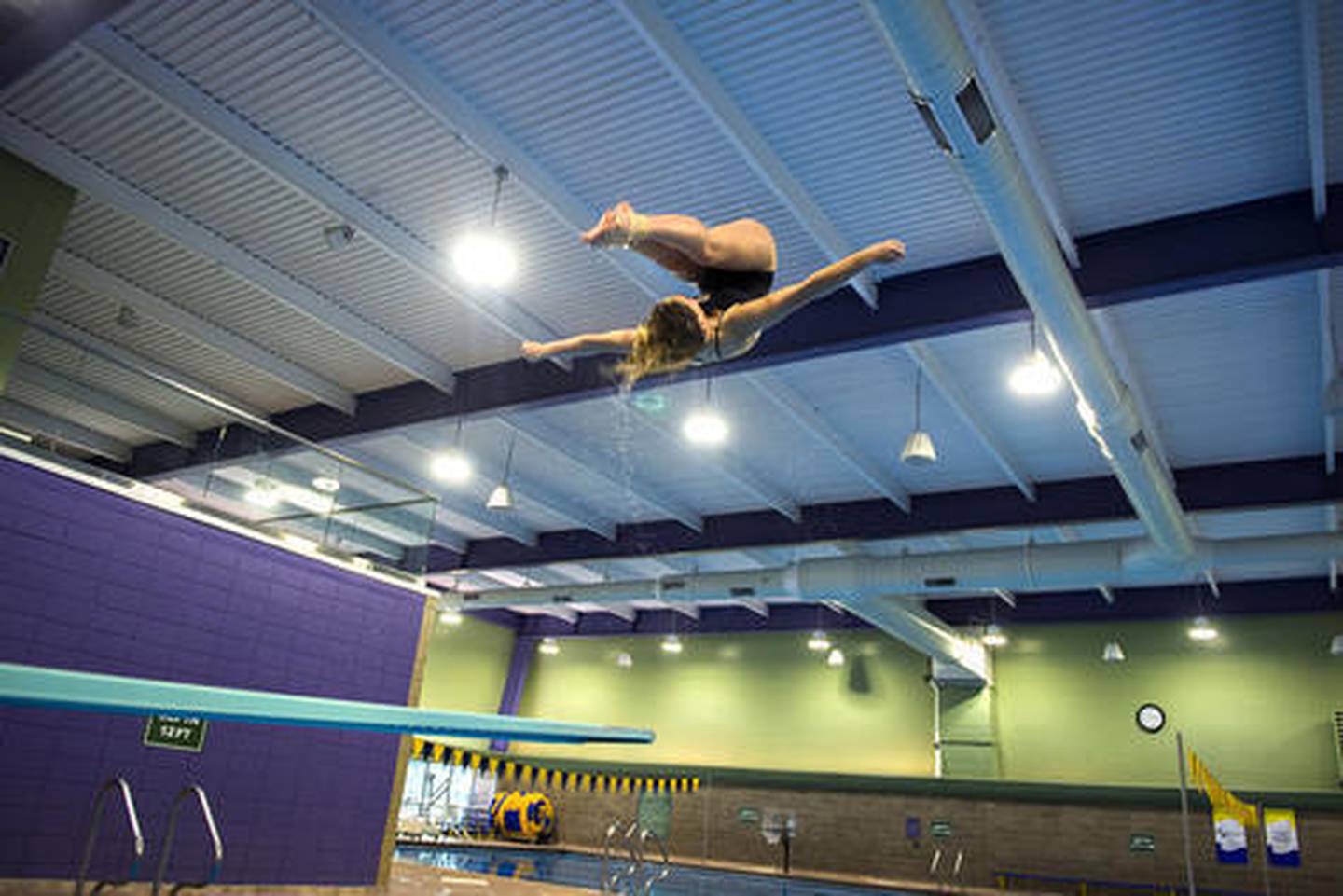 Still, the best part about a trip to the suburbs for state is that she has plenty of company again. Teammate Kate Schilling qualified for state in two individual events, and the Tigers also advance in the 200 medley and 400 freestyle relays.
Long also had several teammates competing in the swimming portion of the meet her sophomore year, and remembers enjoying their time together despite her nerves. She's hoping that a more relaxed approach will help her enjoy it even more this time around.
"It's really fun having them there with me. They ask me a lot of questions about diving at state, and I ask them a lot of questions about swimming, so it's nice to have that dynamic," she said. "Bonding with my team is really fun, and being at state means knowing that you're at the top tier in the sport, but also with your teammates. It's the best competition and the best time together."
It will also mark the end of Long's high school career. But for a girl with an ever-present smile and an always-positive attitude, she's looking forward to the next chapter – club season, then college – with excited anticipation.
Next comes club season, which is also really fun," she said. "Then, I'm looking at a couple of colleges, and every one I've applied to or had phone calls with, it's about diving. I'm looking forward to competing at the next level."