OREGON – It was almost a carbon copy of state qualifiers for Forreston-Polo and Oregon at Friday's Class 1A Oregon boys track and field sectional, with both programs sending a hurdler and thrower downstate.
For Daniel Dominguez of Oregon and Matthew Beltran of Forreston-Polo, it will be a return trip to Charleston, where both came home with state medals.
For newcomers Kenrick Oriyavong of Oregon and Johnny Kobler of Forreston, qualifying for state had been dream since junior high.
Beltran was one of the brightest stars at Landers-Loomis Field with a pair of first-place finishes. He topped the field in the high jump with a 1.91-meter clearance, then came back to win the 110 high hurdles in 16.12 seconds, the same event in which he took eighth place downstate in 2021.
"In the high jump, I was fairly confident of qualifying, if not going higher," Beltran said. "I'm looking for self-improvement in the hurdles and getting back on the podium, competing against the best in Illinois."
He wasn't happy that his time was slower that his seed of 15.24, but the race was against a slight wind.
Finishing second was Oriyavong in 17.54, edging out freshman Lucas Nelson of Forreston (17.78).
"I told him to run as clean of a race as he could and fight like hell after the last hurdle," Oregon coach Jim Spratt said. "I'm really proud of him because of how hard he works and the fact he is undersized for a hurdler at 5-foot-6."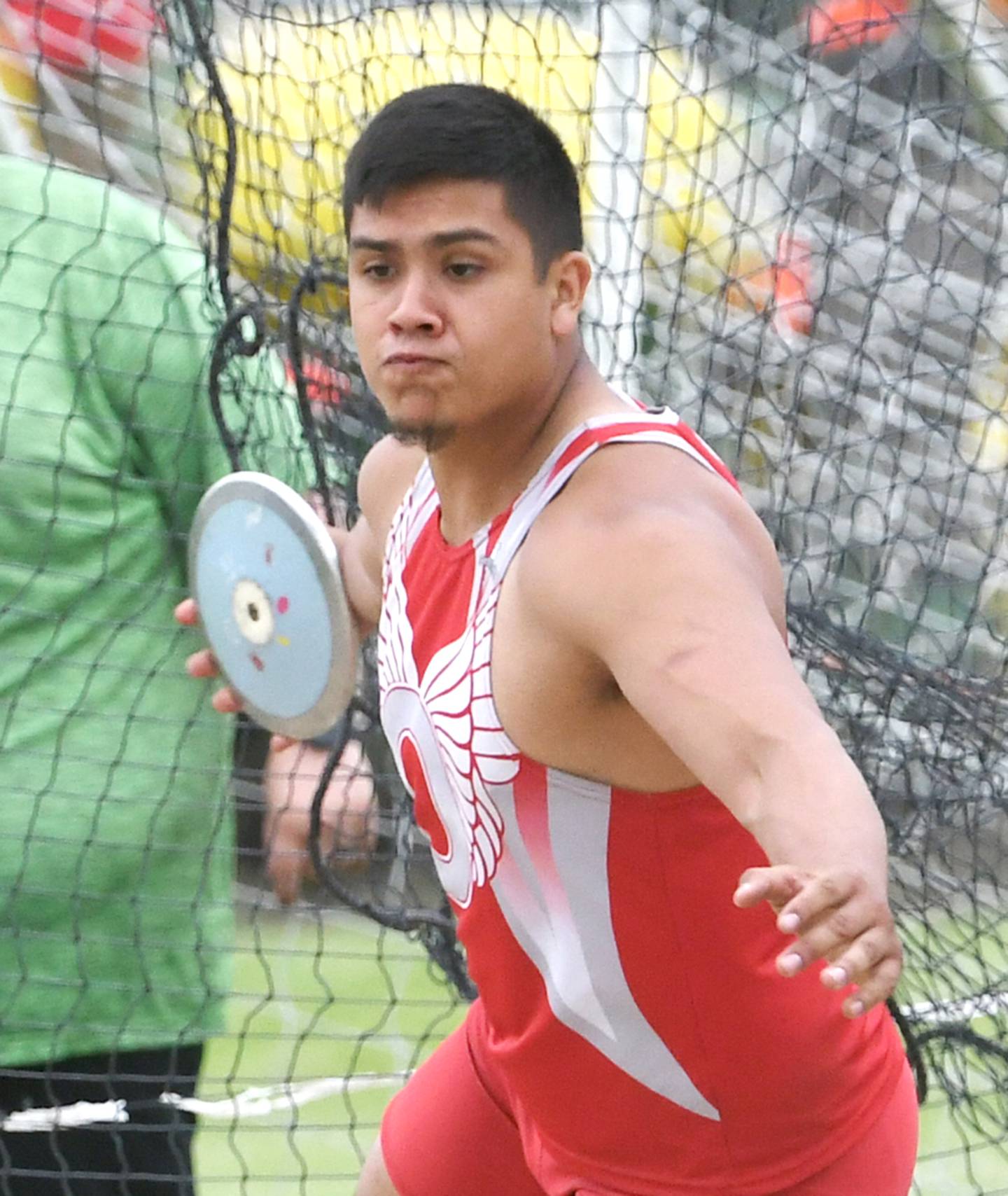 In a heavily competitive throwing field, where four shot putters and six discus throwers advanced, Dominguez was short of state-qualifying after the discus prelims, but hit that mark in the finals. The returning state seventh-placer in that event took third at the sectional with a distance of 45.34.
"I was missing a few pieces that I needed to put together," Dominguez said.
In a lively shot put ring, with each competitor urging the other on, Dominguez nailed a 14.77 for another third-place finish. With all the talent assembled, he was happy with that finish.
"There was a lot of energy and I was hitting it at the right time," Dominguez said.
With chances to place in both events downstate, Dominguez looks to continue Oregon's perennial run of at least one state medalist.
"Daniel's getting bigger and stronger," Spratt said. "I think his best meet will be next week with throws in the lower 50s [shot put] and 160s [discus]."
One of the biggest roars from the shot put circle came from Kobler after he hit a PR of 14.73, good for fourth place, and 0.13 over state-qualifying. His previous best was 13.51.
"I get in my head a lot. Today, I was able to process," Kobler said. "I could feel it when it left my hand – it was gone."
It was the second week in a row that a boy and girl from Forreston and Oregon qualified for state.
"Johnny's been working hard and earned the right to punch his ticket downstate," Forreston throwing coach Steve Christensen said.
After taking second to Beltran in the highs, Oriyavong took another second in the 300 hurdles. His time of 44.08 was behind the 43.35 put up by Nathan Lyons of Winnebago.
"I've been wanting to make state since my first year in track in junior high. I didn't know it was achievable until now," Oriyavong said.
Oriyavong benefitted from Beltran opting out of the 300s to concentrate on the high hurdles and high jump. He also ran a leg on the 4x100-meter relay that Forreston-Polo had hopes of advancing downstate.
The team finished sixth in that event at 44.94, missing the time of 44.54 needed to advance.
"We had a couple miscues on handoffs," Forreston-Polo coach Tony Hardin said.
Forreston-Polo (66 points) finished third in team standings behind Rockford Christian (97) and Winnebago (95), but it was bittersweet for a program that had been accustomed to success at the sectional and state.
"The meet hadn't gone as hoped," Hardin said. "We had lots of outside shots that didn't come through. But, the positive is that we are young and have talent coming back."
Other than Beltran, jumper Devonte King-Black and 4x800 relay runner Wyatt Queckboerner, the 11 other sectional placers for Forreston were freshmen, sophomores and juniors.
For Oregon, senior triple jumper Joey Gelander leaped 12.35 to place fourth, with 12.57 necessary to make state. It was the second close call in a row for Gelander in sectional meets.
Last year, he was third at 12.55. Still, he closed out a standout career for Oregon and will be missed, along with Dominguez and Oriyavong, for the ninth-place Hawks (37 points).