EAST MOLINE – The Sterling boys swim team set the tone from the start Saturday at the United Township Sectional, dominating the 200 medley relay to take a lead it would never relinquish to claim a second straight sectional title.
And while the Water Warriors only won three events, it was a baker's dozen of top-6 finishes that helped them pack on the points and lead the way wire-to-wire.
"It's the best feeling in the world, just seeing your teammates around you finish top-6, top-12, getting points," Michael Garland said. "It's just awesome, amazing."
After Sterling was awarded the sectional plaque and coach Kyle Ruiz was named sectional coach of the year, he and wife/assistant coach Jamie Ruiz joined the team with a leap into the pool – plaque and all – in celebration.
"It was our goal coming in, but it hasn't really sunk in yet," Reiley Austin said. "I'm mumbling my words a little bit, I'm just super excited."
"It's awesome," Mason Adams added. "I don't even know how to explain it. It's great, it just feels great."
It's the fifth sectional title at Sterling – the Warriors also won in 2002, 2006, 2007 and 2020 before the COVID pandemic wiped out last year's postseason – and the second one Ruiz has gotten to celebrate with his wife and his nephew.
Braeden Ruiz gave his uncle Kyle a huge thrill by improving his seed time by 3.26 seconds to win the 100 breaststroke in 59.50 seconds. The victory was a surprise to Braeden even after he finished, and he and Kyle shared a bear hug after Braeden exited the pool. Garland also got a hug for his third-place finish (1:00.87).
"I had no idea I was leading; I actually didn't even know I won at first. I was looking at the scoreboard and I wasn't looking at the right lane, so I didn't register it right away," Braeden said. "It's just amazing to win that with [Kyle] right there. He's been pushing me all four years of my high school career, and he's just so proud of me, and I'm just so happy he was able to be my coach throughout my career."
That was the last of five events in which the Warriors had a pair of top-6 finishes to earn two medals. Garland (2:00.92) and Ruiz (2:04.79) were second and third in the 200 IM, Adams (1:49.59) and Luke Clark (1:51.77) were second and fourth in the 200 freestyle, Austin (53.64) and Adams (56.48) were third and sixth in the 100 backstroke, and Conner Porter (5:01.01) and Clark (5:07.59) were fourth and sixth in the 500 freestyle.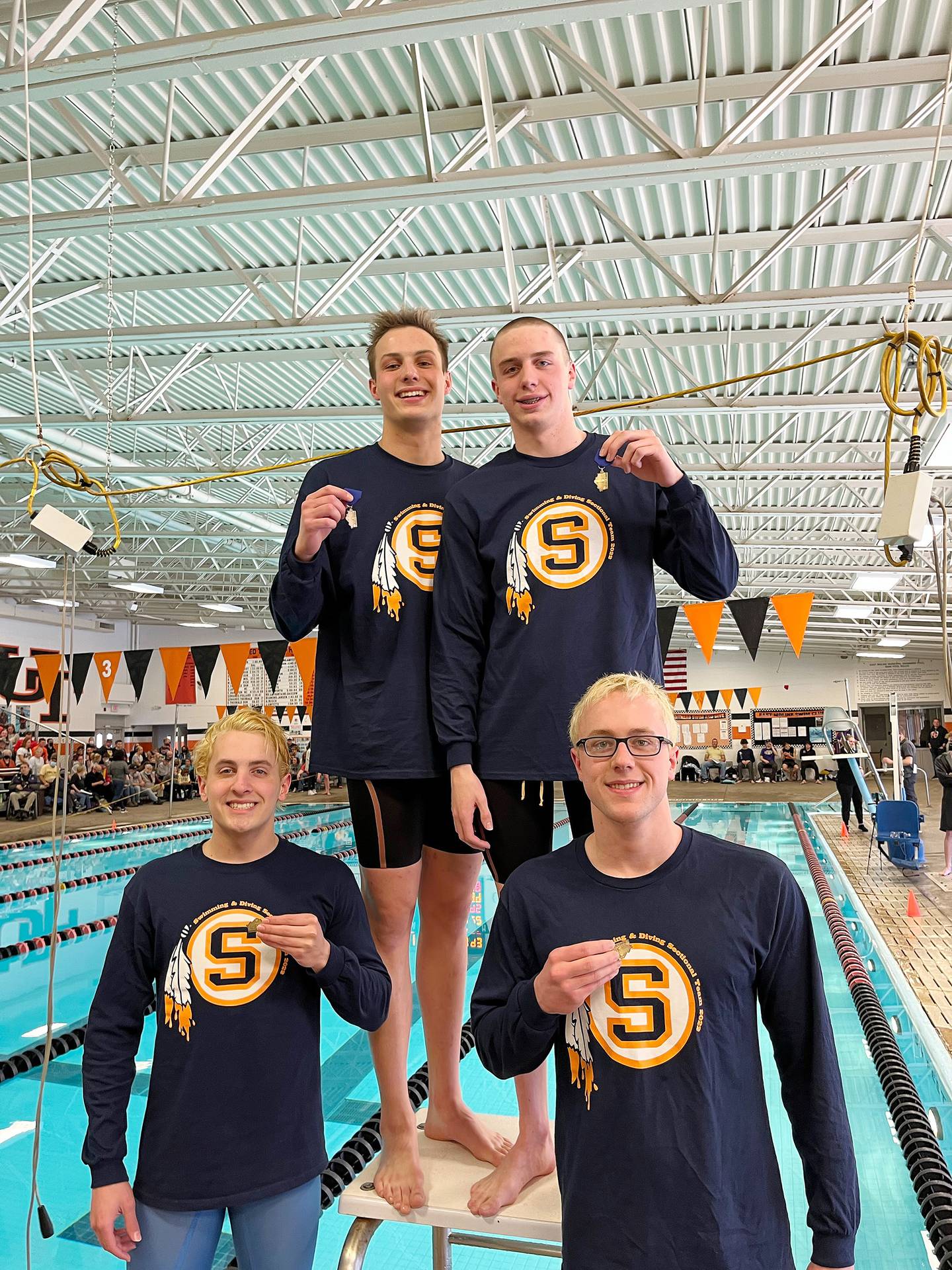 The tone-setter was that 200 medley relay to open the swimming portion of the meet. Austin started with the backstroke leg and grabbed the lead, then Ruiz stretched it out in the breaststroke before Drolema made it an insurmountable gap in the butterfly leg, and Garland finished it off to win by 2.55 seconds in 1:38.01.
"Reiley gave us a nice strong leg on the back, then Braeden built the nice lead with the breaststroke, which he's been doing all year for us," Drolema said. "My fly, I just had to go out strong, make sure my relay start between me and Braeden was good, and I had to come back strong and get Michael a big lead for that freestyle leg."
"The relays are all just about teamwork, especially when you're leading," Garland added. "Everybody is trying to get the biggest lead possible, separate yourself from the other teams, and then my job with anchoring the relay is just to take my teammates' lead and finish it, and we did that today. It was awesome."
Austin's leadoff split was 24.81 seconds, more than a second ahead of the next-fastest backstroke leg. Ruiz then swam almost a second-and-a-half faster than anybody else in the breaststroke (27.24) to build the lead that Drolema and Garland brought home.
"The 200 medley, I just knew I had to get out there and give my teammates a nice lead, start the race off strong with a tone-setting 50," Austin said. "That gave them all the energy to keep going and get the win in that race."
"We've been doing that all year, going out and trying to win that race right off the bat, trying to get us all hyped up for the rest of the meet," Drolema added.
It was much the same in the 200 freestyle relay, which Sterling won by 1.18 seconds with a time of 1:28.18. This time, Adams (21.97) finished the leadoff leg in close second to Moline's Peter Adams (21.61), then Garland swam the fastest second leg (22.45) by .34 seconds, before Drolema notched the fastest third leg (22.02) by .27 seconds. Austin then cruised home for the Warriors' second state berth.
"In the 200 free relay, Mason got us out in second place with a strong start, really close to Peter Adams, and the rest of the guys were able to get me into the lead, and I was able to finish off the race," Austin said.
"Before a relay, I like to get emotionless, just attack it from a tactical standpoint, be clinical with it," Adams said. "I just like to go out as hard as I can, because I know my teammates are going to go as hard as they can, so if I can go out as hard as I can, then we'll probably win the relay. I feel like it is pretty important to get out there and get the lead, so everyone else will see, 'Oh, he's going for it,' and they're going to try harder."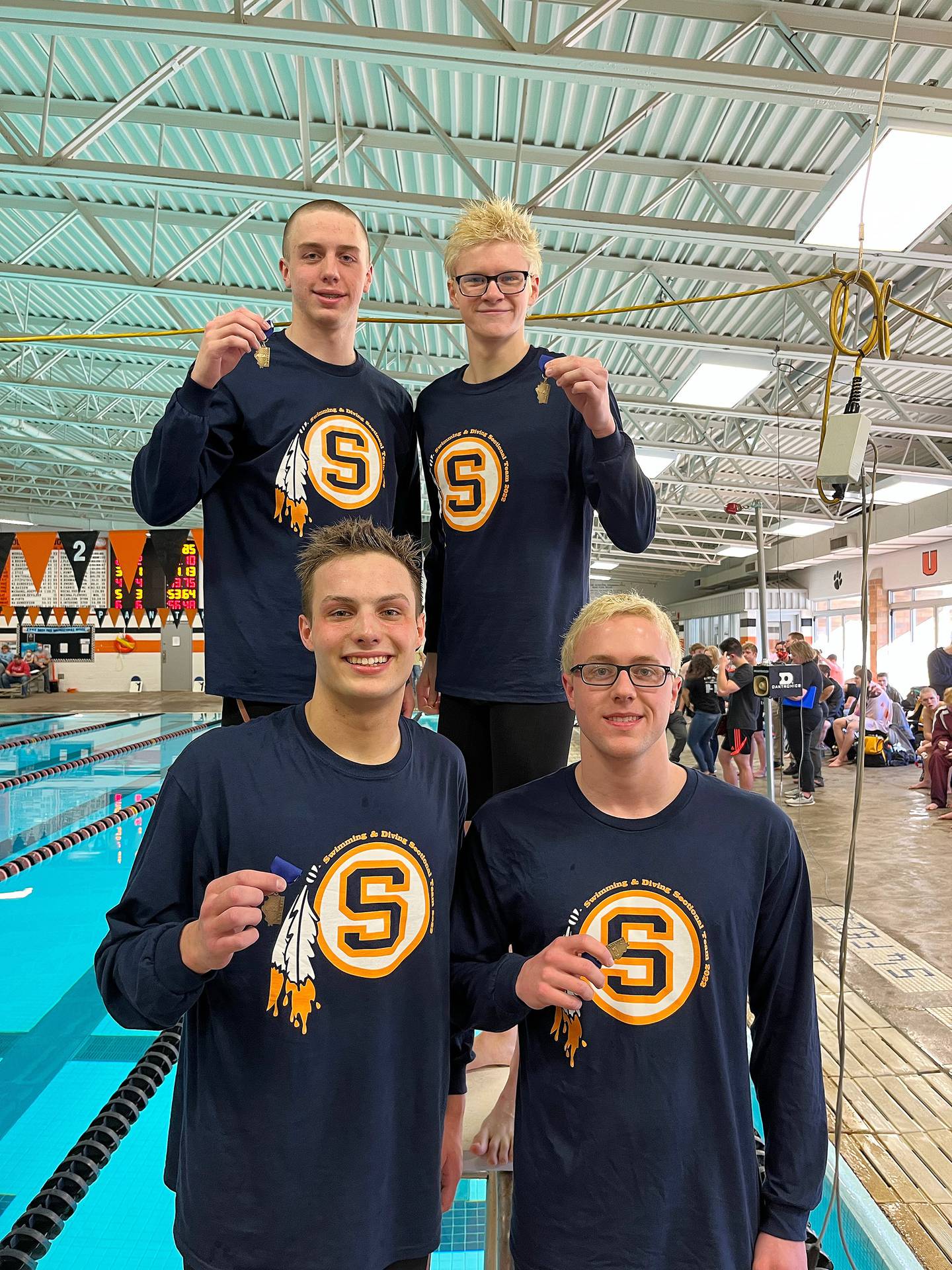 Sterling sealed the team title with a runner-up swim in the 400 free relay (3:17.91), improving by more than 11 seconds on its seed time.
The relay success only underscores the Water Warriors' team mindset.
"The individual stuff, we just need to finish our two guys as close to first as we could, and get a win if we can," Austin said. "The relays, those are the biggest points in the meet – they double what an individual gets – so an emphasis on the relays is what we want."
Austin added a second place in the 100 freestyle (48.06), Drolema finished fourth in the 100 butterfly (53.90), and Braiden Herrera was fourth (335.80 points) in the 1-meter diving competition held earlier in the day.
Coach Ruiz said the way his team won the team title is indicative of what he's seen from his swimmers all season. The way everybody contributed, improved on their seed times and just racked up points in nearly every event, it's something the Warriors have become accustomed to – but it hasn't made them complacent at all.
"The guys set this goal from the beginning of the season, to come in today and accomplish this, and they came in knowing that we've had a successful few years, and when that happens, the target on your back keeps growing, and people want to try and stop you and take your place," Ruiz said. "But these guys were hungry all year long. They wanted to come in and set the tone, they wanted to win that relay, they wanted everybody to cut time, and that's what we did all day long.
"They're just a really good group of guys that swim for each other, and they train hard, and that's the biggest thing. They have success and get it done today, but it's the other 364 days that they're working their tails off that makes today pay off."