STERLING – Geneseo took a first-half lead over Sterling on a pair of Connor Nelson goals and never looked back Tuesday night, downing its Western Big 6 rival 2-1 at Roscoe Eades Stadium.
The Maple Leafs wasted no time establishing their lead, scoring both goals in the first 13 minutes. Nelson struck first with 36:42 on the clock as he outmaneuvered a defender inside the goalie box, and buried the ball in the back left of the net. He struck again with 27:40 to play, taking the ball back from a defender near the right goalpost before firing it into the left side the net for a 2-0 Leafs' lead.
[ Photos from Sterling vs. Geneseo ]
"It was an up and down game. We didn't really settle in and play how well we can," Geneseo coach Harvey Morton said. "They came out and fought hard the entire game. It's turf, their field. They're used to it, we aren't, but overall, two good teams going at it. There was some rough play out there, but I think scoring early [was big for us]."
Geneseo's defense was stingy before the break, allowing three shots on goal. Sterling had its first good look of the game on a first-half breakaway down the left side of the field, but narrowly missed its chance, clanging the ball off the left goalpost just under the 10-minute mark.
"We're possessing, we're passing the ball around, we're creating ourselves opportunities – we're just not finishing the opportunities, and that's been our biggest issue," Sterling coach Brian Cebula said. "Almost every single game all year we've been in it, we just keep losing by a goal or not scoring enough. We just keep making those one or two mistakes, shooting ourselves in the foot, if you will."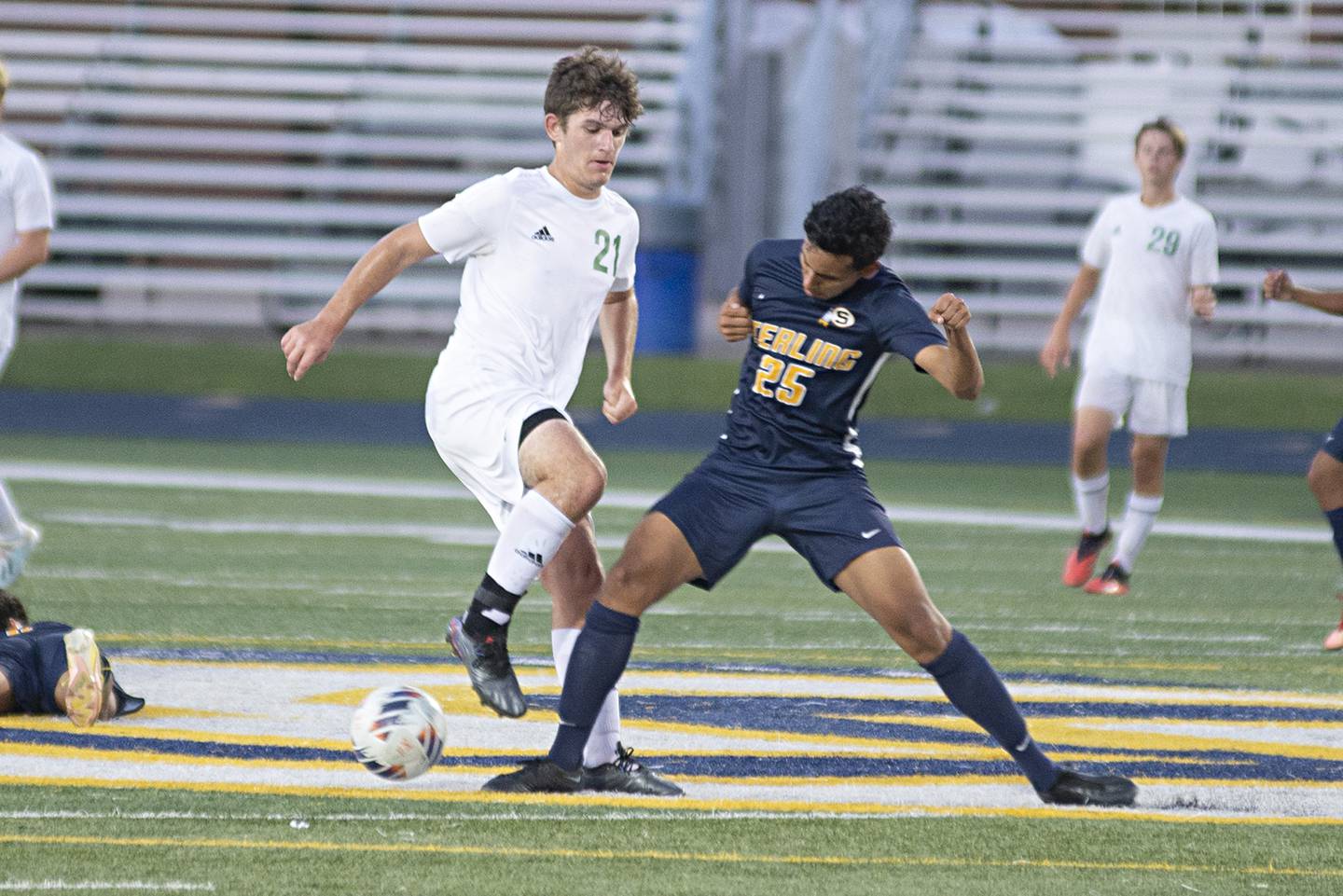 With 7:20 to play in the first half, the Golden Warriors scored their first and only goal of the game. Julian Uresti was the scorer on the play, dribbling between the legs and losing his defender before sneaking the ball past Geneseo goalie Jacob Stoudt in the left corner of the net.
Sterling nearly scored twice with three minutes left in regulation: the first time on a cross-goal pass and header from right-to-left, and the second on a corner-kick pass and header near the center of the goal. Ultimately, it just couldn't convert a game-tying goal attempt.
Marco Chino recorded five saves for the Warriors.
"We're 5-9-1 now, but we could easily be the other way around. We're working to figure it out. I still thought the boys created plenty of chances for themselves," Cebula said. "They moved the ball. If I was just to watch it on film and not know who won or the score line, I would say that we were winning the possession game. But possession without any results on the scoring end don't really mean anything for us, so we gotta figure that last piece out."