DIXON – The Dixon Dukes and Rock Falls Rockets went back and forth for 29 minutes Tuesday night in front of a large and lively crowd at Lancaster Gym.
But in the last three minutes, the Rockets (11-16, 3-4 BNC) got in foul trouble and the Dukes capitalized, scoring 10 unanswered points – with eight coming at the free-throw line – to win 61-50.
[ Photos from Dixon vs. Rock Falls boys basketball ]
Rock Falls' Gavin Sands hit a floater in the lane after a slick crossover dribble, then converted the three-point play to pull within 51-50 with 3:48 remaining. But it was all Dukes from there.
"We couldn't hit our shots, and on defense, we were starting to lack a little bit," Sands said of the final stretch. "And then we put them on the line, which let them pull away with it."
Bryce Feit ignited the 10-0 closing run with a quick drive to the basket and layup just past the three-minute mark, then Darius Harrington snagged an offensive rebound, drew a foul on the shot and hit both free throws for a 55-50 lead. In the last 1:14, Austin Hicks knocked down four free throws around two from Feit, and the Dukes finished off their 11-point win.
"We played smart. We knew they were trying to rush it and get easy buckets real fast, so we tried to stay hands up and tried to make them finish tough, basically," Harrington said about the key to Dixon's late surge. "A couple people knocked down some free throws, they did good free-throw shooting, and that's kind of what closed out the game."
The teams traded baskets to a 12-12 tie in the first five minutes, then Dixon (18-10, 5-2 BNC) took a 17-12 first-quarter lead with a Hicks 3 and Jath St. Pier layup in the last 2:35.
Rock Falls opened the second quarter with back-to-back 3s from Ryken Howard and Sands to take an 18-17 lead, and Kuitim Heald later went coast to coast off a steal to make it a 28-20 advantage with 2:34 remaining. But the Dukes came back with an 11-3 run to end the half.
Hicks started the run with a left-wing 3, and St. Pier hit two free throws for a 29-28 lead in the last 40 seconds. Heald put the Rockets back in front briefly with two free throws, but Feit came back with a layup off a Harrington feed for a 31-30 Dixon lead at the half.
"I think after we switched to man from zone, we did a pretty good job at keeping them under control, not letting them take as many open shots," Harrington said. "Because in zone, they were knocking down a lot of 3s and getting open shots, for the most part."
"We were getting the ball, pushing it in transition, and we knew we had to lock in on defense," Feit said. "So we turned up the intensity on defense, and defense turned to offense."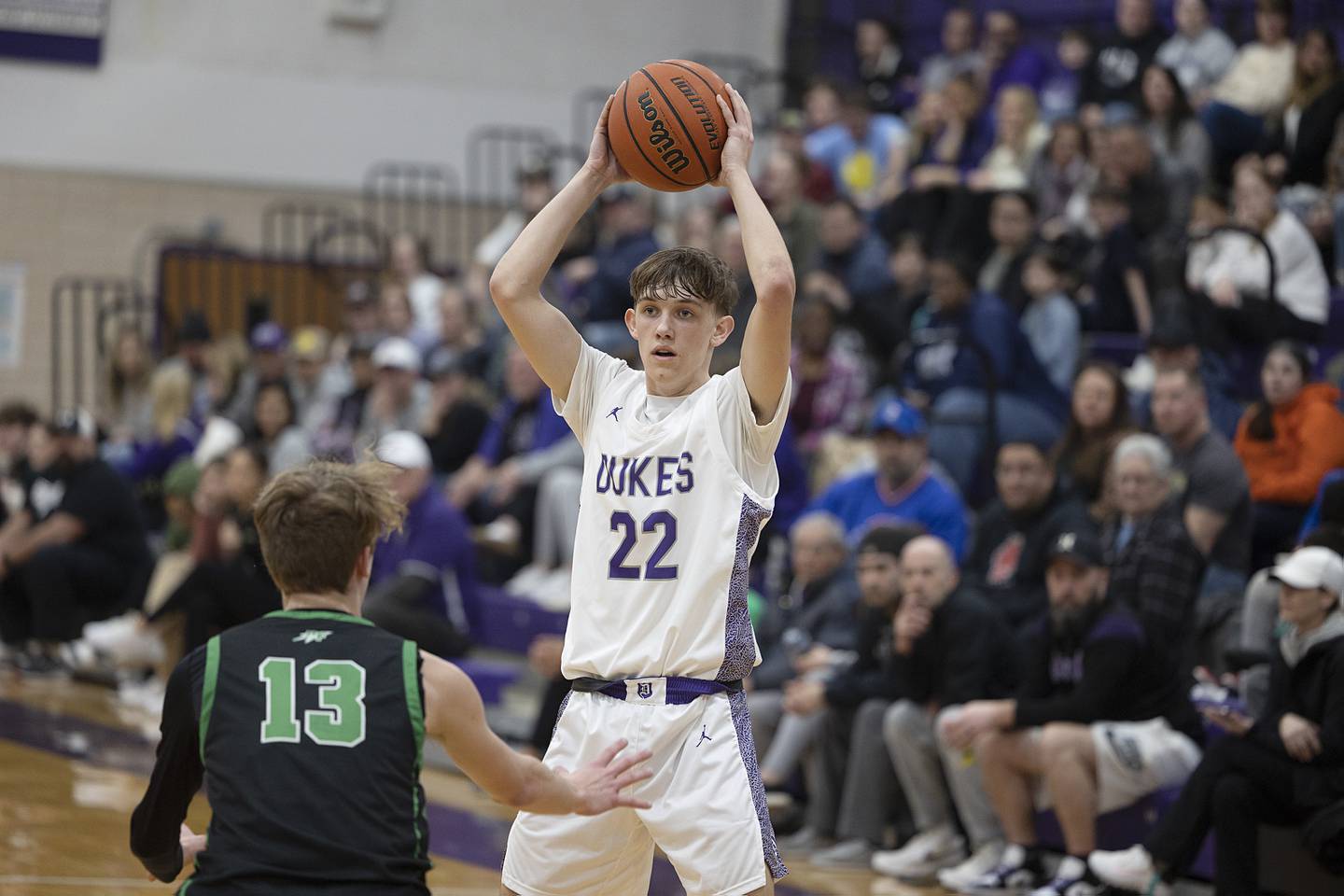 The Dukes took a 39-32 lead midway through the third quarter after a Cullen Shaner steal and Feit fast-break assist to Hicks, but the Rockets made it a 47-45 Dixon lead going into the fourth, as Sands dished an assist to Chevy Bates at the buzzer.
Howard tied the game at 47-47 with a nice move to the basket to open the fourth quarter, but Harrington countered with a floater about 30 seconds later to restore the Dixon lead for good.
The Dukes grabbed 11 offensive rebounds in the second half, led by six from Harrington. The hustle plays and second-chance points proved to be one of the biggest differences in the game.
"Coach emphasized that all game. 50/50 balls, we've gotta win all of them," Feit said. "And those turned out to be big opportunities."
Feit paced the Dukes with 18 points, two rebounds, two assists and two steals, Harrington chipped in 15 points, 14 rebounds and one steal, and Hicks totaled 14 points, two rebounds, two steals and two assists. Wyatt Wetzell added five points and five rebounds for Dixon.
Sands led the Rockets with 19 points, three rebounds and three assists, and Aydan Goff tallied seven points, six rebounds and five assists. Bates had eight points, three rebounds and two assists, and Heald added seven points, three rebounds a steal and a block.