STERLING – Basketball practice can be a drag, especially in the later stages of the season. Apparently, Newman senior Nolan Britt thinks otherwise.
"That's the best part," Britt said. "The players that don't play that much in these high-level games are pushing us at practice and really making us better. All the credit goes out to them. They give us just as much pressure as we put on other teams."
That pressure is what has made the Comets defense tough to face this season. Tuesday night, in a Three Rivers East Conference battle with visiting Mendota, Newman forced 32 turnovers and allowed just 32 shots in a 66-46 win. The Comets remained a game back of first-place Princeton.
[ Photos from Newman vs. Mendota boys basketball ]
"It's very difficult to simulate their defense," Mendota coach Steve Wasner said. "I mean, you look at [Lucas Simpson] – he's got nine arms out there. He is just everywhere."
Newman (21-6, 9-1 TRAC East) raced out to a 35-20 advantage by halftime, but faced a stiff test once the third quarter started. The Trojans ran off a quick spurt to pull within 37-38 with 4:17 left in the period.
"We just had to challenge our kids to make some basketball plays," Wasner said. "As coaches, I think we make them think too much. We threw a couple of freshmen into the game and they made a difference for us."
Much like they have all season, the Comets responded.
"We have a tendency to come out flat out of halftime when we have a lead because we think we can coast," Britt said. "Once we saw them go on a little run, we flipped the switch and picked up our intensity."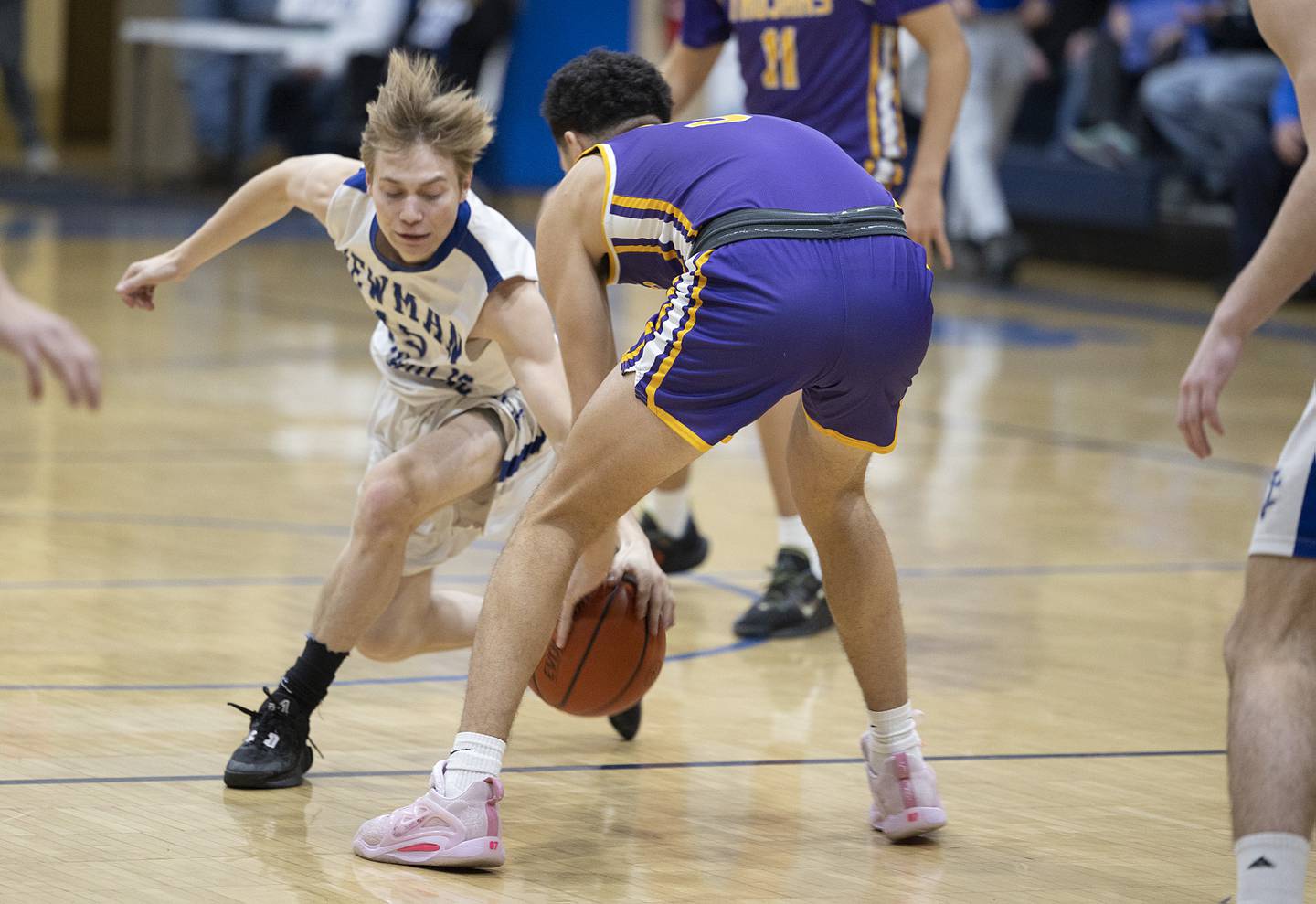 Newman ripped off the next 11 points to build the lead to its biggest margin at 48-28; six of those points came from Simpson. On Senior Night, the junior led the way with 22 points and five offensive rebounds.
"I thought we played hard, for the most part," Newman coach Ray Sharp said. "I thought in the third quarter they probably played a little harder than we did, but for the most part we played hard. We got our seniors a lot of time, so it was a nice win on Senior Night."
The Comets opened the game by setting the tone with their defense. Newman forced the Trojans to turn it over seven times in the first quarter while allowing an equal number of shots. Britt led the scoring early with 11 of his 18 points coming before halftime.
"It's always special to get a win on Senior Night," Britt said. "The coaches always do a great job of getting the seniors playing time, and the underclassmen are always real supportive as well from the bench trying to make it a special night for the seniors."
Mendota (8-20, 2-6) rallied behind the outside shooting of freshman Aden Tillman and the front-court grittiness of senior Rafael Romero. Tillman came off the bench to drain four 3-pointers and finish with 12 points. Romero was tough to defend inside leading the Trojans with 14 points and six rebounds.