STERLING – The Newman boys basketball team battled through shooting struggles for most of the game against Kewanee on Tuesday night at home, but made timely baskets down the stretch and got defensive stops in key situations to ultimately earn a 58-51 win.
Newman started the game with a 10-3 run in the first five minutes and carried a 14-9 lead out of the first quarter. Forward Lucas Simpson fueled the fast start, scoring eight of his team-high 16 points in the opening quarter.
"Lucas played a great game. We executed a lot of stuff," Newman coach Ray Sharp said. "There's a reason that he got a lot of good looks, because the other guys were doing their job, making a good pass to him, setting a good screen and getting him an open look. That was working for us most of the game, so we kept going to it. We weren't going to go away from it until we had to."
In the second quarter, the Comets began to expand their lead. With 6:14 on the clock, guard Marcus Williams hit a 3-pointer, increasing their advantage to 19-9. Then, with 4:46 to play before halftime, forward Ethan Van Landuit knocked down a pair of free throws to stretch the lead to 23-9. Newman went into the break with a 27-17 lead.
Williams said the Comets' first-half scoring advantage was a product of playing at their own pace and working the ball inside effectively.
"Definitely just taking our time on offense, really executing. Whatever looks good, the first side, maybe the second side; we're just really seeing multiple sides of the offense and getting better shots. Since shots weren't falling, we really were trying to get it to the inside, and that's what we did really well in the first half."
In the third quarter, the Comets kept adding to their lead. Point guard Nolan Britt engineered a four-point swing midway through, starting with a fast-break layup assisted by Ayden Batten with 3:50 to go. On the next possession, Britt swiped the ball away from a Kewanee player and went coast-to-coast, drawing a foul on the layup attempt and converting both free throws. Newman seized a commanding a 40-22 lead with 3:40 to play after the foul shots.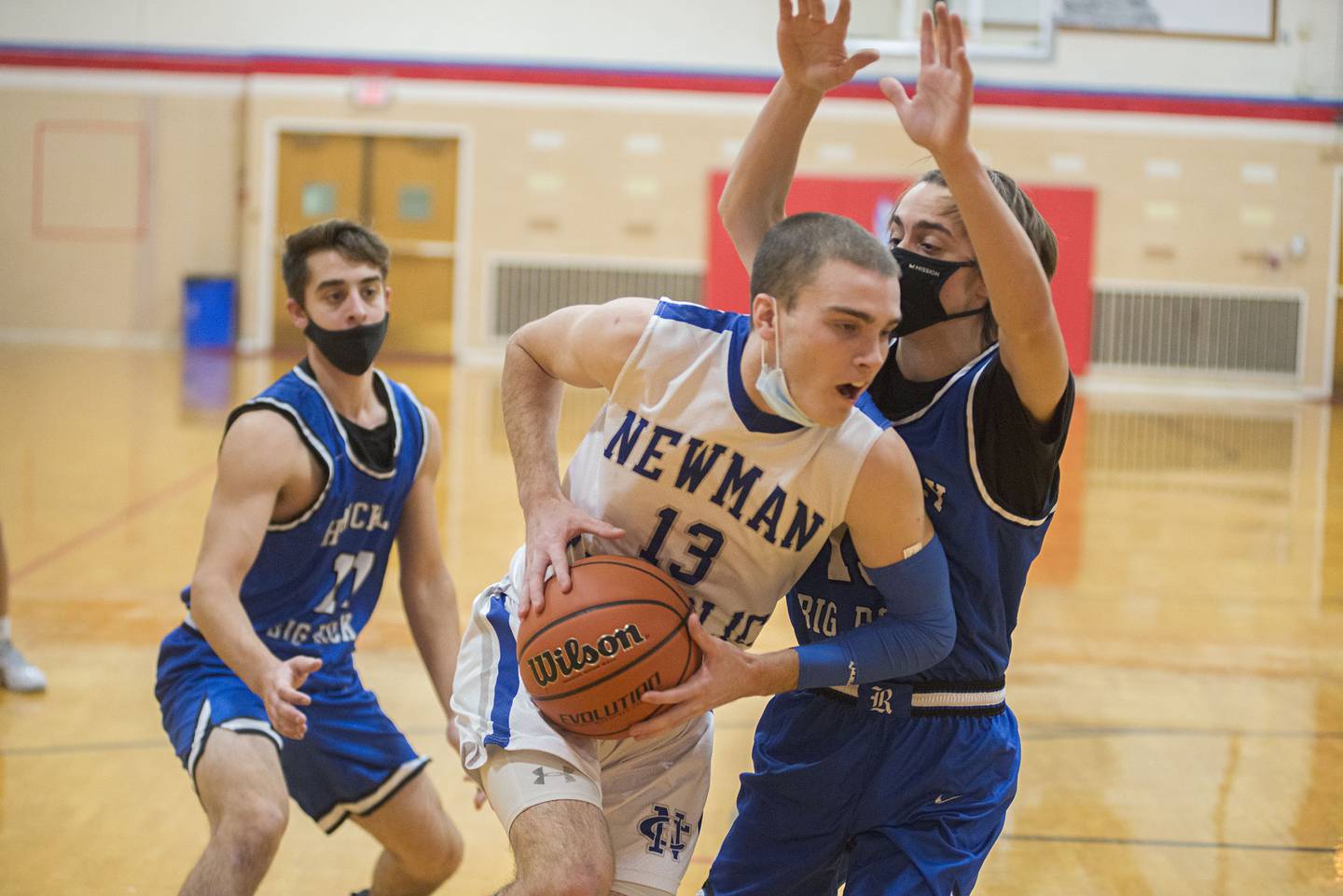 "Early in the game, we didn't handle their pressure. We were playing on our heels a lot, which is not what we wanted to do, not what we talked about this week," Kewanee coach Matt Clark said. "But their pressure got to us. We gave them too many extra opportunities with turnovers and rebounds."
In the last 10 seconds of the third quarter, Kewanee started to rally. Blaise Lewis started the scoring run with a 3 from the left corner, then Niko Powe picked a pocket and drilled another left-corner 3 at the buzzer to cut Kewanee's deficit to 47-38.
Newman built its lead back to 11 points midway through the fourth quarter, but turnovers and rebounding struggles put Kewanee right back in the game.
"I think that we just lost our intensity," Simpson said. "We thought we were going to win just in the third quarter."
Powe gave the Boilermakers the spark they desperately needed in the last few minutes, leading an 8-0 run and cutting the deficit to 54-51. He started the comeback with a rebound and coast-to-coast layup with just under four minutes to play, then sank a pair of free throws, then converted a fast-break layup off a steal and went coast-to-coast for another layup off a rebound to cap Kewanee's scoring at 51 with about 1:40 play.
"I thought they played a lot harder than we did during that stretch. We also had Marcus and Nolan out with foul trouble – they both had three – so we had them out of the game," Sharp said. "So we weren't as confident with the ball and executing as well, so we turned it over a little bit more."
When their lead dwindled to three in the final minute-and-a-half, the Comets' offense finally awakened, scoring four more points to close out the win. With about 50 seconds left, Williams found Van Landuit in the lane for an easy layup for a 56-51 lead. Batten then iced the game with two technical free throws as 23.2 seconds showed on the clock.
Simpson finished with 16 points and a game-high 13 rebounds, while Williams tallied 15 points, six rebounds, two assists and two steals for the Comets. Van Landuit had nine points, and Britt added eight for Newman.
Kewanee was led by Powe with 18 points and four steals, Brady Clark with 17 points, five rebounds and two steals, and Lewis with 12 points on four 3-pointers.