STERLING – There aren't a lot of situations when a baseball coach will pull a starting pitcher who's throwing a no-hitter.
The season opener on a cool, breezy day in March is one of those times where pitch count is more important than the rare baseball feat.
Garrett Polson struck out 11 and didn't allow a hit through four innings, and Sterling scored twice in the third inning and twice more in the sixth to defeat Erie-Prophetstown 4-1 in the season opener on the Golden Warriors' new artificial turf field at Gartner Park.
"It feels really nice to get out here and win this game," Sterling senior catcher Ayden Schoon said. "Everyone loves playing on the field, and we played well. Our defense was doing really good fielding everything, and our offense was starting to get the bats going at the end of the game. It was just a really good feeling to come out and win our first game, get the season started right."
Polson was dealing on the mound. The junior struck out the side in the first inning, and went 1-2-3 in the third and fourth innings on a total of 24 pitches. He walked one and gave up an unearned run in the second, where he recorded four strikeouts in the frame.
He finished the game with 66 pitches, throwing 41 of them for strikes.
"Did he really? I didn't even know I had one," said Polson when asked if he was mad coach Darwin Nettleton pulled him with a no-hitter intact. "But it's only the first game, so that's not a big deal.
"It felt good, just rip off the Band-Aid, really. The first start is usually a tough one just because of nerves and whatnot, but it felt good. I felt like I could've thrown more strikes, but it's the first game, so that will come."
The only blemish was in the second inning, when he threw a wild pitch on the third strike to Michael Collins; despite Polson's fifth straight strikeout to start the game, Erie-Prophetstown (0-1) had a baserunner. Polson walked Bryce VanDeWostine, then Zane Romero laid down a sacrifice bunt. The throw to first was offline, and Collins sprinted around third to score the first run of the season.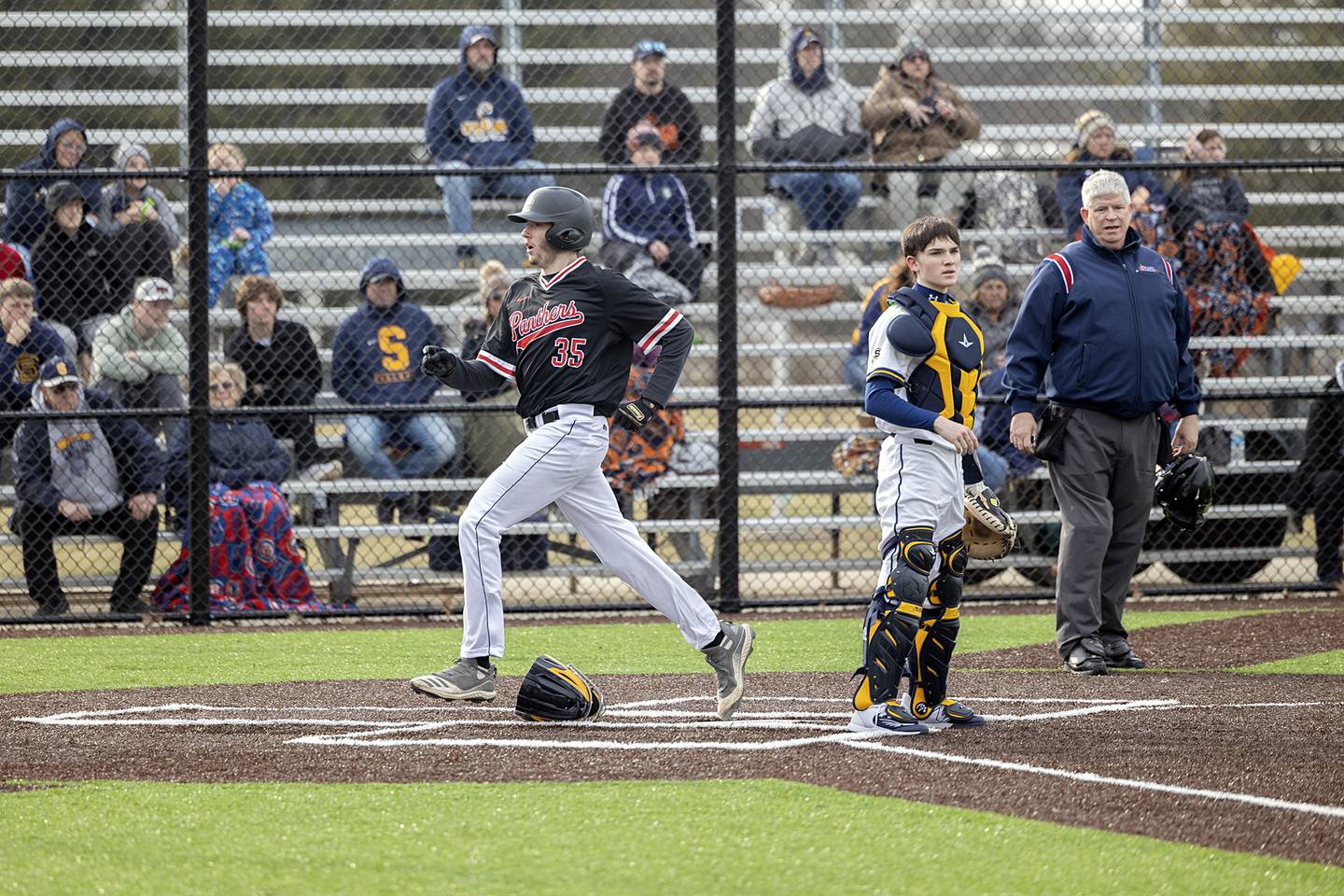 With runners on second and third and only one out, Polson got out of the jam with back-to-back strikeouts.
"We couldn't string hits together. We had 13 strikeouts out of 21 outs, so it was a struggle," Erie-Prophetstown coach Brad Tichler said. "I knew Polson was a good pitcher, and I told the guys to be ready for him and his velocity. We only return two starters from last year, so there's a lot of new faces and a lot of them are facing varsity pitching for the first time. We'll have to make adjustments – especially with two strikes.
"I sort of compare two-strike hitting to rebounding; it's a mentality to where you just don't want strike out. You've got to get comfortable with it, and we'll keep working with the guys on that."
[ Photos from Sterling vs. Erie-Prophetstown baseball ]
Sterling (1-0) answered in the bottom of the third. Trevor Dir, who was up to bat when the second inning ended on a caught stealing, ripped the first pitch he saw to left for a single, then Braden Birdsley bunted him to second. Schoon followed with his second hit in as many at-bats with an RBI single up the middle, then he stole second and third before Dylan Ottens drove him on with a groundout to shortstop.
"It was pretty important to answer," Schoon said. "It got our team going after those couple of hits. It was really good to get those hits, get those runs back, get in the lead."
"It's really good to get that offense," Polson added. "It takes the load off me, knowing I can maybe get away with a pitch or two without giving up the lead."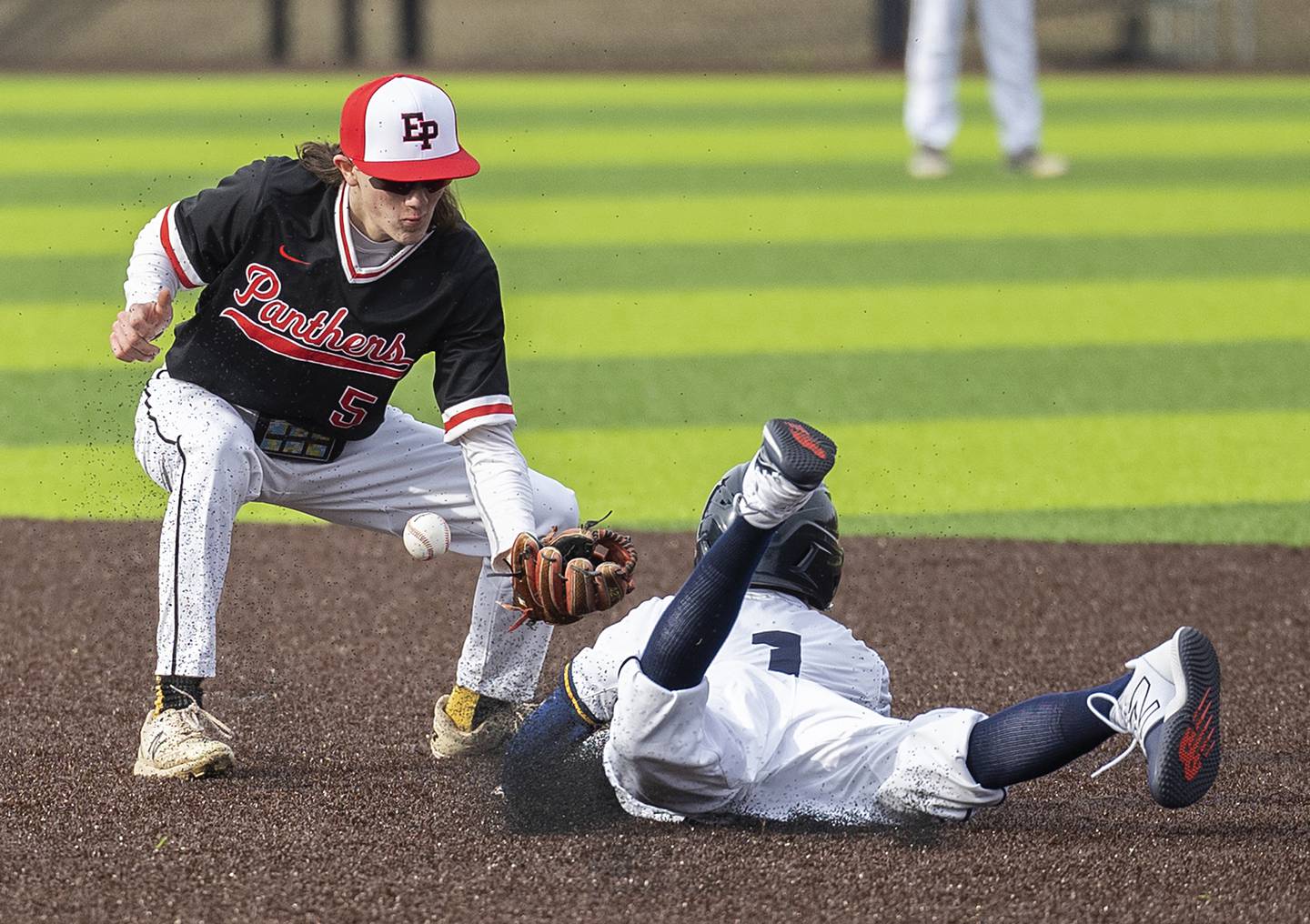 Polson set down the next six hitters in order, and Braden Hartman came on to start the fifth inning and recorded a 1-2-3 inning on eight pitches.
Bryce Jepson beat out an infield hit to lead off the sixth and break up the no-hitter, but he was stranded at third after a groundout, lineout and flyout; the last one ended a tough nine-pitch at-bat by Tucker VanDeWostine.
Sterling tacked on two insurance runs in the sixth. Hartman led off with a single, then courtesy runner Cale Cushman stole second. Mason Smithee lofted a high two-out RBI double to left to plate Cushman, then Dir followed with a single to right to drive in Smithee.
"It was huge, because you always need insurance runs," Dir said. "Guys throwing strikes on the mound, making plays behind them, and a few runs added some extra comfort. We were patient early, then aggressive later in the game; we like to see the pitches first, and then drive the ball if you can."
The inning could've been bigger for the Warriors, but Romero came in and made two diving catches in center field, the second one ending the inning and robbing Birdsley of an RBI.
"The first one, I knew I had. The second one, I was running in on it and I thought I was going to have to stop and field it," Romero said with a smile. "Thankfully, I got under it.
"We've been working hard, and it's great to get out here as a team and play a game. All these guys were working in the offseason, and it's great to see the improvement. It's great to have 55-degree weather for our first game – and no mud on this field, that's so nice."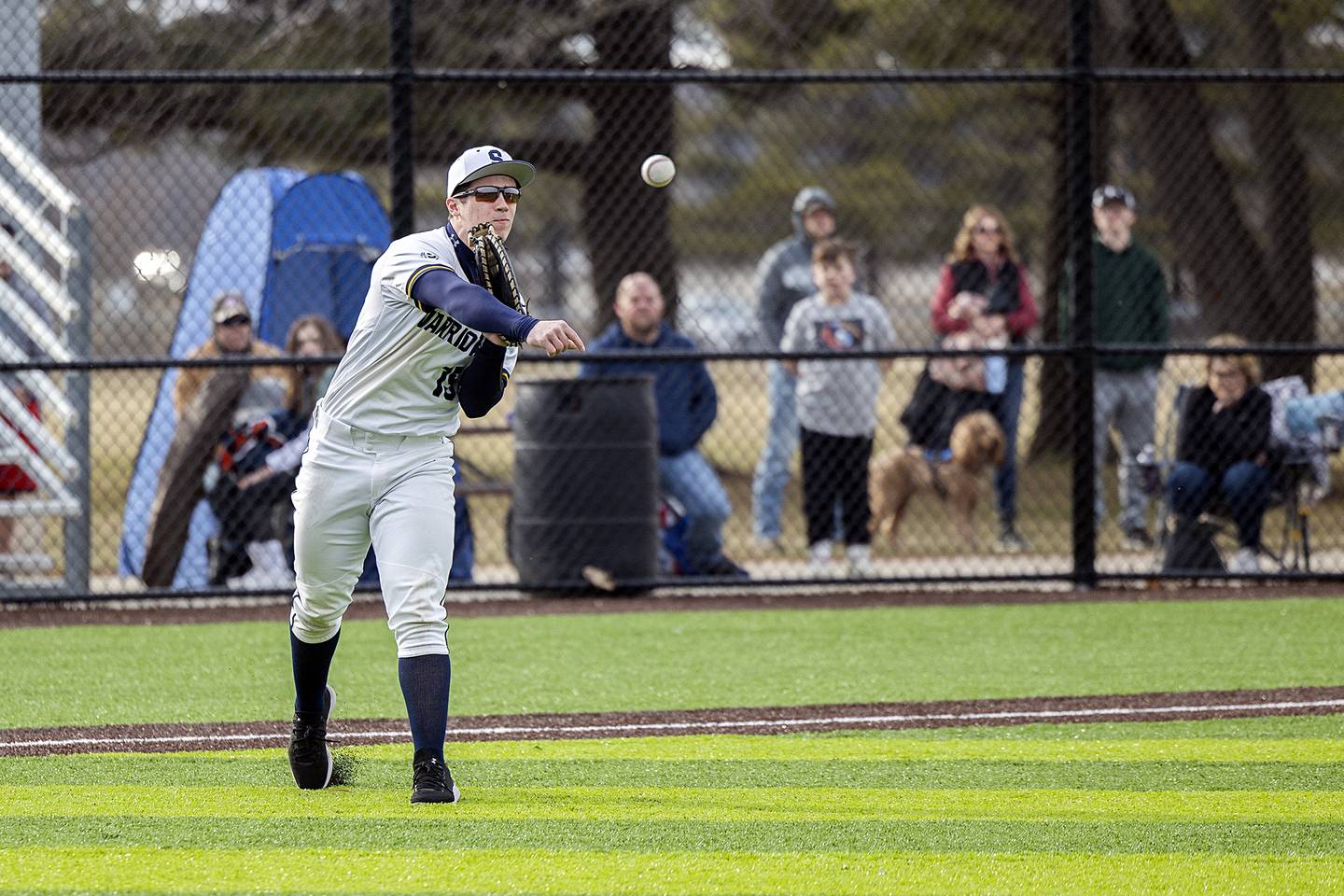 With the Panthers down to their final strike in the top of the seventh, Romero ripped a double down the left-field line. Nate Packer then hit it hard to left-center, but it hung up long enough for Ottens to get under it and catch it and thwart any potential comeback.
Schoon and Dir each had two hits and an RBI, Polson ripped a double, and Ottens and Smithee also drove in runs for Sterling. Polson (1-0) and Hartman combined on a two-hitter, striking out 13 and walking just one; Hartman got the three-inning save and threw 28 of his 40 pitches for strikes.
Bryce VanDeWostine pitched well in the loss, allowing two runs and five hits in four innings, with six strikeouts and two walks. Packer gave up two runs and three hits in two innings of relief, striking out one and walking one, and E-P did not commit an error behind them.
"I thought for the most part defensively, we played pretty good. It's 2-1 [in the sixth], we're hoping our left fielder comes up with that double to keep it 2-1, and it's a different ballgame, especially with Zane's double in the seventh," Tichler said. "Those were two great catches by Zane; I knew that he played some center field last year at the fresh-soph level, and it showed there. I thought we played well, I love the new field here, and I thought it was a pretty good game."