FREEPORT – Electrolyte pills and pickle juice became the medicine of champions for Dixon pitching ace Gage Burdick.
The senior hurler was in the middle of throwing a one-hitter with two outs in the fifth inning Saturday afternoon in the Class 3A Freeport Regional championship game against Rockford Boylan before he felt something strange in his left calf immediately after a 2-2 pitch. The pain appeared to be troubling for a few minutes before he was given the aid he needed to get back into the game.
Burdick's calf "completely locked up," he said, not being able to stand on it for some time after the pitch. As it turned out, the pain didn't faze him: he continued his dominance over the Titans and finished with a two-hit complete-game shutout in a 2-0 win over the Titans to win the regional title for the third straight season.
With a 1-0 lead at that point, the game was far from decided when Burdick got back to work after the scary interruption, and he didn't want to let something like that dash his team's control of the game.
"I wasn't coming out for nothing," he said. "It was a little rough right after they got me all better and hydrated, but after that it was like a reset."
Burdick (8-1) had 12 strikeouts, including five in a row at one point, and just two walks. His biggest jam came in the second inning when the Titans (22-11) stole bases to put a pair of runners in scoring position with one out. He set down the first two of his five-strikeout streak to get into the clear.
"He was spot-on and kept his composure," Dukes coach Jason Burgess said. "He didn't let an at-bat get to him, and just stayed in the zone and kept them off-balance. And kudos to [senior catcher] Beau Evans, he called almost all of the pitches and did a great job, they've been working together for a long time."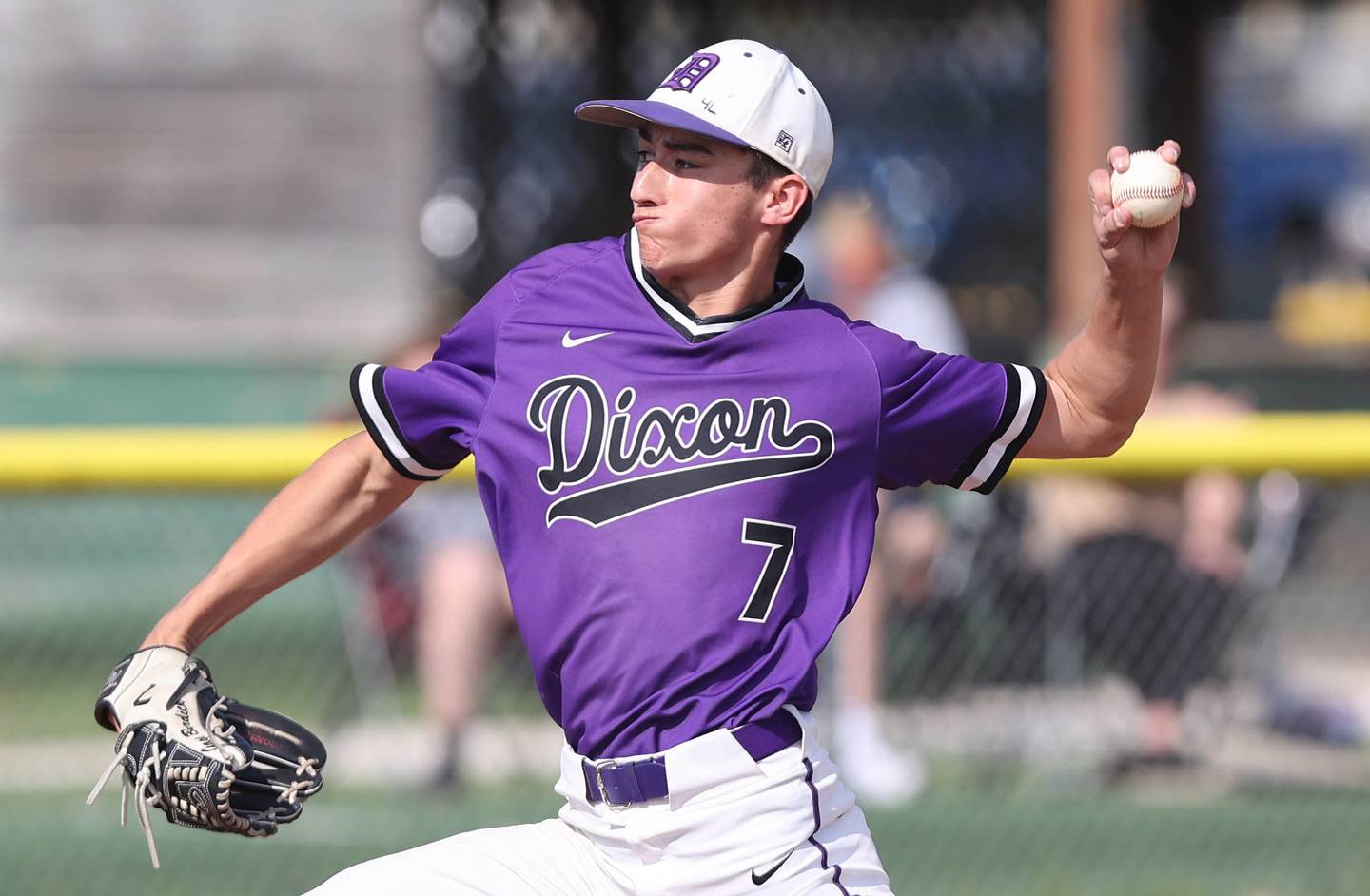 Both teams played two games Saturday due to persistent inclement weather pushing the regional to a 1-day event. The Dukes (24-2) advanced with a walk-off win over Sterling 4-3 in the day's first game before Boylan downed NIC-10 rival Freeport 2-0 less than an hour before the start of the championship game.
Only three batters were needed to give Dixon a lead in the title tilt, and they held it for much longer than the game before. Dukes senior Jake Gaither led off Dixon's half of the first inning with a successful stretch of a single into a double; he appeared to be on his way to being tagged out about 7 feet from second base, but wound his way around the tag to safely stay there. After Evans moved Gaither to third on a ground out, sophomore Max Clark popped out to left field to send Gaither tagging home for a 1-0 lead.
"It felt good to be ahead, and with Gage on the mound you know you're always pretty confident that you're going to be in the ballgame," Burgess said. "If he's dealing, he's going to be a tough matchup for anyone to face. He showed what he could do."
Boylan senior pitcher Alex Easton faced one batter short of the minimum from the second inning through the fifth with efficiency. Easton took the tough-luck loss with five strikeouts and eight hits allowed while throwing only 77 pitches in a complete game.
The Dukes got around to Easton once more in the sixth inning. Gaither led off with a single and Evans followed with one of his own. Clark reached on a fielder's choice as Evans was forced out at second base. Mikey Bivins then looped a 1-2 pitch into center to drive in Gaither, and nearly drove in Clark as well, but Titan senior center fielder Luke Leombruni fired a long throw to home and Clark was tagged out at home.
"I was relaxed up there, and I knew we had to get at least a run or two in for it to be a comfortable lead," Bivins said. "It was a great day overall, even in a tough situation where we had to play two games. We hit the ball real good."
Bivins and Gaither had the Dukes' lone multiple-hit games. Burdick added a double, but was denied the stretch into a triple in the fourth inning on another on-target throw from Leombruni in the outfield. Still, his performance on the mound was more than enough to bring home the regional championship plaque.
"I just kind of calmed my mind before I went out there and just knew that it was going to be just another game that I would be playing," Burdick said. "I just did the same thing I usually do and trust my gut feeling."
The win gave Dixon (24-2) their third regional championship in as many seasons. The Dukes advance to the Sycamore Sectional semifinal at 4:30 p.m. Wednesday; they will face Monday's winner of the Kaneland Regional final pitting the host Knights and Lisle Benet. Wheaton St. Francis and Sycamore also are in the sectional; the Dukes lost to the sectional hosts 7-4 on May 19.
"Now we've got to get our heads on right and get ready for one heck of a sectional," Burgess said. "That sectional is going to be tough."