The Dixon girls tennis team has had a very successful season, compiling a 19-3 record in dual meets and earning a second-place finish at the Triad Invite on Sept. 9. Wins have come from up and down the lineup, but one of the Duchesses' most consistent players this season has been junior Addison Arjes at No. 2 singles.
The three-year varsity player went 3-0 with wins vs. Normal, LaSalle-Peru and Hononegah to lead third-place Dixon at the eight-team LaSalle-Peru Invite on Sept. 23. Her win against L-P was at No. 1 singles. Arjes also won her No. 2 singles match vs. Princeton on Sept. 19.
Arjes has been voted the Sauk Valley Media Athlete of the Week by readers and answered a few questions to help us get to know her a little bit.
How old were you when you first began playing tennis, and who introduced you to the game?
Arjes: I was 8 when I first started playing tennis, and my dad made me join to meet new people before moving to a new school.
What's been the biggest key to your team's success this season?
Arjes: I feel the biggest key to my team's success this season is the work everyone puts in on and off the court. We all work to weightlift, fuel our bodies and give our bodies breaks to keep the best physical shape for the game.
What is your favorite thing about tennis?
Arjes: My favorite thing about tennis is the lasting friendships I make with opponents and other teams.
What aspect of your game has improved the most from freshman year to now?
Arjes: The mental side of my tennis has improved the most since freshman year. I have more confidence and trust myself in the choices I make throughout the game.
Which part of your game do you think is the strongest?
Arjes: Being able to think three steps ahead in the point helps me plan out my shots when playing singles.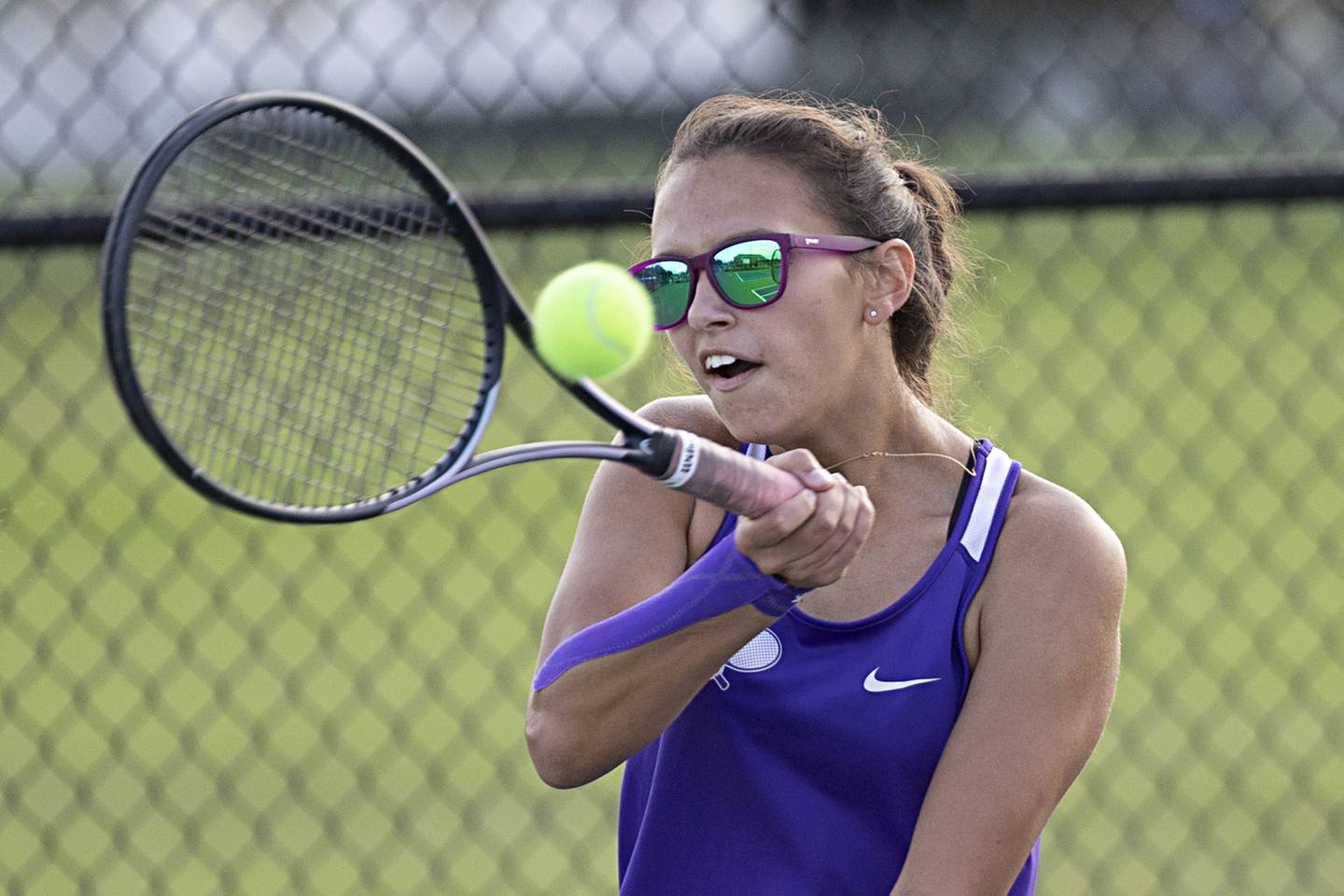 What would you say has been the highlight of your season so far? This could be a team accomplishment, an individual accomplishment, or just a fun memory with the team on or off the court.
Arjes: I say the highlight of the season was starting the season off with a team dinner that helped us to grow closer together not only on the court but off.
What goals have you set this season for yourself and the team?
Arjes: My goal to myself this year was to beat my record from last year, which I accomplished last week. And another goal I have for our team this season is to go into sectionals prepared and confident that we can win sectionals.
What's your favorite movie?
Arjes: Home Alone.
What is your perfect meal?
Arjes: My perfect meal would be my mom's manicotti and breadsticks with a side salad. Also, paired with Sprite mixed with grenadine to drink.
What is your favorite class, and why?
Arjes: My favorite class is my community service hour. In this class, I go off campus to Washington school and work with a PE class of Kindergarten and first graders. This is my favorite class because it allows me to get some time away from just sitting in the classroom, and I get to spend my time making an impact on future students of DHS.