It was a tough day for the local participants at the IHSA Sycamore Class 2A Sectional on Monday, just not for Dixon sophomore Steven Kitzman.
Kitzman picked a terrific time for his best round of the season and to set a personal mark with a 38 on the front nine. His score of 78 tied him for fifth place among the top 10 golfers not already on an advancing team.
His performance gives him a berth in the 2A state tournament finals starting on Friday at the Weibring Golf Club in Normal.
"I feel great about today, my best round of the year so far," said Kitzman. "It was a solid round. I was getting ups and downs for pars a lot, and I was consistently hitting greens in regulation. Those things made today a lot easier. … I had hoped that would get me through to state. It means a lot to me, as a sophomore especially, because I know I still have more and better golf in me. It's pretty special."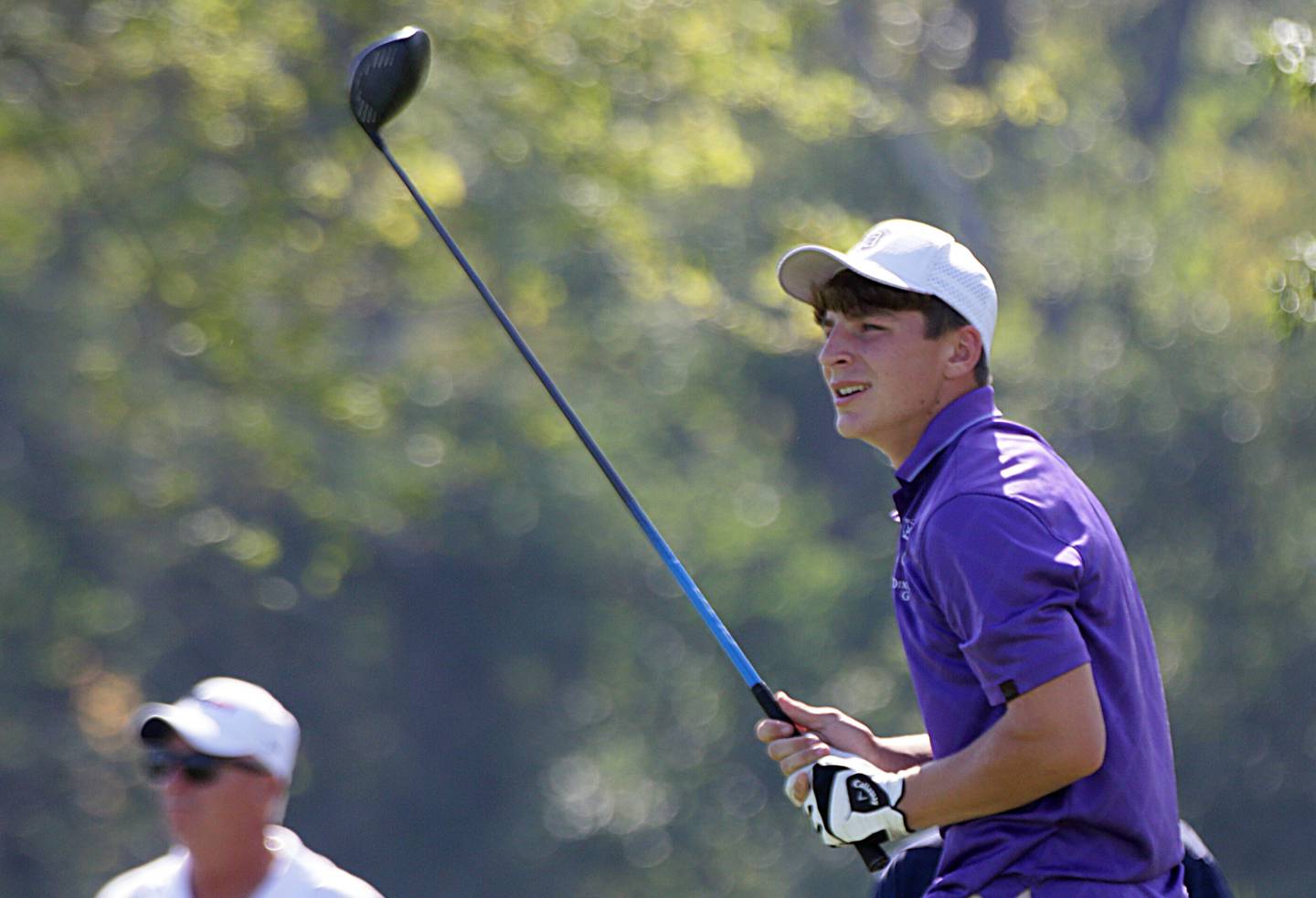 The rest of the local participants did not fare as well. For the Dukes, Alex Harrison carded an 84, Mason Weigle an 88, and Ben Oros a 98 for the counting scores. Grant Jacobs had a 100 and Sage Magnifici a 110. Dixon as a team placed 11th in the 14-team field with a score of 348.
The same sad news applied to Sterling's only participant, senior Dale Guerrieri, who finished the day with a solid score of 89 but did not advance.
"I think overall I played pretty well, but I wasn't very consistent," said Guerrieri. "I put too many big numbers on my scorecard, and unfortunately I didn't end up with the round I was hoping for. There were some holes where I had some great shots, but I had too many bad shots that then led to tougher shots. I have to learn to be more consistent.
"I feel good about my season. I would have liked to have done better today, but it just didn't work out."
Girls golf
Pink headed to state: Sterling senior Maddie Pink shot a 79 at the Class 2A Belvidere Sectional held at Timber Pointe to qualify for the state meet for the first time.
Pink's front-nine 38 included a birdie on the 308-yard par-4 No. 6. She played the back nine in 41.
"My drives were straight and good, and I had some good shots into the green and just tapped in my pars when I had opportunities," Pink said. "This has been my goal since junior year. There wasn't a state last year, so I knew I would only have one chance to go to state."
Pink said she started playing golf as a freshman after she was cut from the tennis team.
"I was new to it and did not do well my freshman year," Pink said. "But my dad and I practiced a lot over the summer going into sophomore year, and I just fell in love with the game."
Stevenson won the team title with a 296. Stevenson's Allie Santos was the individual medalist with a 71.
Sterling's Jozlyn Johnson shot a 115.
Volleyball
Dixon def. La Salle-Peru 25-18, 25-21: In one of their best matches of the season, according to coach Bunyan Cocar, the Duchesses downed the Cavaliers in a nonconference match at Lancaster Gym.
Mallory Coley led Dixon (9-9-1) with eight kills, six digs and an ace. Ella Govig had five kills and a block, and Joey Brumbly added four kills and three digs. Holli Miller dished 15 assists, and Elena Castillo-Wetzell chipped in 18 digs for the Duchesses.
Boys soccer
Dixon 3, Winnebago 1: The Dukes picked up a Big Northern win on the road, as three different players scored.
Lucas Healy had a goal and an assist, and James Duet and Bradyn Langloss also knocked in goals for Dixon. Walker Tilton dished a pair of assists.
Sterling 1, LaSalle-Peru 1: Jadon Jones scored the Golden Warriors' lone goal as they forged a tie with the Cavaliers on the road.
Saturday's late events
Volleyball
Rock Falls takes title at Riverton: The Rockets won all five matches to claim the Riverton Tournament championship.
Rock Falls (24-1) beat Altamont, Southwest and Maroa-Forsyth in pool play, then topped Mt. Zion 25-23, 25-19 in the semifinals before downing Taylorville 25-22, 25-15 in the title tilt.
Mallory Pinske had 36 kills and nine blocks for the tournament, while Maya Sands had 27 kills, 55 digs and 12 aces, and Claire Bickett added 23 kills and 15 digs. Nicolette Udell spiked 12 kills, Emily Lego had eight kills and eight blocks, and Cadence Stonitsch added 41 assists, 22 digs and 13 kills. Cara Goff finished with 40 digs, Sophia Moeller chipped in 13 digs, and Denali Stonitsch had 50 assists and 18 digs.
College volleyball
Skyhawks 4-0 in Springfield: Sauk Valley won four matches in straight sets over the weekend at Lincoln Land Community College, and is ranked No. 4 in the latest NJCAA Division II poll.
The Skyhawks (27-1) beat Frontier 25-11, 25-19, 25-8; topped Black Hawk 25-11, 25-18, 25-16; defeated Allen County (Kansas) 25-14, 25-19, 25-14; and downed Harper 25-15, 25-15, 25-13.
Michal Willman slammed 71 kills and served 10 aces to go with 62 digs for the weekend, while Kiley Sanders finished with 23 kills and 49 digs. Tiana Tichler had 24 kills and four blocks, Jaelyn Fitzgerald finished with 14 kills and seven blocks, and Kierra Collins and Juliana Rotella both spiked 12 kills; Collins also stuffed eight blocks. Maddie Sands led the way with 63 digs and added nine assists, Gabby Jones dished nine assists and had 26 digs, and Audra Goff chipped in 66 assists and 14 digs.