1. Using Fresh Herbs - 3:30 to 4:30 p.m. Thursday, Sept. 28, Lee Extension Office, 280 W. Wasson Road, Amboy: Horticulture in northwest Illinois sessions are for anyone interested in learning more about gardening, growing food in a home or community garden, or looking for ideas for the upcoming growing season. Participants will learn more about harvesting and preserving herbs to enjoy in recipes year-round. Register at go.illinois.edu/LeeGrowingHort.
2. Decades Rewind Adult Homecoming - 7 p.m. Saturday, Sept. 30, Morrison: The Morrison Schools Foundation is hosting the Decades Rewind Adult Homecoming at the Whiteside County Fairgrounds. Guests will celebrate the fashions of the past with thrifted outfits in the styles of their own homecoming days. Prizes will be given to the best dressed. In addition to the prize of being known as most stylish, two lucky people have the chance to be voted as this year's homecoming king and queen. The band 30 West will provide music starting at 8 p.m. This day marks an important milestone for the group. The dance will be 30 West singer Nick Bonneur's last day with the band, so stop by to see his last performance. Registration is $25 a person and $40 a couple. Those interested in attending can register at www.morrisonschoolsfoundation.org or on the foundation Facebook event page. The dance begins with a nostalgic dinner. Guests will be served food that harkens back to their high school days, such as chili, rectangular pizza, corn, cinnamon rolls and Butterfinger bars.
3. Pumpkin Dash - 9 a.m. to 1 p.m. Saturday, Sept. 30, Hoover Park, Sterling: The Pumpkin Dash Cross Country Festival is a Sterling tradition, featuring races that vary in distance for crawlers through age 12. The first 1,000 participants will receive a small pumpkin and a small bag of candy at the end of their race. Large pumpkins will be awarded to the winning girl and boy of each heat (except the race for those 2 and younger). This is a free event and offers fun for the entire family. Other activities include bounce houses, a petting zoo, hayrack rides, face painting, activities with the Whiteside County Sheriff's Department and CGH ambulance tours. Concessions are provided by Sterling Optimists Club, including a free hot dog, bottle of water and chips for each participant. On-site registration is from 9 to 11:45 a.m. Registration is required at least 15 minutes before the race. The event schedule (times approximate): 10 a.m., Pee wee race, 2 years and younger; 10:15 a.m., 3-year-old race; 10:30 a.m., 4- and 5-year-old race; 11 a.m., 6- and 7-year-old race; 11:30 a.m., 8- and 9-year-old race; noon, 10-, 11- and 12-year-old race.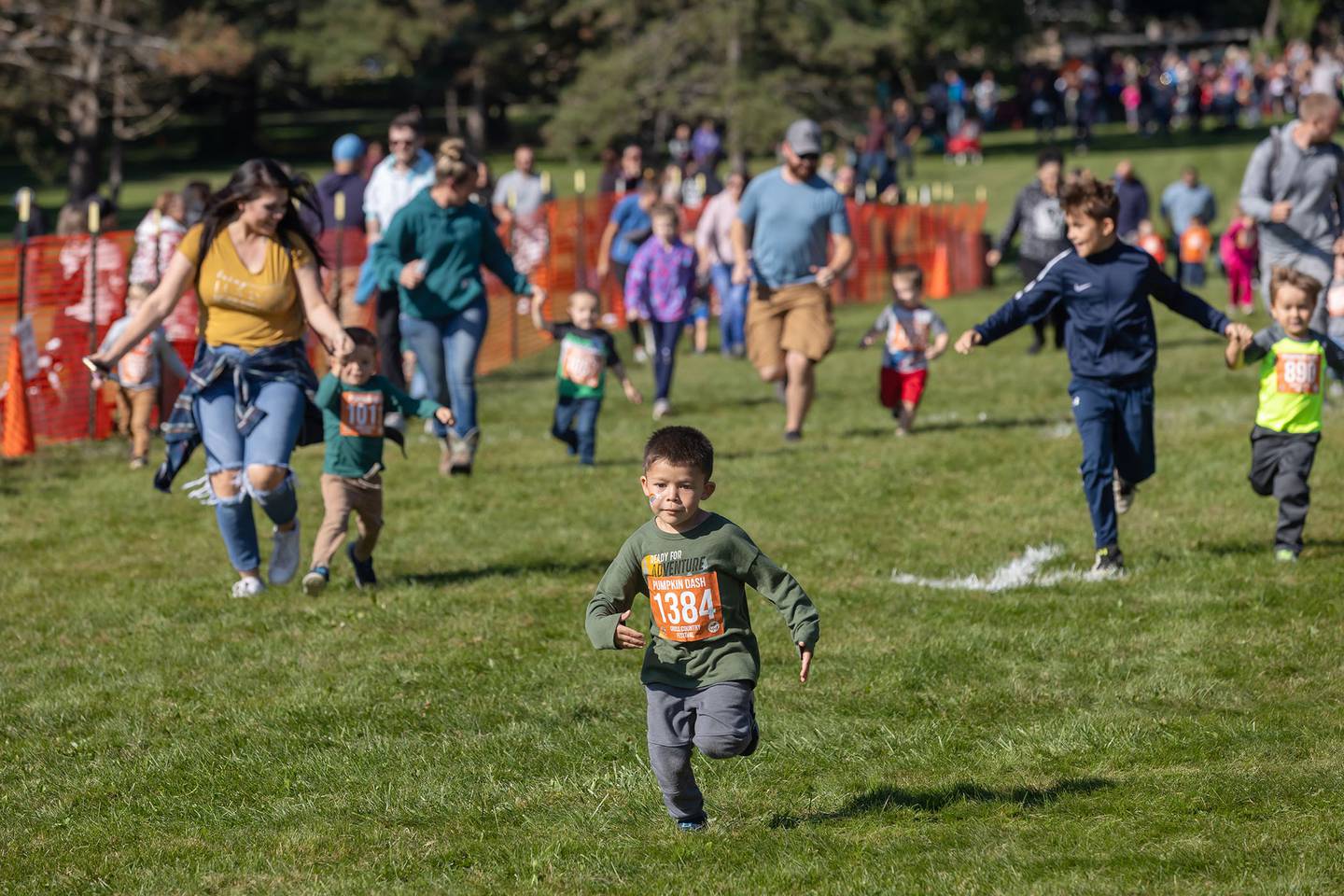 4. Back Roads Market - 9 a.m. to 4 p.m. Saturday, Sept. 30, Mt. Morris: Apples, honey and 'funky junk' are all on the menu. Four businesses will offer their specialties during the daylong event the include Hough's Maple Lane Farm, 3788 N. Mt. Morris Road; Berry View Orchard, 7504 W. Midtown Road; "Funky Junk", 6410 W. Grove Road; and Vintage Chicks and Feeds, 700 Route 72, Leaf River.
5. Senior Showcase - 10 a.m. to 2 p.m. Tuesday, Oct. 3, at Northland Mall, Sterling: Sauk Valley Media will present the 2023 Senior Showcase, the premier local event for those "50 and Better." More than 45 merchant displays from businesses throughout the Sauk Valley area will be on site from 10 a.m. to 2 p.m. and will include information on health care providers, caregivers, retirement planning, insurance coverage, long-term care and many other subjects of interest to the growing market of consumers 50 and older. The Senior Showcase is free and open to the public. Make plans to attend this event and visit face-to-face with exhibitors that can answer your questions about senior issues. Call Kelly Null at 815-632-2566 for more details or email knull@saukvalley.com
• Would you like your event in this weekly feature? The first step is submitting your events to Sauk Valley Media's community calendar at https://www.shawlocal.com/sauk-valley/local-events/ where they are then considered for inclusion in this feature.