DIXON – An Arkansas man with a first-degree murder charge hanging over his head for 10 years, in a 40-year-old case, pleaded guilty on Tuesday to a lesser charge of voluntary manslaughter.
Steven Watts, 66, of Berryville was sentenced in Lee County Court to four years' probation in the 1983 beating and suffocation of his rival, Gary Dawson, 30, of Peoria.
State's Attorney Charley Boonstra and Assistant State's Attorney Brian Brim filed an amended charge of voluntary manslaughter Tuesday as a result of a defense motion to suppress statements Watts made to investigators that the two prosecutors knew likely wouldn't go their way.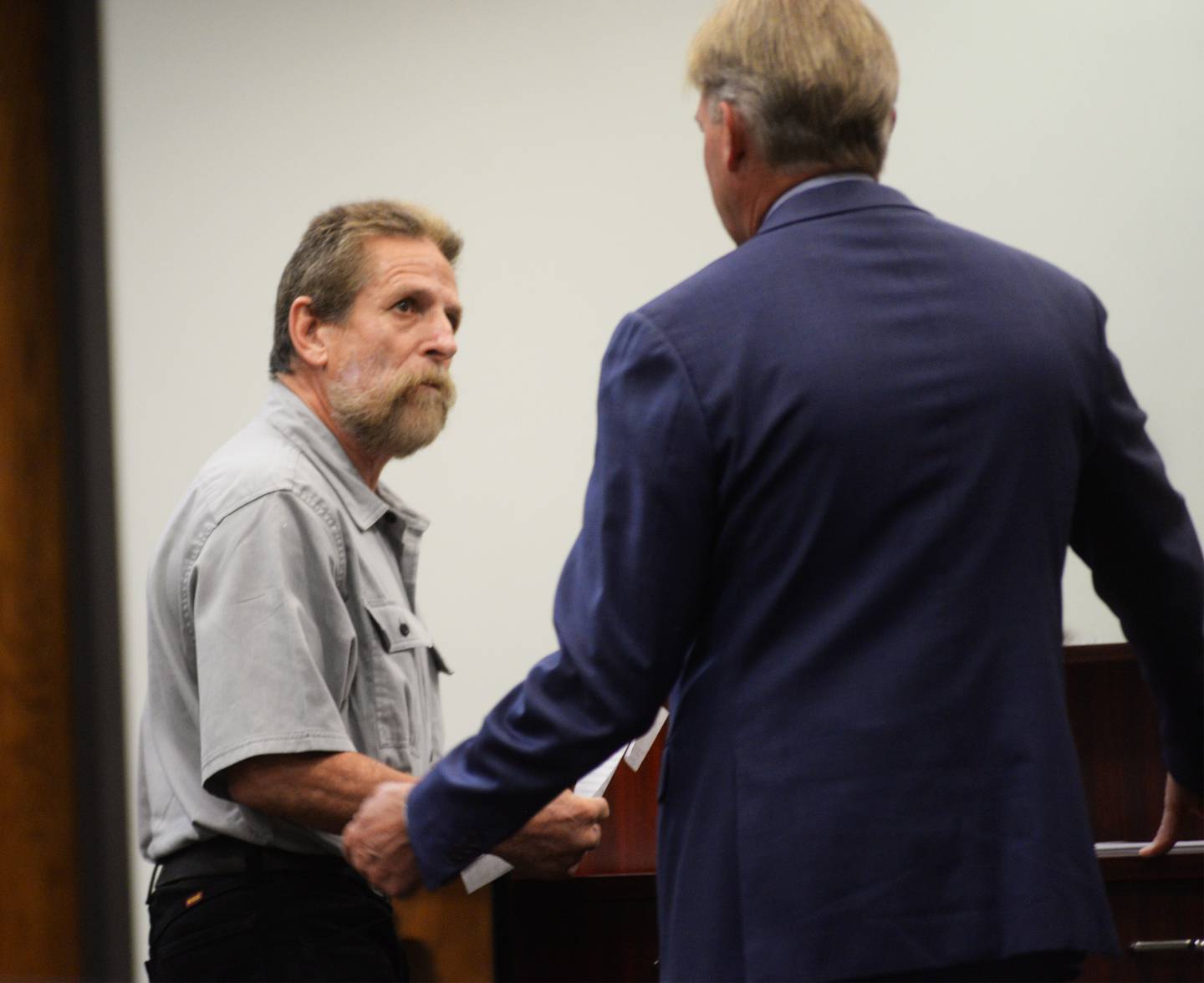 Lee County Public Defender Robert Thompson filed the motion to suppress on June 8, 2021.
In his motion, Thompson argued that the statements Watts made after his arrest on Feb. 18, 2013, were "obtained as a result of psychological and/or mental coercion illegally directed against the defendant, and that such statements, therefore, were involuntary" and a violation of Watts' constitutional rights.
At the heart of his argument were promises made by then-State's Attorney Anna Sacco-Miller and Lee County Detective Dave Glessner that, should Watts cooperate and tell the truth in Dawson's death, he likely would get a lesser sentence, even probation, which "probably" wouldn't result in jail time.
After many informal discussions and after reviewing the evidence, including transcripts and videos of investigators' interviews with Watts, the prosecutors agreed with Thompson, and decided a first-degree murder conviction was not likely, Boonstra said.
Boonstra and Brim said it's OK to tell a person that his or her cooperation in an investigation will be taken into consideration when deciding how and who to prosecute, but in this case they said investigators went too far in promising Watts leniency.
It's only after Sacco-Miller made the statement, however, that Watts began to talk about the killing, Boonstra said.
"If not for that, we probably still wouldn't know what happened," he said.
In the end, however, "the majority of the evidence derived after that statement was fruit of the poisonous tree," he said. "We just can't get past the motion to suppress."
Dawson was beaten and stabbed 14 times on Aug. 28, 1983. His naked body, hands, legs and mouth duct-taped, was found the next day dumped in a pigsty north of Franklin Grove.
An autopsy showed that he died of blunt-force trauma and suffocation, and that he was beaten by more than one person.
Watts did admit to another person, and eventually to investigators, that Dawson died after he smashed him in the head with the butt of a .357 Magnum, Boonstra said.
To convict a person of first-degree murder, the prosecution must prove that the killer intended to do "great bodily harm" to his victim.
It's a Class M crime punishable by 20 to 60 years, or up to life in prison; probation is not an option.
Voluntary manslaughter requires proof that the victim was killed while the perpetrator "was acting under sudden and intense passion resulting from serious provocation."
It's a Class 1 felony punishable by 4 to 15 years; probation is possible.
Illinois no longer has a voluntary manslaughter charge on the books – it was dropped in 1987 and replaced with second-degree murder, which carries the same potential penalties.
Watts is the last of three men to be sentenced in Dawson's death, the details of which read like a lurid crime novel.
Terry Bobell, 76, of Chillicothe pleaded guilty on Aug. 2, 2018, to obstruction of justice and was put on probation for a year-and-a-half.
His brother, Gordon "Kent" Bobell, 73, also of Chillicothe – who initially was suspected of killing Dawson because of the duct tape print – pleaded guilty on Oct. 18, 2019, to involuntary manslaughter and was sentenced to 2 ½ years' probation.
Each of the Bobells originally was charged with five counts of first-degree murder, the lesser charges to which they pleaded came as a result of plea bargains.
According to the prosecution, should any of the three men have made it to trial, Watts and others would have testified that:
Watts, then a Peoria marijuana dealer and as such, Dawson's rival, hired the Bobells to deal with Dawson because Watts' brother, Bill, owed Dawson more than $90,000 for drugs, and Dawson thought Watts – who also was having an affair with Dawson's wife – should pay it, investigators said.
The Bobells – who had worked security for Watts when he was running large amounts of marijuana to Peoria – kidnapped Dawson from his mother's home that night. As Watts drove to Kent Bobell's home, the brothers sat in the back seat, beating Dawson.
That's also when Watts pummeled Dawson with the gun.
When they got to Bobell's home, the brothers duct-taped Dawson's hands, legs and mouth, and stuffed him in the trunk. Watts then drove alone to a mobile home in Rock Falls, where an acquaintance lived, opened the trunk and found Dawson dead.
It was the acquaintance's idea to take the body to the hog farm, which was owned by a man he knew. Once there, Watts undressed Dawson and removed the tape before the two carried his body over the fence and into a swine shelter.
His body still was bleeding when it was found the next day. Also discovered was the roll of duct tape with Kent Bobell's bloody thumbprint, and Dawson's DNA.
This is Watts' second conviction in the case. He was arrested about a month after Dawson's death and charged with obstruction of justice, and in January 1987 pleaded guilty and was sentenced to 2 ½ years' probation.
Boonstra is the third state's attorney to prosecute the case. He took over as state's attorney on Oct. 21, 2019, shortly after his boss, Matthew Klahn, was appointed an associate judge for the 15th Judicial Circuit, which includes Lee County.