STERLING – Two people still were missing Friday night after a fire destroyed a downtown apartment building earlier in the day.
The fire began about 2:20 a.m. at 406/408 E. Third St., where a woman jumped from a third-floor window and was flown to OSF St. Anthony Medical Center in Rockford with unspecified injuries.
Neither her name nor her condition were provided by Friday evening, nor were any details on the missing people. Anyone with family or friends who live there and can't be reached are asked to call Sterling police at 815-632-6640.
As of 6 p.m. Friday, Whiteside County Coroner Joe McDonald had not been called to the scene, and no bodies had been removed, he said in an email.
Information on the fire was being released by City Manager Scott Shumard.
According to a news release from Shumard, sent at 10:20 a.m. Friday, firefighters arrived to find fire throughout the third story, heavy smoke throughout the building and a report of people trapped inside.
A man and a girl escaped to an adjacent roof and were rescued. They were treated for minor injuries and released, according to the release.
The Sterling police and fire departments, the state fire marshal, the Illinois State Police Crime Scene Investigations unit and the federal Bureau of Alcohol, Tobacco, Firearms and Explosives are investigating the cause of the blaze, according to the release.
Why the ATF is involved was not released. The crime scene unit will gather and document evidence as a matter of course, in case the fire turns out to be suspicious.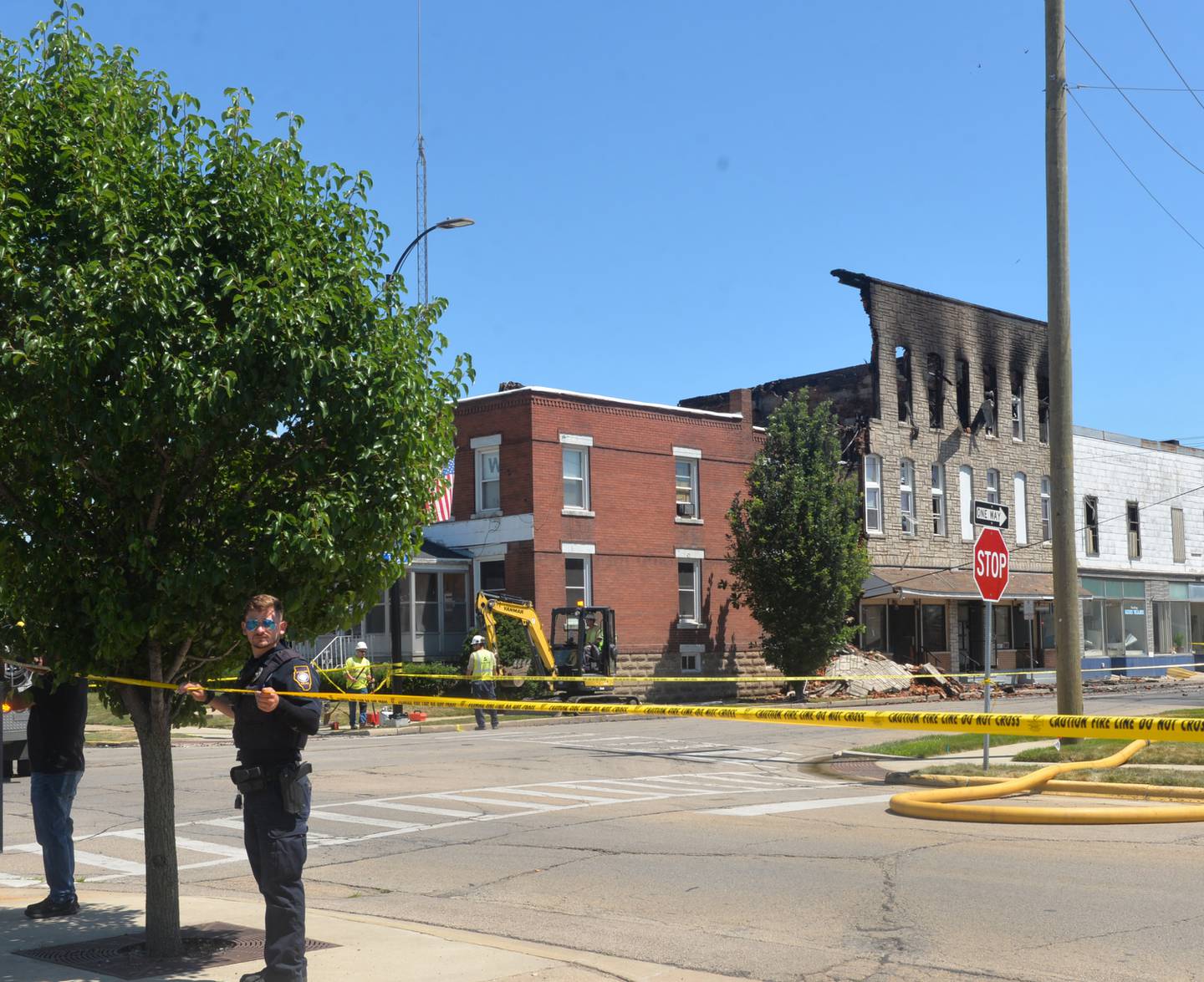 The city also was waiting for "more specialized investigators" to arrive, Shumard said in an email Friday afternoon.
"This process also slows down search and recovery work," he said.
No other update was provided as of 9 p.m. Friday.
According to Whiteside County property tax records, the building is owned by Mihail "Mike" Mihalios of Chicago.
Mihalios, 71, also owns 412/414 E. Third St., which is the two-story building due east, and the empty lot east of that, as well as an apartment building at 605 Ave. B, and a house at 704 Locust St., both also in Sterling, online records show.
A call to him Friday afternoon seeking more information, including the number of tenants at 406/408, was not returned.
The building, which was built around 1920, housed The Fitting Room tailor shop for about 15 years until it moved about a year ago to 2503 Locust St.
According to a recent online real estate listing, it had two commercial storefronts on the first floor and four studio and four one-bedroom apartments on the second and third floors.
There were noticeable structural problems with the building, including cracks and bowing in the west wall.
The city met with Mihalios on May 3 to discuss problems with the building's facade, Shumard said in the email. The building department scheduled a meeting with him again June 7, and on June 15 called him for an update. That's when officials were told he was waiting to hear back from a contractor, Shumard said in the email.
In another follow-up call June 23, Mihalios said the contractor would be finishing his report "over the next couple of weeks," Shumard said in the email, adding that "there is absolutely zero evidence" the fire was in any way related to the facade issues.
Residents of the neighboring apartment building due west were forced to evacuate when police and firefighters arrived.
"I was sleeping, and it was approximately 2:30 in the morning and I was woken up by a police officer banging on the door to evacuate because the building was on fire," said Christopher Blum, 49, who lives on the second floor next door at 302 Fourth Ave. "I didn't even put my shoes on. I just grabbed a shirt, my phone and keys, and ran out the door and across the street to the bank parking lot.
"That whole building was engulfed in flames. It was scary."
Blum waited near the scene until about 5 a.m., then went to a friend's house. He was allowed back in his apartment about 10:30 a.m. to get clothes and shoes, he said.
"I had to get my car and some clothes so I could make it through the weekend," Blum said.
Mike Sylvester, 54, who lives on the first floor, said his dog, Geno, alerted him to the fire.
"I was starting to fall asleep, and my dog was pacing the floor and started barking, going back and forth between both doors," Sylvester said. "And then I kind of got worried because I heard some crackling, so I opened up my back door that is in the alley to the back building, and when I did that, I saw the flames, and they were ripping and roaring."
He continued: "It was getting pretty close, so I ran out of my apartment and I started pounding on Chris' door, because he was sound asleep, and that's when the police came in and started knocking on his door. So, I was able to get my dog and get him out. It went up fast."
Sylvester credits Geno, a blue heeler, for saving him from injury.
"He saved us. It all happened so fast," he said.
Dylan Gutierrez, whose family owns The Bubble car wash across the street, said their video surveillance cameras captured smoke coming out of the back of the top floor about 2:20 a.m. and images of some people getting on the roof and others leaving the building five minutes later. They will give the footage to police, he said.
Because of the investigation and because the building is unstable, East Third/Route 2 from First to Fifth avenues remained closed.
Dixon Rural, Dixon City, Milledgeville, Prophetstown, Morrison, Fulton, Polo, Tampico, Erie and Clinton (Iowa) fire departments assisted, as did Rock Falls police and the Whiteside County Sheriff's Department. The Salvation Army and American Red Cross assisted residents.
The same building was damaged in a fire Feb. 13, 2012, caused when a tenant left a burning candle on a windowsill. No one was hurt in that fire.