BURLINGTON – Kaneland finally broke through with its first hit and run against Harvard sophomore Tallulah Eichholz in the top of the seventh inning but found itself in a tough situation in the bottom half.
Harvard's first two batters – Allie Scott and Manhatyn Brincks – reached on back-to-back errors to put baserunners on first and third against freshman pitcher Brynn Woods.
The second error was a bit unlucky, with Corinne Pugh unable to pick a low throw at first base as her glove's laces came undone. Without another glove, Kaneland coach Madison Mikos subbed in Sammy Dunne, and Woods went back to work.
Woods struck out the next two batters and got No. 9 hitter Kristi Knop to hit a hard line drive to short right field.
Gabby Gonzalez raced in and made the grab, and fourth-seeded Kaneland survived a 1-0 win over top-seeded Harvard in the Class 3A Burlington Central Regional final Saturday, giving the Knights their eighth regional title in a row.
Kaneland (17-16) advanced to play Sycamore in a Belvidere North Sectional semifinal at 4:30 p.m. Wednesday. The teams split their regular-season series 1-1 with Kaneland earning a 3-2 win in eight innings May 17.
Woods said it was a complete team win.
"It feels great, but I feel like the people behind me help me a lot," said Woods, who allowed only one hit, three walks and had 15 strikeouts. "They help make sure I have a clear head and stuff like that. I was a little bit flustered, but I trusted the people behind me that they would make a play, just like [Gonzalez] did. I knew she would step up and make a play for me. I just had all my trust in them."
Eichholz struck out the first 10 batters she faced until Gonzalez hit a pop-up back to Eichholz for the second out in the fourth. Kailey Plank had a leadoff walk against Eichholz in the fifth, but the Knights remained without a hit through the first six innings.
To start the seventh, Gonzalez ripped a single to left field to break up the no-hitter, followed by an infield hit from Woods that went in and out of second baseman Aideliz Renteria's glove on a diving attempt, allowing Gonzalez to reach third.
"I was trying to be in the best mindset for my team and get that first run," Gonzalez said. "I moved in back of the box a bit, and I was just looking for my pitch."

—  Gabby Gonzalez, Kaneland senior
Gonzalez came around to score during the next at-bat on a wild pitch for a 1-0 lead. The Knights had a chance to add on, but Eichholz struck out the next batter and, after a walk, fired her 17th and 18th strikeouts of the game to avoid any more damage.
Eichholz allowed only the two hits and two walks over seven innings, throwing 74 of 114 pitches for strikes.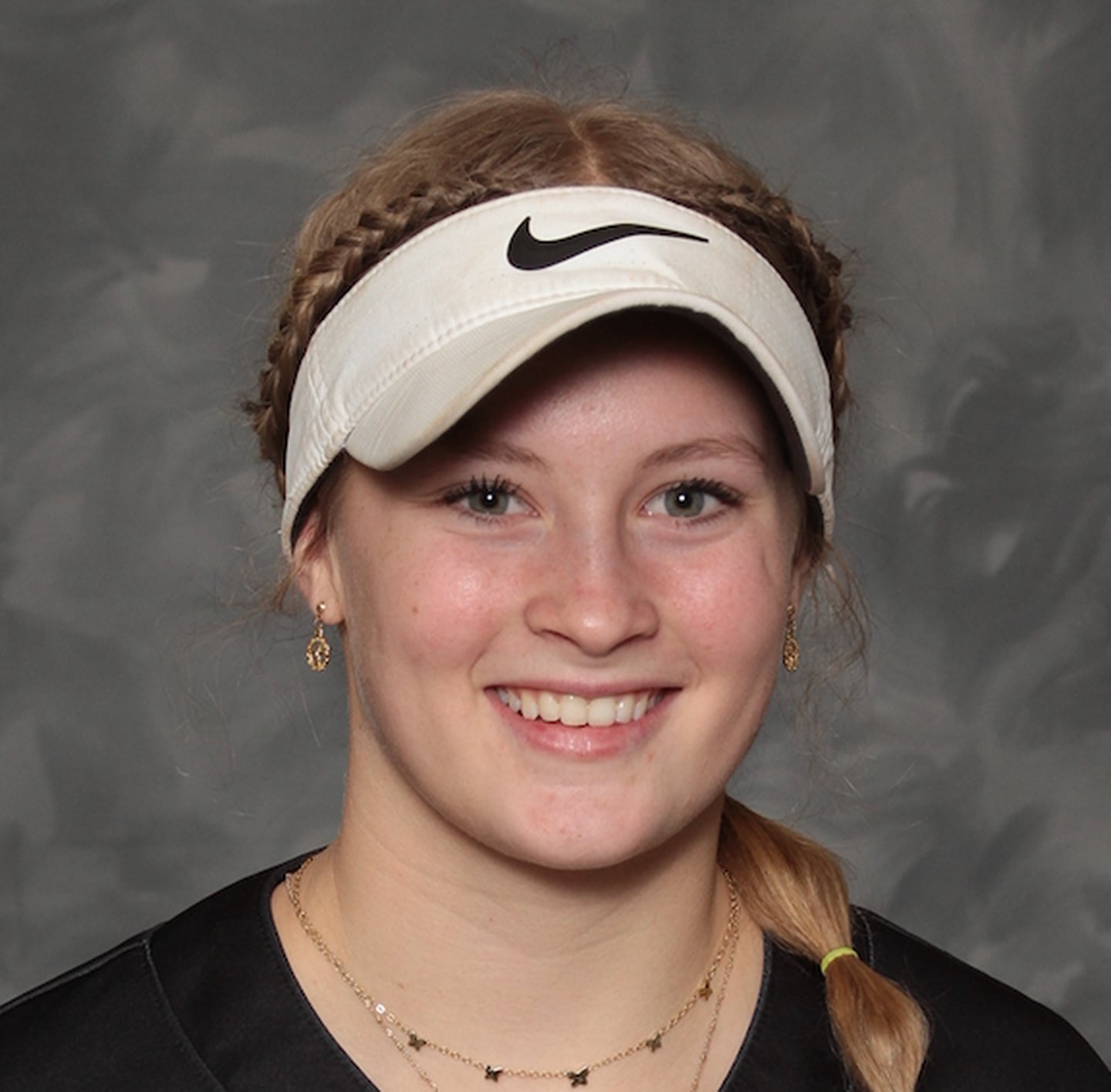 Woods and Eichholz play on the same travel team, the Wisconsin Lightning, and know each other well.
"Tallulah is an amazing and outstanding pitcher," Woods said. "I love her. She's the nicest person you'll ever meet. She has great spin on the ball, a great riseball, a great curve, a great screw[ball], everything. And she's got a nasty changeup. I just needed to make sure that I saw the ball all the way through and drove the first pitch I know I can hit. Honestly, she won two times out of three, and that's what I expected because she's such a phenomenal pitcher."
Gonzalez said she made a slight adjustment against Eichholz to start the seventh.
"I was trying to be in the best mindset for my team and get that first run," Gonzalez said. "I moved in back of the box a bit, and I was just looking for my pitch."
Harvard (11-13) had a successful spring, tying Richmond-Burton for second place in the Kishwaukee River Conference and getting its first winning season in the KRC at 6-4.
The Hornets will lose three seniors to graduation: Scott, Jillian Cooke and Aaralynn Schneider.
"The seniors' leadership was amazing," Harvard coach Becky Edinger said. "They were able to keep everyone focused, able to talk our younger kids up when they needed it. We're a young team, and our younger kids did grow up pretty darn fast. They're gaining confidence, and the game is starting to slow down because they're getting all of that experience.
"There's a lot to be excited about for next year."
Eichholz, who finished the season with 239 strikeouts, said she was proud of her teammates for pushing themselves all year.
Harvard was going for its first regional title since 2011.
"We were playing really hard to win this," Eichholz said. "I think next year we'll have a really good chance to go farther. It was a lot of fun. I was feeling good and excited. The adrenaline everyone had this season was really fun. Our freshmen just killed it, and I'm excited to see them the next two years I have left."