One of the first things Samantha Roesner did when she bought Bopps Bar and Grill in Harvard was completely rip out the kitchen and rebuild it from the ground up.
The new restaurant owner hopes to make the bar that served food – the oldest running bar in town – into a family-friendly restaurant that also happens to serve alcohol, Roenser said.
With the help of a silent partner, Roesner, a 2007 Harvard High School graduate, bought the bar on Aug. 1 from longtime owner John Schneider. After renovating the kitchen, she reopened for business at 103 E. Front St. on Aug. 31.
Roesner kept the name and the bar running along the back of the former auto dealership. She has completely changed the menu, getting her beef from a Walworth, Wisconsin, butcher shop and her bread bowls from By the Dozen, a Harvard bakery.
In the summer, produce came from a farm stand, and she is looking for more ways to offer local food to her customers. "I want it to be fresh and clean, but also cost-efficient," Roenser said.
Running a restaurant is new for the married mother of four. She worked in restaurants around Walworth, Wisconsin, while attending dental assistant school at Rock Valley College. She was "in the dental world for 11 years," Roesner said.
Then, she had their fourth child during the COVID-19 pandemic. She and her husband, Tyler, struggled as dentist's offices closed for the pandemic and finding day care for the children became impossible.
They decided that Roesner would become a stay-at-home mother.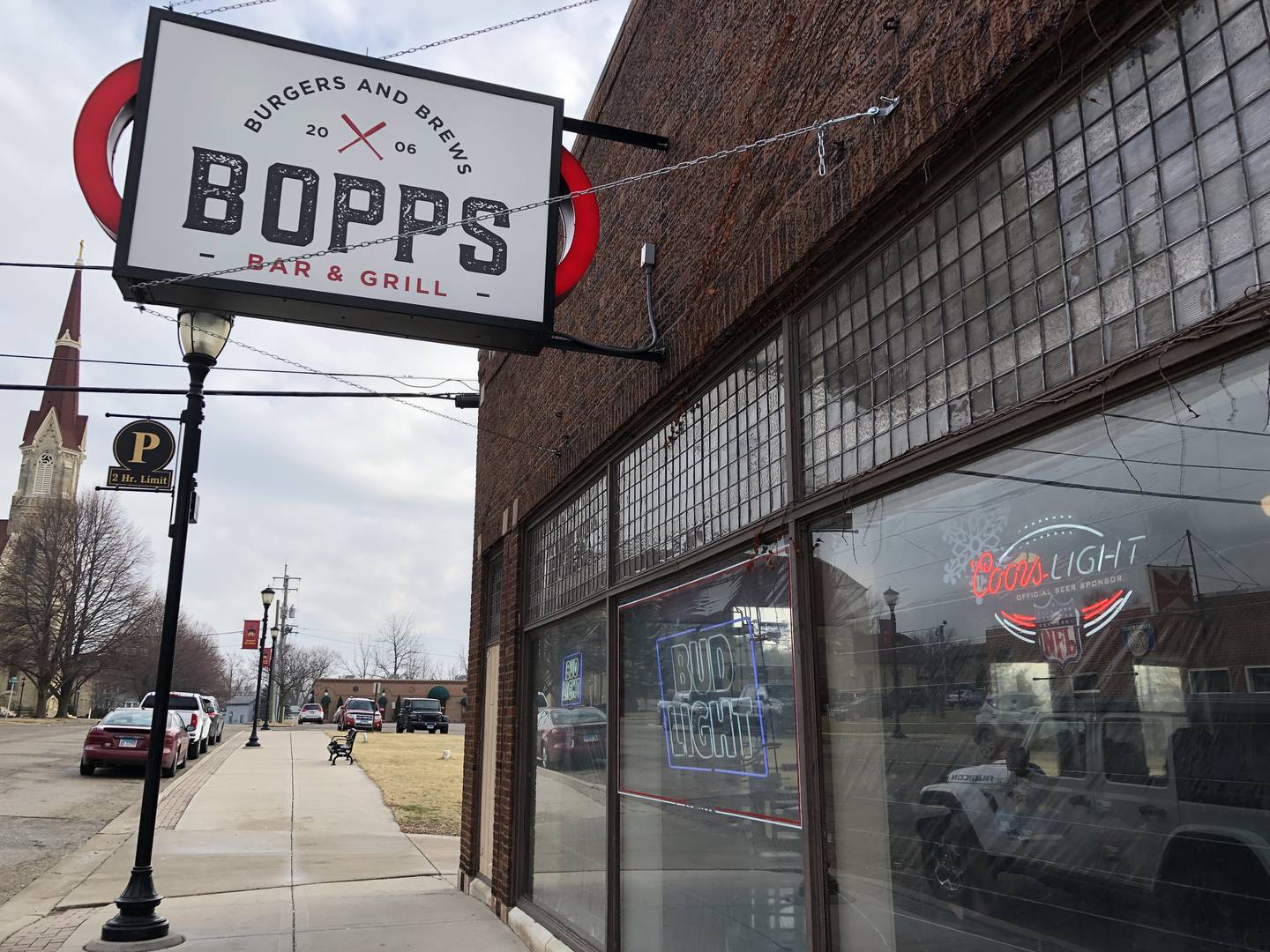 "I did it for two weeks and absolutely hated it. Kudos to all of the stay-at-home moms" who can do it, she said.
It was about that time that a mutual friend of Schneider and Roesner, who owns a bar in Walworth, heard Schneider was selling and suggested the deal to both.
"When I walked in here, I didn't have one bad feeling" about the idea of buying and running a restaurant, Roesner said.
Harvard has wonderful restaurants, she said.
"We can always use one more," she said. "I have a lot of energy to give. It is another option for people here. Instead of driving out of town, they can do something in our downtown."
She is offering live music once a month, as well as sip-and-paint classes, and plans to expand the patio area for summer dining. New patio doors are planned for easier access once the weather gets better, Roesner said.
All the staff has changed since she bought Bopps, and she couldn't do it without them, Roesner said.
One of those employees is Amanda Livdahl. She heard about the sale and wanted to be a part of it, Livdahl said.
"It has always been our favorite spot in town. I met with Sam and we clicked," Livdahl said.
She recommends the sweet Italian sausage burger, adding that they are becoming known for their burgers and their ham sandwich.
That is a callback to Bopps early days, Roesner said: the original owner served only ham sandwiches at the bar.
She knows that running a restaurant is hard work. She takes off Mondays, as does her husband, and has an accountant and people like Livdahl to help.
"I feel like me listening to the people for their requests and treating others how I want to be treated makes a successful business. I care a lot, and that is keeping us going," Roesner said.
Residents also want to see the restaurant succeed, Roesner said.
"There is so much history in this place. ... It is not just mine. It is the whole town's. I am just here to run it," she said.