Republican gubernatorial candidate Darren Bailey made a stop in McHenry Thursday morning, telling the crowd of about 50 supporters that he will "restore" Illinois and saying the state "cannot afford another four years of JB Pritzker."
Bailey, arriving on a large bus decorated for his campaign, spoke at the Little Chef Restaurant off Riverside Drive as part of a tour across the state. On his first of four stops scheduled for the day, Bailey was greeted by supporters, some of whom brought gifts for the candidate.
Caden Berger, a 15-year-old out of Wonder Lake, gave Bailey a mug with a Bible verse on it and said he likes how genuine Bailey comes across. He also said he appreciates Bailey's religious beliefs and what he stands for.
"When I met him … it felt like I was meeting some guy I were to come across on the street," said Berger, who attended the event with his parents. "He's a cool guy."
Bailey – along with Illinois Attorney General candidate Tom DeVore, who also spoke at Thursday's event – spoke about the need to root out corruption at the state level, pointing to ex-House Speaker Michael Madigan, who was indicted Wednesday on bribery schemes. Bailey called for anti-corruption legislation in an effort to "hold everyone accountable."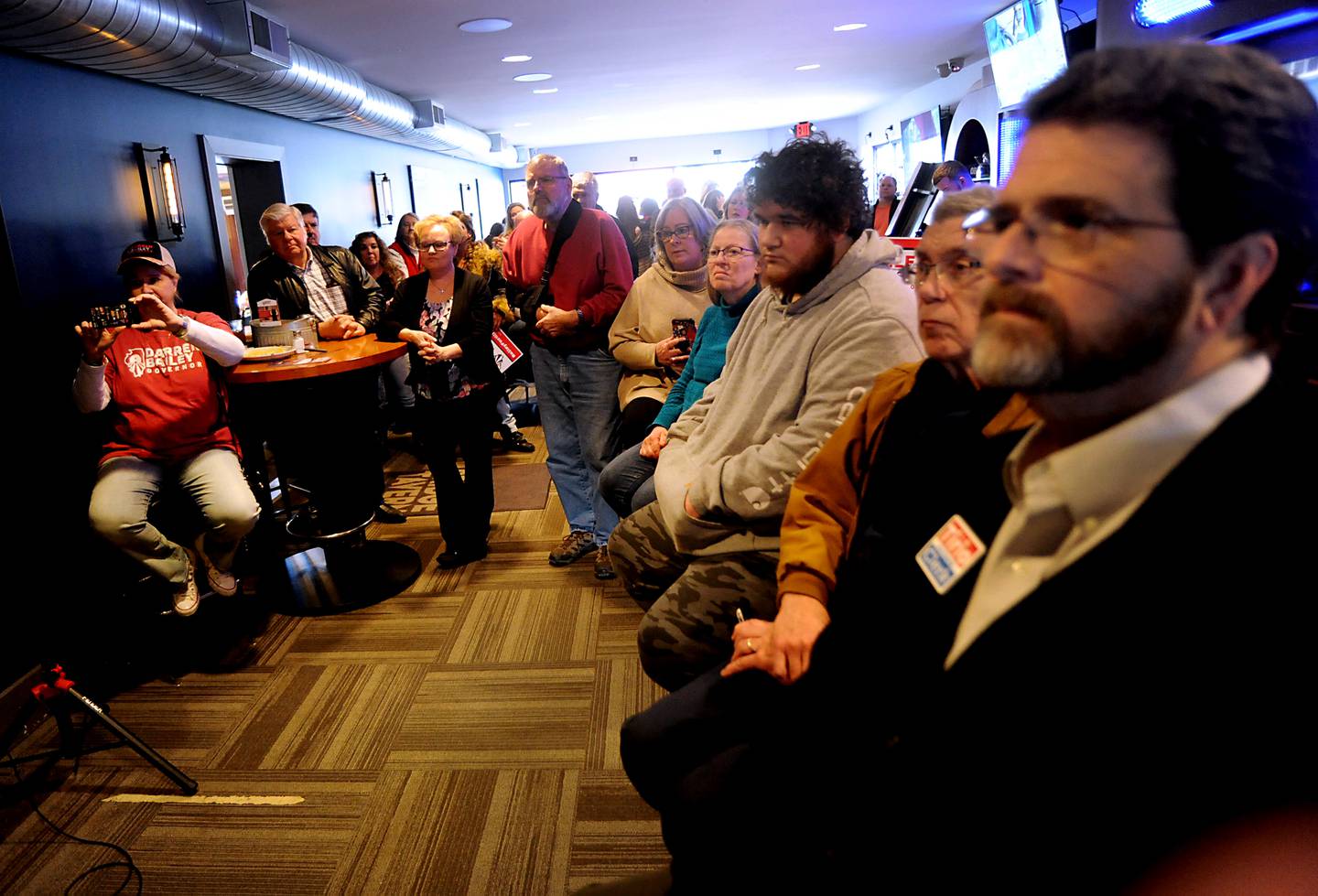 He also hit against his opponents in the race, including other Republicans and the Republican party as a whole, calling many of them Democrats and liberals.
He called out Aurora Mayor Richard Irvin, one of a handful opponents he's likely to face in the primary, saying Irvin won't say where he stands on major issues and he isn't a conservative. Bailey did not mention Republican gubernatorial candidate Gary Rabine, who comes from Bull Valley.
"We cannot afford another four years of JB Pritzker," Bailey said. "Or even worse, we can't afford a much more liberal, less successful version of (Gov. Bruce) Rauner. We need change."
Ahead of Bailey's speech, DeVore and McHenry County Clerk Joe Tirio, both running as Republicans, spoke briefly.
DeVore criticized Prtizker's various mandates related to the COVID-19 pandemic and stressed the importance of the process, comparing what Pritzker did to Florida Gov. Ron DeSantis, who issued also issued a mandate but one that forbid masks in schools instead of requiring them.
"You need to stop and think that what he's doing is just as inappropriate as what Pritzker does," DeVore said. "You cannot disregard the process if you're satisfied with the outcome. If we start governing ourselves that way, we're doomed."
Bailey has served in both the state's House of Representatives and Senate dating back to 2019. Before running for office, he ran a business downstate. He also was a longtime member of the North Clay School District 25 school board in Louisville, a small town about 90 miles east of St. Louis. He is one of a handful expected to run in the Republican party.
"I've been standing for the people," Bailey told the Northwest Herald prior to the event starting. "I've been standing up, pushing back against this ridiculous legislation and all these laws and all these bills that are harming citizens and pushing our children out of the state."
Michelle Vanderwalt, of Crystal Lake, said she was drawn to Bailey because he is a Christian.
Juliet Hogan, of Spring Grove, said she was unsure exactly who she will support, but knows it will be a Republican. She also liked Bailey because he is "a Christian man."
"I think God needs to come first," Hogan said. "We need a moral compass."
Jim Magnuson, a Lake County resident, said he's been a long-time supporter of Bailey. Magnuson, who is also Christian, said he believes Bailey's faith can help him with the issues.
"This state has been corrupt for my whole life," he said. "When I hear someone talk about integrity, talking about what he wants to do and I know where his heart is, I'm all for it."