During Tuesday's storm, Matt McDonnell and his 11-year-old son Luke of McCullom Lake were both surprised to hear Tuesday marked the latest in a winter season the National Weather Service measured snowfall in Northern Illinois dating to 1909.
"That's crazy," Matt McDonnell said about the new record. "Back when I was in high school, I remember we used to be ice fishing by Thanksgiving weekend."
Luke took the opportunity to work on his pitching form, packing a series of snowballs in his front yard and throwing nothing but strikes from about 25 feet away, causing a thud-thud-thud as he hit the trunk of a bare tree each time.
"It's a good storm, nice and heavy," Ron Morley, another McCullom Lake resident, said while shoveling his driveway.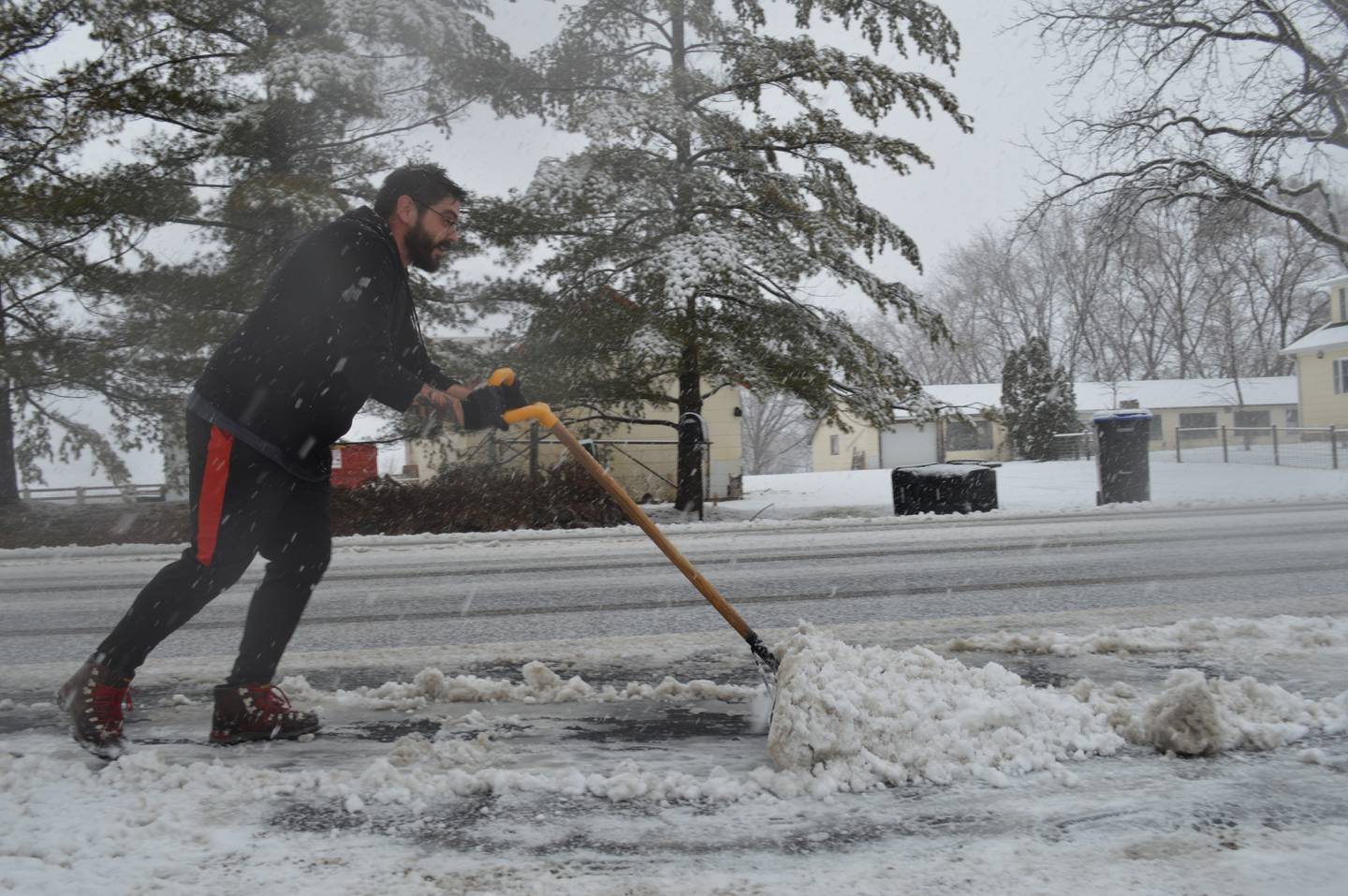 Morley said he remembers no Christmases without a trace of snow yet seen in the area as he grew up in Wonder Lake.
"It would at least snow some and then melt away before" the holidays, he said.
Roads across McHenry County were slippery and covered in snow by midday.
Snow began falling late Tuesday morning across McHenry County, with the heaviest snow during the afternoon hours. By 1 p.m., area roads already were seeing the effects of the snow before it moved out of the area in the early evening.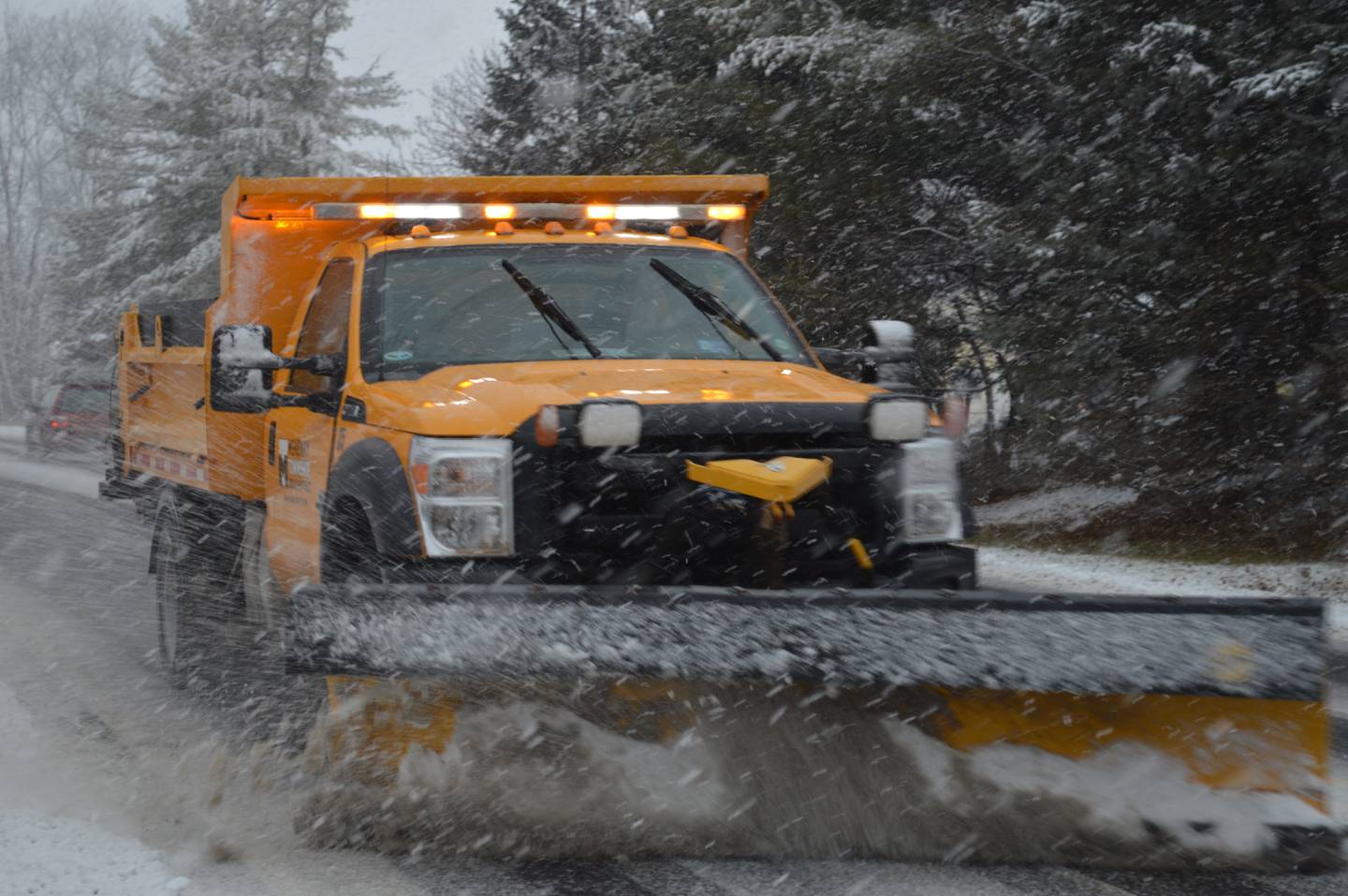 McHenry County Sheriff's Office spokeswoman Emily Matusek said deputies responded to several traffic incidents related to the snowy conditions including crashes and motorist assists.
Matusek said drivers should slow down on snow-covered roads and allow extra time to reach their destination. They also should make sure they are driving with their headlights on, have their car cleared of snow before leaving, and leave distance between themselves and the car in front of them.
Marengo police and firefighters responded to a crash related to the slippery roads just before 11:45 a.m. Tuesday at the intersection of Deerpass Road and Telegraph Street when a driver went through a stop sign. Marengo Police Sergeant Andrew Kjellgren said a vehicle was hit in the driver door after going through the sign, causing it to go into a ditch. The driver had to be extracted from the car by firefighters and was taken to the hospital with serious leg injuries.
A Winter Weather Advisory was in effect until 6 p.m. Tuesday for McHenry County for slick roads and between 1 and 3 inches of snowfall. By 6 p.m. Tuesday, roads throughout the county were partially covered in snow, according to the Illinois Department of Transportation.
Preliminary reports Tuesday evening as of 6 p.m. show much of the area had picked up about two or more inches of snow. The National Weather Service reported 4.2 inches in Wonder Lake and 3 inches in Lakewood. Amounts reported earlier in the afternoon showed 1.9 inches fell in Crystal Lake, and 1.5 inches fell in Lake in the Hills before the snow stopped falling.
Northern Illinois broke a record this month by not having seen any snowfall this late in the season. It was first time in 10 years that the area went without a first snow this late in the year, and broke a record held since 2012 when Dec. 20 came and went without any snow, the weather service said last week.
The record for the latest first measured snowfall of the season at O'Hare International Airport was Dec. 20, 2012, according to the National Weather Service. This season also marks the latest measurable snowfall the area has seen since the National Weather Service began recording such events in 1909.
Meteorologist Kevin Donofrio said the agency keeps official records for the Chicago area at O'Hare, but some areas of the Chicago region may have picked up measurable snow before the Dec. 20 record.
The average first snowfall of the season occurs Nov. 18, making the area more than a month overdue for measurable snow, according to the National Weather Service.
Snow switches over to mostly drizzle this evening with fog development tonight. WED starts out dry, with more wintry weather possible in the evening. Another storm system moves in on FRI-SAT. Prepare for possible hazardous weather when making New Year's travel plans! #ILwx #INwx pic.twitter.com/H2be2OZALr

— NWS Chicago (@NWSChicago) December 28, 2021
More snow is in the forecast for the rest of the week. Donofrio said the area should receive a dusting on Wednesday evening before a stronger system with the potential for several inches of snow moves in for the weekend.
"It's starting to shape up our area could be falling under the core of the snow with that one," Donofrio said of a system to move over the area on Saturday.
The storm system still needs to form over the Pacific Ocean before they get a better idea of the track and how much snow it could produce, Donofrio said, but meteorologists are watching it closely.
Behind Saturday's possible snow will be the region's coldest temperates of the season on Sunday, with highs in the teens Sunday afternoon, Donofrio said.