Update: The Cary Park District 50th anniversary event has been canceled, officials said Thursday.
1. The Cary Park District is marking its 50th anniversary with fireworks, food, music, a bounce house and mobile axe throwing.
The celebration will kick off at 5:30 p.m. Friday at Lions Park, 1200 Silver Lake Road, with fireworks planned for about 8 p.m.
Admission is free, but parking costs $10 for paved spots and $5 for grass.
For information, go to carypark.com.
2. The village of Lakemoor is host its Ghouls and Boos Howl-O-Ween Bash from 2 to 6 p.m. Saturday at Heritage Community Park with trick or treating, food, games, a haunted trail ride, touch-a-truck and a costume contest.
The costume contest, which is planned for 3:30 p.m., includes a slate of categories and age groups: funniest and cutest for infants through 6-year-olds and funnest, scariest and most inventive for 7- to 12-year-olds, 13- to 17-year-olds and adults.
A costume parade will follow at 4 p.m. Raffles will occur throughout the afternoon.
For information, go to the village's website at lakemoor.net.
3. The Pumpkin Train returns to the Illinois Railway Museum from 10 a.m. to 4 p.m. Saturday and Sunday.
The Pumpkin Train leaves from the main train station at the museum, 7000 Olson Road, east of Union, and heads into the country to the pumpkin patch where pumpkins can be picked and other festivities enjoyed.
Admission is $11 for 12 years and older, $8 for 2- to 11-year-olds, and $9 for seniors. The parking and the pumpkins are free.
Information is available at imr.org.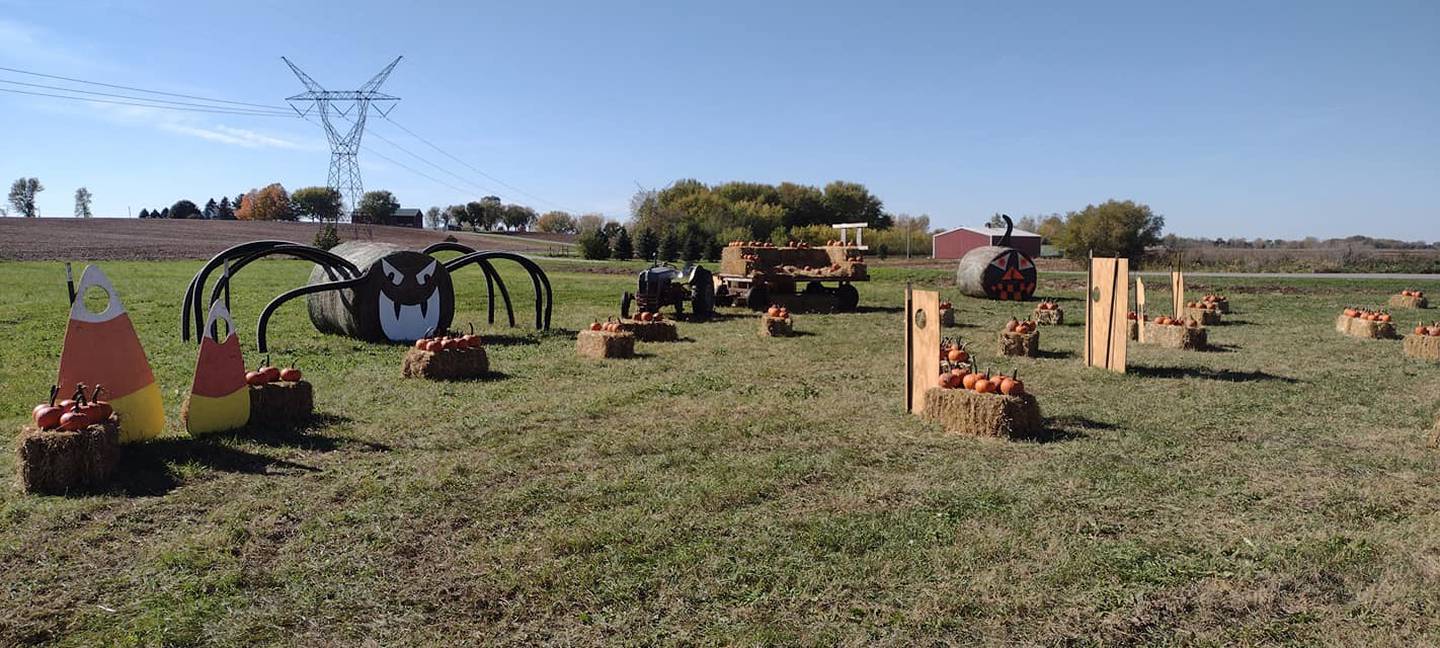 4. Like many downtowns across McHenry County and the suburbs, the historic Woodstock Square will host trick or treating at its area businesses Sunday afternoon.
The festivities will also include a costume contest, planned for 4:15 p.m. at the gazebo and the fourth annual Carved Pumpkin Contest.
Prizes for the costume contest will be awarded by 4:30 p.m. Prizes will be awarded for the "scariest," "funniest" and "most original" costumes in five categories: 3 years and younger, 4 to 8 years old, 9 to 13 years old, 14 and older and groups.
To participate in the Carved Pumpkin Contest, bring carved pumpkins to the Woodstock Opera House, 121 W. Van Buren St., by 4 p.m. for public judging during the trick-or-treat event on the Square.
Pumpkins will be judged in three categories, scariest, funniest and most creative. Winners will be announced at 5 p.m. Questions can be directed to the Woodstock Opera House office at 815-338-4212.
5. For children who like candy and vehicles, McHenry County has plenty of options for trunk or treating this weekend.
Willow Crystal Lake will host a trunk-or-treat from 4 to 6 p.m. Friday at the church, 100 S. Main St., with candy, games, crafts, a treasure hunt and drinks to keep attendees warm. The timing coincides with downtown Crystal Lake's annual trick-or-treating event, which will run 3 to 5 p.m. Participating businesses will have an orange "Halloween Handout" pumpkin flyer on the window.
The McHenry Outdoor Theater is hosting a trunk-or-treat party from 6 to 7:30 p.m. Friday and Saturday, each time followed by a double-feature of "Hotel Transylvania" followed by Universal Studios' original "Frankenstein". A pumpkin decorating contest each evening will award the winner free admission for the entire 2022 summer movie season.
The cost is $12 for adults; $6 for children ages 3 to 11, seniors 60 and older and current and former U.S. military members; and children younger than 3 are free. The pumpkin decorating contest is $5.
The Richmond Police Department has an event of its own 1 to 4 p.m. Saturday in the department's parking lot at 5600 Hunter Drive. Space is limited to 50 cars, so registration is required. Information can be found on the village website.
The Full Moon Harvest Festival on the McHenry Riverwalk will feature trunk or treating as well as craft vendors, food trucks, live music by Terry Byrne and Miles Over Mountains, All Marine's Retro Rental's shipping container bar, a costume contest, pumpkin painting and additional crafts and activities for kids, a cornhole contest and festive boat rides. The event takes place from 3 to 8 p.m. at Miller Point, 1202 N. Riverside Drive.
The village of Prairie Grove will host a trunk-or-treat event 3 to 4:30 p.m. Saturday at the park at 3125 Barrenville Road where kids can dress up and trick or treat from car to car while adults hand out candy from the back of their cars. More information can be found on the village website.
Would you like your event featured in this weekly feature? The first step is submitting your events to the Northwest Herald's community calendar at shawlocal.com/northwest-herald/local-events/ where they are then considered for inclusion in this feature.