A widespread bus driver shortage this fall has forced some students to frequently be late to class. Sometimes, parents have been asked to voluntarily drive their kids to school. Elsewhere, office staff and at least one superintendent have gotten behind the wheel to drive kids to school.
Many schools across Illinois tasked with fully reopening after a year of pandemic disruptions have found themselves trying to offset a bus driver shortage that some say is the worst in at least three decades.
"We're struggling," said Tom Hernandez, a spokesman for Plainfield School District 202. "There are not enough human beings willing to drive the buses."
The state is plagued with many factors causing the shortage. However, the ongoing COVID-19 pandemic and its precautions only have exacerbated the problems.
Although some school districts have course-corrected for their respective bus driver shortages, others still are bracing for a likelihood of the situation getting worse as winter looms. Winter often is when more drivers need time off because of reasons such as illness or inclement weather.
For example, during Oswego School District 308′s homecoming week in September, district schools were forced to cancel in-person instruction for a day after 33 drivers were absent when they either called in sick or did not show up, and 15 school bus monitors called in sick. District 308 has since set up contingency plans in case such a shortage occurs again.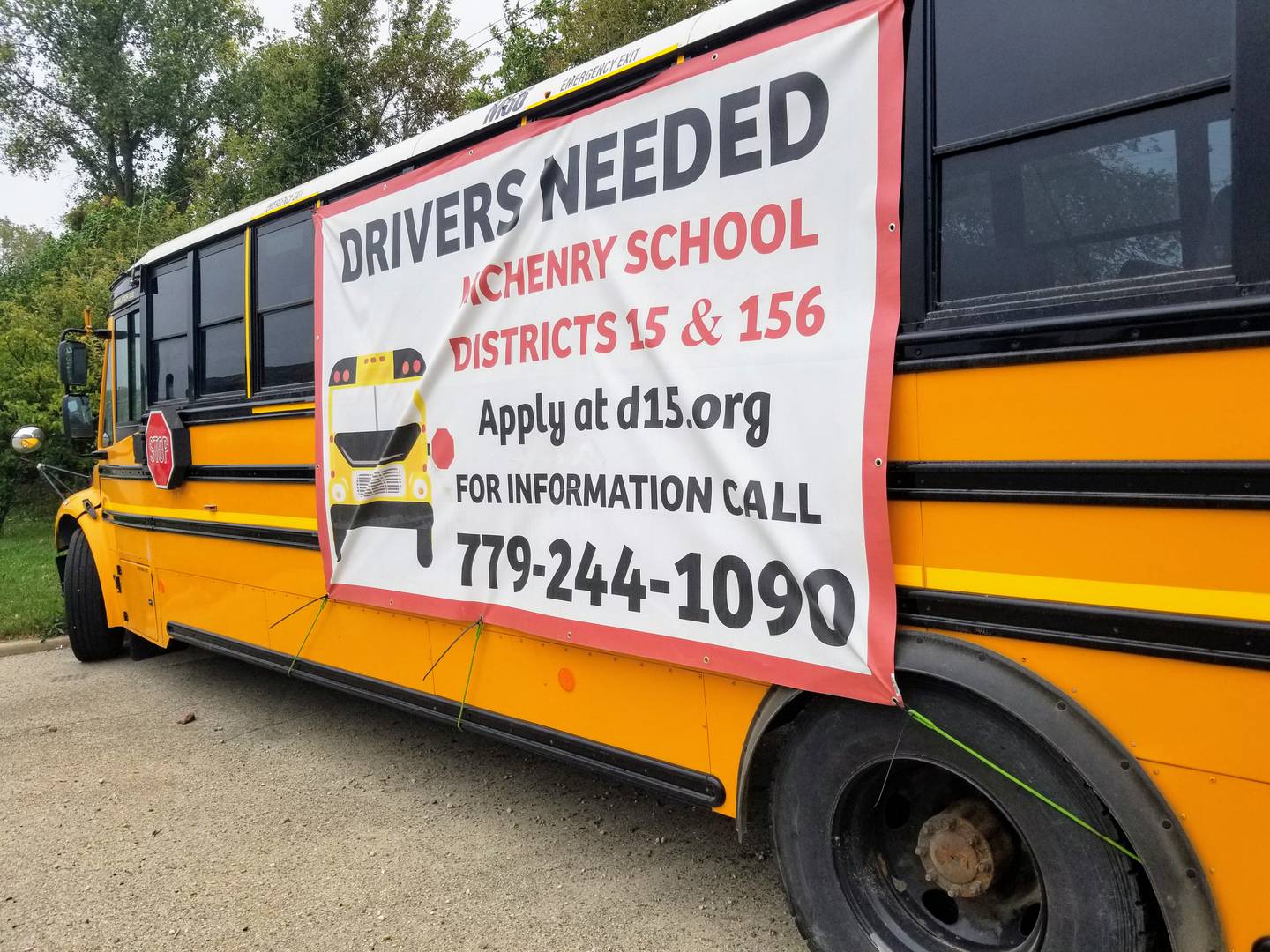 'It has pretty much consumed us'
The bus driver shortage is a problem with varying degrees of severity throughout Illinois.
School officials in Joliet and Plainfield said recently that they still need more drivers and have tried several strategies to help transport kids to and from school each day.
During the first month of the school year, Anthony Arbogast, an assistant superintendent in District 202, told school officials that the district was short about 35 bus drivers out of almost 200 on any given day. Arbogast said some students have not had access to transportation as a result, especially students with special needs, and other students have experienced significantly longer route times than during a normal year.
The driver shortage has affected field trips, sports team transportation and other extracurricular activities. Arbogast said no transportation had yet been provided for middle school sports events. Transportation for special education students has been especially challenging, as the district has resorted to paying parents to deliver their kids to school themselves.
Hernandez said the district has given about 150 families of special education students reimbursement to transport their own students to and from school. Families receive $2,000 plus mileage reimbursement for the year.
"It has pretty much consumed us trying to solve an unsolvable problem," Arbogast said, adding that the shortage almost certainly will continue throughout the next semester if not for the rest of the school year.
Joliet Township High School District 204 was short drivers in September. The driver shortage persisted for Joliet Public School District 86, which had between 15 and 20 unfilled driver positions at the start of its school year, district spokeswoman Sandra Zalewski said.
"It's getting better, but it's not perfect," Zalewski said.
Sycamore School District 427 Transportation Director Kathy Sheahan said that she helps out on routes most days, along with a mechanic and a sub. Sheahan said the district could use another five drivers.
The need for bus drivers is so high that District 427 Superintendent Steve Wilder has been behind the wheel aboard many buses himself in recent weeks. Wilder said he's been certified to drive a school bus for the past 12 years and has filled in whenever needed.
"I got my bus driver endorsement 12 years ago because the transportation director at my previous school district asked me to get it because there was shortage back then," Wilder said. "I got it then and renew it every year to be an extra person if we ever get into a bind. Just one more person to help."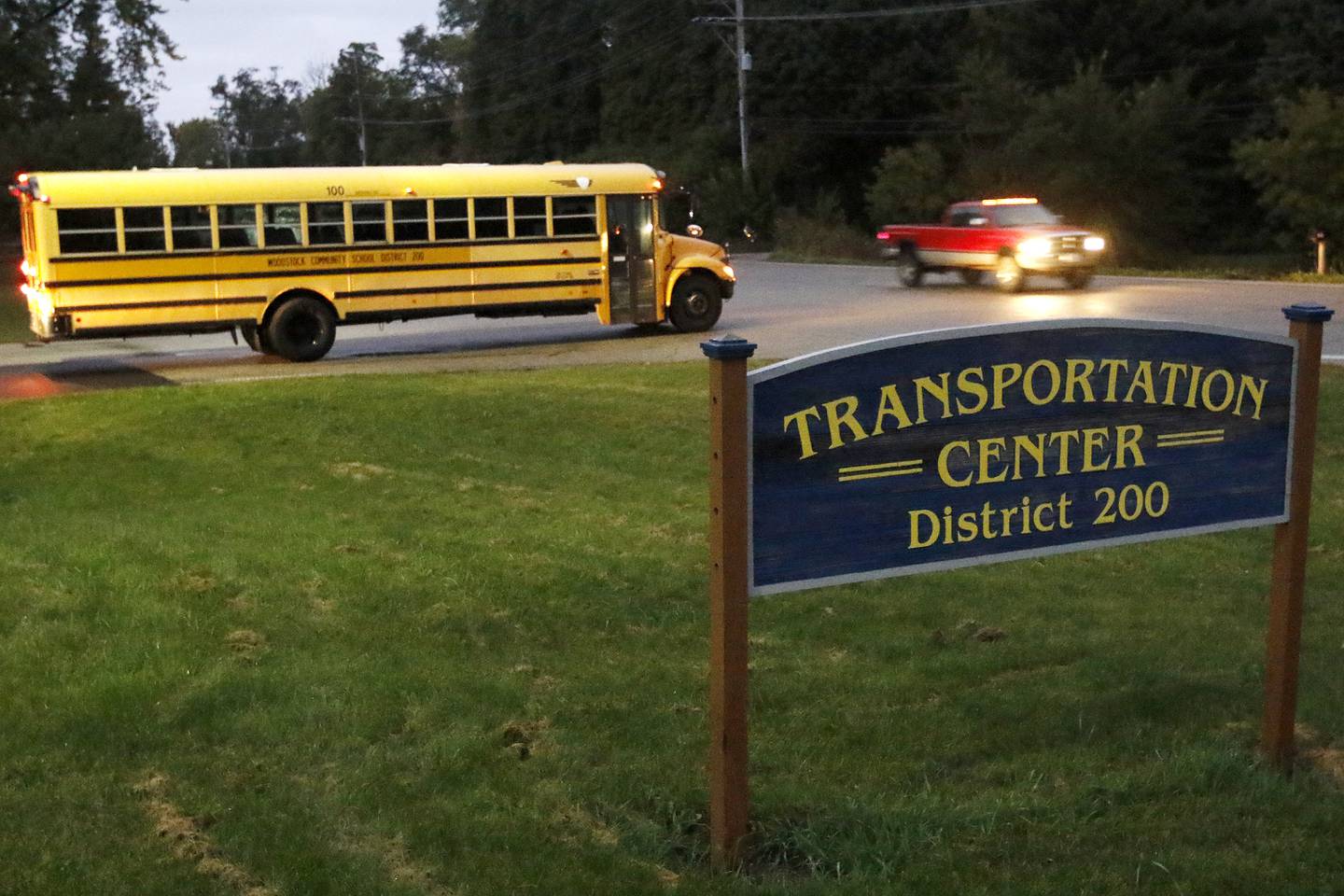 Sterling Public Schools Superintendent Tad Everett said the service the district contracts with has "worked really well in maintaining bus drivers at this point, maintaining every route."
Everett said the district has added coach services for transporting sports teams to events.
In Bureau County, Princeton Elementary School District 115 Superintendent J.D. Orwig said officials have combined different routes and pulled in peripheral staff members who have bus drivers licenses to help transport pupils to and from school.
DePue School District 103 Superintendent Brad Kenser also said transportation has become a current and constant concern.
"We are experiencing issues with transportation daily," he said. "Most morning routes are fairly stable, with an occasional route delayed due to one bus running the routes instead of two buses we are contracted for. The afternoon routes are consistently 45 minutes late, some days with two buses and other days with only one bus. Currently, students are walking home or riding with a parent or friend instead of waiting on the buses.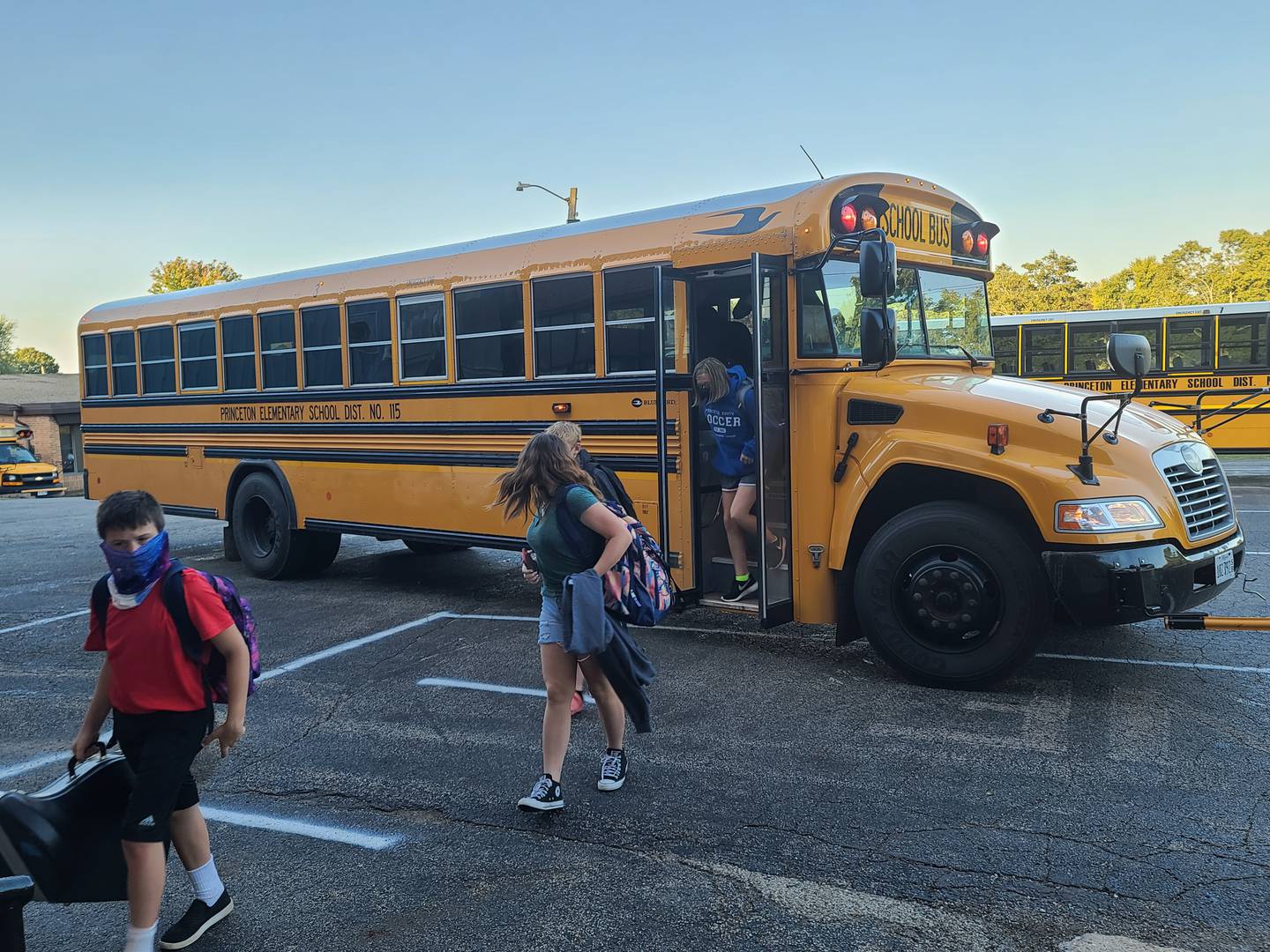 "Some students don't have that option and have to continue to wait 45 minutes to an hour until the buses arrive. This will be a bigger issue for the district when inclement weather begins this fall and winter."
Reasons for the shortage
Arbogast pointed to a number of factors behind the shortages, such as the higher pay at other jobs, the fear of COVID-19 among older drivers and an unwillingness to be vaccinated against or tested for the virus.
Drivers also have demanding schedules working a morning and an afternoon shift, said Penny Fleming, director of transportation for Crystal Lake Elementary School District 47 and Crystal Lake-based Community High School District 155. Both school districts share buses, and a number of bus drivers are old enough in some districts that they chose to retire early after COVID-19 hit.
"A lot of it is fear and for their own health because they are on a bus with a lot of kids in close quarters," Fleming said.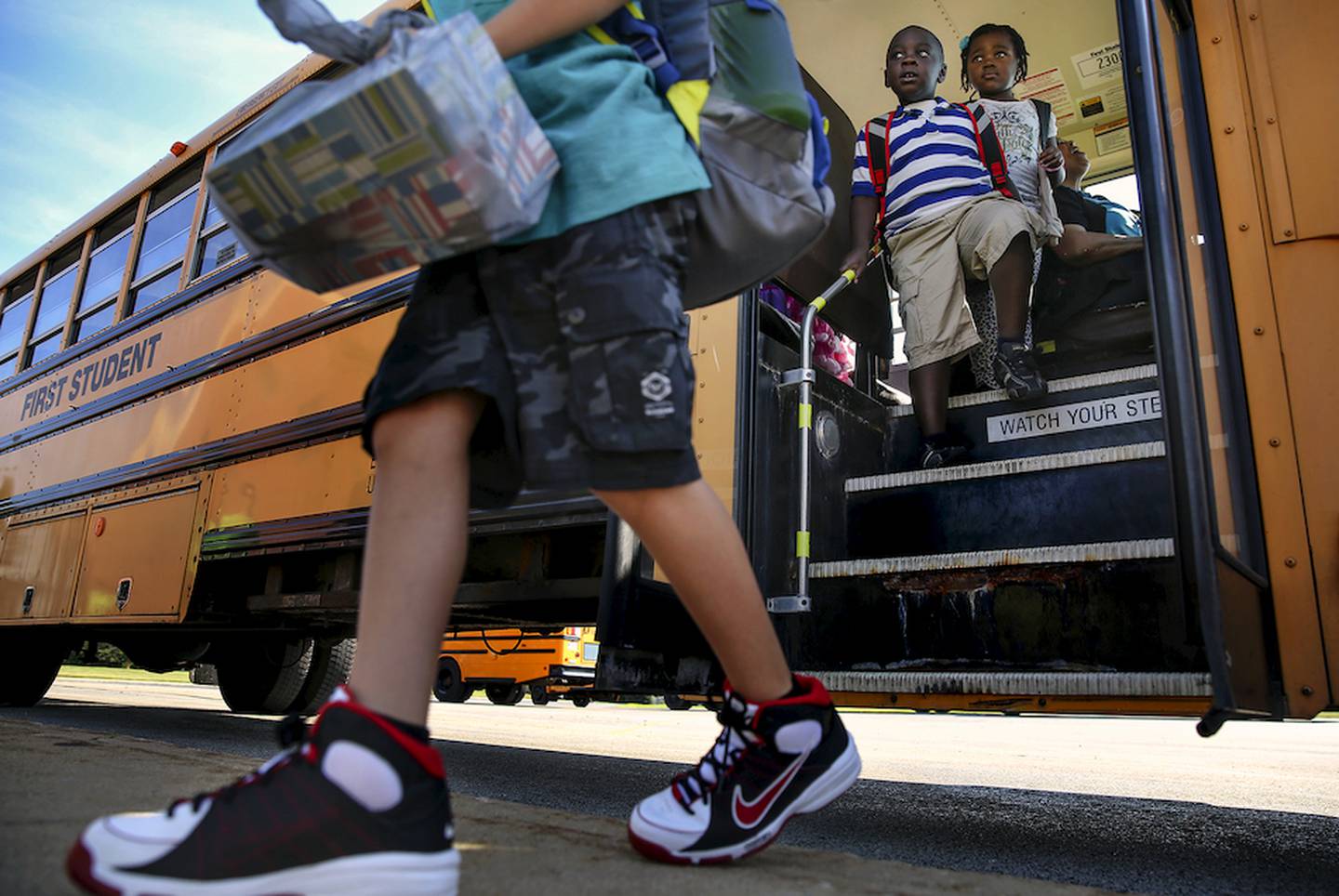 It also takes more work to become a school bus driver than it did in the past, Fleming said. Prospective drivers now are required to schedule appointments to get their fingerprints taken. Illinois Secretary of State facilities also often have delays where drivers either face long lines or having to book an appointment.
Driving a school bus requires a commercial driver's license that can take weeks to obtain, and then the people who have the license often find higher-paying work that doesn't require splitting the day for picking up and dropping off.
Demand for commercial drivers is continuing to rise with the pandemic-fueled surge in online shopping, said Joanna McFarland, co-founder and CEO of school ride-service company HopSkipDrive, which tracks school bus problems.
If all that wasn't prohibitive enough for a prospective school bus driver, the process also includes a few steps with the Illinois Secretary of State's Office to receive a school bus permit, which is required for any individual planning to transport schoolchildren in grade 12 or lower for a public, private or religious school. CDL holders who will drive a yellow school bus to transport pre-primary, primary or secondary school students from home to school, from school to home or to and from school-sponsored events also must obtain a school bus endorsement and passenger endorsement.
School bus permits require a written permit and endorsement tests, a behind-the-wheel exam, a physical examination and a training course administered by the Illinois State Board of Education.
"All of these things have turned a three- to three-and-a-half-week process into now what can be a five- or six-week process," Fleming said. "People are getting tired of waiting, and they're finding other jobs."
Possible solutions
Officials at the Illinois State Board of Education have suggested that school districts spend some of their share of federal COVID-19 relief to address their bus driver woes.
State Superintendent of Education Carmen Ayala said in a recent ISBE newsletter that districts should be reviewing ridership data to ensure routes aren't inflated by families who initially signed up but no longer use the bus. She said they also could use federal pandemic relief funds to offer before- and after-school programs that could allow "flexibility in scheduling."
Additionally, Ayala suggested that districts "promote the opportunity to earn income and retirement to the people who are already driving to and from school every day," mentioning kitchen and maintenance staff, coaches, paraprofessionals and even teachers as potential candidates. Collaborating with neighboring districts to share substitute drivers also was a suggested alternative.
Woodstock School District 200 Board member John Parisi at one point recently suggested reaching out to the lobbying group Illinois Association of School Boards for help.
"I have not talked to anybody from any district – Cook County, Kane County, here – that isn't facing this problem to some degree or another," Parisi said. "I'm a little surprised I haven't seen anything from the [Illinois Association of School Boards]."
In response, IASB Associate Executive Director Kara Kienzler said in a statement that the bus driver shortage is not a legislative problem but one of supply and demand in the state's job market.
Some Oswego schools have turned to offering bonuses to drivers and financial incentives to those who successfully recruit new candidates, whereas others have tried to entice bus drivers with higher wages. In Woodstock, school officials briefly considered adjusting the school start times so many of its youngest learners would be in class just after 7 a.m., but District 200 Superintendent Mike Moan killed that proposal after he heard strong opposition from families.
However, he and other McHenry County education officials said they fear an unmanageable transportation conundrum will arise this winter as more drivers need days off for illness and other reasons – unless they receive some type of influx of transportation staff or another schedule change allows fewer drivers to transport more students.
In contrast, St. Charles bus route delays have caused students to arrive late to class.
"I actually was on a call today with a superintendent in another district that's in our county that actually has a 50% reduction in their routes because they don't have enough bus drivers," St. Charles School District 303 Superintendent Jason Pearson said. "We are in a much better situation. However, we are down 18 drivers from what we consider to be fully staffed. We continue to look for and hire drivers every day as we [receive applicants]."
Meanwhile, Dixon Public Schools District 170 Superintendent Margo Empen said the district has resolved most of its bus route problems, and she relayed as much in a message to parents last month acknowledging the bus driver shortages and announcing that some routes would be combined. In other cases, drivers were handling multiple routes, and office staff was being employed to drive for some routes; substitute drivers already were being used in a similar capacity.
"We're not fully back to normal, in the sense we are still having to double up a couple of routes because of a lack of drivers," Empen said, "but the timing is improved, and we're able to get kids back and forth safely. So that's improving."