First responders were some of the earliest eligible people to receive a COVID-19 vaccine, but with inconsistent vaccination tracking practices among departments, it remains unclear just how many members of McHenry County law enforcement are fully vaccinated.
The Northwest Herald sought documentation of officer vaccination rates for police departments throughout McHenry County that served populations of more than 5,000 people. Fox Lake, which represents only a small portion of McHenry County, is not included in the results.
Of those 10 departments, only two – Lake in the Hills and Cary – were able to provide the vaccination rate of their officers. The other departments, which include Algonquin, Cary, Crystal Lake, Huntley, Johnsburg, Lake in the Hills, Marengo, McHenry, Woodstock and Spring Grove, either did not require or track proof of vaccination. Some did not have department-specific guidance on policies about the vaccine or masking, and instead referred to recommendations by city leadership, the U.S. Centers for Disease Control and Prevention or the McHenry County Department of Health.
"Overall, as far as masking, we're just following the health officials and the CDC guidelines," Woodstock Police Chief John Lieb said.
President Joe Biden issued a mandate earlier this month that would require all employers with more than 100 workers to require a vaccine for employees or implement regular testing. The Occupational Safety and Health Administration is tasked with writing the rule, and of Tuesday, no such rule had been issued. Still, some local police departments already have begun collecting proof of their employees' vaccination status in anticipation of further restrictions.
"As soon as people started getting vaccinations, we asked for copies of their card or pictures of their cards or to show us their cards in person," Cary Deputy Police Chief Chris Winkelmann said.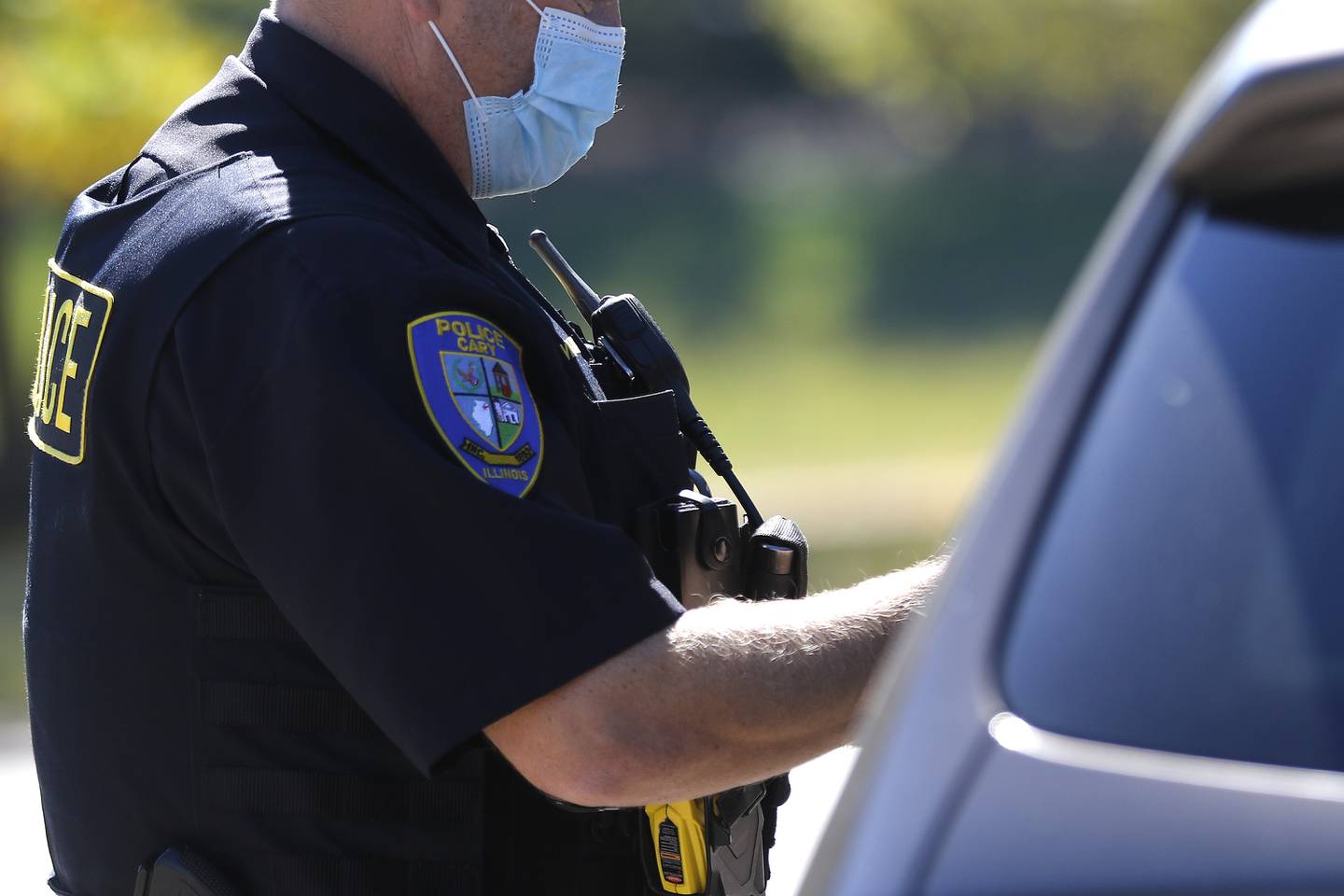 In Cary, 23 of 34 police department employees, or 67%, were fully vaccinated. Another 33% or 11 of 34 employees, were not, according to the city's public records request response.
"Our policies and procedures were not just based on guidance from the CDC, but also the Governor's Executive Orders," Winklemann said. "With regards to tracking employee's vaccination status, if the department did not keep track of vaccinations, it would not have been possible to differentiate vaccination status', and therefore extremely challenging to ensure our employees followed the appropriate guidelines for both vaccinated and unvaccinated individuals."
In Lake in the Hills, 61% of police department employees were fully vaccinated, including 53.5% of police officers. Another 11% had not yet provided proof of their vaccine status and 35.5% said they would not be receiving a vaccine at this time, according to the city's public records request response.
Several McHenry County law enforcement agencies last year were unsuccessful with a joint lawsuit that sought to force the McHenry County health department to provide the names and addresses of COVID-19 patients to emergency dispatchers. Those departments included the McHenry County Sheriff's Office as well as the McHenry, Lake in the Hills, Woodstock and Algonquin police departments.
COVID-19 recordkeeping and who has the rights to it has been a topic of debate throughout the pandemic.
Despite some public perception, an employer's requesting to see an employee's proof of vaccination is not a violation of the Health Insurance Portability and Accountability Act, also known as HIPAA, according to the National Fraternal Order of Police.
Although police departments have the right to require proof of vaccination, not all do. In fact, the UCLA Law COVID Behind Bars Data Project graded the Illinois Department of Corrections an F for its transparency and quality of data regarding COVID-19 among incarcerated people and staff.
The data that was available through the state's corrections department wasn't machine-readable, regularly updated, clearly defined or contextualized historically, according to the data project.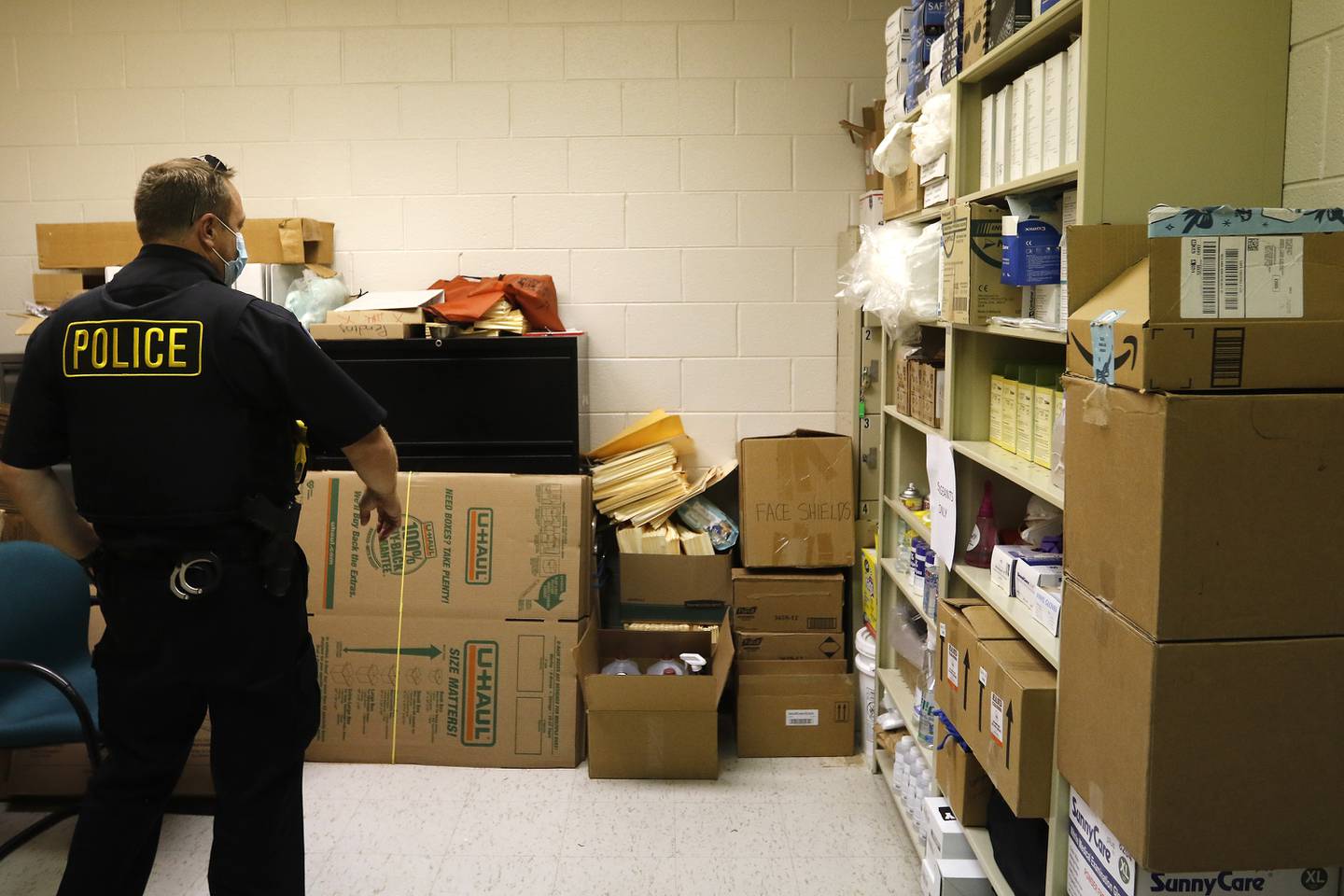 According to a separate July 2021 COVID Behind Bars report, COVID-19 rates rose in Immigration and Customs Enforcement facilities even as rates in surrounding counties fell.
McHenry County in particular has seen 25 total COVID-19 cases among its ICE population since the start of the pandemic, according to ICE's website. The sheriff's office also has been home to COVID-19 outbreaks among non-ICE detainees. Although the sheriff's office, which employs the jail's corrections staff, does have a series of COVID-19 procedures in place to screen detainees and manage outbreaks, the department does not require or track officer vaccination.
When it comes to police policies regarding vaccines, departments likely aren't making those decisions in a vacuum, said Ed Wojcicki, the executive director for the Illinois Association of Chiefs of Police.
Police agencies have oftentimes taken into consideration the guidance issued by their local city leadership and health departments, Wojcicki said.
"I trust that the local departments are paying close attention to what is desired in their communities and what the other community leaders are saying because none of these decisions are being made alone by a police department," Wojcicki said.
In Crystal Lake, rules surrounding an officer's use of personal protective equipment while responding to a call are at the discretion of the department's chief, according to the citywide administrative directive. Several departments, including Huntley and McHenry, also said they were following Gov. JB Pritzker's guidance regarding indoor mask use regardless of vaccination status.
"We follow current CDC guidelines regarding mask wearing and we are in compliance with the Governor's Executive Order," Crystal Lake Police Chief James Black said in an email. "It is our understanding the current federal mandate applies to federal workers, federal contractors, health care workers and private sector companies. If there are any changes to the federal mandate, we will review those changes with City attorneys and the City's risk management insurance provider to ensure any information is legally obtained and protected under HIPPA."
Although the National Fraternal Order of Police has encouraged healthy and eligible people to "seriously consider" receiving the vaccine President Patrick J. Yoes has said individual people should "maintain the freedom" to make that decision on their own.
"As an organization that prides itself on protecting the freedoms afforded by the U.S. Constitution, we are vehemently opposed to any suggestion of a vaccine mandate from any organization, employer, or government agency," Yoes said in an official statement issued last month.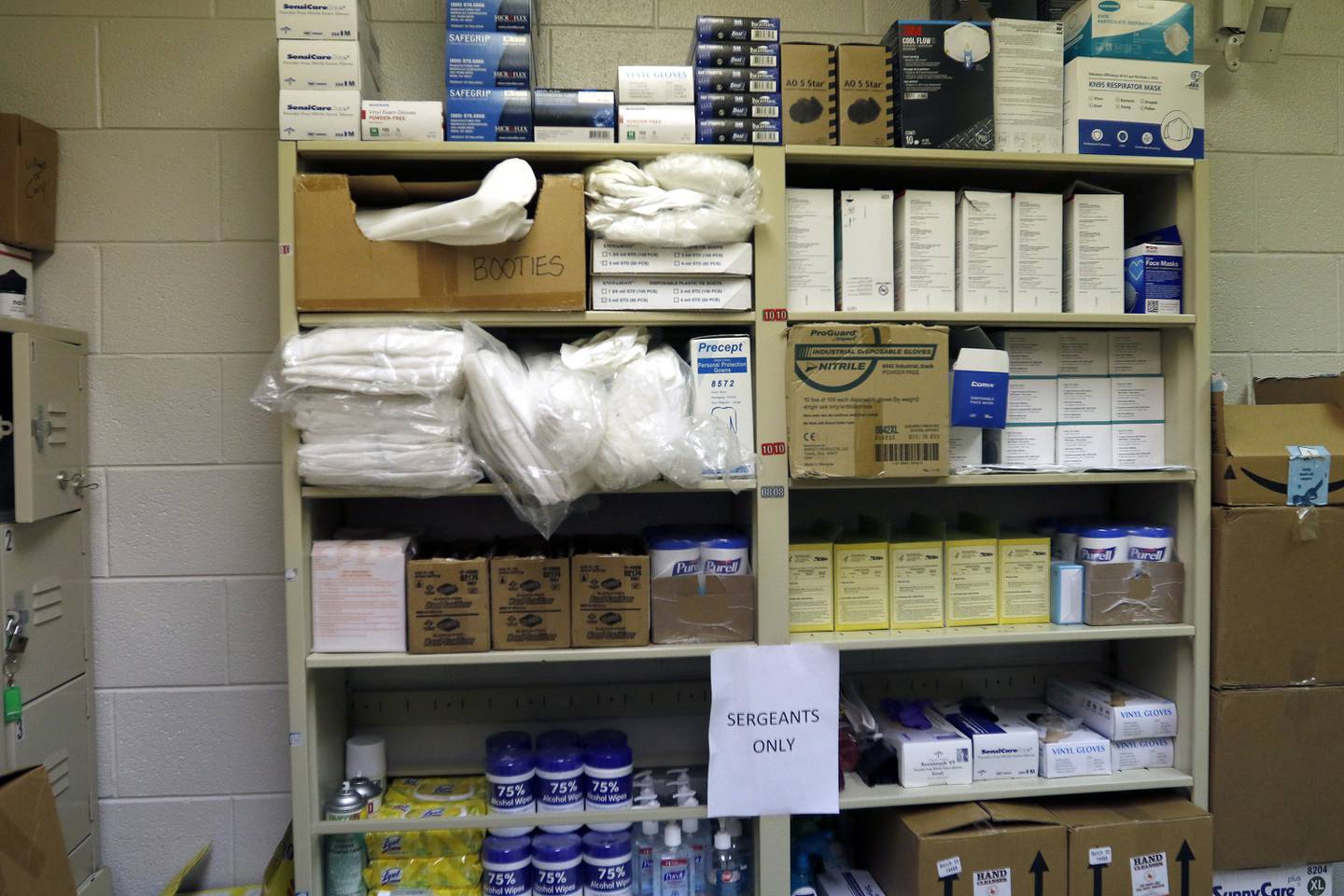 While not all departments require their employees to receive or show proof of vaccination, many have put safety protocols in place.
"As far as testing, if an officer has contact with an individual determined or believed to be COVID positive and the contact meets the definition of a [COVID-19] exposure as defined by the CDC and the IDPH, we will send the officer for [COVID-19] testing," Black said. "If an officer calls in sick with COVID like symptoms, the officer cannot report back to work until he/she provides a negative [COVID-19] test."
The Woodstock Police Department similarly is following the guidance of local, state and federal health officials, Lieb said.
The department does not mandate or track the vaccination of its employees.
"For vaccinations, it's a complex issue, and the city ultimately made the decision that vaccinations are voluntary and it's a health decision that the individual has to make," Lieb said.
Attempts to reach Woodstock Mayor Mike Turner were unsuccessful.
"We have been able to persevere through this pandemic," Lieb said. "We've been there for the community of Woodstock 24/7 as we always have been for decades and always will be. ... We've taken the precautions that we feel as though we've needed and like I've said, we will always be there for the Woodstock community."