A Cary man whose car struck a Prairie Grove School District 46 bus Wednesday morning outside Crystal Lake has been charged with driving under the influence of drugs, the McHenry County Sheriff's Office said.
The driver, James T. Owens, 21, was taken to Northwestern Medicine McHenry Hospital, then flown to Advocate Condell Medical Center in Libertyville for serious, but not life-threatening, injuries, according to a news release from the sheriff's office.
One of the children on the bus suffered a "minor injury," the sheriff's office said on Twitter. The injured child was evaluated by the Cary Fire Protection District and released to a parent, according to the release.
The crash occurred on Crystal Lake Avenue near Hamilton Drive outside Crystal Lake, according to a news release.
Owens was driving east on Crystal Lake Avenue in a 2001 Mazda Tribute when he crossed over the centerline and collided with the westbound school bus, the McHenry County Sheriff's Office said.
He subsequently was charged with two misdemeanors: one for driving under the influence of drugs and another for possession of marijuana by driver. He also was cited for improper lane use, failure to reduce speed to avoid a crash, operating an uninsured motor vehicle and operating a motor vehicle while using an electronic communication device.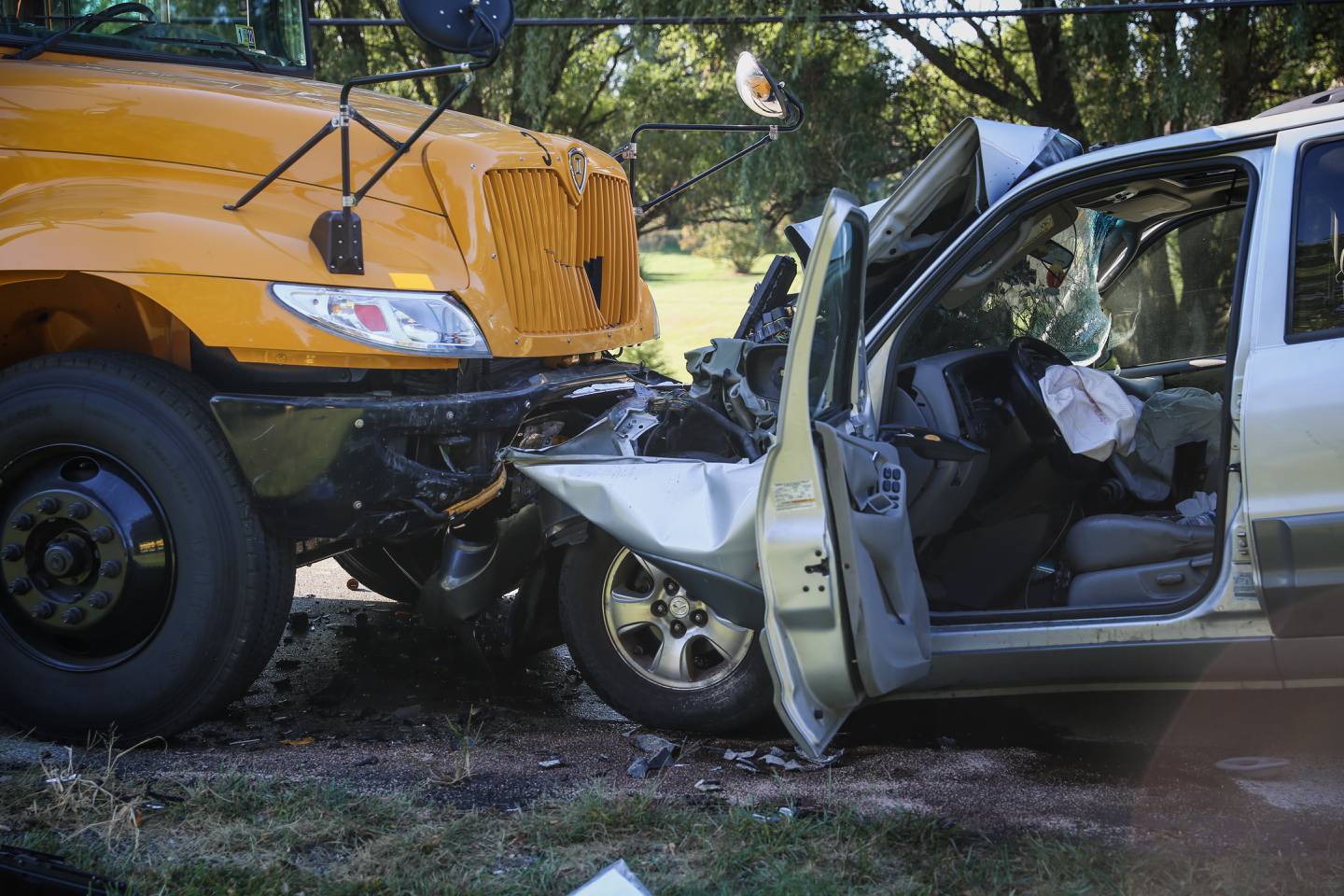 District 46 notified parents Wednesday morning that one of its buses was involved in a crash, according to the text alerts. All students on the bus were assessed by medical personnel and transferred to a new bus.
Another bus was sent to complete the other bus's route and pick up any remaining students, according to the district texts to parents.
District 46′s transportation director was on scene to help facilitate with the new bus, and a backup driver was brought in, Superintendent John Bute said. Bute and Prairie Grove Elementary Martha Maggiore were at the site as well.
Bute said 24 students were on the elementary bus involved in the crash. Of those, two were taken home by their parents, while the rest of the students came to school on the replacement bus.
Whenever a bus is involved in a crash, Bute said, it is district protocol for the driver to get a drug and alcohol screening to ensure they were not impaired.
Although Bute did not yet know the results of the drug test on Wednesday morning, after speaking with the bus driver, he said she was not under the influence at the time of the crash.
"My driver did everything that she needed to do to protect the students. She comforted them, she got them off the bus, away from the crash, and protected them until help arrived," Bute said. "She did everything she was supposed to do to maintain the safety and security of the students that were there."