Faced with mounting delta variant COVID-19 cases and a hodgepodge of local coronavirus mitigation policies that varied by school districts across Illinois, Gov. JB Pritzker on Wednesday imposed a school mask requirement when students return to class this year.
Without naming names, Pritzker called out districts that had planned on making mask-wearing optional in schools this fall and explained his decision to take matters into his own hands.
"First, far too few school districts have chosen to follow the federal Centers for Disease Control prescriptions for keeping students and staff safe ..." Pritzker said, while commending school districts that already had taken steps to require indoor mask usage. "Given the CDC's strong recommendation, I had hoped that a state mask requirement in schools wouldn't be necessary, but it is. The delta variant is highly transmissible, more so than any other previous forms of this virus."
Now, local school districts, such as McHenry Elementary District 15 and Nippersink School District 2 that were planning to allow relaxed masking policies, are faced with reversing course or running afoul of the governor's edict.
The state's mask requirement applies to all schools, whether they are public or private, and regardless of people's vaccination status.
School officials contacted by the Northwest Herald on Wednesday said they planned to follow Pritzker's order, which also made masks a requirement for everyone in both public and privately run long-term care facilities.
Chad Mihevc, president of the District 15 school board, said Wednesday the system would abide by the mask mandate.
District 15 initially interpreted the Centers for Disease Control and Prevention's July 9 guidance to mean masks were not being required, but recommended for unvaccinated individuals. The district made face coverings optional for students and staff based on that analysis, a policy that was on display through Wednesday at Landmark Elementary, a year-round school in the district.
[ Here's what McHenry County parents are saying about Gov. JB Pritzker's new school mask mandate ]
About half of Landmark's students have been wearing masks regularly since class started late last month, Mihevc said. The number of pupils in masks has been growing as key COVID-19 caseload metrics have been worsening locally, constituting a "substantial" risk of transmission in McHenry County, according to the CDC.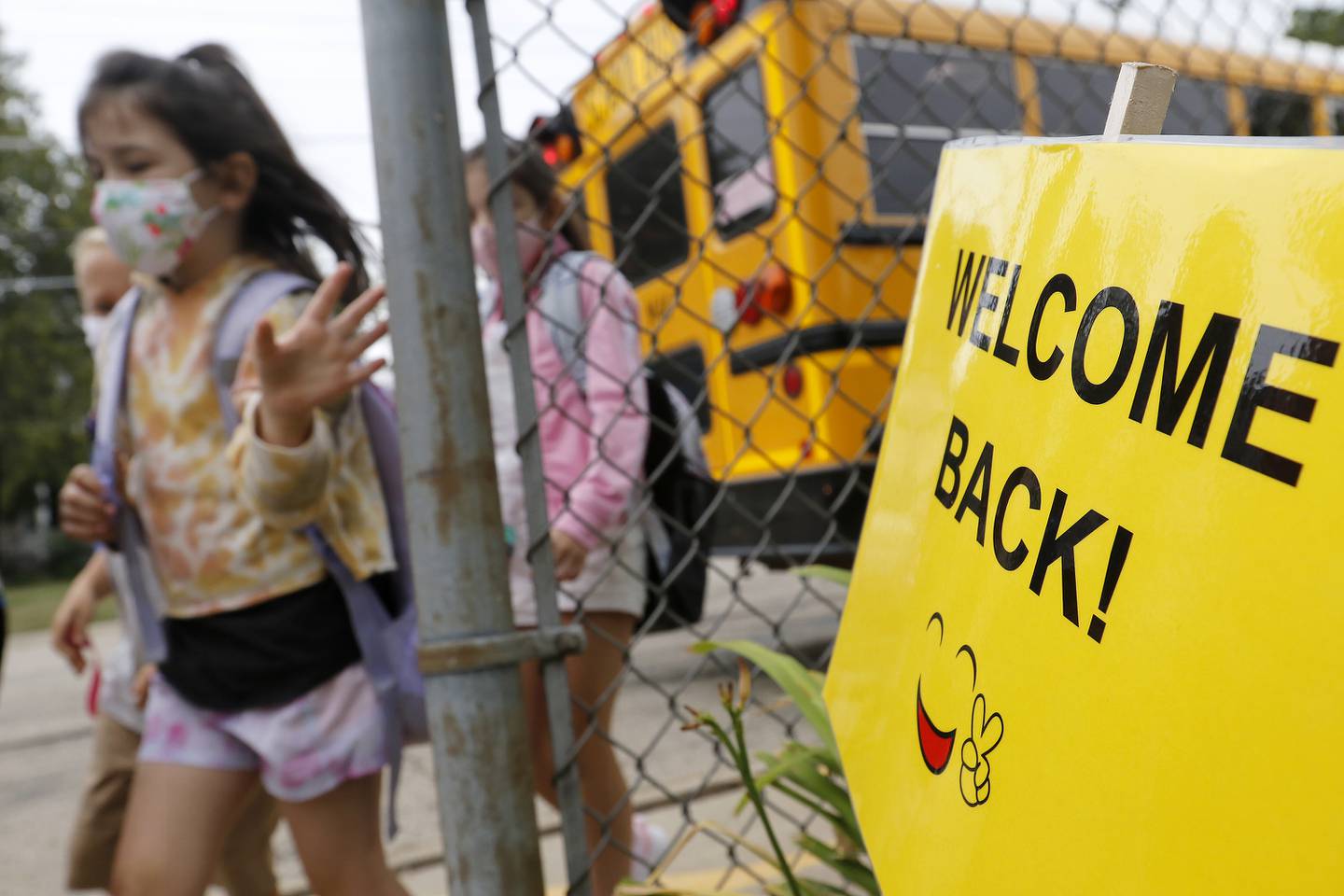 District 15 had not issued any updates to its masking protocols before Pritzker's announcement, including when the CDC reversed course last week and said masks were recommended for everybody in school buildings regardless of vaccination status.
"It's a very difficult situation. You always want local control over school districts. But given the alarming rise in positive cases and hospitalizations, and this delta variant which seems to hit children harder than the prior strain, it is very concerning," Mihevc said. "This mask mandate felt inevitable at some point."
His remark about the higher risks posed by the delta variant of COVID-19 was further illustrated by statistics Illinois Department of Public Health Director Dr. Ngozi O. Ezike cited during Pritzker's Wednesday news conference.
About 5.5% of COVID-19 cases were among those younger than 10 in January, a figure that increased to nearly 15% last month, Ezike said. About 13% of cases in January were among those between 10 and 19 and that was up to 23% last month, while hospitalizations among those younger than 20 have more than tripled from 2.5% to 7.8% in that span, she said.
Jamie Kiscellus, a mother of fourth and fifth grade daughters attending Landmark in McHenry, disagreed with Pritzker's move.
"I think it should be the parents' choice and not forced on the children," Kiscellus said. "I don't think that's fair to put everyone in masks."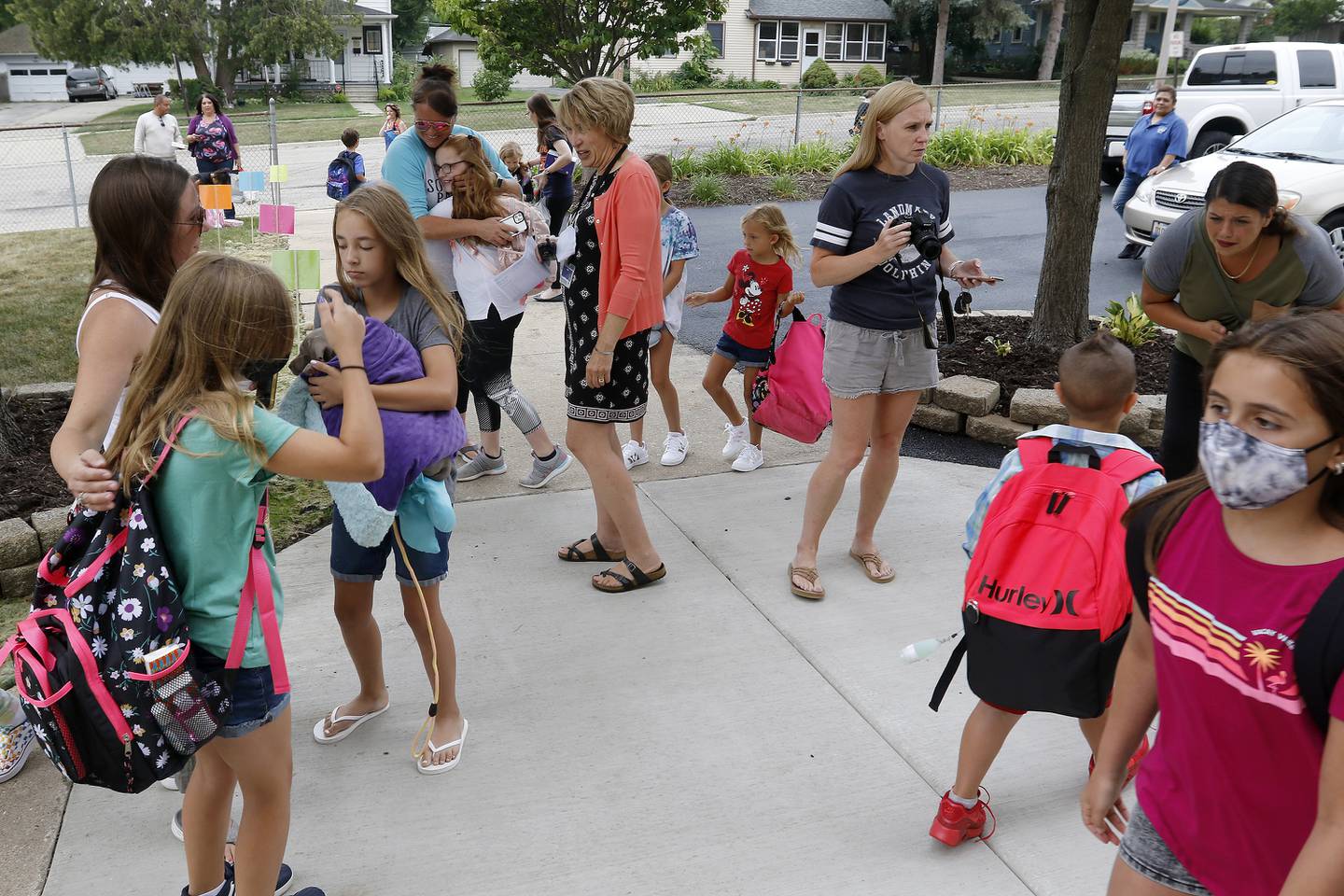 Tom Lind, the superintendent for both Richmond-Burton High School District 157 and its feeder system District 2, said he thinks his districts would have continued moving forward with their previous plans to make masks optional had it not been for Pritzker's action Wednesday.
"For District 2 and District 157, we can't go against a state executive order. A recommendation is different. We can look at our local numbers, our local case numbers in the school and we can really sit down and craft our policy to meet what we need to meet at the local level," he said. "With COVID-19, it's just hard to say what's going to happen and what area of the county or the state is going to get hit the hardest. We certainly weren't going to put anyone in danger."
The news didn't disrupt plans for Fox River Grove Elementary School District 3 or Algonquin-based Community School District 300, which already were leaning toward requiring masks before Wednesday.
District 300 Superintendent Susan Harkin announced in a Tuesday letter that her school system also would mandate masks to start the year for all students regardless of their vaccination status.
"I know there is no decision the district can make to satisfy all parties, and I understand the plan outlined in this message may cause some frustration among some in our community," Harkin said. "However, regardless of our viewpoints, my sincerest hope is that we continue working together to support our students as they return and safely stay in our classrooms for in-person instruction."
An official reopening plan for District 3 will be sent to parents and posted on the district's website following a special school board meeting on Monday, District 3 Superintendent Sandy Ozimek said.
McHenry High School District 156 has to reevaluate its plans to return students to school because of Pritzker's mandate, said Superintendent Ryan McTague. The district previously had planned on making masks optional.
Wonder Lake-based Harrison School District 36 has yet to formally adopt any plans for the upcoming year, Superintendent Sue Wings said, adding she would have to consult with the district's legal experts to see if the plans she has in draft form need to be changed because of the governor's order.
"We purposely waited to approve a plan because we expected guidance to change as the start of the school year came closer," Wings said.
Representatives with Crystal Lake Elementary School District 47 could not be reached for comment on Wednesday.
"It's disappointing for a lot of people," Lind said of Pritzker's mask order. "There are going to be a lot of twists and turns with this yet. And we need to stay the course. This will be temporary."
Northwest Herald reporter Katie Smith contributed reporting.