A baby chicken perched on a branch has vibrant colors and flowing shapes.
Titled "Big Ideas," the oil painting is by Karl Jahnke, one of eight on display in the Epping Gallery at McHenry County College.
Jahnke, of Crystal Lake, is a self-taught artist who creates paintings and sculptures. The paintings at the MCC gallery include portraits, still-life and animal portraits. Chickens and women are among the themes he is drawn to at the moment.
"It's whatever I get caught on for a little while," Jahnke said. "Once I get tired of that subject matter, I move on to something else."
There's an energy to his work that draws people in."

—  Trevor Power, MCC gallery curator
The Epping Gallery is one of four galleries at the college.
MCC gallery curator Trevor Power puts on about three shows each semester featuring local artists, student work, faculty art and other professional artists. The school has more than 250 pieces of art displayed around the campus, primarily in the library.
"I was not aware of how much artwork MCC has and what a beautiful campus it is," Jahnke said.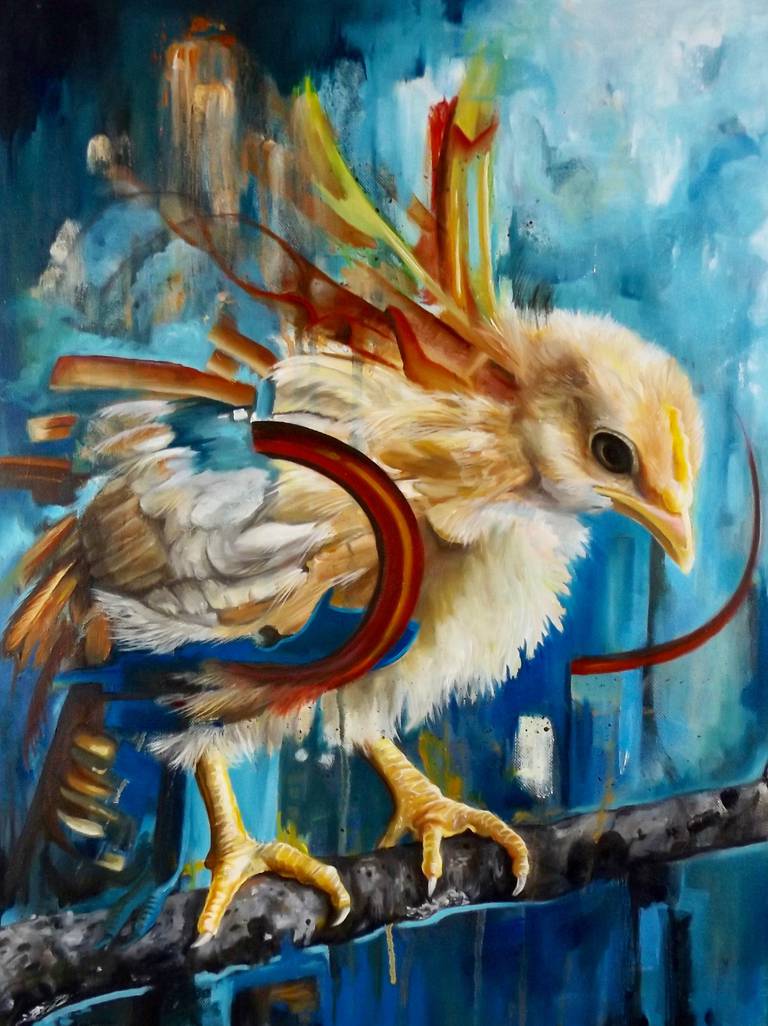 This is Jahnke's first time showing his work at a college.
The show, which is open to the public, will run until Sept. 15. It's located on the lower level of Building B.
In September, Chicago artist Jeffly Gabriela Molina will visit MCC for an artist talk and reception. The talks by artists help students envision what life as an artist can look like after graduating, Power said.
All of Jahnke's paintings were created in the past two years. It's typical for Jahnke to work on five to six paintings at a time since oil paint takes a long time to dry.
One painting is of a woman standing in a Victorian dress. Behind her are paint strokes in bright orange and red, resembling a fire. Another, called "Crooked Tree," is of a tree trunk with striking colors of pink, yellow and blue.
"There's an energy to his work that draws people in," Power said.
A big inspiration for Jahnke is his pet chickens, which he said are "amazing creatures." Power said the chicken paintings are a favorite among students and staff.
"I was really intrigued by his paintings of the animals and the birds," Power said.
Jahnke is no stranger to other forms of art. He has created public art, including the mural at the Lucky Brake bike shop off Virginia Avenue in Crystal Lake.
In October, Jahnke will have never-before-seen paintings at an exhibit at the Chicago Truborn gallery.
"I like new materials. I like trying different things and [am] still learning," Jahnke said. "To me, that's the thing that's exciting about it, is learning something every time you make something new."