A 66-year-old woman, formerly of the McHenry area, showed no emotion Wednesday as a Wisconsin jury found her guilty of killing a Harvard woman whose remains were discovered alongside a Wisconsin roadway in 1999.
Linda Sue La Roche, formerly Linda Sue Johnson, was found guilty of first-degree intentional homicide and hiding a body in connection with the death of Peggy Lynn Johnson-Schroeder. Sentencing is set for 1:30 p.m. May 23.
Johnson-Schroeder, 23, whom police said was cognitively impaired, had worked for La Roche as a live-in nanny from 1994 to 1999. On July 21, 1999, a man walking his dog along a road in rural Racine County discovered her tortured remains.
She went unidentified until November 2019, leaving her to remain a Jane Doe for 20 years, according to the criminal complaint filed in the Racine County courthouse.
She was buried in Racine County, and despite "enormous investigative efforts," the Racine County Sheriff's Office said in a news release Wednesday, the investigation went cold despite a later exhumation and additional attempts at DNA identification.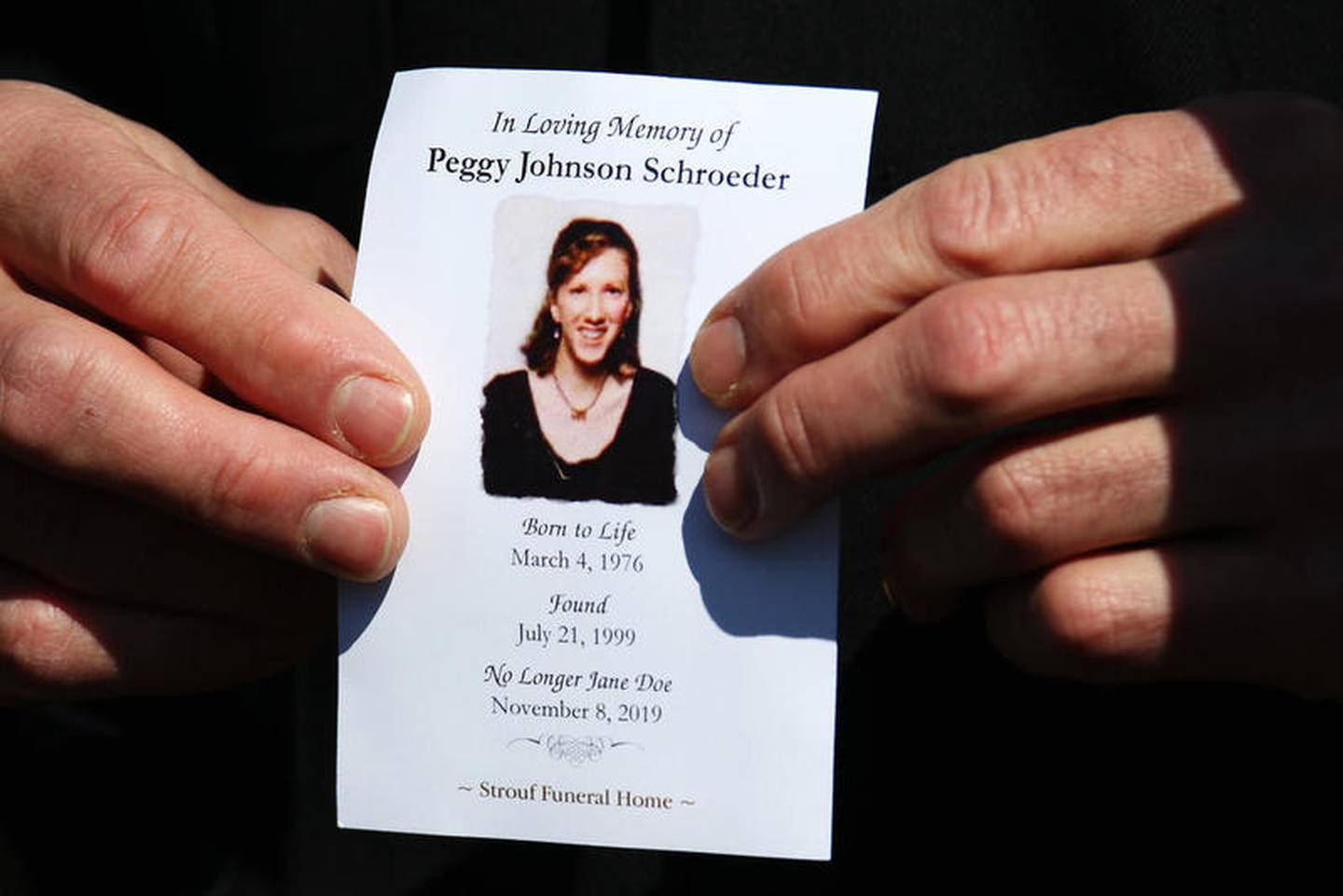 "The Sheriff's Office will never forget or stop working a cold case homicide," Racine County Sheriff Christopher Schmaling said in a statement. "... For anyone involved in any other homicide, you need to worry. It is not a matter of if, but when, you are held accountable."
La Roche was arrested and charged in the woman's killing after a "concerned citizen" in Florida, where La Roche was living, made a call to police, according to the charging document filed in Racine County. The caller said La Roche was telling people she had killed someone in Illinois where she lived with her then-husband and five children.
Johnson-Schroeder's remains showed that she had been brutalized for many years. At first, La Roche denied killing her but would later admit she was physically abusive to her for years, according to the criminal complaint.
Johnson-Schroeder's body appeared to have been dragged from a vehicle down the slight embankment and laid on the ground in-between rows of corn. The ground beneath her was dry. The witness who called police said they took the same walk every morning and had not seen the body there the day before, according to the complaint.
Authorities said her face and entire body showed "a lot of bruising," road rash-like abrasions, burns and lacerations. Her body had been branded. An autopsy showed she had four lacerations to her scalp caused by blunt force trauma and she was "slightly malnourished."
Among other wounds and injuries, Johnson's ear had a "penetrating 45-degree incised wound from a sharp object," her nose was broken, she had a split lip and lacerations inside her mouth and her throat had injuries consistent with scalding, according to the criminal complaint.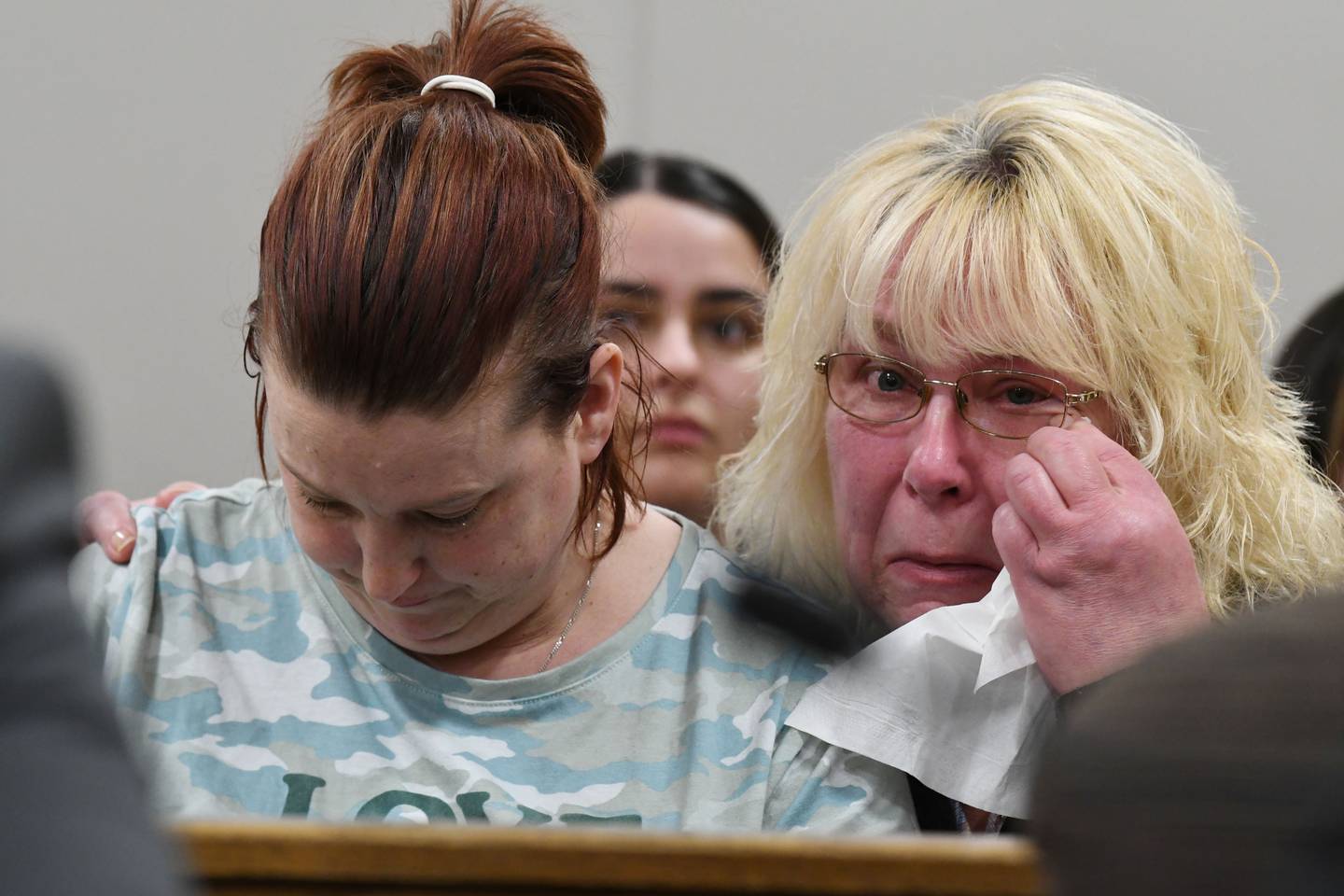 La Roche's children and ex-husband said that they had witnessed La Roche abuse Johnson-Schroeder. Leading up to La Roche's arrest, her now-adult child recounted that at times La Roche made Johnson-Schroeder sleep in the crawl space under their home and once stabbed at Johnson's head with a pitchfork.
In March 2020, she received a proper burial, next to her mother who died of AIDS in 1994. She was given an appropriate headstone inscribed with her name.
In an earlier report, Theresa Robertson, told the Northwest Herald she knew her childhood friend as Peggy Lynn Johnson, long before she went to live with La Roche. The pair lost touch and Robertson wondered about her friend for 20 years only to be devastated by the news of her death in a newspaper article. She described her as "caring, outgoing and pretty."
She "was always smiling, always laughing, she's just a typical teenage girl," Robertson said.
But all that changed when her mother died.
"[She] was overwhelmed after she lost her mom," Robertson told the Northwest Herald. "She was trying to find her place."
• Freelance photojournalist Mark Hertzberg contributed to this report.