CHARLESTON – Huntley's Alex Johnson and Prairie Ridge's Rylee Lydon both delivered stunning performances at their Class 3A Girls Track and Field State Meet debuts.
Each of the sophomores came through with career-best efforts, and each of them left Eastern Illinois University's O'Brien Stadium on Saturday with state-championship medals.
Johnson leaped 19-5 in the long jump on her second attempt, winning by 3 1/2 inches. Lydon had the high jump title stolen from her by Warren senior Annika Bynum on her final jump, only to come back with a 56.25 to win the 400 meters by almost a second.
Lydon came back late Saturday, after a 4-hour weather delay, to take 10th in the 200, missing a third medal by one spot.
The meet was halted earlier in the afternoon for 30 minutes when lightning was near. There were more lightning strikes around 5:15, followed later by high winds and rain. Eventually, the meet was restarted with the 1,600, 200 and 4x400 relay around 9:30 p.m.
Cary-Grove senior Kelly Fletcher was the other local athlete to medal, taking eighth in the discus (118-0 1/4).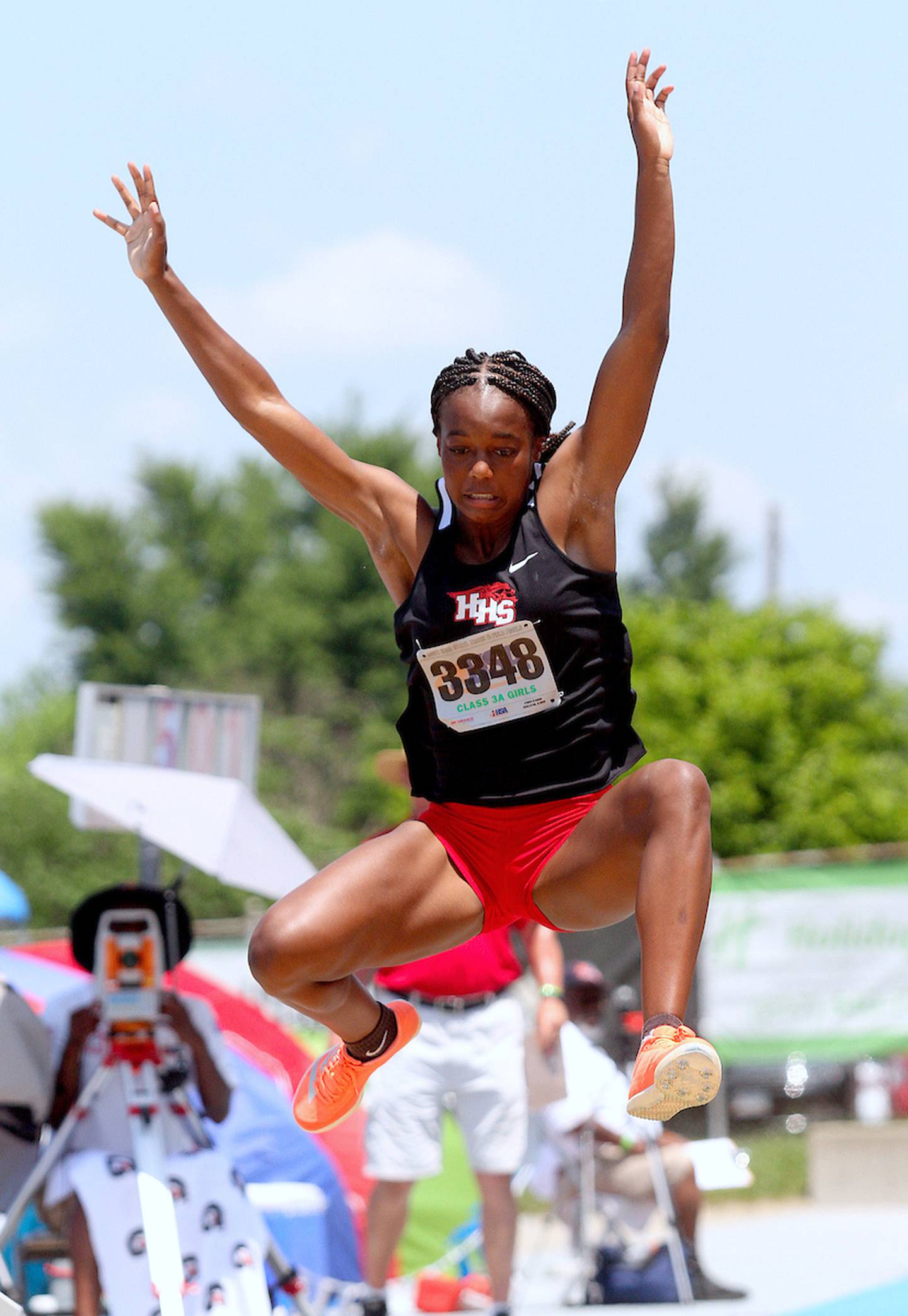 Johnson came back after the long jump and took sixth in the 100 (12.38). It is the first time the Fox Valley Conference had two state champs in the same year since 2013, when Huntley's Omo Tseumah won the 3A high jump and Woodstock's Maura Beattie won the 2A 3,200.
Johnson's state title was Huntley's first since Tseumah; Lydon's was the first in school history for girls or boys track.
"I've been working hard, I changed my technique a few weeks back and worked on a hitch kick kind of thing," Johnson said. "I've been working on that really hard, changed my form to be ready for today.
"I didn't think (19-5) was going to hold up. I was in first, but I thought the last two jumps I'd get passed up and might be fourth place. It surprised me a lot."
The hitch kick, which Johnson describes as lifting her right (non-takeoff leg) as if she is stepping over a hurdle (while in the air), helped her gain more height on jumps. She had three jumps better than 19 feet.
"The last three meets she jumped in she didn't take all her jumps," Red Raiders coach Jason Monson said. "To be able to go to state and have those like she did was fantastic."
Johnson won the second of four 100 heats, meaning there were two heats with runners who had faster times in their sectionals running after her. Only two runners were faster in the third heat and only three were faster in the last heat.
"The thing with the 100 was anytime you have 210 girls from 12.75 to 12.44, you knew there was potential," Monson said. "We just said, 'Win your heat and see where the rest takes you.' It wasn't a PR on the season, but it was better than her last three or four races."
Johnson's 12.38 was close to her personal best.
"I was happy with it," Johnson said. "I changed my form in that too. I tried to stay more calm and lift my knees more, just stay relaxed and run my race, not focusing on the people I'm running against."
Lydon had cleared 5-6 and 5-7, a personal best, on her first attempts and led the high jump when she and Bynum moved to 5-8. Lydon missed three jumps and Bynum made it on her third jump for the title.
"It was in the back of my mind that I could win it, but I wasn't even mad at all," Lydon said. "I was super-happy for her as a senior to do that. I wasn't mad about where I placed at all."
Lydon was thrilled to be pushed by the state's other top runners in the 400. She saw New Trier's Bridget Vitu in Lane 7 make a move and went with her.
"That race was about self-confidence more than anything," Lydon said. "There were a ton of girls there with close times. I saw Bridget pulling away and hit 150 and knew I had to go now.
"I know I'm capable of running times like that. It was an awesome experience, and hearing the crowd cheer you on that last 100. It was super-cool."
Natasha Schaffer's third-place triple jump in 2017 was the Wolves' highest place previous to Saturday.
"State's an incredible accomplishment in and of itself," Wolves coach Sarah Long said. "She is a very even-keel athlete. She's calculated, she knows what she's doing, and she's confident in her abilities."
Fletcher was fifth at the Grayslake North Sectional, but threw the state-qualifying distance. On Saturday, she finished her high school careeer with a 118-0 1/4 throw for eighth.
"I was impressed. It was a great way to end the season," Fletcher said. "It was an amazing experience. I've been wanting to go since my freshman year. I feel really lucky to be able to throw here."
Class 3A State Meet Local Results
At Eastern Illinois University's O'Brien Stadium
4x800 relay: 13. Jacobs (Adeline Gorman, Avery Mason, Adeline Gorman, Kelly Carpenter, Elisabeth Kania) 9:47.84, 17. Prairie Ridge (Grace Turman, Sophie Robinson, Olivia McPherson, Rachel Soukup) 10:01.37.
4x100 relay: 21. Huntley (K'Leigh Saenz, Jessie Ozzauto, Vicky Evtimov, Sophie Amin) 50.37.
3,200 meters: 12. Breanna Burak (Hun) 11:24.62, 22. Brittney Burak (Hun) 12:28.59.
100 meters: 6. Alex Johnson (Hun) 12.38.
4x200 relay: 17. Huntley (Amin, Sammi Campanelli, Evtimov, Johnson) 1:46.87, 20. McHenry (Mackenzie Sloan, Molara Fashola, Raegan Stinger, Kelly Huerta)1:47.75.
400 meters: 1. Lydon (PR) 56.25.
1,600 meters: 12. Soukup (PR) 4:58.21, 17. Breanna Burak (Hun) 5:06.16, 23. Carpenter (Jac) 5:12.15.
200 meters: 10. Lydon (PR) 25.46.
4x400 relay: 18. Huntley (Evtimov, Ally Jorgensen, Campanelli, Ozzauto) 4:12.54.
Discus: 8. Kelly Fletcher (Cary-Grove) 118-0.25, 14. Tealyn Kamp (Dundee-Crown) 110-1.5, 16. Michelle Barnvos (Hun) 108-9.25.
High jump: 2. Lydon (PR) 5-7.
Long jump: 1. Johnson (Hun) 19-5.
Triple jump: 26. Haley Schaffer (Jac) 34-6.5, 29. Ashley Ciezadlo (CL South) 34-5.5.
Pole vault: 24. Haylee Yelle (PR) 9-5.75.