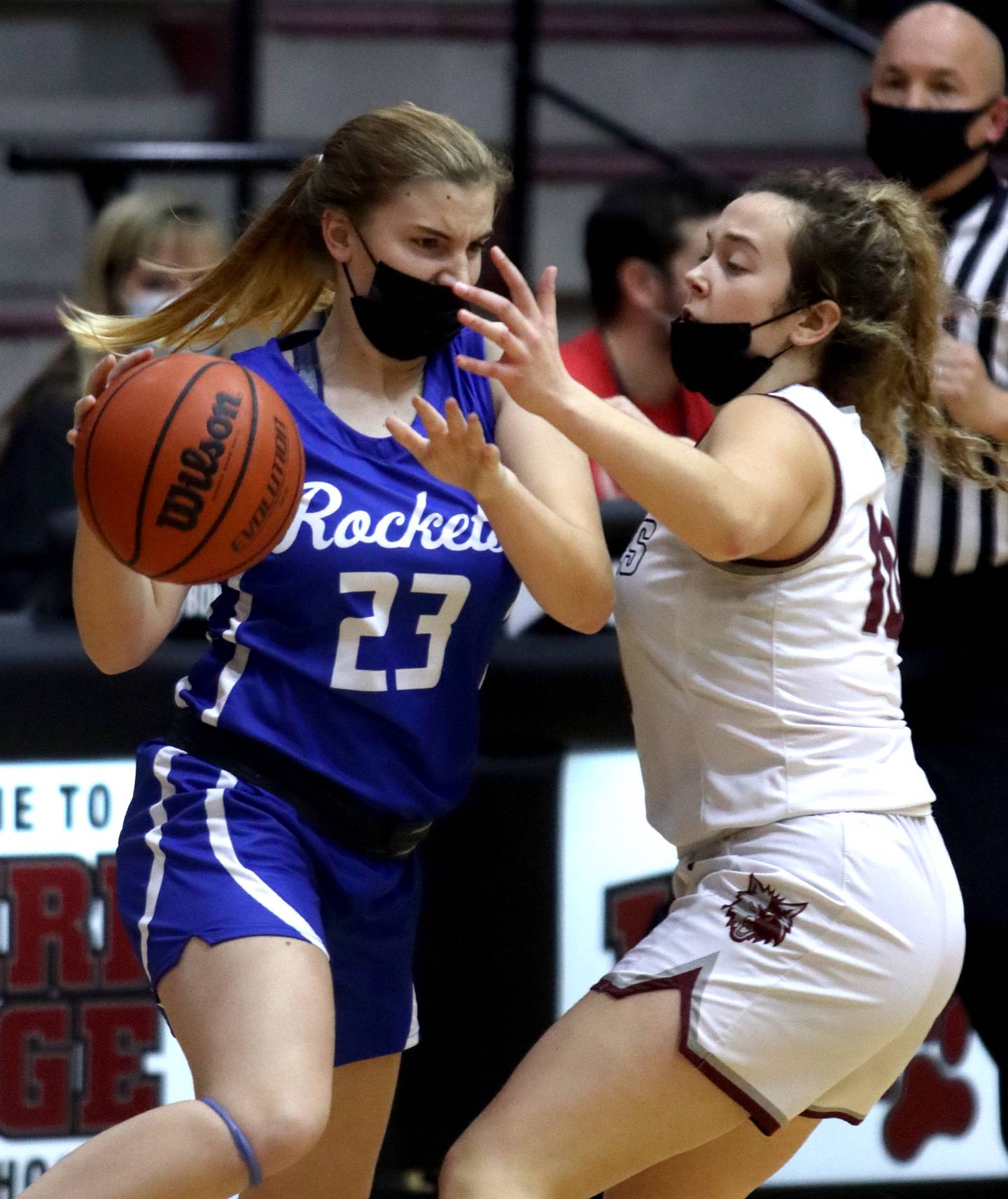 CRYSTAL LAKE – Burlington Central desperately needed someone to get going offensively after the Rockets missed their first seven shots and fell behind, 11-0, to Prairie Ridge in the first five minutes Wednesday night.
That someone was Rylie DuVal.
The Rockets senior caught fire in the second quarter and hit 3-of-4 3-pointers, some coming from well over 22 feet. Soon, Duval's teammates started making their shots, too.
Burlington ended the night with 11 3s and pulled away from Prairie Ridge for a 49-33 win in their Fox Valley Conference girls basketball game.
DuVal knocked down four 3s for 12 points, while Emma Payton (12 points), Taylor Charles (eight points, 11 rebounds, five blocks) and Becca Carani (nine points) tallied two 3s apiece for the Rockets (5-3, 2-1 FVC).
Burlington had only three other field goals and finished 14 of 43 from the field.
"I was hot, so I kept shooting," DuVal said. "The team kept me going, saying, 'Keep shooting, keep shooting.' They were giving me the looks, so if I was open at that point I was going to shoot. Luckily, for me, they were going in.
"That's going to be a big part of our offense, especially in the conference with teams playing zone. We got to get used to hitting those deeper 3s. They're not always going to be clean looks."
Payton, a sophomore, scored 10 of her 12 points in the third quarter. She had her team's first seven points to start the half, giving the Rockets a 22-21 lead with two free throws, and later buried a 3 to give them a 28-21 lead with 2:45 left in the third.
"I was just trying to hit my shots because I really didn't want us to lose this one," Payton said. "I think the bench energy really helped, too, because I think the first half we were a bit dead and then all of a sudden we just came back ready to go."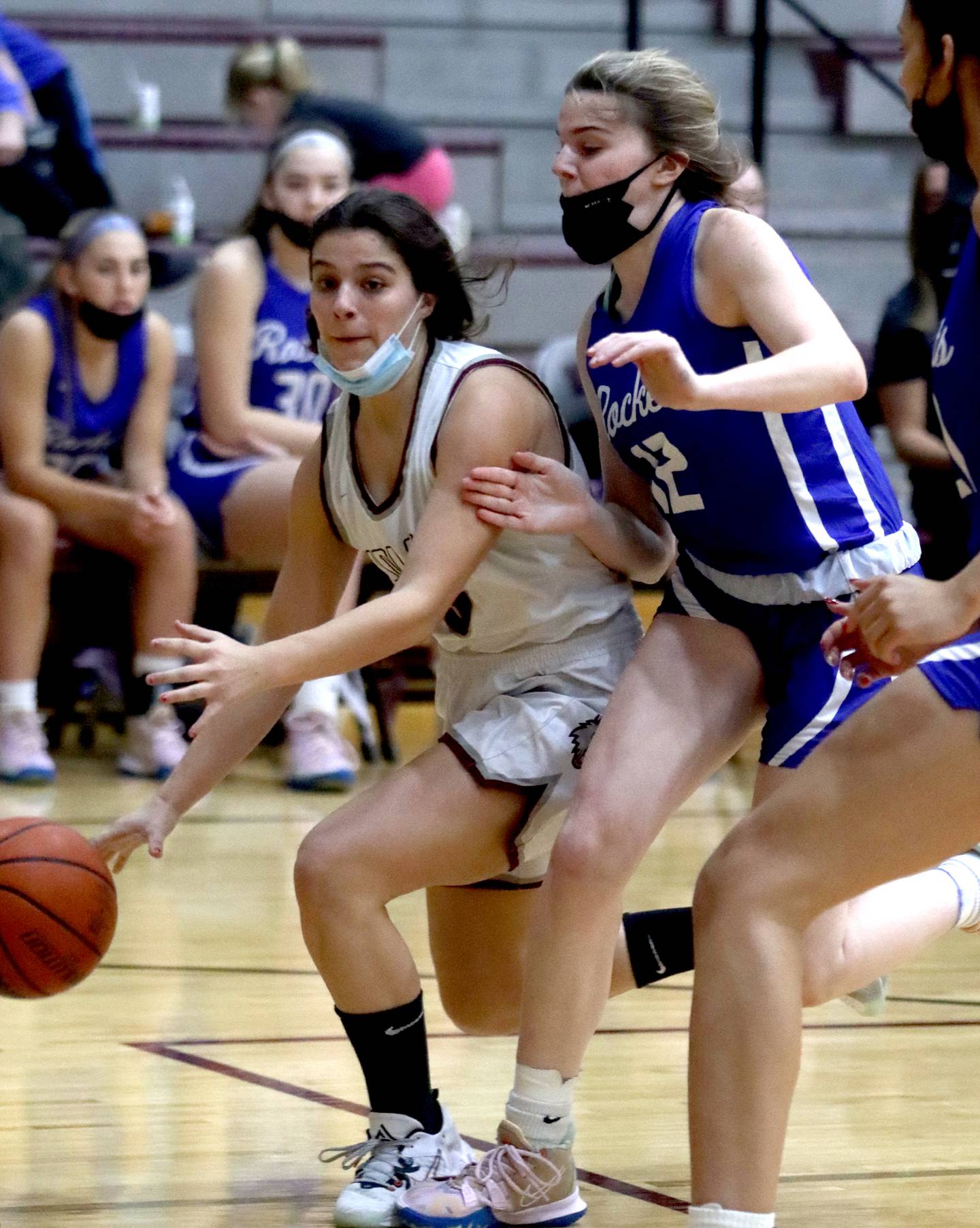 Burlington was coming off back-to-back losses, including a 34-29 overtime defeat to Crystal Lake Central that ended a 21-FVC game winning streak.
With another lackluster start Wednesday, Rockets coach Collin Kalamatas knew his team needed a big spark.
"I sensed a little bad energy to start," Kalamatas said. "We addressed it after that 11-0 run, and the girls really responded. When we started having a little more zip on our passes, when we had a little bit more awareness on the offensive end, we were able to stay engaged.
"And it helps when Rylie is hitting bombs from five feet behind the line."
The Wolves (7-3, 2-2) were led by Elani Nanos with eight points and Abby Kay with seven. Karsen Karlblom and Grace Koeppen (nine rebounds, three steals) tossed in six points apiece.
Prairie Ridge made a late run at the Rockets, who led, 34-25, after three.
The Wolves opened the fourth with a 3 by Nanos, and back-to-back steals led to quick baskets from Karlblom and Nanos, cutting the lead to 35-31. Kay tossed in a field goal with 4:10 left, but Prairie Ridge went scoreless the rest of the way.
Wolves coach Tim Taege said his team, which was on a four-game winning streak before Wednesday's loss, has plenty of potential.
It just needs to believe in itself more.
"We don't do a good job of competing when the chips are stacked against us," Taege said. "We just have to dig in, compete, fire each other up and play relentless. They need to have more confidence. They're a phenomenal team. Right now, I'm not sure they believe in themselves as much as their coaching staff does. They've still got great lengths they can go."