Zach Petko worked through some technical issues he was having in the discus ring early in the season.
The Cary-Grove junior also never has exuded more confidence with his throws, thanks to a chapter in a book suggested by Trojans throwing coach Bob Psenka.
Psenka sees the potential for big things from Petko on Saturday at the Class 3A Boys Track and Field State Meet at Eastern Illinois University's O'Brien Stadium. Petko will enter the discus as the third seed out of sectionals with a chance to win the seventh medal in that event for the Trojans since Josh Freeman's state title in 2012.
"It's nice to get the feel of going down to state junior year," said Petko, who was there in 2019 watching his older brother Jason take fifth. "Hopefully I'll be able to get a good mark and perform well and prepare myself for next year and hopefully go down in both events.
"I remember watching Jason throw against all that good competition and how he dealt with that and performed under pressure. That was a goal of mine to be in that same environment and perform under that pressure."
The state meets have a very different format this year. Class 1A went Thursday, 2A goes Friday and 3A will compete on Saturday. All competitions will be determined through heats, there is no qualifying for finals. In the discus, shot put, long and triple jumps, competitors will get four throws and there will be no finals round.
Petko is the highest-seeded area athlete in either 2A or 3A. He threw a career-best 163-5 to win the Huntley Sectional. Vernon Hills' Hunter Matuch (180-9) and St. Charles North's Paolo Gennarelli (166-9) are ahead of Petko, while several others right behind him have close to the same distance.
Early in the season, Petko experienced problems with the 540-degree spin discus throwers make and was off-balance in the front of the ring, either causing him to foul or have the discus come out at too much of an angle.
"It finally started to click that week coming into sectionals," Psenka said. "He put it together. He was in the right frame of mind and didn't overthink himself. As a coach, I have a high confidence level in him. The goal going into state is, he has the technique nailed now, it's to keep his state of mind and his confidence high."
Psenka was friends with the late Brian Oldfield, who grew up in Elgin and, in his prime, was one of the world's best throwers. Oldfield used to talk about how fear creeping in on athlete can be crippling. Psenka recommended the book "The Way of the Life Athlete," by Peter Shmock to Petko.
"The biggest thing that helped my confidence is being able to stay calm in the ring," Petko said. "Earlier in the season, and especially earlier in my career, I'd always psyche myself out before the meet and tense up. (Psenka) gave me a book and there's a chapter 'The Power of Calm.' That chapter taught me how to breathe and calm myself down before throws, so I could throw like it was a throw in practice."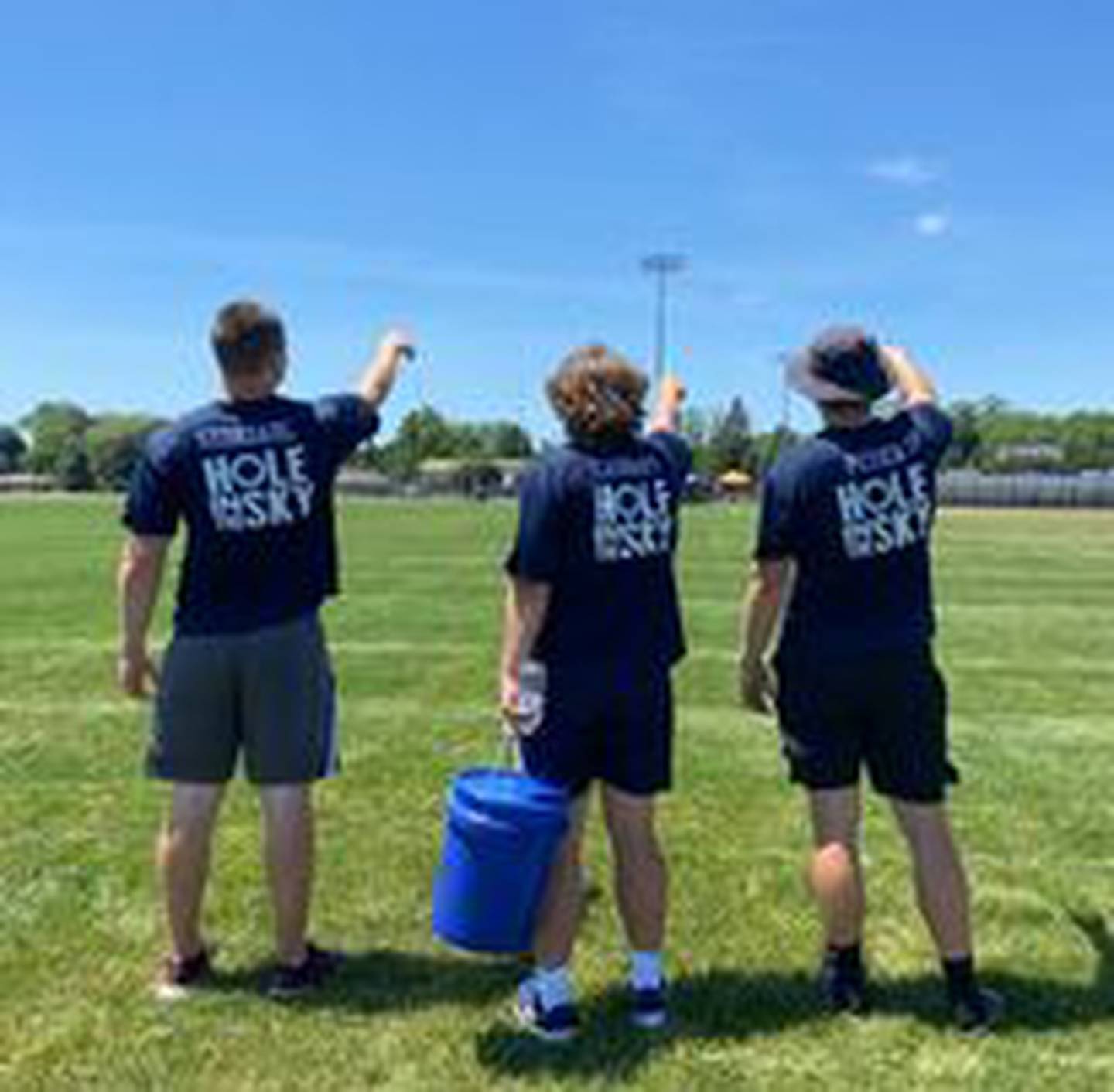 Petko will not be making a fashion statement at the state meet when he steps in with one white and one black shoe. A strap on his left throwing shoe broke just after the sectional meet so he will borrow one of Jason's old left (white) shoes and wear his regular right (black) shoe. Jason, who now throws at Missouri, will be there Saturday to watch his little brother, just like Zach watched him two years ago.
After Freeman won the Class 3A shot put and discus titles in 2012, Ricky Hurley won medals in 2013, 2014 and 2015, and Jason Petko took seventh in 2018 and fifth in 2019.
"I credit Bob with that," Trojans head coach Layne Holter said. "He does a great job motivating and inspiring and encouraging and mentoring those guys. They work hard. They put in a lot of time.
"I don't know many throwers, or athletes period, who spend their time coming in at 5:30, 6 in the morning so they can get their workout before school. They do that for months. That's a level of dedication and commitment you don't see a lot of times. Those guys have earned their reputation as a good, quality group of throwers."
Holter, like Psenka, foresees good things for Petko.
"We have high expectations," Holter said. "He's certainly worked hard and put his time in and has earned this. He sort of struggled throughout the season with staying in the ring and getting legal throws and things seem to be coming together now at the perfect time. If he pops just one great throw and (gets a personal record), he could find himself moving up in those standings. That's very realistic."
Local State Qualifiers
Class 2A
Burlington Central: Zac Schmidt (400, 4x400), Jacoby Haynes (400, 4x100, 4x400), Yusuf Baig (1,600, 3,200), Nolan Milas (300IH, 4x100, 4x400), Nick Sperkowski (4x100), Alec Zacccaria (LJ, 4x100), Leighton Diaz (4x400), Jake Borman (SP, discus)
Johnsburg: James Kaunas (TJ, HJ).
Marengo: Jonah Pace (SP).
Marian Central: Peter Walsdorf (1,600, 3,200), Jeremy Kleberg (PV).
Richmond-Burton: Josh Leslie (TJ, 110HH), Tristan Rockwell (LJ, 4x200, 4x400), Sean Rockwell (4x200, 4x400), Landon Jacoby (4x200, 4x400), Jack Verdoni (4x200, 4x400).
Woodstock: Jack Novelle (HJ).
Woodstock North: Jack Duenas (300IH), Landan Creighton (PV), Jacob McConnell (discus)
Class 3A
Cary-Grove: Zach Petko (discus).
Crystal Lake Central: Danny Hamill (4x400, 4x800), Tommy Landt (4x800), AJ Camacho (4x400, 4x800), Austin May (4x800), Daivion Lewis (4x400), Will Foster (4x400), Karson Hollander (3,200), Jonathan Tegel (110HH, 300IH), Gavin Wang (110HH).
Dundee-Crown: Sebastian Waz (PV).
Hampshire: Isai Morales (800).
Huntley: Evan Gronewold (100, 400, 4x100, 4x400), Paul Kerber (100, 200, 4x100, 4x200), Talon Sargent (4x100, 4x200, 4x400). Jacob Zaztrow (4x100, 4x200, 4x400), Marc Llauderes (4x200), Nate Ary (4x400), Brad Walker (SP), Matt Alpert (PV), Dylan Schmidt (LJ).
Jacobs: Connor Frank (LJ, 4x200), Jaiden LaRoss (4x200), Tommy Martinez (4x200), Sean Dobson (4x200).
McHenry: Eric Maher (HJ).
Prairie Ridge: Will Gelon (1,600).