McHenry County College catcher Mason Schwalbach experienced no previous issues with his right elbow until he felt pain after one throw in the Power Summer Collegiate League in July.
Schwalbach called it a fluke occurrence.
His right UCL suffered a partial tear that required an internal bracing surgery, a relatively new procedure that is an alternative to Tommy John surgery and requires less than half the recovery time.
Although Schwalbach missed some showcases with the Scots in the fall where NCAA Division I schools saw MCC play, chances are the big schools will find the 2021 Marian Central graduate this spring anyway.
Schwalbach, an NJCAA D-II All-American third-team selection last year, is putting up gaudy numbers for the unbeaten Scots with five multi-hit games and 11 RBIs. His injury is history and his bat is smoking.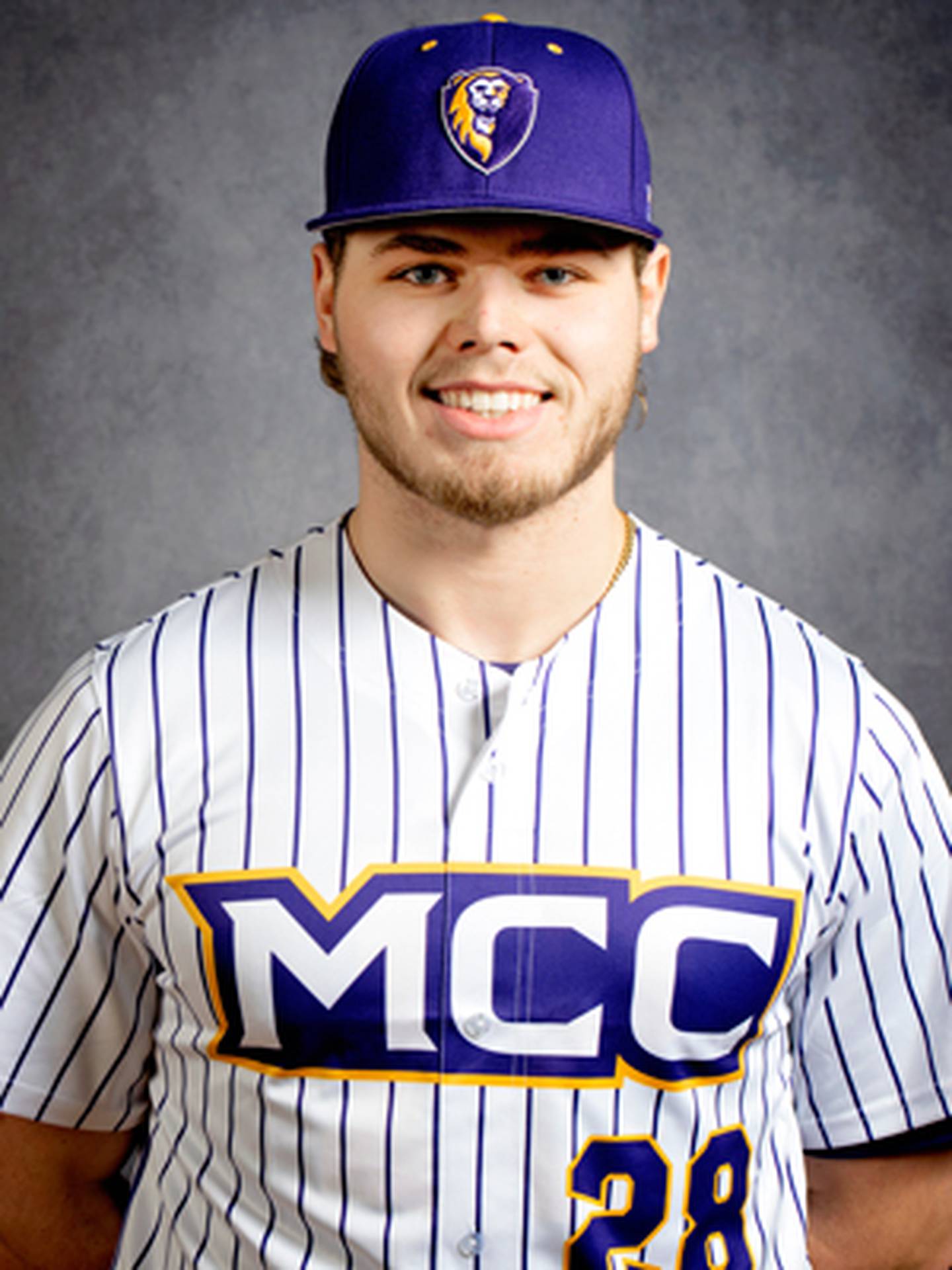 "It feels really good. It's been super nice to get back on the field, coming back from an injury," said Schwalbach, who is hitting .440 with six of his 11 hits going for extra bases. "It was a lot of work in the offseason to get to the place where I am right now. I feel super confident every time I go up there.
"All the work in the winter is paying off and everything is going well so far. It's always great to get off to a good start."
Schwalbach hit .408 with 24 doubles, 10 homers and 57 RBIs last spring, then hit so well he was named PSCL Offensive Player of the Year in that wooden-bat league in Palm Springs, Calif. His Lumberjacks team won the league title.
"We've been hitting him in the two-hole. The last several years we've put some of our better hitters in the two-hole to get him up more frequently," Scots coach Jared Wacker said. "We try to get some guys who can get on base at the bottom of the order and when we flip the lineup, we have that [No. 2] hitter come up in a lot of big situations for us.
"He missed the fall where we did a lot of showcases and played in front of a lot of four-year schools. We've been in touch with schools. It'll continue to pick up."
Schwalbach is a prolific left-handed hitter. He was a Northwest Herald All-Area first-team choice his senior year at Marian when he hit .508 with 18 extra-base hits (58.1% of his hits) and 22 RBIs, while only striking out once. His OPS was 1.658.
"He's a great hitter and hitting behind him, it makes my job easier," said Huntley graduate Tyler Castro, the Scots shortstop who hits third and is batting .500. "I have all the confidence in the world that he's going to get on and I can do whatever I can to get him in. It just helps the team.
"He's one of our best hitters and it showed last year with the crazy All-American season he had. We know he's going to produce. He just hits."
Wacker knew MCC was getting a player who could rake, but Schwalbach has been just as impressive with his defense behind the plate. He caught a staff that led NJCAA D-II in ERA at 3.37 last season.
"It was kind of a coincidence that he ended up catching as much as he did last year," Wacker said. "I thought he would primarily play first base. We had (Hononegah's Noah Goddard) who was all state and would do a lot of the catching. He got hurt the first weekend out, tore a ligament in his ankle and forced Mason more behind the plate and he did a great job for us. Mason handled the staff really well."
Schwalbach said his part of the Scots finishing first in ERA was limited. The main thing is him maintaining a good relationship with his pitchers.
"At the end of the day, it's the pitchers making the pitches," Schwalbach said. "I try to do my best to give them confidence that if they throw where they're supposed to, I'll do my job on the other end.
"They have to enjoy throwing to you more than anything. That gives them more freedom to throw the pitches they want to throw."
Schwalbach also played football and wrestled at Marian until his senior year when he played football and baseball. In football, he played at 230 pounds on the offensive and defensive lines.
After high school, Schwalbach was not satisfied with the way he moved and wanted to be more athletic. He improved his nutrition habits and adjusted his lifting.
"Just being smarter about the lifts," said Schwalbach, who now weighs 212. "Lifting from the athletic side and not doing what I did with the football team. More focusing on being explosive and producing power as an athlete rather than just throwing weight around."
Wacker is proud of how Schwalbach transformed himself. Schwalbach was an NJCAA Region IV Gold Glove winner at catcher.
"He really worked on his body in terms of leaning out and losing some bad weight that he may have had from football," Wacker said. "He's a physical, strong kid now. He's a lot faster than when he came in. He's done a lot of good work on his body and working on his athleticism."
Schwalbach was able to resume swinging a bat three months after surgery. Lifting weights was a longer process, but he feels like he has returned to 100%.
Castro, who played for the Pro Player Canes for two seasons with Schwalbach, also put in substantial offseason work in the weight room. Now, those two are producing well for the 7-0 Scots.
"He's a big energy guy. He's really good at what he does on the field, but he's a great teammate," Castro said. "You can tell he wants the best for everyone and for the team. He's a big cheerleader. In practice, he pushes everyone and wants the best for everyone."
Schwalbach realizes if he keeps up what he is doing, and the Scots keep racking up wins, college coaches will find him.
"I had kind of gotten myself on the radar with some schools because I had a good freshman season. And then not having them be able to watch was kind of tough," Schwalbach said. "There were some other schools who weren't too concerned about it. Now I'm back and playing so I don't think it will end up hurting me too much."