JOLIET – McHenry's Eddie Synek drilled a shot to right-center field to knock in two runs, then Lleyton Grubich chased him home ripping a double to left field.
For the first time in three games, the Warriors had an early lead and some positive vibes.
"It felt good," catcher Cooper Cohn said. "Brother Rice is a really solid program, nationally ranked, state-ranked, it was like we were in this one with these guys."
It lasted only one more inning. The Crusaders' relentless bats racked up eight runs in the third inning and defeated the Warriors, 14-4, in five innings in the Class 4A third-place game Saturday at Joliet's Duly Health and Care Field.
[ Photos: McHenry vs. Brother Rice in Class 4A third-place game ]
The Warriors finished 30-10, a school record for wins, and made their first trip in school history to the state tournament. The five hits and 11 errors in two Final Four games were not typical, but McHenry enjoyed the weekend just the same.
"It was a lot of fun with all the fans here," first baseman Connor Rodgers said. "The environment was kind of crazy, I never really experienced anything like this."
Because of IHSA pitch-count rules, the Warriors could not throw one of their aces, Kyle Kaempf, at all this weekend. Kaempf threw 110 pitches in the Warriors' 2-1, 11-inning victory over York Tuesday in the Northwestern Medicine Field Supersectional. The game was postponed by rain from Monday to Tuesday, and when Kaempf went past 75 pitches, he needed four days rest to throw again.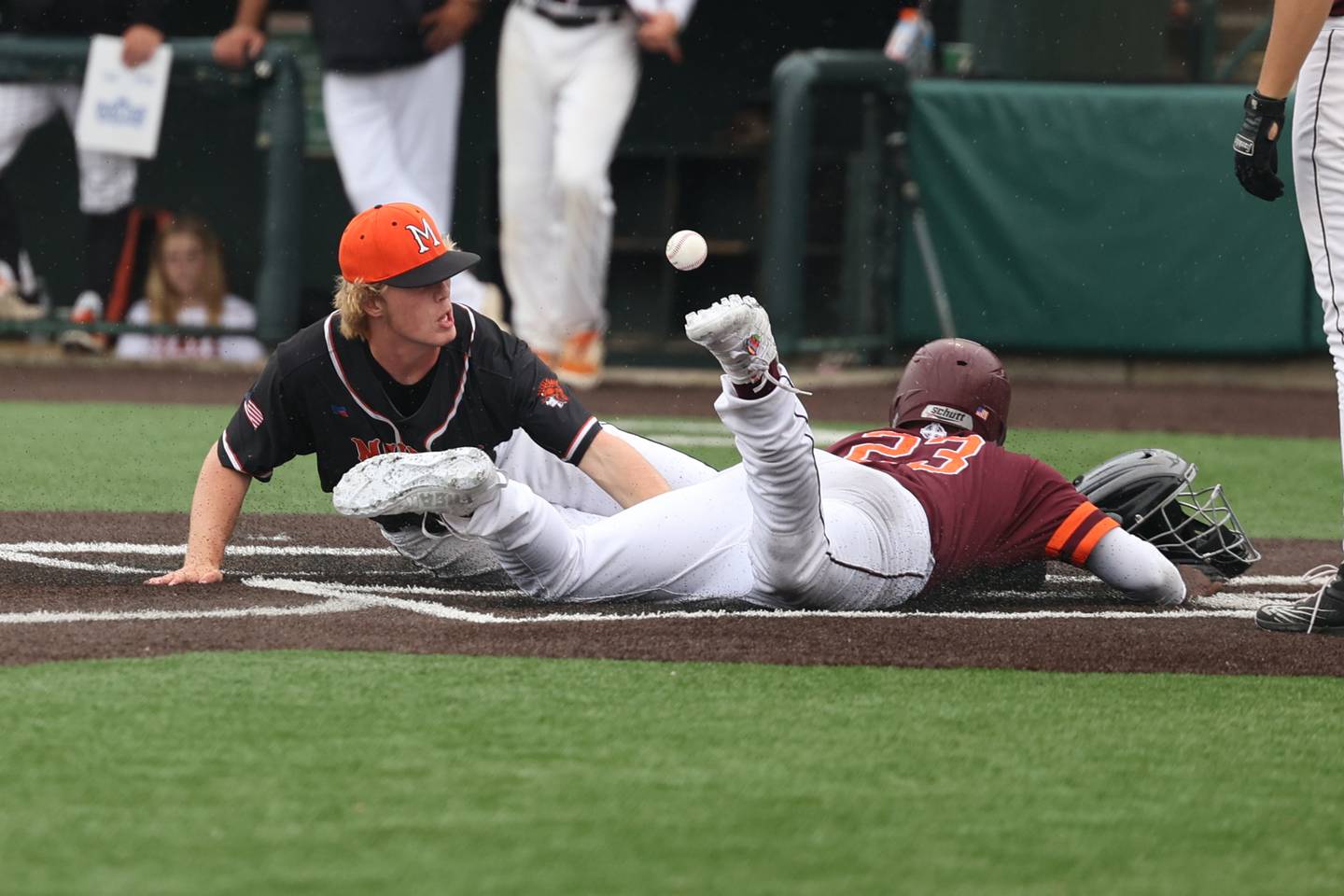 Gavin Micklinghoff battled the Crusaders (36-5) tough for two innings, but the Warriors just could not get off the field in the third. Brother Rice added two more runs in the bottom of the fourth and ended the game with four more in the fifth.
"We've swung it all year pretty consistently," Crusaders coach Sean McBride said. "We have a lot of really good hitters who work really hard. Sometimes it's just a matter of time. Being down really wasn't a concern, I knew we'd give ourselves a chance.
"This is not the game we wanted to play in, but it's another day to spend together with our guys. Nobody's played longer than this."
McHenry was one-hit by Mundelein's Bennett Musser in Friday's 12-0 semifinal loss. Cohn ripped a single in the first inning, but was wiped out in a double play. The Warriors got a hit from Connor Rodgers, a walk from Ricky Powell, then Synek's triple and Grubich's double in the second. They added an unearned run in the fourth.
Warriors coach Brian Rockweiler lauded his players, most of whom returned from an 18-18 team last year to make history.
"The belief they had in each other, the way they played for each other. Just a special group. I'm getting choked up," said Rockweiler, as a tear ran down his left cheek. "I've been hard on them. Last year we pretty much had the same lineup. We took some growing pains, went .500 and had some guys get benched here and there and whatever.
"They got to see all that hard work they put in the last year pay off. It's been special watching them."
Rodgers, Synek and Micklinghoff will play together at NCAA Division III Carrol University in Waukesha, Wisconsin. Powell and third baseman Cole Kersten are headed to Rock Valley College, a junior college in Rockford. Kaempf, who hit leadoff and played shortstop, will play at D-II Missouri Southern State.
They leave high school with memories of a lifetime.
"As a coach, we didn't have to coach as hard this year, they did it," Rockweiler said. "Our seniors. It was fun just to sit back and watch. Even though we didn't have a great showing here, there was never any finger-pointing, ever. It was all them, together. It was fun to watch."