The COVID-19 pandemic wiped out the 2020 high school baseball season, then a knee injury limited Crystal Lake South righthander Ysen Useni to 13 innings pitched as a junior last year.
At the high school level, the Illinois-Chicago signee has not had many opportunities to show what he could do.
But on Saturday, Useni displayed his 90-mph heat in the Gators' Fox Valley Conference game against Cary-Grove.
Useni pitched 4 2/3 innings and struck out 13 batters without a walk. Some quick math shows that the defense was required to only get one other out.
Amazingly, to the Trojans' credit, they beat South, 6-5. C-G coach Ryan Passaglia said they made solid contact enough times to score. Useni hit one batter and was taken deep by C-G's Ben Hurt Haller in the fifth just before he was taken out.
"I had my best stuff that day," Useni said. "I did a lot to prepare for that game. I just felt confident. I wasn't really nervous because I felt like I prepared myself the best way you can.
"I had a bunch of support from my teammates and coaches and had a lot of backup from my teammates. I felt good that day."
Gators coach Brian Bogda has Useni on a pitch count of 80. Useni said his father Jimmy had his fastest pitches at 92 on a speed gun.
"I felt pretty sharp. That was my best stuff I've had in a while," Useni said. " I made one mistake starting the fifth inning with a hit batter and then I left a fastball and a kid [Hurt Haller] took it over the fence."
Useni and the Gators are eager to rebound after finishing last in the FVC last season. With Useni and Mark DeCicco, who threw five strong innings in a 13-9 win over C-G on Monday, leading the rotation, the Gators should improve in a tough conference.
"I hope me and my teammates succeed in that way and good things happen for us," Useni said.
Heavily armed: Huntley has two NCAA Division I pitchers in senior Adam Guazzo (Valparaiso) and junior Andrew Ressler (Butler), along with sophomore Malachi Paplanus, who likely will end up at that level.
Paplanus was on the varsity team last season and turned in a strong outing from the bullpen in last week's 8-4 win at Crystal Lake Central. Paplanus threw three innings, striking out four and allowing one hit and one unearned run.
Red Raiders coach Andy Jakubowski considers Paplanus more of a starter than reliever.
"Malachi was awesome," Jakubowski said. "The way the year has gone, every time he's supposed to start it's been a rainout or cancellation. It's been hard to get his pitch count up. I've been trying to keep him as game-ready as possible. Today was, by far, his best outing of the year."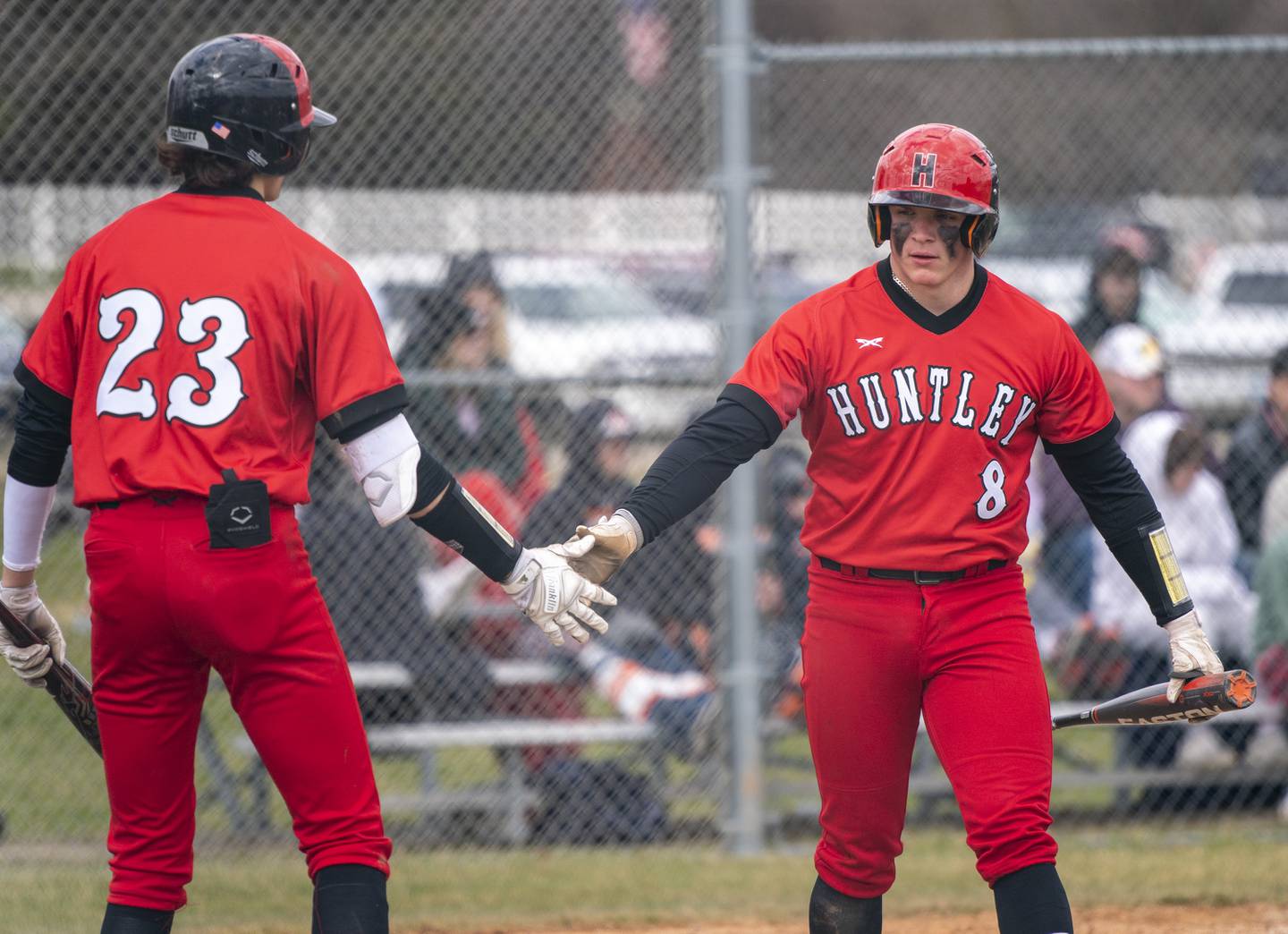 Bakes on fire: Huntley leadoff man Ryan Bakes is 8 for 17 in his past five games with three homers, two doubles and eight RBIs.
Bakes, who is committed to South Carolina, hit three homers in a span of five at-bats against Crystal Lake Central last week.
Tigers starter Nico Acevedo held off the rest of Huntley's potent lineup, but Bakes homered twice off of him.
"He owns the upper half of the plate. He's smart with his counts, good ballplayer," Acevedo said. "He knows what to do before you know what to do. He's one step ahead of you."
Better mindset: Johnsburg coach Mark Landvick was pleased to see his team take and maintain leads against Marengo last week in 11-3 and 17-5 victories.
The Skyhawks hope to be a factor in the Kishwaukee River Conference, where defending champion Richmond-Burton looks like the favorite.
"Our team has been mired in a bad mentality when we get down," Landvick said. "In five of our first eight games we jumped out to a lead only to give it right back. We could not get over mental hurdles. We are constantly looking to close the gap between our potential and our performance."
Landvick thought a big part of the Skyhawks' offensive production came through their quality at-bats. In the past two games against Marengo, Johnsburg had 44% and 43% quality at-bats.
"We all know the more pitches they throw, the more chances we get to put the ball in play," Landvick said. "We made a commitment to improve our quality at-bats. Even when we strike out we celebrate our quality at-bats."
Setting them down: Burlington Central sophomore Michael Person shut down Prairie Ridge, 3-0, with a two-hitter Monday. Johnsburg's Ian Boal fired a two-hitter Tuesday in a 5-0 win against Woodstock, striking out 12.