Name: Mackenzie Schmidt
School, year: Prairie Ridge, senior
Sport: Volleyball
Why she was selected: Schmidt, a middle blocker, combined for 18 kills and five blocks in Fox Valley Conference wins over Cary-Grove and Dundee-Crown. The Wolves (8-6) finished third in the bronze division of the Wheaton Classic over the weekend and enter Monday in second place in the FVC with a 6-2 record, trailing only Huntley.
Schmidt, who is second on Prairie Ridge with 85 kills, was chosen as the Northwest Herald Athlete of the Week in an online vote. Here is her Q&A with sports writer Alex Kantecki.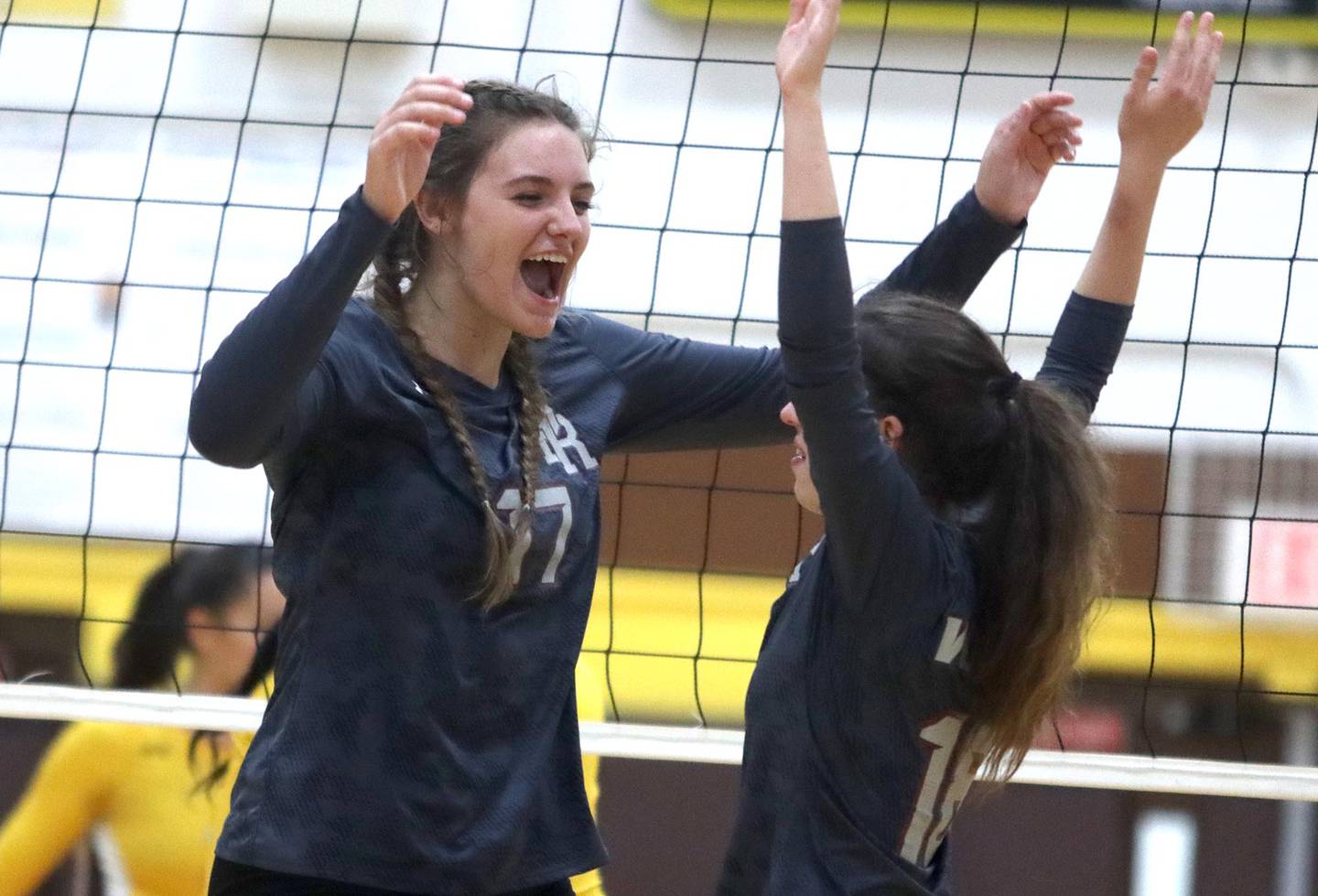 What have been the highlights of the season for you and your team so far?
Schmidt: At the start of the year, I was a little nervous because I chose not to play club last season. I was worried it would take me a long time to get back into the groove of volleyball. The first week back was a little rough, but thankfully my skills returned and have improved. As for the team, I could not have gotten a better group of girls. Not only is there amazing talent, but we are all so close and it feels like we've known each other forever.
Which teammate makes you laugh the most?
Schmidt: [Senior middle blocker] Ashley Stiefer because she's just one of those people that can always make you laugh, even at the worst moments.
Who is your favorite professional athlete?
Schmidt: [Former American professional volleyball player] Kim Hill. Mostly because my mom wanted me to be like her.
What is your favorite pregame meal?
Schmidt: Toast with peanut butter or bananas and peanut butter.
What would be your dream job?
Schmidt: Dermatologist. But when I retire, I'd love to own a small cafe on the east coast.
What is your favorite class and who is your favorite teacher?
Schmidt: Although I like all of my teachers, if I had to pick, it would be psychology with Mr. Wads [Curt Wadlington].
If you could change one thing about volleyball, what would it be and why?
Schmidt: I wish high school had instant replay and challenge cards. It would be nice to know for sure if a right call was made.
What is your most memorable moment playing volleyball?
Schmidt: Winning regionals last year was such a happy and exciting moment. I'll always remember running to the middle of the court and everyone screaming and hugging each other. I hope we can do that again this year.
Do you have any hidden talents?
Schmidt: Killing every plant I've ever owned within a month of getting it.
If you could have dinner with three people from any time in history, who would they be?
Schmidt: I would have dinner with my grandfather who passed away when I was young. I'd want to update him on my life and I feel he'd be proud of me. I'd also want to have dinner with Jane Austen because I love all of her novels and she has shaped me into the hopeless romantic I am today. And lastly, Sigmund Freud because I want to know what the heck he was thinking.