Cary-Grove pulled off an upset when it beat East St. Louis, 37-36, for the Class 6A football state championship, a game considered one of the best state title games in history.
The Trojans knocked off another giant – the COVID-19 pandemic – for the Northwest Herald Top Sports Story of 2021.
The Herald sports staff voted to let the good news – C-G's magical football ride – overshadow the bad – the havoc the pandemic wreaked on the high school sports world. C-G grabbed 48 points, COVID-19 picked up 42.
The COVID-19 pandemic forced postponement of seasons in many high school sports. The IHSA eventually was able to squeeze three sports seasons in from mid-February through the end of June.
The IHSA spring sports, which were canceled in 2020, were allowed to have their state finals competitions, which made some memorable performances possible.
Here is the rundown of the top 10 sports stories for 2021 with our total voting points included:
1. Cary-Grove football (48)
C-G was a state powerhouse and started the season No. 1 in The Associated Press Class 6A poll, but when East St. Louis petitioned the IHSA to play in 6A, the Flyers took that spot in the poll, and the Trojans' chances for a state title were in question.
[ Cary-Grove shocks East St. Louis to take Class 6A state title ]
C-G pressed on, dominating every opponent and continuing on a collision course with East St. Louis. When they met at Northern Illinois University's Huskie Stadium for the state title, it was an instant classic.
Both teams played well, battling back and forth, with the Flyers' electrifying offense against the Trojans' masterfully executed triple-option.
C-G fullback Nick Hissong rushed 32 times for 224 yards and one touchdown before leaving the game with 3:30 remaining with a torn right ACL. The Trojans hung on with one final stop near midfield for their third state championship in school history.
After the game, C-G coach Brad Seaburg, who was an assistant for the 2009 title, then coached the 2018 state champs, was asked about the three championships.
"I can tell you it's definitely the most exhilarating," Seaburg said. "I'm getting older and could feel my heart beating a lot in this one here. They're all special. I'm thankful for our kids. They're phenomenal in their work ethic and what they do. They believe in us and we believe in them. Every championship is special and this one is definitely the most suspenseful."
2. The COVID-19 pandemic (42)
The pandemic set some sports back several months as the IHSA modified the seasons for winter sports and three fall sports, none of which had their usual postseason state series.
Winter sports were supposed to start in late November, but a spike in COVID cases put that on hold until the middle of February. The IHSA, operating under the guidance of the Illinois Department of Public Health, was able to put together a six-week winter sports season, then a shortened season for football, girls volleyball and boys soccer, before finishing with a "summer season" for the usual spring sports.
By the end of June, the normal spring sports were able to compete in their state series, something they missed in 2020 when those entire seasons were canceled.
Even wrestling, a winter sport pushed to the summer season, was able to have a postseason with the Illinois Wrestling Coaches and Officials Association Summer State Championships.
By the end of the IHSA summer season, everything felt a bit more normal and athletes, coaches and fans were all in a better place.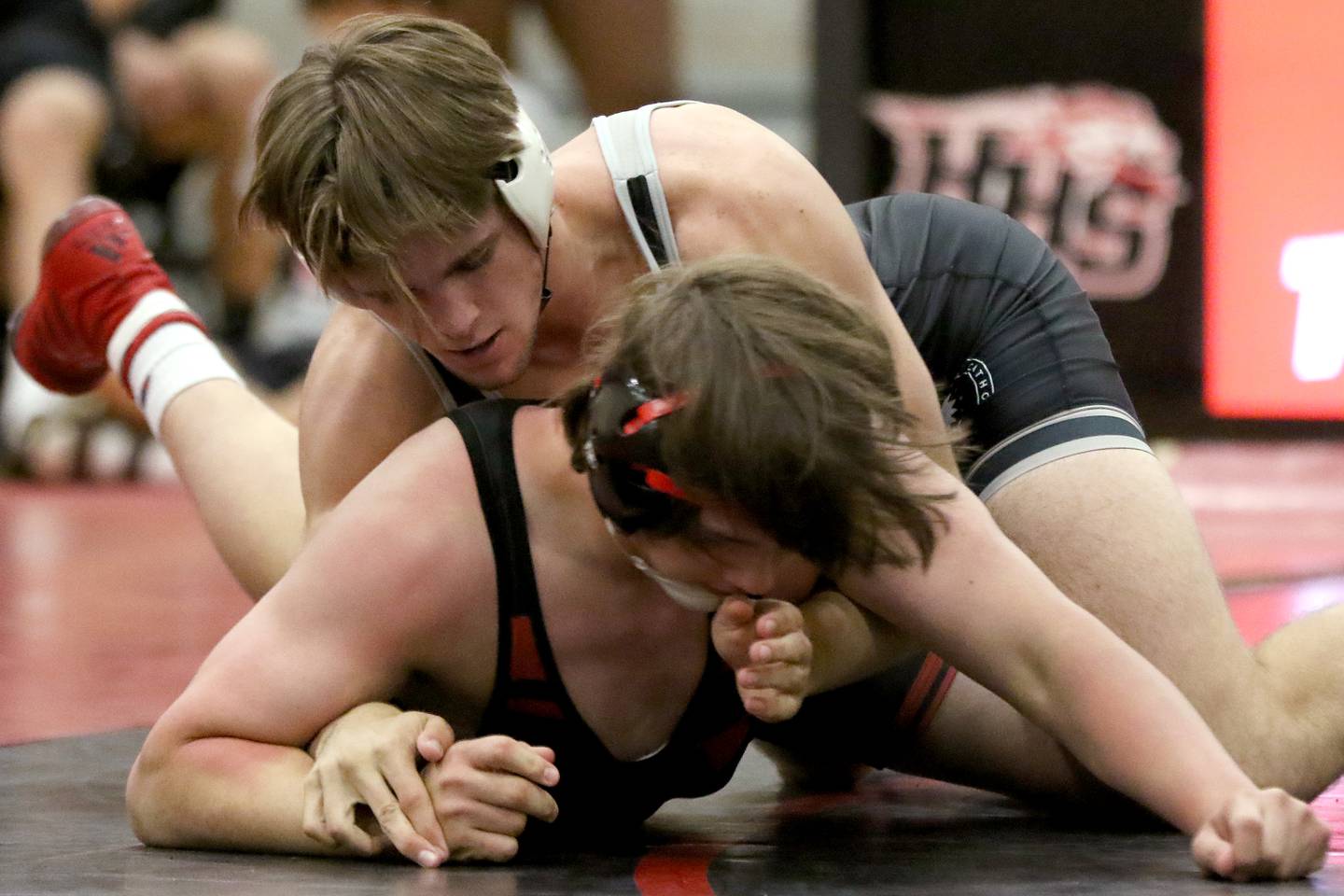 3. Marian Central wrestling (34)
Marian had become one of the state's top Class 2A programs, and Hurricanes senior Dylan Connell had three IHSA state titles in his first three seasons.
[ 2021 Northwest Herald Wrestler of the Year: Marian Central's Dylan Connell ]
Although Connell will not be recognized as the IHSA's 15th four-time state champion, he still won four consecutive titles when he grabbed the 182-pound Illinois Wrestling Coaches and Officials Association state championship in Springfield.
The Hurricanes had two other champions – Elon Rodriguez (126) and Nik Jimenez (132) – and six other medalists. Marian ran away with the IWCOA Class 2A state team title.
Coach David Silva, who turned the program into one of the state's best, left after the tournament for a job in Nashville, Tennessee.
4. Richmond-Burton football (27)
R-B did not have a chance to repeat as Class 4A state champion in the fall of 2020 with a team that may well have won another title.
The Rockets went 6-0 in the spring season, winning by large margins every game. In the fall, with many of those top players graduated, R-B continued rolling, all the way to the Class 4A playoff semifinals for a third consecutive season.
Fullback-linebacker Brock Wood led the Rockets, who pushed their state-best winning streak to 32 games before falling to Joliet Catholic, 35-18, in the semifinal.
[ Fall 2021 Northwest Herald Football Player of the Year: Richmond-Burton's Brock Wood ]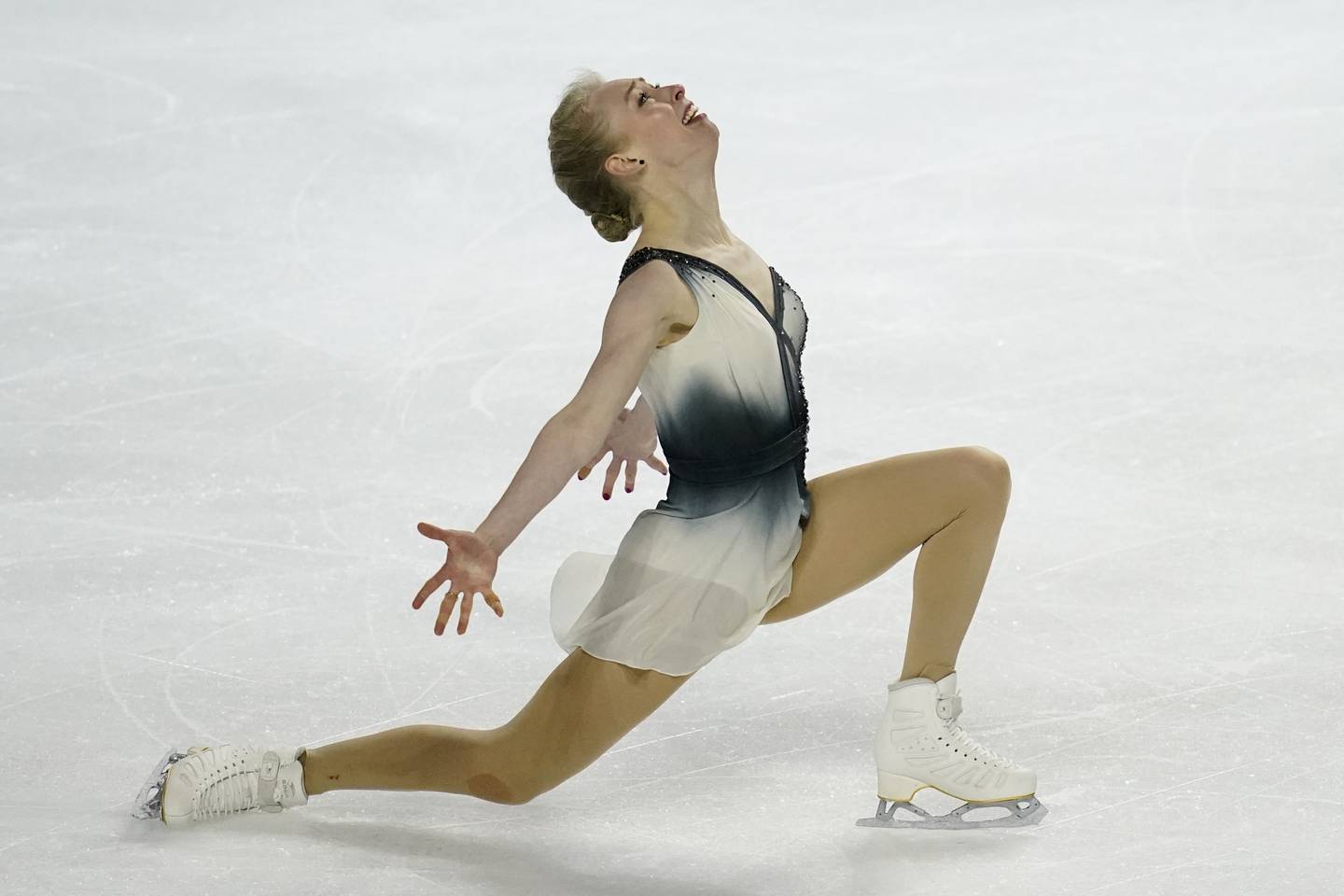 5. Bradie Tennell wins U.S. Figure Skating championship (26)
Tennell, who grew up in Carpentersville, lives in Cary and trains in Colorado Springs with Team USA, won the U.S. Figure Skating Championships for a second time. She also won in 2018.
Tennell was on top of her game in every way, winning the short program and the free skate and finishing 17 points ahead of second place.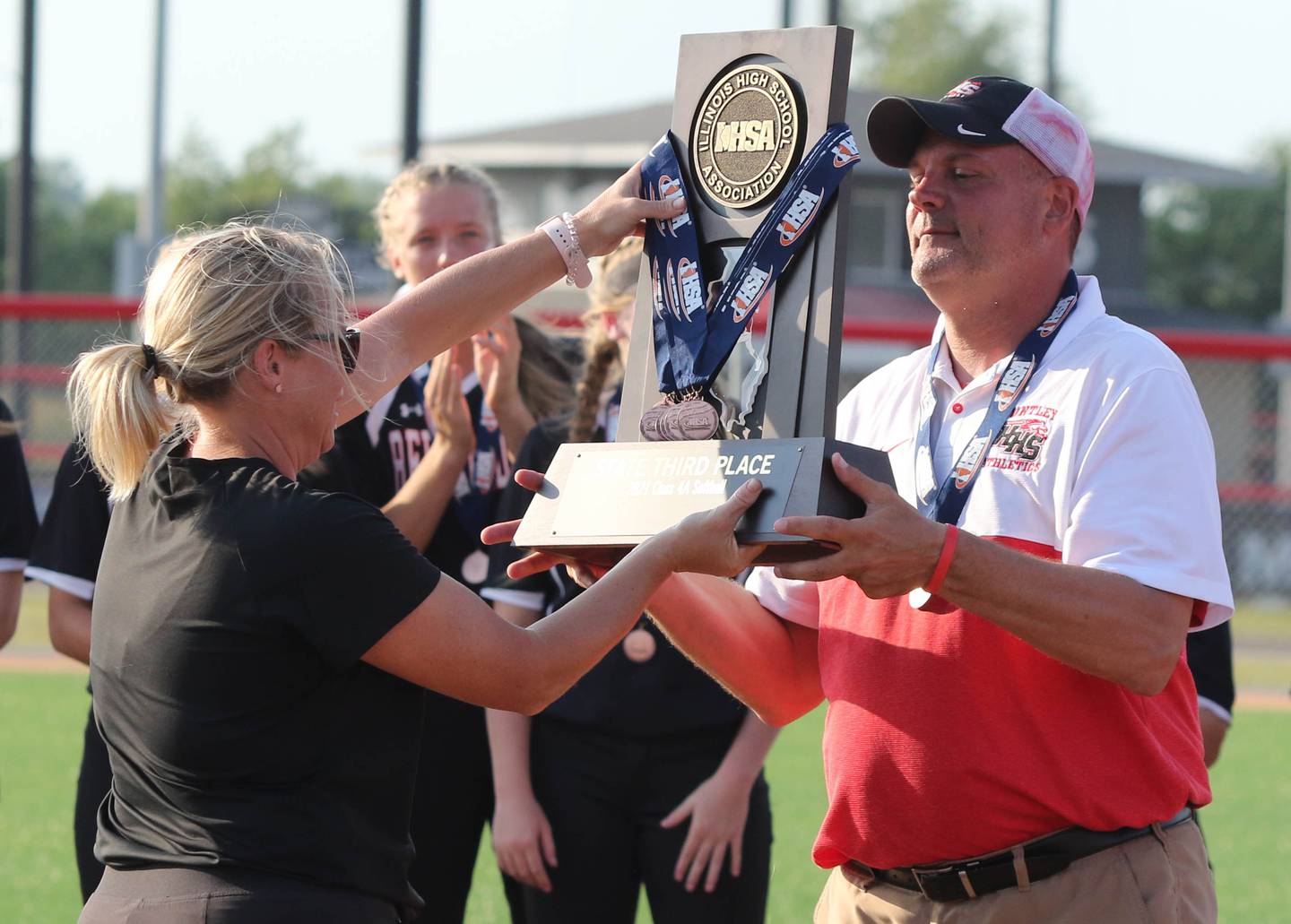 6. Huntley softball and Briana Bower (23)
Bower pitched the Red Raiders to the 2019 Class 4A state championship and came back as a senior to lead Huntley to third place.
[ Photos: Huntley softball takes third place at state ]
Bower finished her career with 922 strikeouts in three seasons, and her 460 strikeouts last season ranks No. 9 in state history. She wound up with a career record of 65-14.
7. Cameron Krutwig's college career (21)
Krutwig, a 2017 Jacobs graduate, was a key component of Loyola's Final Four run in 2018 as a freshman. As a senior, Krutwig and the Ramblers made it back to the Sweet 16.
Krutwig's name is now beside some all-time greats for what he achieved in the Missouri Valley Conference. Krutwig, Indiana State's Larry Bird, Cincinnati's Oscar Robertson and Bradley's Hersey Hawkins are the only players with 1,500 career points, 800 career rebounds and 300 career assists.
The 6-foot-9 center now plays professionally in Belgium.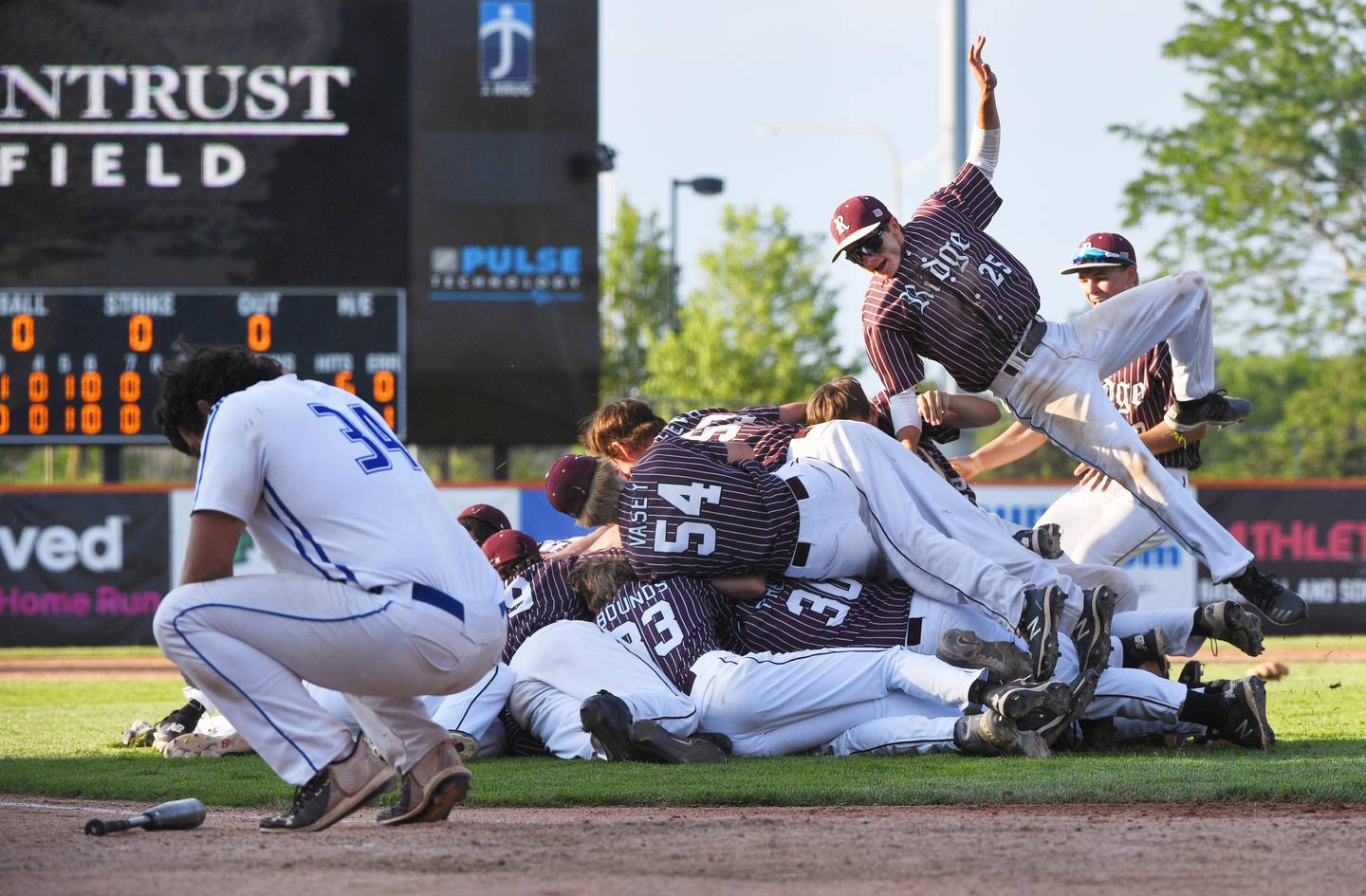 8. Prairie Ridge Class 3A baseball runner-up (15)
Prairie Ridge caught fire at the best possible time in the baseball season, winning four consecutive one-run games to reach the Class 3A Baseball State Tournament championship game.
Once there, the Wolves grabbed an early 6-0 lead on Springfield. But the Senators rallied back in a crazy game to win, 8-6.
[ High school baseball: Prairie Ridge falls to Springfield in wild Class 3A state title game ]
Still, it was a great ride for the Wolves and again demonstrated how strong the Fox Valley Conference is in baseball.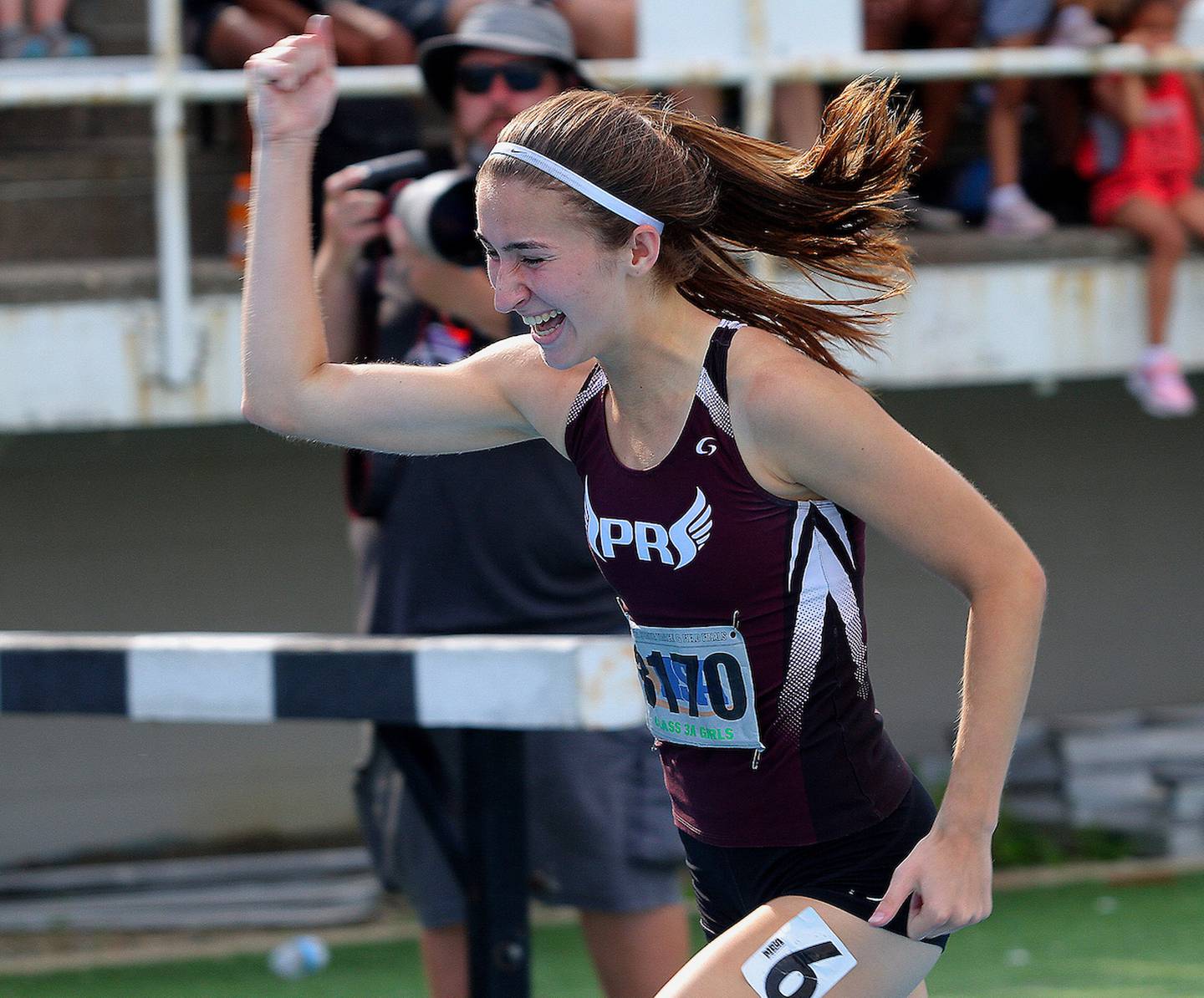 9. FVC girls track's super sophomores (14)
Prairie Ridge's Rylee Lydon won the Class 3A 400 meters and Huntley's Alex Johnson won the Class 3A long jump, marking the first time since 2013 that two FVC girls won state titles in the same year.
[ Northwest Herald 2021 Girls Track and Field Athlete of the Year: Prairie Ridge's Rylee Lydon ]
Lydon lost the high jump gold medal on the final jump when Gurnee Warren's Annika Bynum made 5-8 on her final attempt. Lydon was not going to be denied in the 400, where she ran a 56.25 and won by almost one second.
Johnson, who had consistently put together strong jumps, hit 19-4 1/4 for her winning jump.
10. Makayla Nietzel: Paralympic medalist (13)
Crystal Lake resident Makayla Nietzel, an 18-year-old who was born with albinism, won two seventh-place medals at the 2020 Tokyo Paralympics a few weeks after the Olympic Games.
Nietzel, whose condition makes it difficult for her to see in outdoor lighting, took seventh in the 100-meter butterfly and the 400 freestyle at the S13 level.
Nietzel is a freshman at Purdue and is training with the Boilermaker Aquatics club team.