There's a new theater group in town, perhaps an ambitious fledgling as it's only been in existence for a little over a year, but one I'm hoping will continue to prosper and succeed.
Mosaic Players, based out of Antioch, is a nonprofit 501(c)3 touring ensemble dedicated to bringing theater to the community with a focus on social justice, dignity and respect.
The troupe's founder and Artistic Director Rebecca Zellar is widely known for her theater work, most recently as Florence in PM&L's Season 59 musical production "Chess," and past backstage handling of PM&L's press and public relations.
The upcoming show is aptly titled for Mosaic Players. The ensemble with great excitement will be touring September through October with a production of "On the Verge or The Geography of Yearning" by playwright and TV producer Eric Overmyer. The two-act play premiered in 1985 at Baltimore Center Stage, and spans the 1888 Victorian era to a more modern 1955.
The play is oftentimes billed as a fantasy-comedy, but the themes encompass so much more: women's rights, friendship, imagination, time travel, even pop culture (you'll love the discussion of I Like Ike buttons, egg beaters and Cool Whip between women who've never seen such modern conveniences).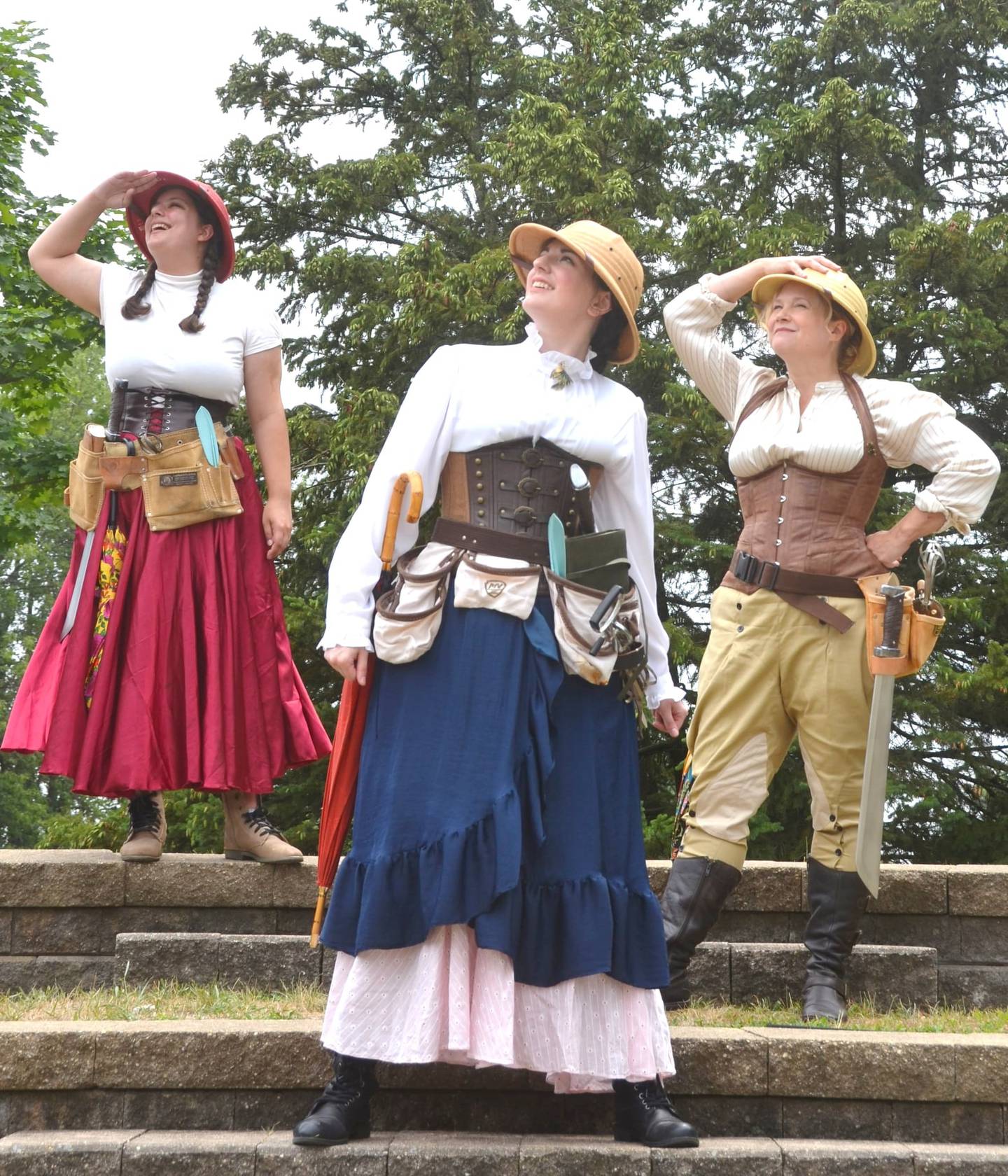 "On the Verge" follows three Victorian era female explorers, Mary, Fanny and Alexandra, who band together to discover a new and unexplored land aka Terra Incognita. The sister sojourners and intrepid explorers encounter eight diverse beings (played by the same actor) as their journey takes them through jungles, ice sheets and a bottomless gorge.
Armed with parasols and machetes, they travel through Africa, Asia, islands of the Pacific, and the great American West. The three also protest the dominant theory of being inferior to men; at that time, lest we forget, women couldn't vote, own property, or have equal protection in the workplace. These three women protagonists are intelligent, inquisitive and as insightful and whimsical as is the poetic language of "On the Verge."
Mosaic Players' fall season kicks off with Sept. 4 and 5 appearances at Lindenhurst Park District's Parkman Pavilion in Lake Villa, followed by a Sept. 19 Lake Villa Library showing, Antioch Township Center's Sept. 25 and 26 and Oct. 2 and 3 performances, and a performance on Oct. 23 at the Williams Park Pavilion in Antioch. The shows always begin at 2 p.m., and are free to the public, with a suggested donation of $20.
There are two pith-helmeted and high-spirited casts available. Meghan Lane and Susie Perkowitz play Mary, the unmarried and oldest main explorer quite besotted with Africa; Jennifer Drinka and Cristianna Formeller play Fanny, the very conservative married explorer who finds the future immoral; and Jamie Lee and Bonnie Hart play Alexandra, the youngest explorer, who is the daydreamer and quite forgetful. She's enamoured with Tibet. Chris Riter and Josh Formeller play the eight different characters ranging from Fanny's husband Grover to a yeti.
The artistic team includes Rebecca Zellar, director of "On the Verge"; and her daughter, Clara Riter, who is assistant director. Costumes are by Christi Nicholson, with props and stage crew provided by Connie Wurster.
Mosaic Players hopes to continue performances at libraries, park districts, festivals, forest preserves, churches and schools. "On the Verge" is the perfect enticement, the perfect metaphor – an optimistic view of what lies ahead for this company.
• Regina Belt-Daniels has directed, acted and danced her way across stages in Illinois, New York and Ohio since the first grade. Currently serving on the RCLPC Theater and It's Showtime advisory boards, she happily applauds the safe openings of theaters again with live audiences.
IF YOU GO
WHAT: "On the Verge" by Mosaic Players
WHERE: Multiple suburban locations
WHEN: Through Oct. 23
COST: $20 suggested donation
INFORMATION: www.mosaicplayers.org, 773-610-9249