Are you hungry? For beautiful surroundings? For gourmet food? For big laughs? For awe-inspiring acrobatics? For incredible singers? For the chance to enjoy a wide variety of songs from a live band? For a night out in downtown Chicago?
No matter which of the above you said yes to, Teatro ZinZanni, the first major show to open in the Loop since the coronavirus shut down in-person theater, will answer that hunger.
Let's start with the 14th floor of the Cambria Hotel at 32 W. Randolph St. After you exit the elevator and check in, the "lobby" area features everything from a neon crescent moon (for a memorable cellphone pic) to a full bar to a boutique area where you can purchase anything from a colorful boa to a unique hat or tiara to help you feel even more festive. You are then escorted to your table inside the Spiegeltent ZaZou, which seats up to 330 guests. Our guide explained that the Spiegeltent – Dutch for mirror tent – is a traditional venue first popularized over 100 years ago in Belgium. This lush environment is a huge and tall tent constructed of wood and canvas decorated with stained glass and mirrors.
Unless you've purchased one of the limited number of show-only tickets, you'll find hummus, olives and pita bread toasts awaiting you at your table. Subsequent courses include a ZinZanni Caesar salad, four or five main course selections to choose from (such as Chicken Vesuvio, Shrimp Campanelle Pasta), and a chocolate mousse parfait to die for. Appetizers, cocktails, beer, wine and alternate desserts are also available for purchase. With a menu designed by Debbie Sharpe, "The Goddess" of The Goddess and Grocer, my wife and I thoroughly enjoyed our dinners. We also appreciated that a dietary request made at the time of our reservation (slightly changing the makeup of our salads) was graciously and seamlessly accommodated.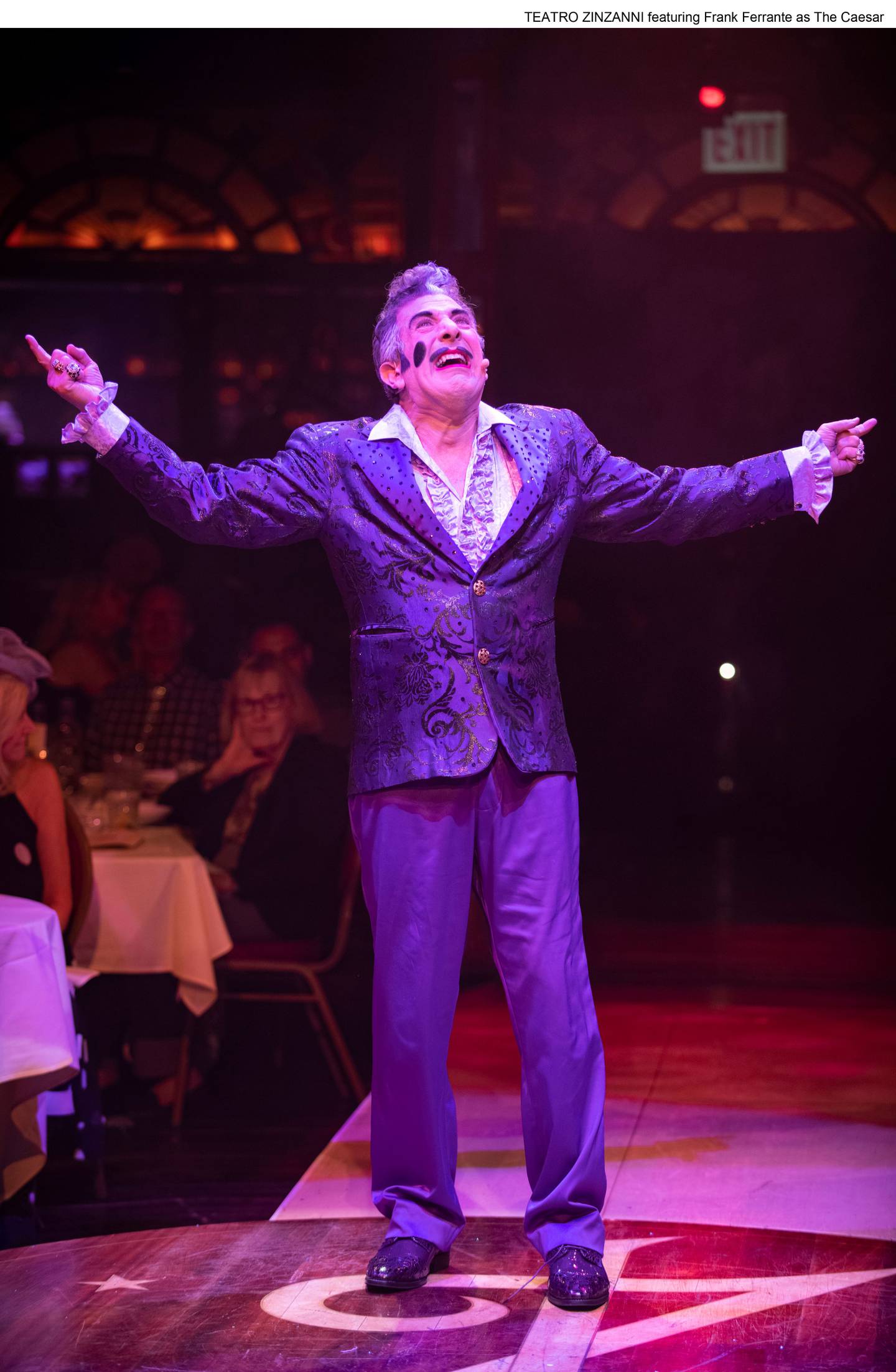 The entertainment portion of the evening (or Sunday afternoon) is difficult to describe without spoiling many surprises, but continuing with the idea of hunger, let me provide a taste of what you'll experience:
A four-man band (percussion, woodwinds, bass and keyboards) that, under the direction of Bill Underwood, easily can play anything and everything beautifully – from "Fly Me to the Moon" to "Uptown Funk" – without distracting from the performers at the center of this gorgeous dinner-theater-in-the-round.
Frank Ferrante as The Caesar, an over-the-top Latin lover/master of ceremonies, who triumphantly proclaims, "We are back! We are here! We are here! WE ARE HERE!" to the applause of an audience [most unmasked during our visit and all in fairly close proximity to each other; see new health protocol details below] that clearly thirsts for live entertainment. His interactions with the audience are brimming with innuendo and humor. For example, when one woman says her name is Tamara, The Caesar quickly suggests, "I say right now!" – and when a male audience member says he's a lawyer, the quick retort from Ferrante is "I'll show you my briefs later!"
Joe De Paul as Marco Antonio, a comic genius who doesn't use as much dialogue as Ferrante, but gets guffaws from his attempts to impress Cleopatra (Storm Marrero), whose emergence from a large sarcophagus early on provides the minimal plotline as she finds herself wooed by both Caesar and Marco.
Marrero, a soulful singer with a thrilling voice, who in the words of one song: "put a spell on you 'cause you're mine." I don't know if it was a spell, but we were mesmerized each time she was in the spotlight for a tune.
Cunio, an equally powerful rock/rock-opera-style male singer from the Seattle version of ZinZanni, whom Chicago audiences may have seen as Pilate in the 2018 Lyric Opera version of "Jesus Christ Superstar" or the final year of the "Jersey Boys" extended Loop run.
Duo 19, an excellent trapeze duo whose late-in-the-show acrobatics, and earlier comedic and balancing efforts, were equally memorable.
Vita Radionova, a contortionist whose resemblance to a human Slinky at one point is an image you won't forget.
The performances in the center of the tent, which also include remarkable feats and humor by aerialist Lea Hinz and multi-talented Mickael Bajazet, are supplemented by tableside magic, comedy and selfie interactions. A professional photographer will snap a photo or two of your party (framed prints available for purchase after the show).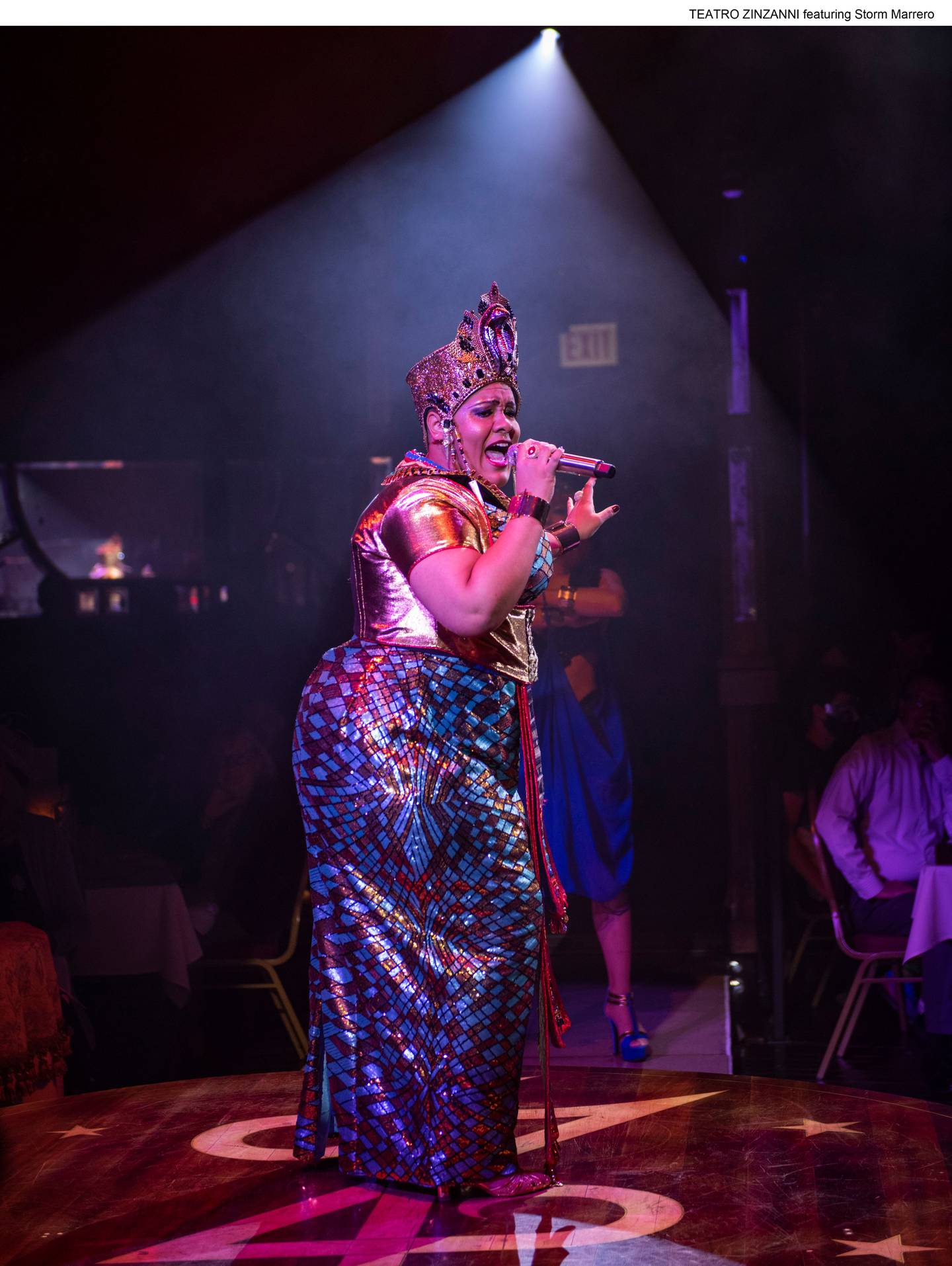 Show-only tickets cost $69; show-and-gourmet-meal tickets are over $100, with the price varying depending on your proximity to the center of the tent. And for safety, wear a mask if you feel more comfortable doing so when you're not eating or drinking.
But for a very special occasion, or to impress a spouse or date, see this 2½-hour show. You'll have "in-tents" enjoyment.
[Note to readers: Teatro ZinZanni announced it will require all guests over the age of 12 to show proof of vaccination to attend its dinner and performance starting Aug. 4; it's added to the ongoing protocol that includes fully vaccinated cast and staff, as well as enhanced air filtration and sanitization technologies. For patrons age 12 years and younger who are not yet eligible for vaccination, a proper face covering must be worn except when eating at their table. For more information, email chi-info@zinzanni.com.]
• Paul Lockwood is an enthusiastic singer, frequent local theater actor (including Theatre 121′s new Storybook Players repertory group), Grace Lutheran Church (Woodstock) and Toastmasters member, occasional theater reviewer, columnist and past president of TownSquare Players. He is a 1977 graduate of LaSalle-Peru Township High School.
IF YOU GO
WHAT: Teatro ZinZanni
WHERE: Cambria Hotel Chicago Loop, 32 W. Randolph St., Chicago
WHEN: Wednesday through Sunday performances in open-ended run
COST: Show-only tickets $69; dinner tickets $119 to $189
INFORMATION: www.zinzanni.com/Chicago, 312-488-0900