In the very first year of Woodstock PrideFest, in 2019, an estimated 2,000 people attended the event in Woodstock's historic Square.
Five years later – and expanded from a parade and festival to two days of celebration – Woodstock PrideFest co-coordinator and Village Board member Melissa McMahon said she doesn't care of 1,000 people show up, or 10,000.
"I hope everybody who wants and needs a place to come and feel celebrated makes their way here. That they are here because they want to be and need to be, because they feel like 'I am safe here.' Then our job is done," said McMahon, who also serves as vice president of Woodstock Pride, the organization behind the event.
I hope everybody who wants and needs a place to come and feel celebrated makes their way here.

—  Woodstock PrideFest coordinator Melissa McMahon
On Monday, she was grocery shopping for supplies needed to pull off the two-day event, set to kick off at 10 a.m. Saturday at Emricson Park, 900 W. South St., with the Color Run.
"It is more of a walk than a run," McMahon said, adding that because they use a paved path, anyone can participate regardless of ability. The "color" part of the fun run is the participants throwing colored chalk on each other. "It is just a good time on Saturday morning."
The second event Saturday is a seven-location pub crawl at establishments either on the Square or nearby. Tickets for the pub crawl cost $25 each and include two drink tokens.
Sunday's 11 a.m. Pride Parade has expanded so much that it isn't just once around the Square as in years past, but instead enters on Dean Street and out on Jackson Street. Parking on the Square also is blocked during the parade and festival.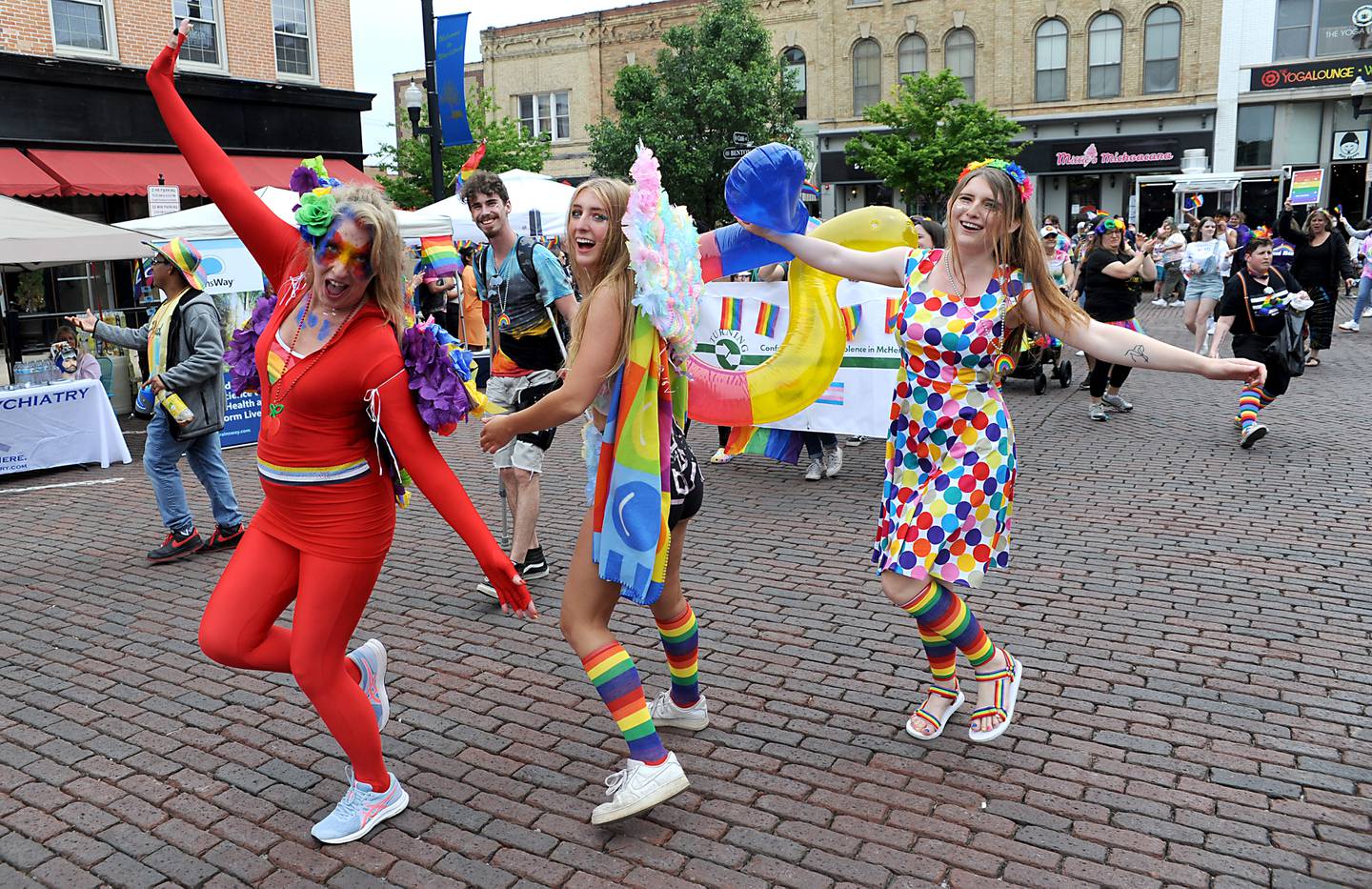 The city of Woodstock is "shutting down the Square completely for the sheer numbers" of people expected, McMahon said. In 2022, between 7,000 and 8,000 people attended the festival. "We are anticipating even more this year," she said.
The festival kicks off after the parade, usually about noon, and goes to 5 p.m.
Highlights of the festival Sunday will include Theater 121 performing a medley of songs from Jonathan Larson's 1996 musical "Rent," its summer show.
"Rent," McMahon said, is probably one of the most recognizable Broadway shows representing the LGBTQ+ community.
She and the organizers also hope the longer weekend event means attendees will stay, shop and dine in Woodstock.
The owner of Read Between the Lynes bookstore, Arlene Lynes, said she promotes a theme for Woodstock's PrideFest: "All readers are welcome here."
She said has seen all positive reactions from residents and customers for the store's support of the event.
"Woodstock has an amazing sense of community and community loyalty."
A full listing of events is available on the event's website, woodstockilpride.com.
CORRECTION: Woodstock's PrideFest Parade is on Sunday beginning at 11 a.m. A previous version of the story included an incorrect date.