The importance of Monday's Fox Valley Conference game between Huntley and Hampshire was obvious.
A win by Huntley would bring the Red Raiders a step closer to back-to-back conference championships, and a win by Hampshire would create a tie atop the standings and a much more dramatic ending to the regular season.
Huntley (23-4, 14-0 FVC) handled its business with a 57-39 win over the Whip-Purs to avoid the latter scenario, and, with a 54-29 victory against McHenry on Wednesday, are now only four games from finishing off an undefeated FVC season.
Hampshire (18-9, 12-2) trails the Raiders by two games, with both of its losses to Huntley.
The Raiders have continued their FVC dominance this year, outscoring their opponents 748-408, and have now won 24 straight FVC games and 31 of their last 32.
No team has gone 18-0 since the FVC moved to 10 teams in 2019.
"We knew it was going to be a good game tonight," Huntley coach Steve Raethz said. "Hampshire's a really good team, they've gad a great season, and they've always given us trouble. We've got [four] conference games left and we've got to stay focused."
On Monday, it was senior guards' Jessie Ozzauto (22 points, 4 3-pointers) and Sammi Campanelli (19 points, 8 rebounds) who did most of the heavy lifting, accounting for 41 of the team's 57 points.
"When they get hot together, we're tough to stop," Raethz said. "And they both got it going there at different moments. Offensively, they did a nice job of helping carrying the load tonight."
Marengo shoots for perfect KRC season: Marengo claimed at least a share of the Kishwaukee River Conference title, its fourth in five seasons, with a 49-40 win against Johnsburg on Tuesday and is one of the area's hottest teams with seven wins in its past eight games.
The Indians (16-9, 8-0) host Woodstock Friday and end the regular season at Harvard on Wednesday. A win in either game will give them the KRC title outright.
Marengo came close to winning the KRC last season but a four-point loss to Woodstock North gave the title to the Thunder. The Indians aren't taking either of their final two opponents for granted as they aim to achieve perfection.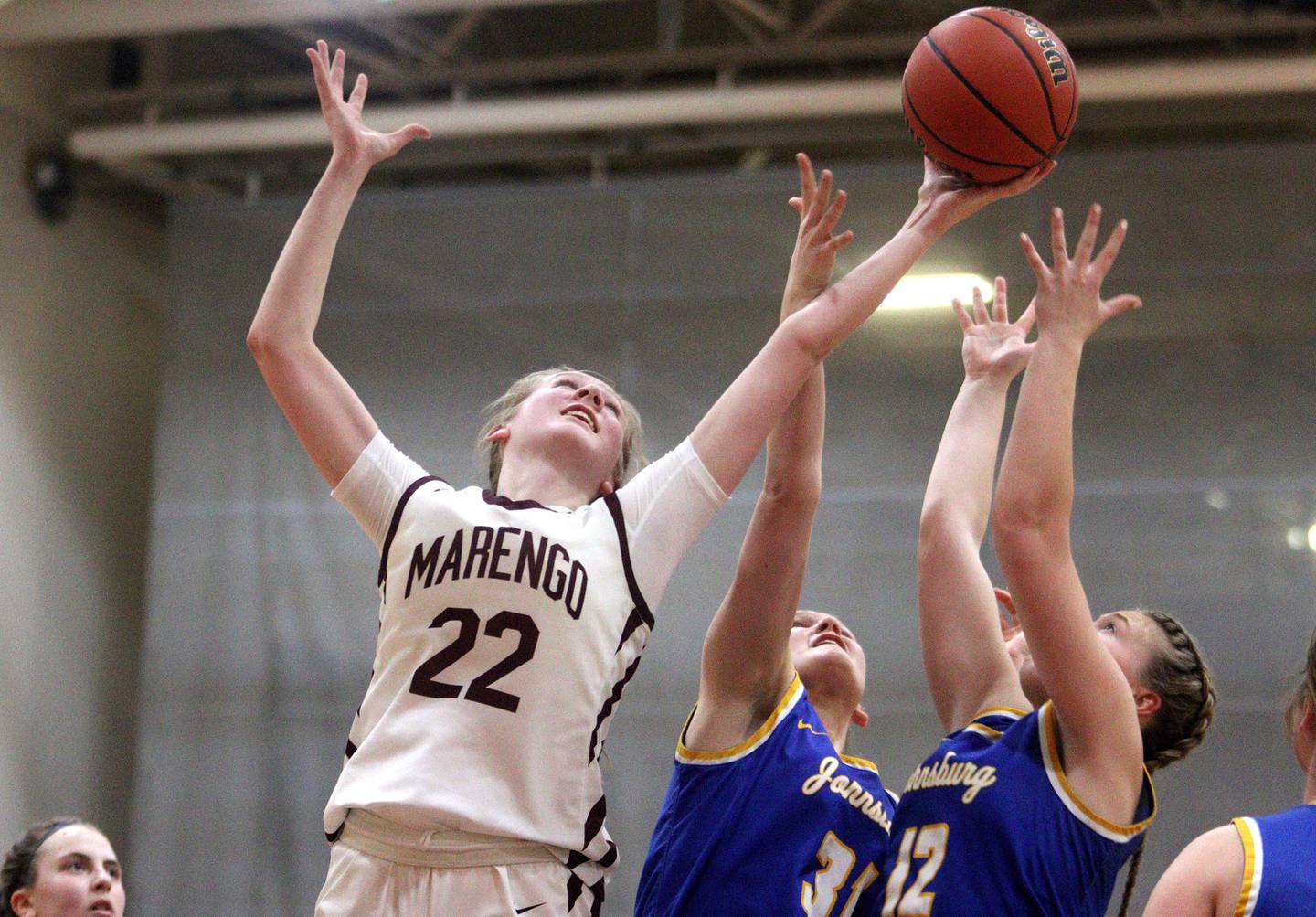 Marengo just got past Woodstock 34-32 in the teams' first meeting Jan. 17.
"We always start every season expecting to compete for a conference championship," Indians coach Elisa Hanson said. "It's always motivation. We didn't play a great game against Woodstock the first time, so I hope the girls remember that, and come Friday, we play four quarters of good basketball together versus 2 1/2."
IHSA releases postseason seeds: The IHSA released playoff seedings Thursday, voted on by coaches, with Huntley (Class 4A), the FVC leader, and Marian Central (2A) both earning No. 1 seeds. Hampshire grabbed a No. 3 seed in 4A, Burlington Central is a No. 3 in 3A and Marengo is a No. 3 in 2A.
Marian, which is playing an independent schedule this year after leaving the East Suburban Catholic Conference, won just five games last season. This year's Hurricanes are 21-7 and a win from tying the team record for wins in a season.
Alden-Hebron took a No. 7 seed in 1A.
Ouch: Huntley senior Morgan McCaughn recently returned from an absence after dropping a weight bench on her toes, which resulted in a fracture. McCaughn, who starts for the Raiders at guard, said she is doing much better now, but she may lose a toenail.
Getting McCaughn back has been a big boost to the team.
"She does so many little things and intangibles you don't always see," Raethz said. "It's great to have her back."
Sophomores play key role for Indians: Sophomores Gabby Gieseke and Dayna Carr both played instrumental roles in Marengo's key KRC win over Johnsburg on Tuesday. Gieseke came off the bench in the fourth quarter and scored eight points, while Carr had nine points in the game and was disruptive on defense with four blocks.
"Our sophomores came up huge tonight," Hanson said. "We couldn't have done it without them."
Person's big game: Johnsburg junior forward Sophie Person was tough to handle in the post Tuesday as the Skyhawks, a team that likes to shoot it from long range, struggled to connect on their 3s. Person had a team-high 12 points and six rebounds and was looked at regularly by her teammates.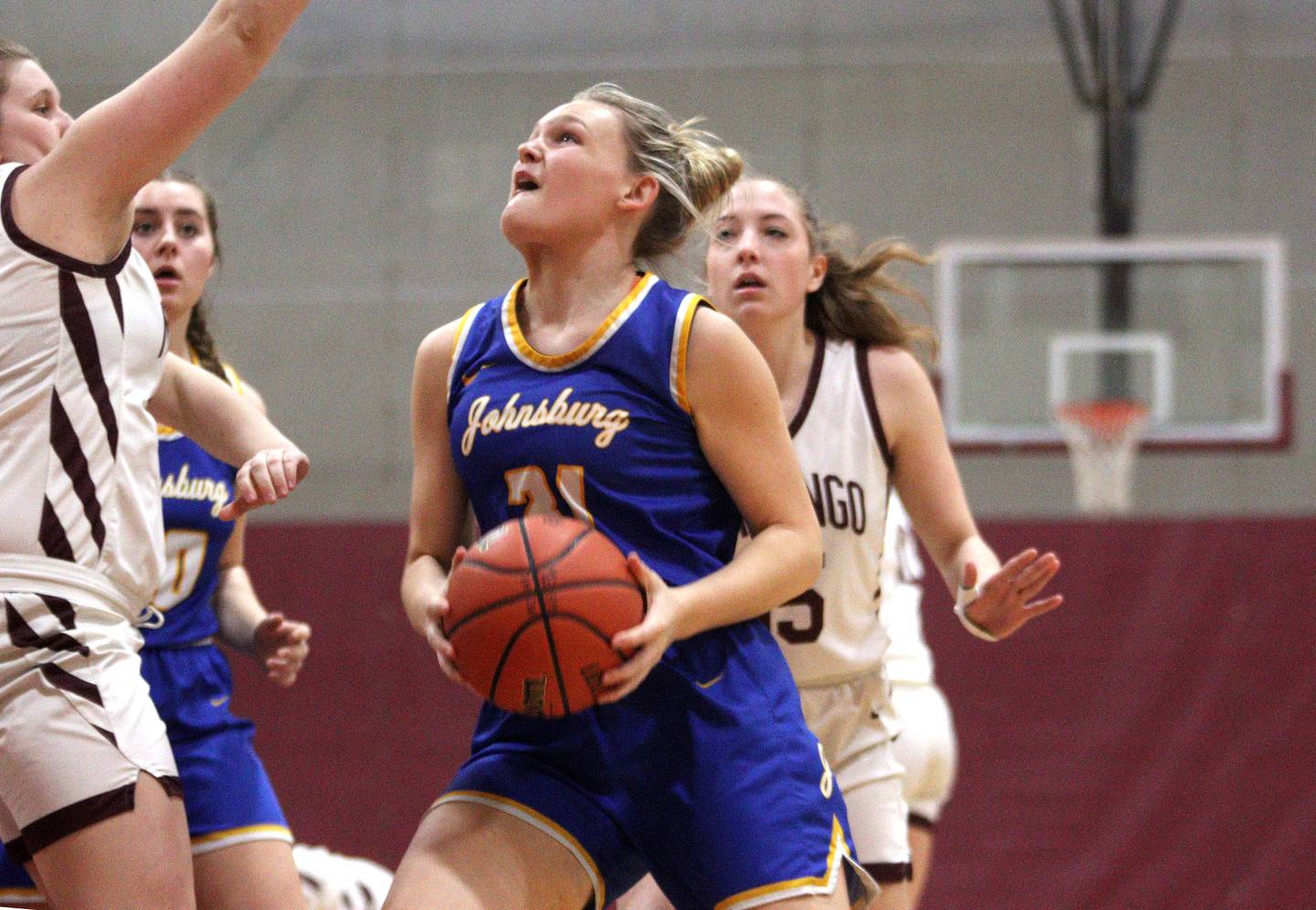 Over the past seven games, Person is averaging 11.7 points a game for the Skyhawks. She also leads the team in rebounds. Coach Erin Stochl said Person has emerged as one of the team's biggest playmakers.
"She's a real tough player," Stochl said. "She fights on every possession and she's improving every single game. "I saw a lot of good decision making. She wasn't looking to pass it off. She was looking to score tonight, and we needed that."