Six months after a gunman opened fire on a Fourth of July parade in Highland Park, killing seven people and injuring 30 more, Gov. JB Pritzker on Tuesday signed into law a wide-ranging ban on high-powered semiautomatic weapons – action that's spurred mixed commentary.
The ban is effective immediately after Democratic Gov. JB Pritzker signed the law around 8:30 p.m. Tuesday.
Throughout northern Illinois, opinions on both sides of the gun debate were varied over the legislation that bans the manufacture, purchase or sale of such weapons in the state. Some Republicans already predicted the final say on the matter will rest in the court system, and hours after lawmakers in Springfield gave the measure final passage, the Grundy County Board approved a resolution opposing the ban.
David Tackett, 68, of Sterling is a self-described sportsman and gun owner. He said he favors legislative action because he is worried about semiautomatic weapons being in the hands of the wrong people.
"It's bad. It's out of control," Tackett said. "I worry about my grandkids in school. People don't need AR-15 assault rifles. Don't know why they became popular again."
Tackett said he believes that if marksmen still want to use such weapons, they should be available only in a controlled setting, such as a firing range, where they can be rented out on site for target practice.
"I take the issue of gun violence and public safety very seriously and will continue to sponsor and support legislation that I believe addresses the root causes of gun violence," state Sen. Don DeWitte, R-St. Charles, said in a statement. "But I will not support efforts that attempt to punish law-abiding gun owners who use their firearms responsibly. This bill is feckless, in attempting to address gun violence in our state."
The law bans several dozen styles of rapid-fire rifles and pistols, .50-caliber guns and weapon attachments that enhance a gun's firepower. Current owners of such weapons won't be required to surrender them. However, gun owners will have to register them with the Illinois State Police – including serial numbers, a provision initially removed by the Senate but restored after House proponents' objections.
Sam Sieber, a Crystal Lake art educator, said he comes from a hunting family and doesn't object to guns suitable for hunting deer or turkey.
"But let's get rid of the weapons used for killing our children," Sieber said. "[These weapons] are being turned against our children in classrooms. There is no reason for any civilian to own this type of weapon, and they should be banned."
Semiautomatic weapon use in mass shootings
High-powered semiautomatic guns were used in several mass shootings in 2022 alone, including during the July 4 parade mass shooting in Highland Park. Illinois State Police confirmed the alleged shooter used a Smith & Wesson semi-automatic rifle purchased legally, shooting more than 80 rounds into the crowd from a rooftop.
On May 25, an 18-year-old allegedly legally purchased two military-style rifles which were used to kill 19 schoolchildren and two teachers, wounding 17 others at Robb Elementary School in Uvalde, Texas.
A 2008 Valentine's Day mass shooting inside a lecture hall at Northern Illinois University in DeKalb left five students dead and injured 17 more. The 27-year-old former NIU student used a shotgun and several semiautomatic pistols, firing about 50 rounds into the hall.
Political scientist James Druckman from Northwestern University said research shows banning such weapons from wide use has the potential to prevent violent crimes.
"Our work shows that recent gun buyers, during the 2020 gun buying spike, tend to be more distrustful of government, more conspiratorial, and more inclined to violence," Druckman said. "These characteristics are ones that should give one pause in terms of whether to make assault weapons available."
Under the new law, merchants who are federally licensed to sell such weapons will be able to dispose of their current inventory by returning them to manufacturers or selling them.
DeKalb School District 428 elementary school teacher Mary Lynn Buckner helped organize a March For Our Lives rally last summer in DeKalb less than a month before the Highland Park shooting.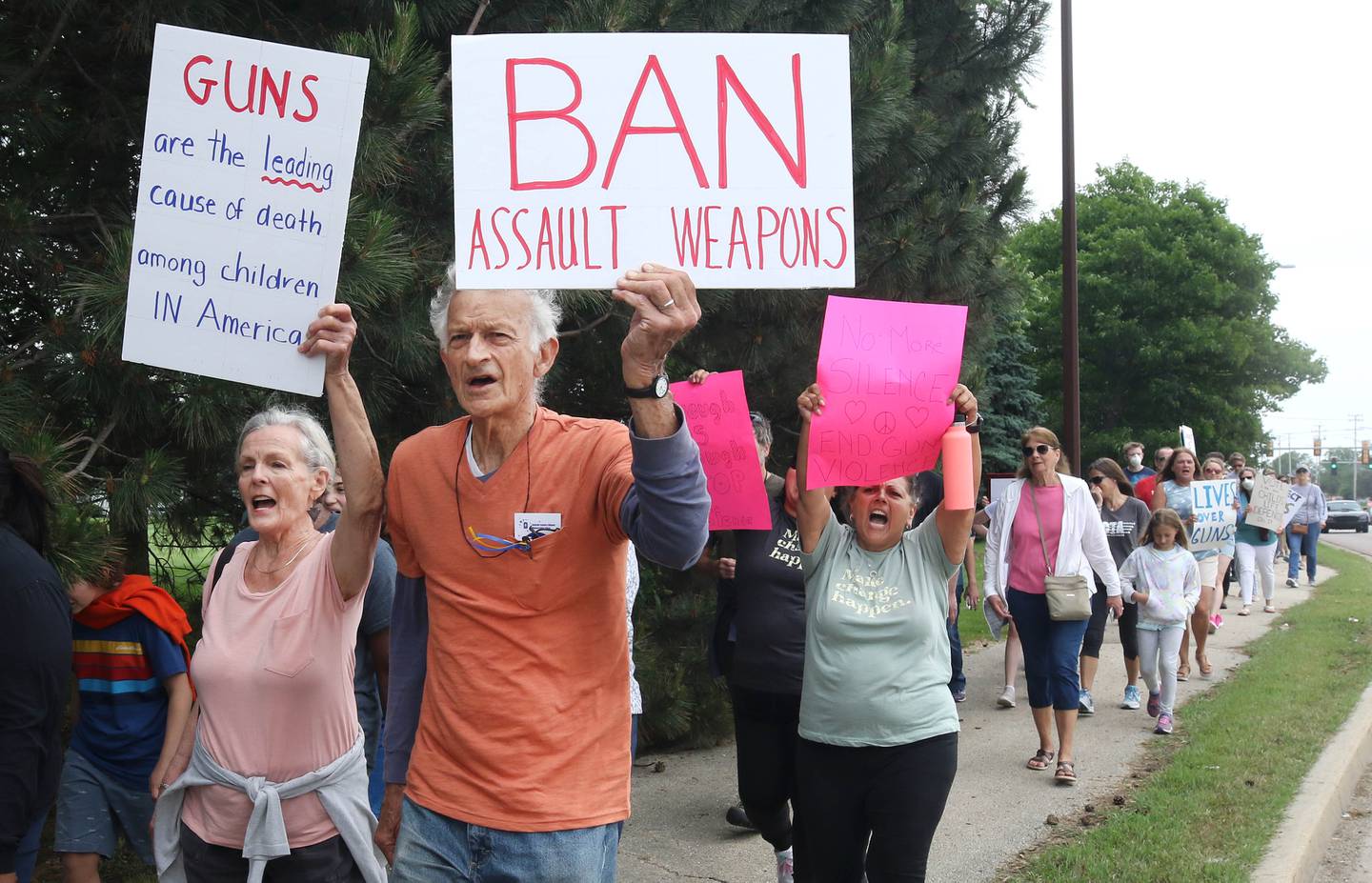 As a self-professed gun control advocate who was joined by her fellow educators in June, Buckner said she believes banning such weapons is a step in the right direction for Illinois.
"No average citizen needs a semiautomatic rifle," Buckner said. "I think that should be reserved for the military, or maybe law enforcement, but I just don't see it serving a purpose for anything in a civilized society."
Buckner said she doesn't begrudge what she called responsible gun ownership.
"We do have the right to bear arms and if someone is a responsible gun owner and chooses to have a type of weapon and it's registered, I don't have a problem with that," Buckner said. "I just don't think they should be allowed to have an assault rifle."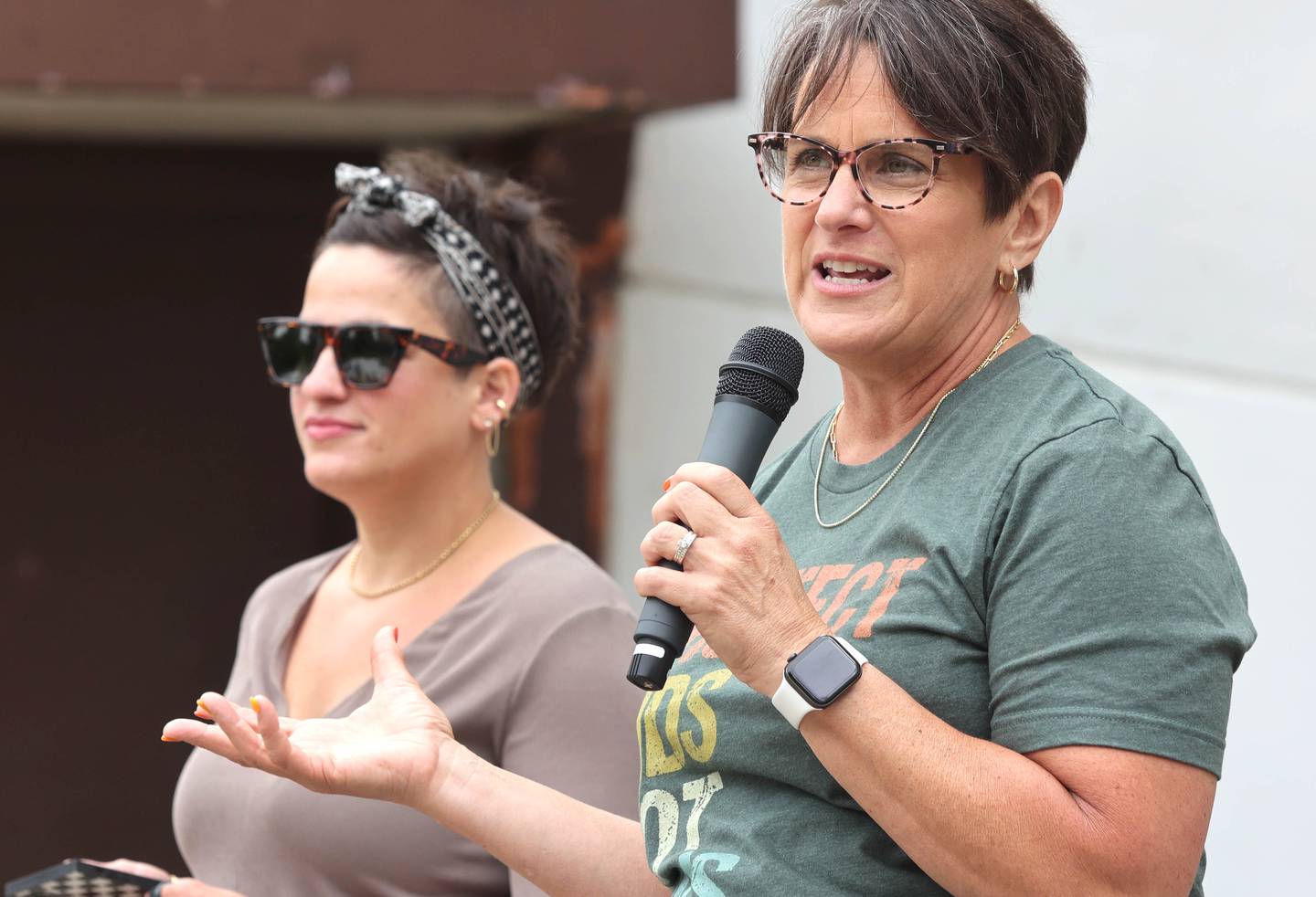 Legal scrutiny awaits weapons ban?
For some in Illinois, including those against a weapons ban, that right to bear arms should include high-powered weapons.
Rich Jonutz of Maple Park said he doesn't support the ban and said guns are protected under the Second Amendment.
"These politicians could care less about the right to self defense, meanwhile they guard themselves with security who are armed with these firearms," Jonutz said. "This will most likely be a lawsuit ... most likely thrown out, just like a lot of familiar cases have been all over the country. When will politicians be held liable for them breaking their sworn oath to defend the Constitution by voting on this tyrant bill?"
Some Illinois Republicans also have said they expect the weapons ban to be overturned in court.
DeKalb resident Cameron Dye said he believes a semiautomatic weapons ban is unconstitutional.
"If the state was willing to pay for it, I think it would be fine if they wanted to have people take classes and courses [on gun use]," Dye said. "But I mean you're not going to stop violent people, no matter what. ... All you're doing is making the people who abide by the law defenseless and not be able to protect themselves or their loved ones."
Associate Professor Hua Zia who also serves as program director for Lewis University's paralegal studies said the ban likely will be tied up in courts.
"The constitutional issue is whether the modified ban would pass the Second Amendment right to own, use, manufacture or sell guns," Zia said. "Many other states have passed similar bans, which have withstood the challenges and ultimately been enforced. With a very conservative U.S. Supreme Court, gun advocates, legislators, as well legal scholars will be looking to the U.S. Supreme Court's interpretation of Illinois' ban."
State Rep. Maura Hirschauer, D-Batavia, said in a statement Tuesday that she is "immensely proud" of her colleagues who worked with her to get the bill passed.
"Today, the Illinois General Assembly said no more. No more senseless violence. No more assault weapons. Though this ban cannot bring back those whose lives were lost to gun violence, the bill we passed today will undoubtedly save many lives and prevent unspeakable tragedy for generations to come," she stated.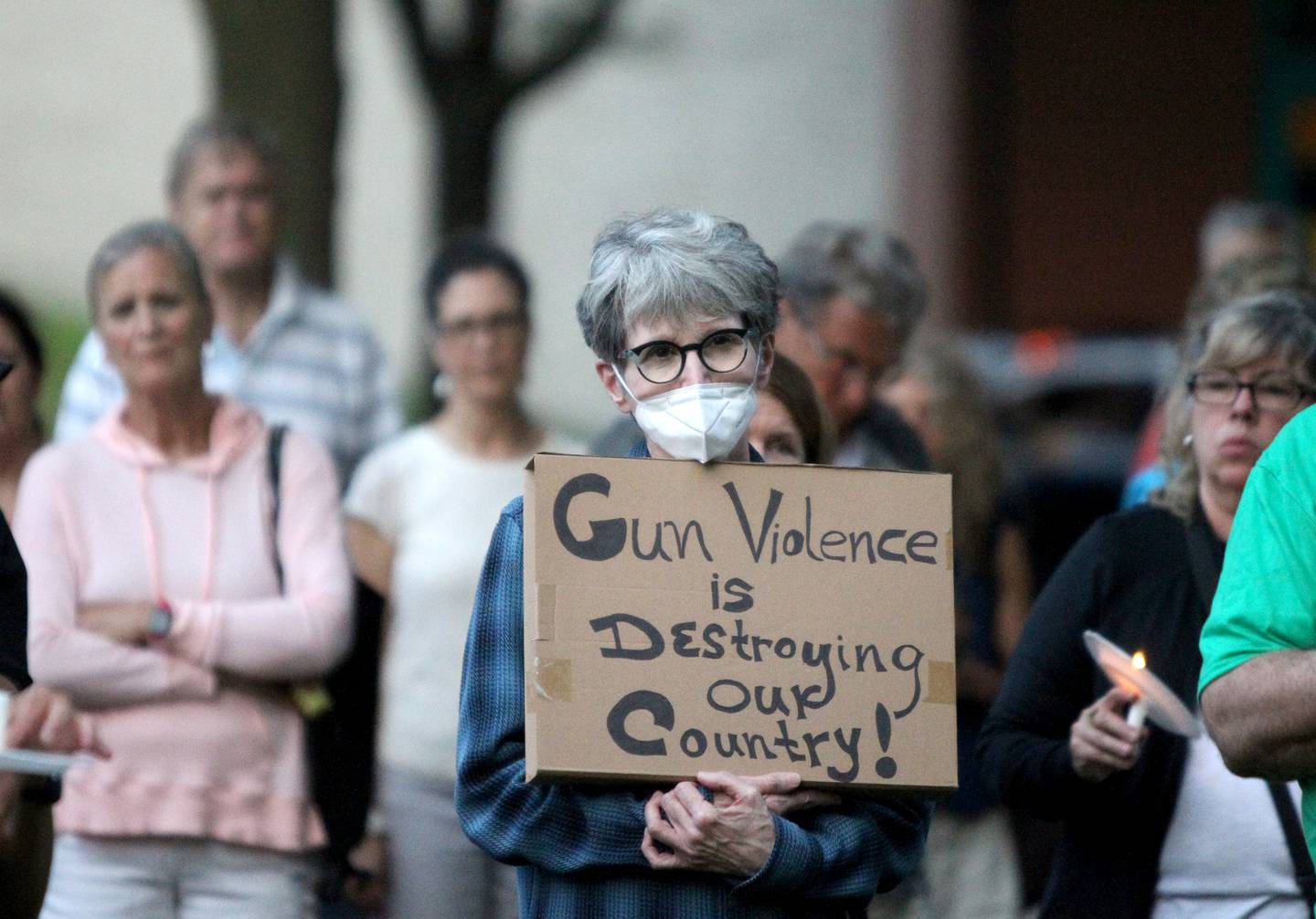 Capital News Illinois and The Associated Press contributed to this story. Shaw Local News Network's Aimee Barrows and Troy Taylor contributed to this story.