Seventeen games into the 2022 season, Willowbrook already has topped its win total from the previous season. The Warriors (14-3, 9-2 West Suburban Gold) posted a 13-10 record with a 12-6 conference mark last spring.
The Warriors have played exceptionally well since suffering a 16-0 home loss to Downers Grove South on April 4. The next day, the Warriors earned a 5-1 road win over Downers Grove South and are on a 10-game winning streak after a 9-3 win over Addison Trail on Tuesday.
"We've played great defense," Vic Wisner said of his team's streak. "We went six games without an error. Our pitching has been really good. Our three lefties of Max Vaisvila, Jacob Skinner and Dayne Meyer go deep into the game. Our kids also have short memories. They don't dwell on things for long and never think about things that we can't control. We play a lot of kids. How well the kids have accepted their roles and willingness to do anything for the team shows how mature this team is."
The Warriors notched an impressive 9-6 win over highly ranked Hinsdale Central on Saturday. Wisner didn't downplay the win, calling it a key test for his team.
"They're a talented team," Wisner said. "And the game was electric, a true playoff feel. You always get better in those environments. It was a big win."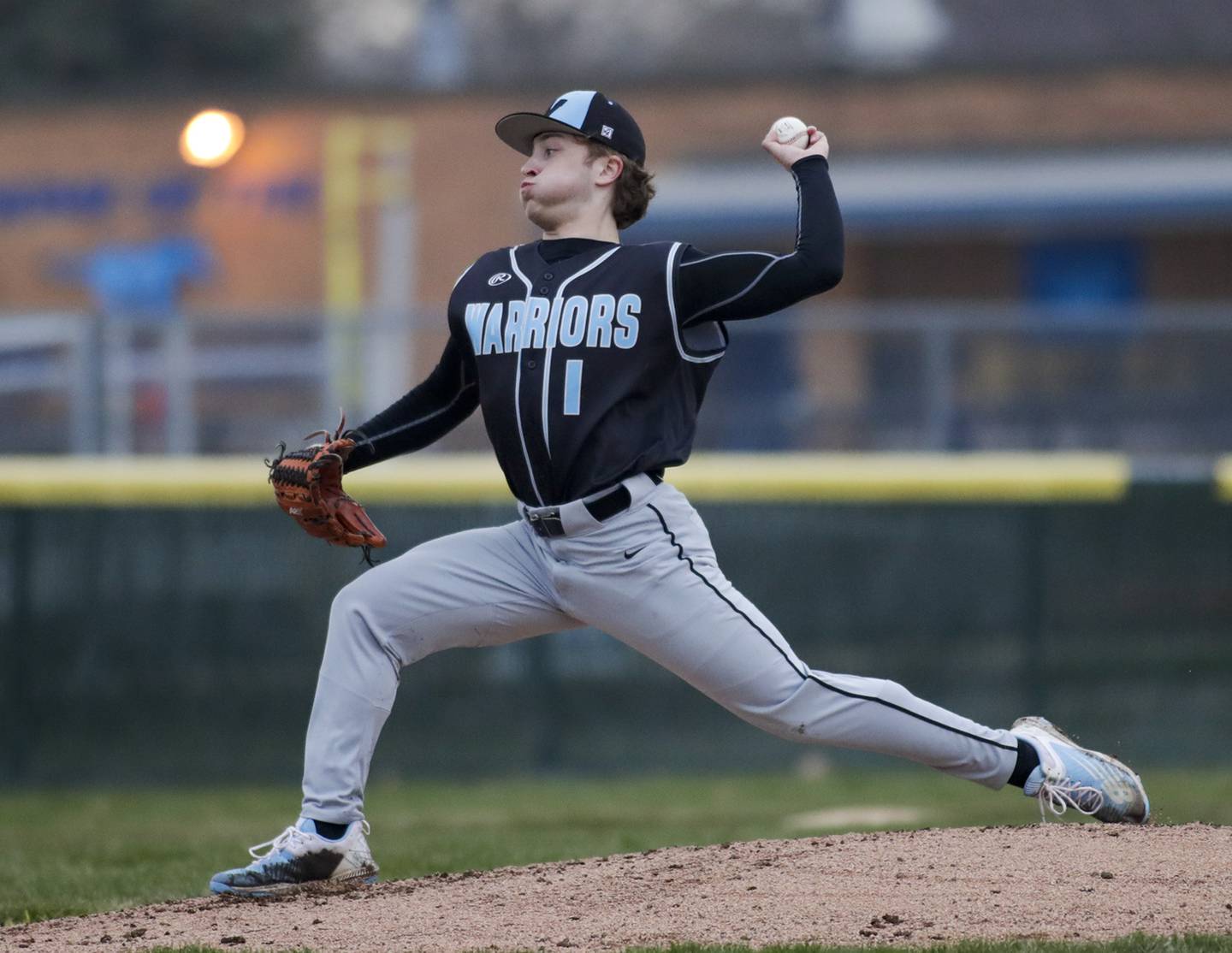 Vaisvila, a senior, leads the deep pitching staff with a 5-0 record and 48 strikeouts to go with a 1.60 ERA. Senior Jacob Kutella is leading the charge at the plate, batting .512 with 20 RBIs. Bennett Fleming is hitting .463 with 14 RBIs, Isaac Sobieszczyk is hitting .335 with 19 RBIs and Alex Chaltin has a .325 average with 17 runs scored.
"Max Vaisvila takes the ball against everyone's top pitcher and he never disappoints," Wisner said. "Jacob Kutella is an under-the-radar player that no one is talking about. He hits everything and uses all fields, and then when a game gets close, he goes onto the mound to close it out for us with stuff in the 80s."
Glenbard West building
Glenbard West senior center fielder Nolan King has played a vital role with his consistency and leadership this season. The Hilltoppers (9-6-1, 5-4 West Suburban Silver) conclude a key three-game conference series against the Hinsdale Red Devils on Thursday.
The Hilltoppers won the first game in exciting fashion, defeating the Red Devils 9-8 on Monday.
"We're excited for Hinsdale week," Glenbard West coach Andrew Schultz said. "We know they are a very talented team, but so are we. I'm excited to see our boys compete.
"Our offense has been pretty darn consistent all year. I've been really pleased with the quality at-bats we put together day in and day out. Our pitching has been very good at times, and if we can limit free bases, both on the mound and defensively, we can hang with anyone."
Batting out of the leadoff spot, King has been a catalyst in the Hilltoppers' solid season. He's hitting .522 with 23 runs scored and 15 stolen bases, while notching three saves.
Senior pitcher Chase Krueger is 2-0 on the mound in five starts with a 2.03 ERA. He has fanned 36 batters in 20 2/3 innings and is hitting .471 with 14 RBIs from the No. 3 spot in the order.
"David Lagomarsino and Jason Valdez have been great offensively as well," Schultz said. "They're both up to .367, and Valdez leads the team with 16 RBI. Trevor Metz is up to .341.
"Senior Andrew Moody's last two starts on the mound have been spectacular. He's now 3-1 on the season. In his last two starts, he's gone nine innings [total]. He's given up three hits, struck out 16 and walked just one."
Around the horn
Timothy Christian finished with a 2-1 record last week, improving to 7-2 since returning from its spring break trip to Myrtle Beach, South Carolina. The Knights have relied on sophomore shortstop Casey Folkerts (.442) and junior catcher/pitcher Donald Tober to carry the lead. Tober has 13 RBIs in 12 games, and posted a 1.62 ERA in 26 innings pitched with 41 strikeouts. Jacob Friend has won three games and owns a 2.04 ERA in 24 innings on the mound. …Nazareth (15-5, 4-4 ESCC) defeated Joliet Catholic 2-1 on Tuesday thanks to a big game from Sebastian Gutierrez, who earned the win to improve to 3-1.