LOMBARD – Maya Domiano claims that the owner of Noah's Puppies in unincorporated Lombard is cruel to the dogs in his store, and says she's been told by former employees of the mistreatment.
And she says he's lying about where the puppies come from.
Domiano, a Lombard resident and the Illinois Campaign Coordinator for the Companion Animal Protection Society, was one of a group of individuals who gathered Thursday to protest the practices of Noah's Puppies.
Domiano and others allege that Noah's Puppies, at 18W435 Roosevelt Road, is selling puppies from puppy mills.
Puppy mills, according to the American Humane Society, are "inhumane dog breeding facilities that may sell puppies in pet stores, online or directly to the public, and disregard the dog's health, both physically and emotionally, to maximize profit."
"We are here because we believe they [Noah's] are still using puppy mill dogs right now," Domiano said. "They're saying that the dogs they are getting are surrendered from families or from rescues."
Domiano, however, said that her organization, which has been investigating pet shops and puppy mills since 1992, has three certificates of veterinary inspection reports from September and October showing that Noah's received their puppies from breeders located in Missouri – Borntragels Kennel and Chrissie Yoder.
"I find it hard to believe that in 3 to 4 months they were able to transition to a humane model," Domiano said. "He says he takes in surrendered puppies from families, but it's almost like a resale shop to me for dogs. Why would someone want to surrender their pet to a pet store when they're not treating them correctly? I'm just here to have people choose a humane choice instead of one that is not."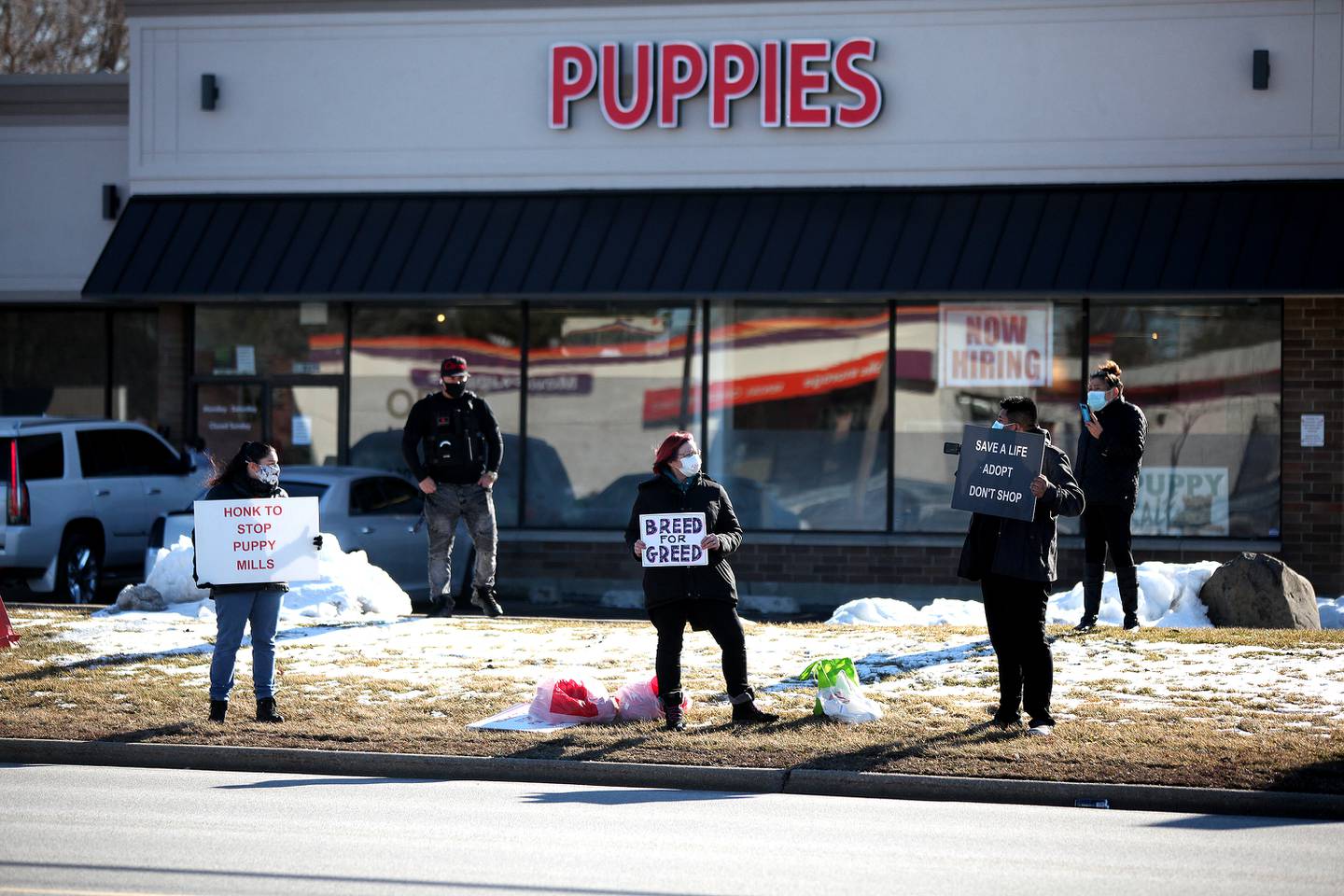 Domiano said she has talked with former employees of Noah's who say they voluntarily left because they could not stand how the puppies were treated.
"I've heard that he was being very cruel to them to the point of choking them, throwing them in the cages, the puppies falling out of the cages onto the hard floor, being sick all the time," Domiano said. "Just not being treated correctly."
One former employee, Lombard resident Karina Guerrero, was among the group protesting Noah's Thursday. Guerrero, who quit Noah's after two weeks, described the owner as "very uncomfortable to work for, harassing women, looking at them in certain ways," and said she still hasn't received payment for her work there.
And she claimed he mistreated the puppies.
"He would touch the dogs in a very aggressive way, in a bad way where they would cry, or kind of slam the dog on the table," Guerrero said. "He would only feed them one cup a day, and one cup of water a day. I would see them reacting like they were hungry. His excuse was if he fed them he would have to clean up the newspapers. He'd come in with a box of puppies, probably from breeders."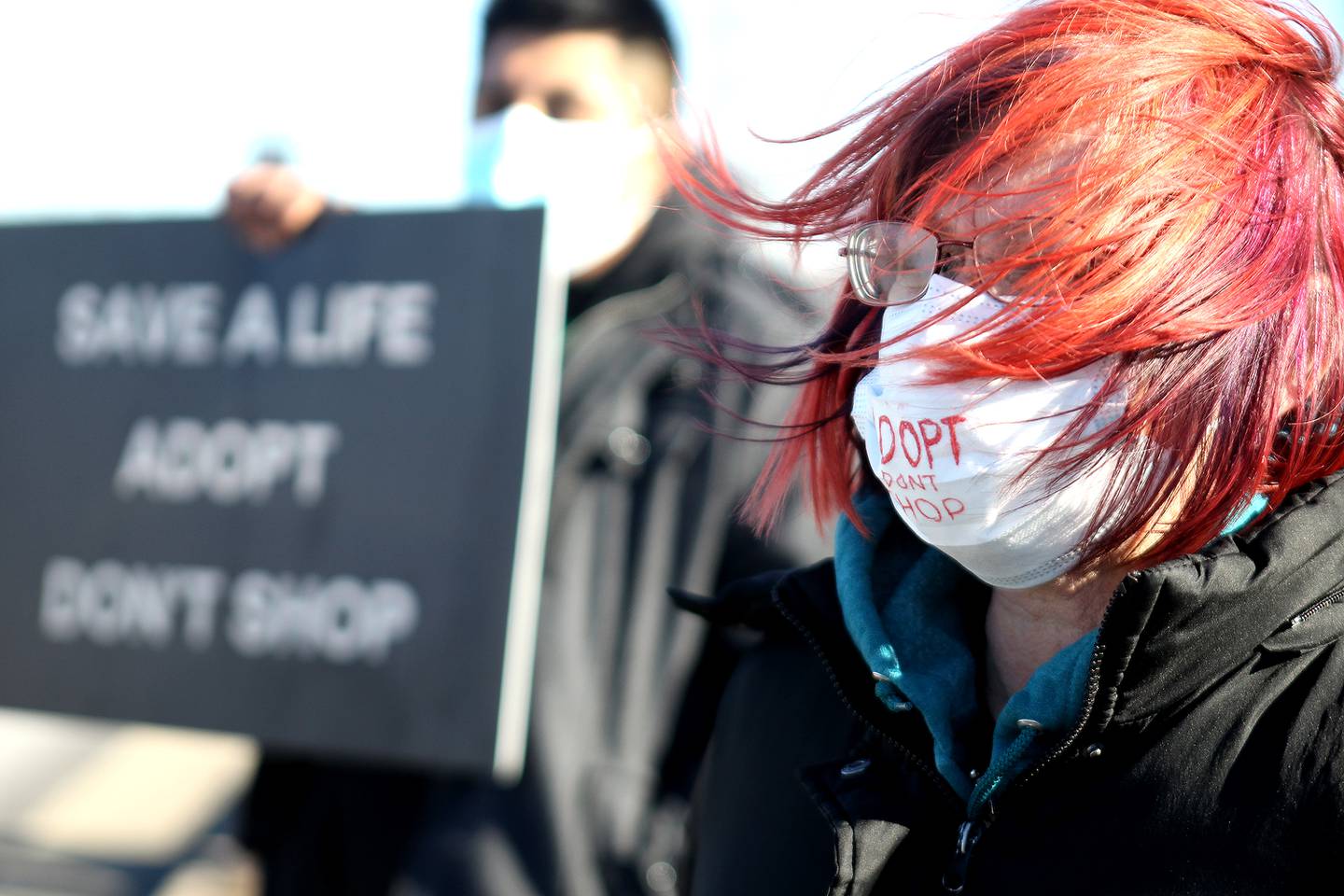 Noah's on its website says that "we strongly follow our no-tolerance policy of substandard breeding practices of any kind, including puppy mills. All of our puppies receive an immense amount of love and attention before they find their forever home!"
A representative from Noah's that aggressively videotaped the group of protesters Thursday declined multiple requests for comment, only offering that "I have no puppy mill puppies. It is a lie."
Lorna Lightle, who identified herself as an animal rights advocate who works for a rescue, said that that is not true.
"It's not right what he is doing," Lightle said. "He is claiming to be a rescue. He's claiming to be taking in surrenders. Nobody legitimately owner surrenders three-month old pure bred puppies, period. If it was that easy all the rescues would be getting these puppies. He's either buying them or getting somebody to buy them for him. Something is not adding up. He is not being transparent and this needs to stop."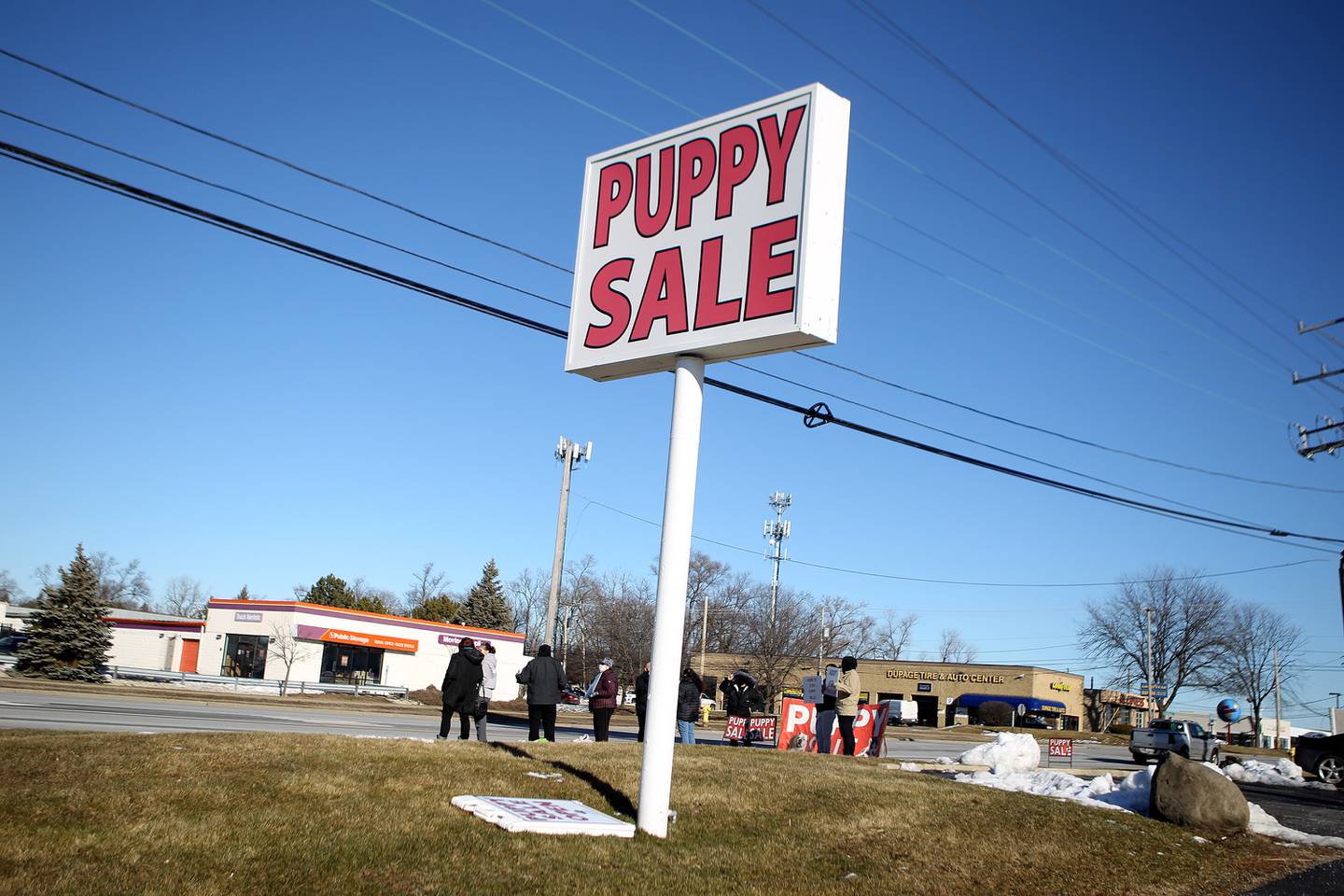 In 2019 Downers Grove passed an ordinance that banned the retail sale of dogs, cats and rabbits, only allowing the sale from an animal care facility, animal rescue organization or humane society. Other communities such as Naperville and Warrenville and two Illinois counties, including Cook, have adopted humane pet store ordinances since 2012.
However, DuPage County cannot do the same because it does not have home rule powers, DuPage County Board Member and Animal Services Committee Chairman Brian Krajewski told the Naperville Sun in an interview last year. The county board last year did approve a zoning ordinance ruling that commercial animal breeders in unincorporated DuPage County could be declared a public nuisance and forced to take corrective measures.
Domiano said that because Lombard is not a home rule town it's hard to move forward, but they're looking for alternatives to get stores like Noah's out.
Lightle said that she was promised by Noah's owner later Thursday that they will not use the terms "rescue," "surrendered," or "adoption," going forward when referring to the store's puppies, and has promised within the next two weeks to have all remaining puppies fixed and chipped, but she noted that "time will tell."
"The ordinance needs to be slightly tapered to include buying puppies, claiming they're surrendered," Lightle said. "He's found a loophole, he's milking it, he feels he's in the right and he's not."