LA GRANGE PARK – "It's one thing to be talented, but to excel when everyone knows the ball is coming to you makes you special."
Nazareth girls volleyball coach Melissa Masterson has been asked every question in the book about Katie Hurta, but with a sectional title on the line for her senior outside hitter, she had at least one more standout performance left in her.
Hurta had kills to end both sets, and 10 for the match, as Nazareth defeated top seeded St. Ignatius 25-18, 25-21 to win the Class 3A Nazareth Sectional title – the program's second consecutive sectional title.
Not only has Hurta, an Indiana commit, led Nazareth (27-7) to the school's only two sectional titles ever, but her and her Roadrunners have now won seven straight matches and 17 of their last 18 – all by straight set victories.
"[Katie] is a pretty special athlete and a tremendous teammate," Masterson said. "She not only excels on the court, but she's a great leader for our program. It's been really fun to watch her embrace that role."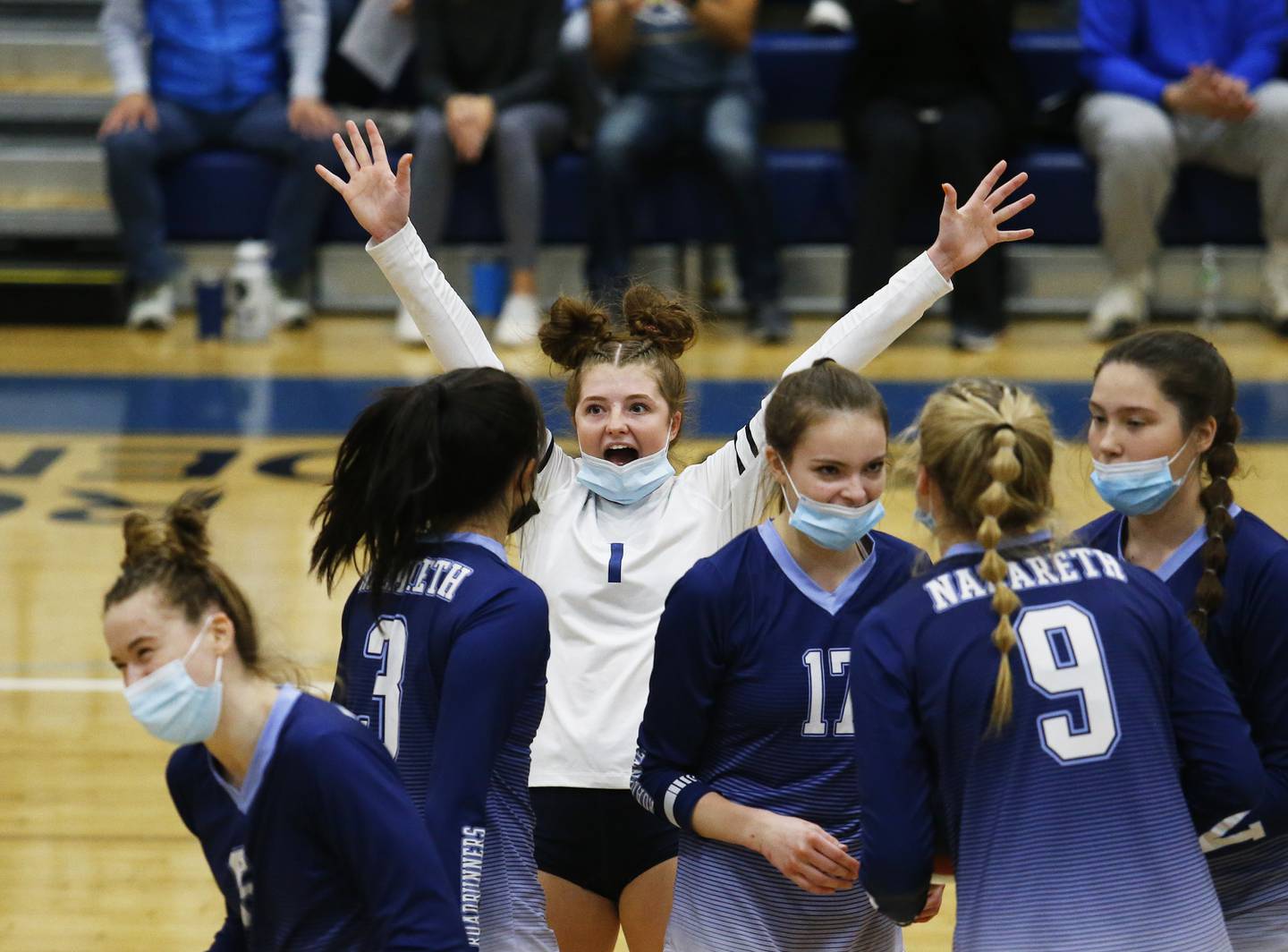 Hurta also had a huge night two years ago when she led Nazareth to its first ever sectional title, powering 24 kills over three sets, also against St. Ignatius.
After a third place finish at the state tournament as a sophomore, Hurta said that postseason run really prepared her for an even crazier atmosphere as she now takes the court for what could be the final time in a Roadrunners uniform.
"I think it was a very similar type match," Hurta said of both sectional finals with the Wolfpack. "The fact that tonight was here and we had our home crowd behind us was amazing. I think we've gotten the experience and know from that night that [St. Ignatius] was ready to try to come here and get revenge for that game and we were ready."
"Sometimes you have to get thrown into these moments to get the experience," Masterson added. "Two years ago, Katie and [then freshman Katherine Sandt] got that experience and now have been able to lead this team. It's been extremely helpful."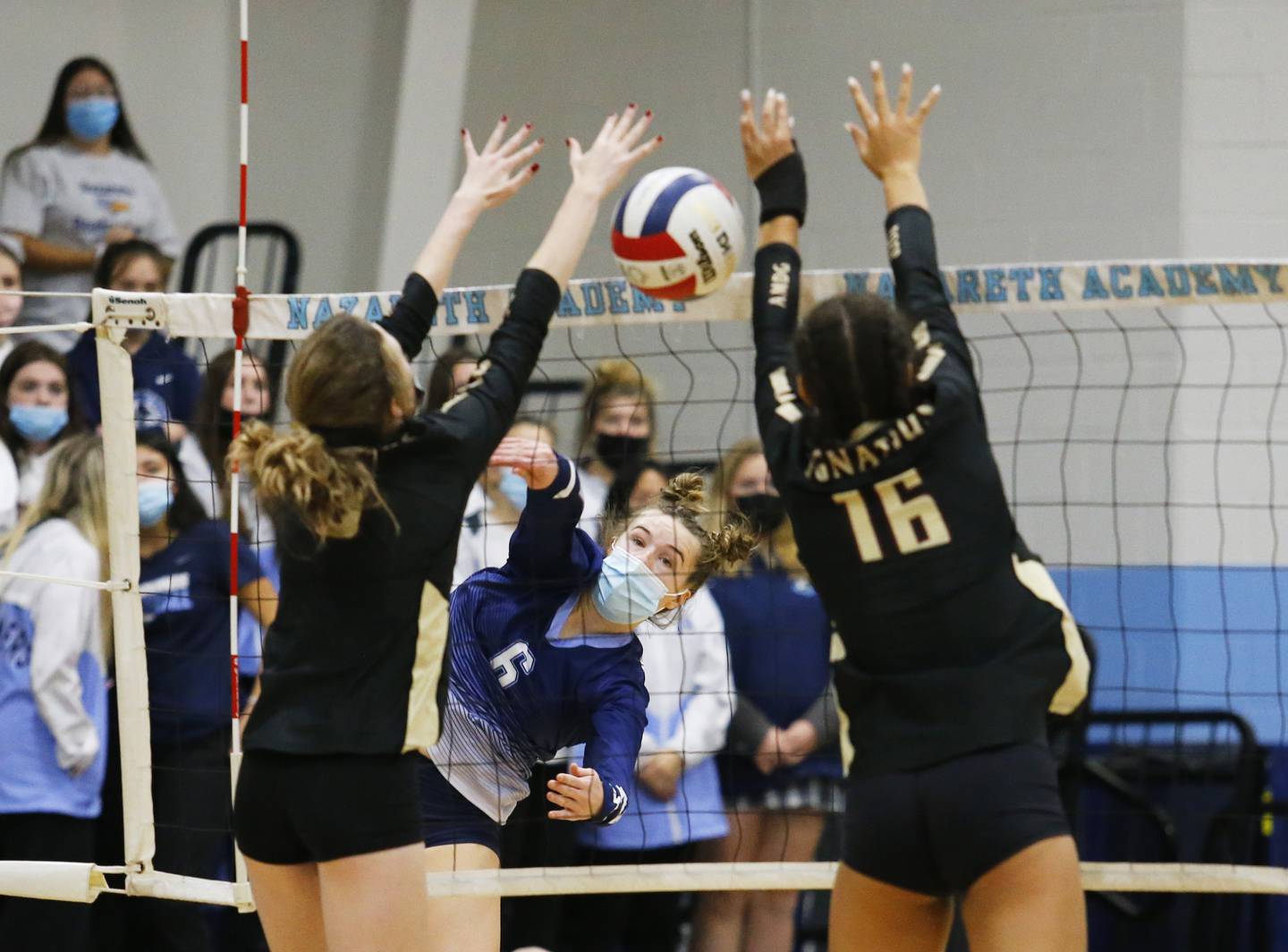 Sandt came up huge for the Roadrunners Wednesday as well, adding six kills and two aces. Her diving dig attempt on the first set's final point set up Hurta's kill to give Nazareth the early advantage.
Having played together since freshman year, Sandt said the connection with Hurta now comes naturally through repetition.
"I think we understand what each other are going through because we're each other's counterpart," said Sandt of both her and Hurta rotating as the Nazareth setters. "It's super interesting because I don't think I've ever had that kind of connection with someone on the court. We just get each other and can trust each other in a way that no one else can trust each other."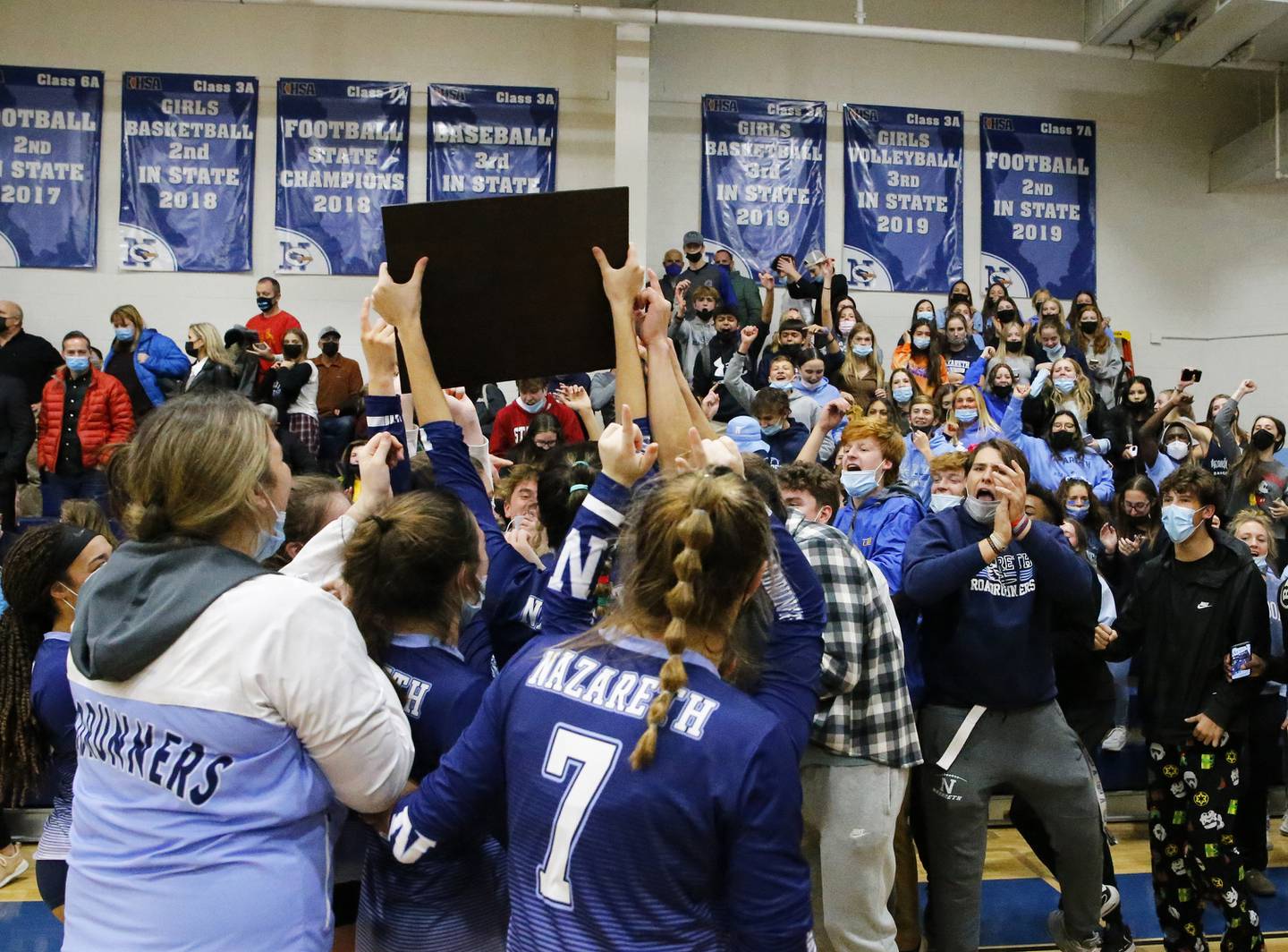 Nazareth never trailed Wednesday night, jumping out to early leads in both sets. The second set was tied at seven apiece before Hurta and Sandt had kills to aid an 11-6 run and put the Roadrunners in control for good.
Ivy Schoditsch added two kills, an ace and a block in the second set, while Lauren Salata led Nazareth with three aces.
The next challenge will be Da La Salle (27-10) in the 3A Chicago Little Village Supersectional at Little Village Lawndale High School at 6 p.m. Friday night.