LA GRANGE PARK – As if the Nazareth girls volleyball team needed any more momentum on Senior Night.
Facing off against a tough out Tuesday in Joliet Catholic, the Roadrunners parlayed 18 total blocks – most accompanied by ohhs from the home crowd – into a 25-15, 25-11 victory.
All told, Nazareth (17-6, 4-2 in the ESCC) had 18 total blocks – 16 assisted and two solo, but none bigger than a consecutive sequence early in the first set where senior middle blocker Ivy Schoditsch achieved a solo block and assisted on three others. That gave the Roadrunners a 6-1 lead, and they never looked back.
"With Senior Night and all the emotions, you never know how the kids are going to come out with everything going on," Nazareth coach Melissa Masterson said. "She (Schoditsch) kind of took those emotions in a positive way."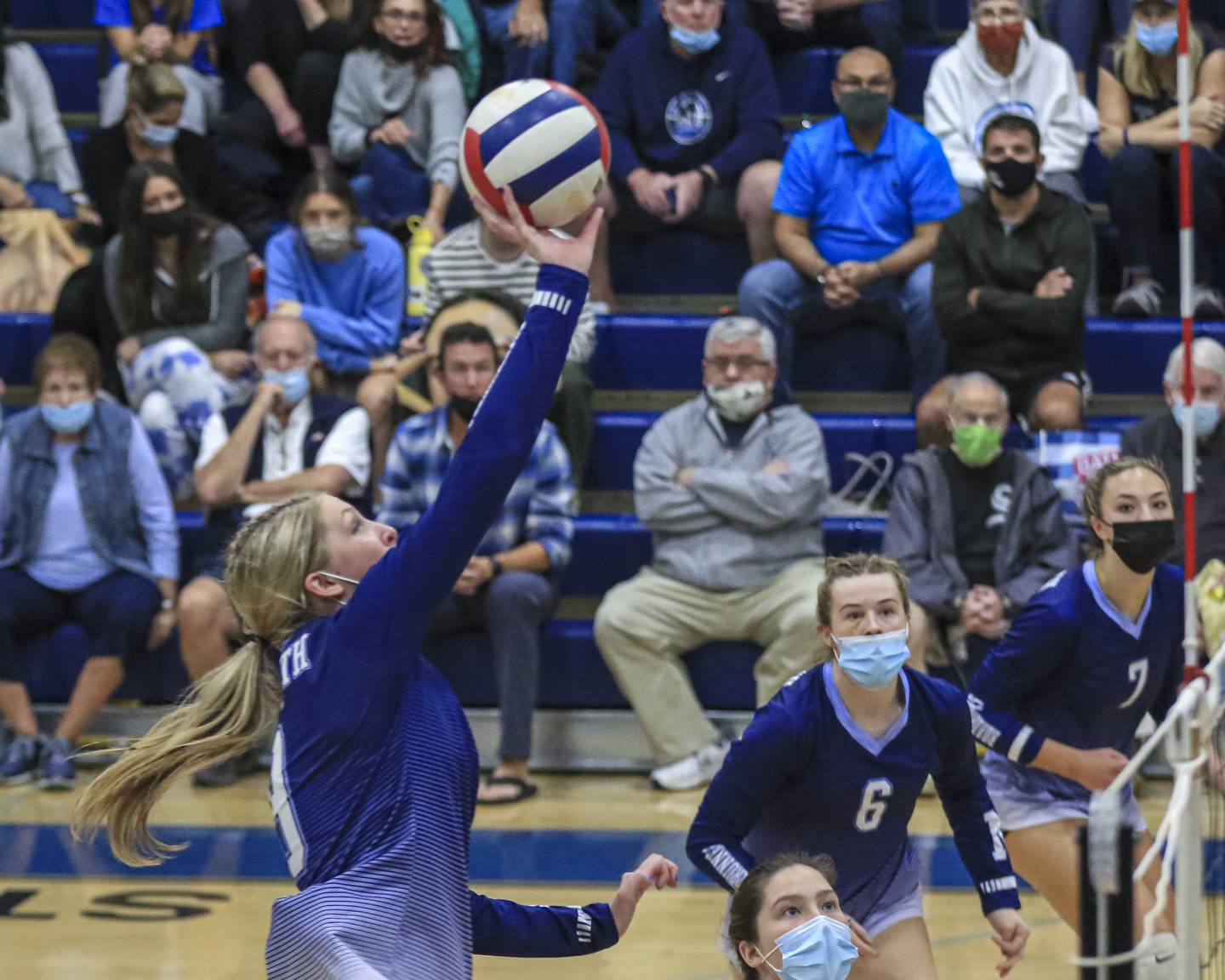 Not bad for a girl who injured her knee last weekend at the Glenbrook North tournament, a competition the Roadrunners won. Schoditsch's knee locked up Saturday morning, so she had to sit out that day, but the good news is that there was no tear. She celebrated Senior Night with seven blocks and four kills.
"That definitely feels amazing," Schoditsch said. "We had a gameplan that we were supposed to block Zone 1, that was in my head even before we started the game, so I knew I had to do my job. It felt really good to do that."
Schoditsch didn't do it all, of course. Another senior, Katie Hurta, logged 11 kills, six assists and four blocks of her own. None of those kills were bigger than those that put her team up 19-8 and 22-9 late in Game 2. For good measure, she served the last two points, winning both on a kill from junior Kitty Sandt and – what else? – a block by junior Emily Risley to end the match.
"That's the most blocks we've had all season," Hurta said. "I think we did a really good job with everyone wanting to get a block and putting confidence in each other. It was really exciting."
Across the court, Joliet Catholic coach LaKisha Cameron agreed that playing a team on Senior Night is a tough challenge. Nevertheless, she did get solid play from a pair of seniors of her own – Crystal Galaviz, who finished with two aces, four kills and six digs, and Lily Ray, with four kills, five digs and 13 assists.
Big-picture, things are looking good for the Angels (17-11, 1-5) with the Class 3A playoffs on the horizon, where they are the top seed in the Hinsdale South sectional. Nazareth is the third seed in its own sectional.
"I think overall, we're going in the right direction, but I think today, we were overwhelmed," Cameron said. "We knew they could block, we knew they could hit, and we just weren't executing the things we talked about in practice yesterday. I think this was more of a mental game for us."
Added Galaviz: "Adjustment has been our biggest goal, I think, no matter who our opponent is. I think that's still something we're working on, but I think that's been our emphasis."